Kids
Welcome!
What's Happening in the Kids' Room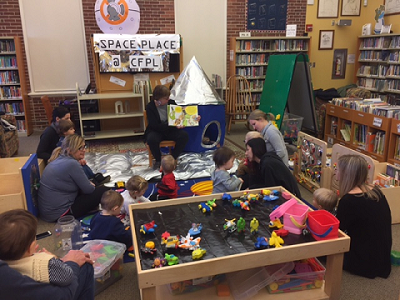 Join us for Storytimes for babies, toddlers, preschoolers and early elementary kids!
Check our calendar for dates and times or just come for a pop-up storytime, like this one, that may happen when you visit!
Family Trees 2017: A Celebration of Children's Literature
Check out this video about the Holiday Trees decorated by Concord Town Departments as well as Library Staff, Thoreau School kids and TAB teens!
See the video below of a Holiday Tree based on the book, Do Fairies Bring the Spring? by Liza Gardner Walsh, illustrated by Hazel Mitchell. Decorated by: Children's Librarian Fayth Chamberland, with the help of Mrs. Ellis's Kindergarten and Mrs. Hollander's 5th-grade classes at the Thoreau School.
New Books in the Kids Room
Click on a book cover and you will be taken to our catalog so you can check it out!
Quick Links for Kids
Go to the Concord Public Schools website and click on your school.
Find out more about other schools in Concord, MA.
Find the titles you like in the kids section of OverDrive.
Check out your favorite series books in order, courtesy of Mid-Continent Public Library.