Text of Historical Markers in Concord, Mass.
This webpage is based on a document compiled in 1965 by Ruth Robinson Wheeler (original: typescript with manuscript additions). The transcript was prepared from a copy in the Concord Pamphlet Collection, William Munroe Special Collections, Concord Free Public Library (C.PAM.77 Item 10).
Users please note that additional markers have been installed since Mrs. Wheeler compiled this list in 1965 and that the landscape (including street numbering) has changed in other ways, as well.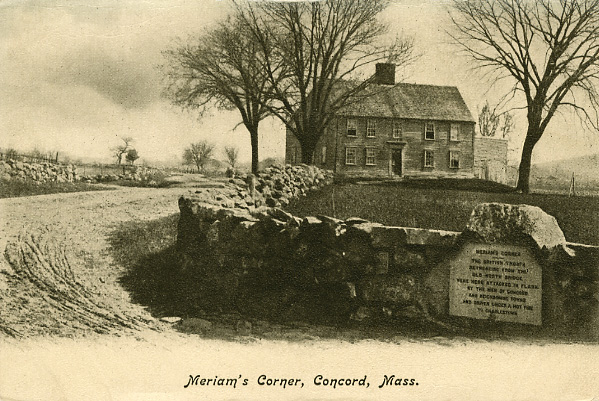 Historical Markers erected by the Town in 1885 to mark the 250th anniversary of the incorporation of Concord:
On a panel cut in Egg Rock at the junction of the Assabet and Sudbury Rivers:
ON THE HILL NASHAWTUCK
AT THE MEETING OF THE RIVERS
AND ALONG THE BANKS
LIVED THE INDIAN OWNERS OF
MUSKETAQUID
BEFORE THE WHITE MEN CAME
On a slate in the wall of the Hill Burying Ground:
ON THIS HILL
THE SETTLERS OF CONCORD
BUILT THEIR MEETING HOUSE
NEAR WHICH THEY WERE BURIED
ON THE SOUTHERN SLOPE OF THE RIDGE
WERE THEIR DWELLINGS DURING
THE FIRST WINTER
BELOW IT THEY LAID OUT
THEIR FIRST ROAD AND
ON THE SUMMIT STOOD THE
LIBERTY POLE OF THE REVOLUTION
On a bronze plate set in granite on Lowell Road (modern research inclines to the belief that this marker should be near the Jethro's Tree marker):
HERE IN THE HOUSE OF THE
REVEREND PETER BULKELEY
FIRST MINISTER AND ONE OF THE
FOUNDERS OF THIS TOWN
A BARGAIN WAS MADE WITH THE
SQUAW SACHEM AND THE SAGAMORE TAHATTAWAN
AND OTHER INDIANS
WHO THEN SOLD THEIR RIGHT IN
THE SIX MILES SQUARE CALLED CONCORD
TO THE ENGLISH PLANTERS
AND GAVE THEM PEACEFUL POSSESSION
OF THE LAND
A.D. 1636
On a panel in a stone on Elm Street west of the river:
ON THIS FARM DWELT
SIMON WILLARD
ONE OF THE FOUNDERS OF CONCORD
WHO DID GOOD SERVICE FOR
TOWN AND COLONY
FOR MORE THAN FORTY YEARS
On a bronze plate set in granite on the west side of Monument Square.:
NEAR THIS SPOT STOOD
THE FIRST TOWN HOUSE
USED FOR TOWN MEETINGS
AND THE COUNTY COURTS
1721-1794
On a stone on Liberty Street by the Musterfield:
ON THIS FIELD
THE MINUTE MEN AND MILITIA
FORMED BEFORE MARCHING
DOWN TO THE
FIGHT AT THE BRIDGE
On a stone at the corner of Lexington and Old Bedford Roads:
MERIAM'S CORNER
- - -
THE BRITISH TROOPS
RETREATING FROM THE
OLD NORTH BRIDGE
WERE HERE ATTACKED IN FLANK
BY THE MEN OF CONCORD
AND NEIGHBORING TOWNS
AND DRIVEN UNDER A HOT FIRE
TO CHARLESTOWN
Erected by the Town 1935:
Hapgood Wright Town Forest:
TOWN FOREST
PROVIDED BY THE GIFT OF
HAPGOOD WRIGHT
BORN IN CONCORD 1811
DIED IN LOWELL 1896
DEDICATED
SEPTEMBER 12, 1935
CONCORD TERCENTENARY
On Willard Common 1/2 acre at top of Nashawtuc:
FARM OF SIMON WILLARD
FOREMOST IN THE SETTLEMENT
OF THIS TOWN IN 1635
HERE HE DWELT FOR
TWENTY THREE YEARS
SERVANT OF TOWN COUNTY AND COLONY
TRUSTED BY THE INDIANS
MILITARY COMMANDER JUDGE
LEGISLATOR WISE COUNSELOR
BORN 1605 DIED 1676
ERECTED BY THE TOWN IN 1935
Historical markers of the Massachusetts Bay Colony erected by the Tercentenary Commission, 1930. Text revised by Samuel Eliot Morison:
On Route 2a at Concord - Lincoln line:
MUSKETAQUID - CONCORD
"It is ordered, that there shalbe
a plantacion att Musketaquid,…
& the name of the place is changed,
& hereafter to be called Concord."
Order of the General court Sep-
tember 12, 1635. This plantation
was the first inland settlement in
New England.
On Route 2a east of Grapevine Cottage:
THE FIRST SETTLEMENT - 1635
Westward to the meetinghouse
along the sunny slope of this ridge
the settlers of Concord built their
first dwellings.
At Monument Square:
THE MILLDAM
This short stretch of street still
known as the Milldam was the site
of an Indian fishing weir and was
laid out along the dam built soon
after the settlement of the town in
1635.
At Monument Square corner Milldam
JETHRO'S TREE
Near this spot stood the ancient oak
known as Jethro's Tree beneath
which Major Simon Willard and
his associates bought from the
Indians the "6 myles of land
square" ordered by the General
Court for the plantation of Concord
September 12, 1635.
At Monument Square erected by the Town:
CIVIL WAR MONUMENT
TABLET TO DEAD OF SPANISH WAR
TABLET TO DEAD OF WORLD WAR I
TABLET OF DEAD OF WORLD WAR II
KOREAN CONFLICT
At Kenneth Dunn Square named for first member of the Concord militia company to die in World War II
The following is an incomplete listing:
Concord Cemeteries:
Sleepy Hollow Cemetery:
Contains the graves of Ralph Waldo Emerson, Henry David Thoreau, Nathaniel Hawthorne, Louisa May Alcott, Bronson Alcott, Franklin B. Sanborn, Mrs. Daniel Lothrop, Daniel Chester French, Ephraim Wales Bull, Elizabeth Peabody, Sen. George Frisbee Hoar, Atty. Gen. Ebenezer Rockwood Hoar and the poet Wm. Ellery Channing.
On Emerson's grave two lines from his poem "The Problem":
The passive Master lent his hand
To the vast soul that o'er him planned.
See under "Statues in Concord" for Melvin Memorial
Hill Burying Ground:
Here under simple slate stones lie the minute men and their officers: Capt. David Brown, Major John Buttrick and Col. James Barrett as well as Benjamin Barron's slave John Jack, a shoemaker:
God wills us free, man wills us slaves,
I will as God wills; God's will be done.
Here lies the body of
JOHN JACK
A native of Africa, who died
March 1773 aged about sixty years.
Though born in a land of slavery,
He was born free.
Though he lived in a land of liberty;
He lived as a slave;
Till by his honest though stolen labors
He acquired the source of slavery,
Which gave him his freedom:
Though not long before
Death the grand tyrant,
Gave him his final emancipation
And put him on a footing with kings.
Though a slave to vice
He practiced those virtues
Without which kings are but slaves.
The earliest graves are unmarked. The oldest stone is dated 1677. The Liberty Pole stood here. The Powder House about 1802
Main Street Burying Ground [South Burying Place]:
Probably used by settlers in the South Quarter before a good road went over the Milldam. The oldest stone 1697.
Still standing in Concord are 18th century houses built by descendants of the first settlers on the farm lands which are of interest to their present day descendants. These are all unmarked as yet but would be of great interest to many tourists.
Family names represented by houses here include:
Baker Lincoln in part formerly Concord now belongs to John Adams descendants.
Ball Ball's Hill Road.
Barker Barrett Mill Road.
Barrett Monument Street October Farm and Barrett's Mill Road.
Bateman site on Liberty Street Bateman's Pond.
Billings Lincoln.
Blood Old Manse and land beyond Punkatasset.
Brooks Lexington Road and on edge of Lincoln.
Brown Lowell Road to Middlesex School.
Buttrick Liberty Street and Monument Street beyond Punkatasset.
Chandler corner Lowell Road and Barrett's Mill Road .
Clark Estabrook Road.
Conant Sudbury Road at Nine Acre Corner.
Dakin Lincoln near Flint's Pond.
Davis Barnes Hill and Barrett Mill Road, Bedford.
Dane Lexington Road later in Lincoln and Concord.
Dudley Spencer Brook Road.
Estabrook Walden Street and Estabrook Road.
Farrar Westford Road and South Lincoln.
Fletcher Lexington Roadand Hawthorne Lane.
Flint near Flint's Bridge and in Lincoln.
Fox Bedford Street and Lexington Road.
Green Estabrook Road in Carlisle.
Hartwell Lincoln and Carlisle.
Hayward West Concord at Mill.
Heald Carlisle.
Heywood Walden Street and Belknap Street.
Hoar Orchard House and Main Street.
Hosmer Main Street, Baker Avenue. Marlboro Road. Sudbury Road.
Hunt Lowell Road.
Hubbard Sudbury Road.
Jones Monument Street Westford Road.
Lee Nashawtuc Hill and Nine Acre Corner.
Melvin Westford Road.
Meriam Old Bedford Road.
Miles Nine Acre Corner Williams Road.
Minot Colonial Inn.
Parks South Lincoln.
Parlin Carlisle.
Potter Fairhaven Road.
Prescott Block house on Lowell Road.
Stow Lexington Road.
Stratton Walden Street.
Taylor Lexington Road and Old Bedford Road, corner.
Temple Strawberry Hill and Barrett Mill Road.
Wheeler Sudbury Road, Nine Acre Corner, Corner of Virginia Road.
Wood across South Bridge 2 houses.
Wright Orchard House and site near Acton.
Wooley Lexington Road.
Wheat Carlisle.
Whittemore, Willard no houses.
Historic Buildings in Private Hands:
Certified National Historical Sites:
Old Bank Building on Milldam - Greek revival architecture.
Wright Tavern owned by First Parish Built in 1747. Building in 1775 headquarters of the British April 19.
1965 Wayside, Orchard House, and Walden Pond.
Lexington Road:
Grape Vine Cottage where Ephraim Bull lived and introduced the CONCORD Grape- in part a seventeenth century house.
Meriam House here occurred the first attack on the retreating British.
Dr. Samuel Prescott house here lived the young doctor who brought to Concord the news that the British were coming.
Reuben Brown house built about 1667 by Peter Bulkeley Esq. Governors Assistant and agent in London of the Bay Colony. Home of Reuben Brown in 1775 used to house prisoners taken that day.
Thomas Dane house built by first settlers and later owned by John Ball a pre-Revolutionary goldsmith.
21 [now 57] Lexington Road fine example of brickend Federal Period architecture.
Monument Square:
Masonic Hall contains the room used as a town school where Thoreau taught for one term.
Colonial Inn center part old Col. Minot house used as a store house during the Revolution.
Monument Street:
4 [now 42] Monument Street, brickend Federal house of which only one half was ever built.
Bullet hole house where stores of salt beef and fish were hidden April 19, 1775 and the British bullet just missed the owner Elisha Jones.
Liberty Street:
Major John Buttrick house Leader of the Minute Men who gave the order to fire which began the War of the Revolution.
Lowell Road:
Old Hunt-Hosmer house a well preserved early 18th century salt-box house.
Barrett's Mill Road:
Hepburn house - a square brick Federal house. Widow Brown's tavern where the British stopped on the way back from the Barretts'.
Col. James Barrett house - see marker.
At Rt. 2 traffic circle, removed:
Col. John Cuming house. He led troops in the French and Indian war. Presided at town meetings which planned the drilling of Minute Man and the storage of military supplies here and at his death left to Harvard College a legacy which founded Harvard Medical School.
Wood Street:
Ephraim Wood house searched by the British at the South bridge.
Main Street:
Joseph Hosmer House. He was adjutant at the Bridge The house includes a seventeenth century part belonging to Obediah Wheeler whose wife was a daughter of Resolved White of the Mayflower.
Dovecote Cottage. One of the Alcott houses described as Meg's house in "Little Women."
Thoreau-Alcott house, see tablet.
Elm Street:
Frank Sanborn House built by the abolitionist friend of John Brown, later biographer and editor. Poet Ellery Channing.
Statues in Concord:
At the North Bridge:
The Minute man (erected in 1875) by Daniel Chester French Symbol of American readiness to defend Liberty used on millions of war bonds and war savimgs stamps.
BY THE RUDE BRIDGE THAT ARCHED THE FLOOD
THEIR FLAG TO APRIL'S BREEZE UNFURLED
HERE ONCE THE EMBATTLED FARMERS STOOD
AND FIRED THE SHOT HEARD ROUND THE WORLD
In Sleepy Hollow Cemetery:
The Melvin Memorial by D.C. French in collaboration with the architect Henry Bacon who later did the Lincoln Memorial together Figure of a mourning Victory wrapped in a flag holding a branch of laurel. Erected by James C. Melvin to honor his three brothers, all of whom died in the Civil War, 1909, at Andersonville, Ft. Albany and Petersburg.
In the Concord Free Public Library:
Seated Statue of Ralph Waldo Emerson by D.C. French, 1914. Funds raised by popular subscription.
Cranes Rising - bronze by Anna Hyatt Huntington gift of sculptor. In memory of Rev. Peter Bulkeley who came to Concord from Odell near Cranfield Bedfordshire England (Art Storage Area 1976)
Busts of Emerson, Thoreau, Hawthorne, Bronson Alcott, Louisa May Alcott and others. Concord alone of American towns has three of its citizens honored in the New York University HALL OF FAME. Louisa May Alcott by Concord born sculptor Elwell.
In the Selectmen's Room, Town House Concord:
MEMORIES OF ANTIETAM painting by E. W. Roberts. Portrait group of Civil War Veteran. Presented to the Town in 1928.
In the first Parish Parlor:
Portraits of ministers Daniel Bliss by Smibert. Copies of old portraits of Ezra Ripley & Peter Bulkeley.
Buttrick Monument, Liberty Street, 1915. Gift of George E. Messer E.T. Quinn sculptor, from the studio of D.C. French:
MAJOR JOHN BUTTRICK
FROM THIS FARM LED
THE PROVINCIAL MINUTE
MEN AND MILITIA DOWN
TO WIN THE BRIDGE HELD
BY THE BRITISH FORCES
APRIL 19, 1775
Erected by the Thoreau Society 1942:
On Virginia Road:
HENRY DAVID THOREAU
was born here July 12, 1817
in a house which was later moved to a
site east of this farm.
In the parking space below the roll of honor grounds:
HENRY DAVID THOREAU
was imprisoned for one night in a jail on this site July 1846 for refusing to
recognize the right of the state to collect
taxes from him in support of slavery - - an
episode made famous in his essay
"CIVIL DISOBEDIENCE"
On Belknap Street:
HENRY DAVID THOREAU
operated a pencil factory on this site
with his father in the "Texas House"
which they built together in 1844
On the house at 7 [now 255] Main Street:
HENRY DAVID THOREAU
died May 6 1862 in this
house which later became the home of the Alcott family
On a fieldstone brought from the farm where Thoreau was born and placed above the stone hearth excavated at the site of his cabin at Walden:
Beneath these stones is the hearth:
"Go Thou my incense upward "from this hearth"
On a bronze tablet at the Thoreau cabin site erected by the Middlesex County Commissioners:
In 1845 Henry David Thoreau built
himself a hut at this place. For over two
years he lived here in solitude writing and
gathering information from which two books
were published during his lifetime. These
books were Walden and "Week on the Concord
and Merrimack Rivers"
He was born in 1817 and died in 1862.
plaque near flag pole
Other historical markers:
Lexington Road in front of First Parish meetinghouse, erected by the Town:
THE FIRST PROVINCIAL CONGRESS
OF DELEGATES FROM THE TOWNS OF
MASSACHUSETTS
WAS CALLED BY CONVENTIONS OF
THE PEOPLE TO MEET AT CONCORD ON THE
SEVENTH DAY OF OCTOBER 1774
THE DELEGATES ASSEMBLED HERE
IN THE MEETING HOUSE ON THAT DAY
AND ORGANIZED
WITH JOHN HANCOCK AS PRESIDENT
AND BENJAMIN LINCOLN AS SECRETARY
CALLED TOGETHER TO MAINTAIN
THE RIGHTS OF THE PEOPLE
THIS CONGRESS
ASSUMED THE GOVERNMENT OF THE PROVINCE
AND BY ITS MEASURES PREPARD THE WAY
FOR THE WAR OF THE REVOLUTION
Lexington Road tablet on Hawthorne's Path July 4, 1904.
Lexington Road in front of Concord Grape Vine:
EPHRAIM WALES BULL
PLANTED SEEDS OF A
WILD LABRUSCA GRAPE
FOUND GROWING ON
THIS HILLSIDE
WHICH
AFTER THREE GENERATIONS
THROUGH HIS WORK
AND WISDOM
BECAME
IN THIS GARDEN
IN SEPTEMBER 1849
THE
CONCORD GRAPE
On Monument Street near the Carlisle line:
HOME OF JONAS BROWN
BORN DECEMBER 15, 1752 DIED JULY 31, 1834
HE WAS WOUNDED AT THE NORTH BRIDGE APRIL 19, 1775
BLEEDING HE CHASED THE ENEMY NINE MILES
HE WAS ENSIGN AND LIEUT.
HE WAS AT BUNKER HILL
ERECTED 1887 BY HIS DESCENDANTS
In the entrance to the Library - rear of lobby [prior to 2003-2005 renovation]:
William Munroe
A textile merchant of
Boston and London
built this Library
and gave it
with funds for its maintenance
and extension
for the use of the inhabitants
of his native Town.
- - -
Born and Died in Concord
1806-1877
- - -
Original Library 1873
Stack Room 1917
Building Remodelled and Enlarged 1933
Erected in 1910 at his own expense by Judge Peter Chardon Brooks:
On the grave of the British Soldiers - Battlefield lines by Lowell
They came three thousand miles and died
To keep the past upon her throne
Unseen beyond the western wave
Their English mother made her moan
On the 1836 Battle Monument, dedicated in 1837:
HERE
ON THE 19TH DAY OF APRIL, 1775
WAS MADE THE FIRST FORCIBLE RESISTANCE TO
BRITISH AGGRESSION
ON THE OPPOSITE BANK STOOD THE AMERICAN MILITIA
HERE STOOD THE INVADING ARMY
AND ON THIS SPOT THE FIRST OF THE ENEMY FELL
IN THE WAR OF THE REVOLUTION
WHICH GAVE INDEPENDENCE TO THESE UNTIED STATES
IN GRATITUDE TO GOD AND IN THE LOVE OF FREEDOM
THIS MONUMENT WAS ERECTED
A.D. 1836
On Barrett's Mill Road on Col. Barrett house, placed by Old Concord Chapter D.A.R. April 19, 1961:
HOUSE AND FARM OF
COLONEL JAMES BARRETT
COMMANDING OFFICER
OF THE MIDDLESEX MILITIA
ON THE MORNING OF APRIL 19, 1775
THE BRITISH MARCH FROM BOSTON
WHICH RESULTED IN THE OUTBREAK OF THE REVOLUTIONARY WAR
ENDED HERE WITH THE SEARCH FOR MILITARY STORES.
GUN CARRIAGES FOUND BY THE LIGHT INFANTRY
WERE BURNED