Kids
What's Happening Next
Scarecrow Festival!
Scarecrow Festival on the Main Library Lawn from Oct. 13-31, 2018.
The Family Fun Day on Sunday, October 14th from 2 - 3 p.m. was a huge success!
We had lots of families come and enjoy author, Josh Funk, who read from his new picture book, Lost in the Library featuring the famous NYPL lion statues.
The Middlesex 4H Club Fife & Drum group attracted a huge audience that included children dancing and marching to their patriotic tunes.
Families strolled the grounds enjoying the scarecrows created by local preschools.
Over 100 people attended the afternoon celebration and enjoyed12 dozen donuts, gallons of apple cider, and a bushel of apples!
The scarecrows will be up until the end of the month. Come by and take a look!
Books to check out before they are movies
The House With A Clock in Its Walls by John Bellairs
A boy goes to live with his magician uncle in a mansion that has a clock hidden in the walls which is ticking off the minutes until doomsday.
Check out the library book here. Check out the trailer below.
Talk Like a Pirate Day
Aye aye mateys! We had a great day talking like pirates as well as a fun storytime with pirate themed books and a puppet show! We hope you come to the next one!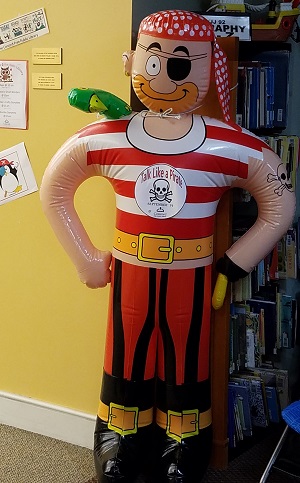 2018 Youth Media Award Winners
Click here for top books, video, and audiobooks for children and young adults—including the Caldecott, Coretta Scott King, Newbery and Printz awards.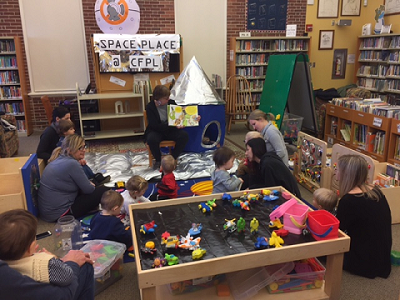 Join us for Storytimes for babies, toddlers, preschoolers and early elementary kids!
Check our calendar for dates and times or just come for a pop-up storytime, like this one, that may happen when you visit!
New Books in the Kids Room
Click on a book cover and you will be taken to our catalog so you can check it out!
Quick Links for Kids
Go to the Concord Public Schools website and click on your school.
Find out more about other schools in Concord, MA.
Find the titles you like in the kids section of OverDrive.
Check out your favorite series books in order, courtesy of Mid-Continent Public Library.