Kids
Summer Reading Program - Libraries Rock! is in Full Swing
Check out the video below to learn about the program and activities at the library.
NEW!

TumbleBook Library E-Books for Kids is a collection of animated, talking picture books which teach kids the joy of reading in a format you'll love.
For Concord residents - all you need is your Library card. See here for more information.
What's Happening in the Kids' Room
BookEaters Club made a video! Check it out below.
2018 Youth Media Award Winners
Click here for top books, video, and audiobooks for children and young adults—including the Caldecott, Coretta Scott King, Newbery and Printz awards.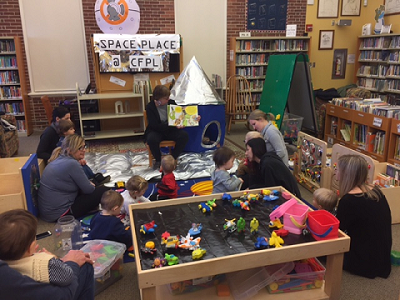 Join us for Storytimes for babies, toddlers, preschoolers and early elementary kids!
Check our calendar for dates and times or just come for a pop-up storytime, like this one, that may happen when you visit!
New Books in the Kids Room
Click on a book cover and you will be taken to our catalog so you can check it out!
Quick Links for Kids
Go to the Concord Public Schools website and click on your school.
Find out more about other schools in Concord, MA.
Find the titles you like in the kids section of OverDrive.
Check out your favorite series books in order, courtesy of Mid-Continent Public Library.