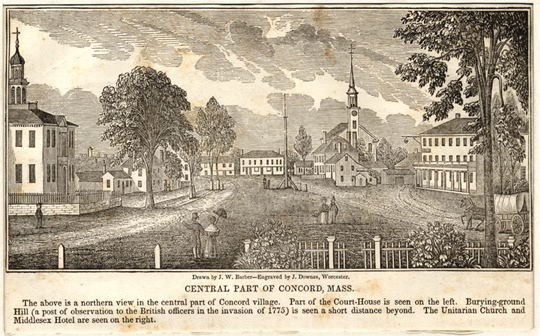 47.   John Warner Barber.  Central Part of Concord, Mass., 1839.  From illustration in Barber's Historical Collections, Being a General Collection of Interesting Facts, Traditions, Biographical Sketches, Anecdotes, &c., Relating to the History and Antiquities of Every Town  in Massachusetts … (Worcester: Dorr, Howland & Co., 1840).  Illustration drawn by Barber, engraved by Downes, and printed.
   Barber's engraving shows Monument Square from the vantage point of the present-day Colonial Inn.  The version of the Middlesex Hotel depicted (to the far right) burned in 1845 and was rebuilt in 1846.  The engraving also shows the First Parish Church before it was renovated and reoriented to face Lexington Road (1841) and (to the far left) the county courthouse that burned in 1849 and was replaced by another structure that eventually became the Middlesex Mutual Fire Insurance building.  Concord's Town Hall had not yet been built when Barber's book was published.
No image in this online display may be reproduced in any form, including electronic, without permission from the Curator of Special Collections of the Concord Free Public Library.
Next Entry - Previous Entry - Back to Section VI Contents Listing - Back to Exhibition Introduction - Back to Exhibition Table of Contents