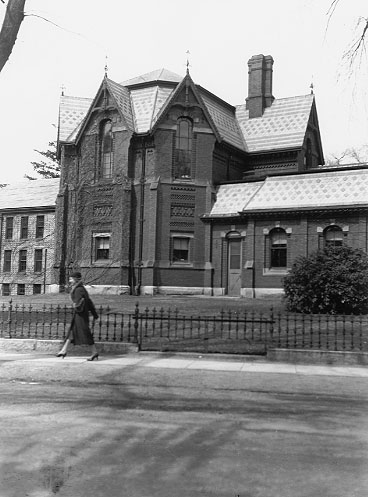 32. The 1917 Stack Addition
The tower located in 1873 at the back (west) side of the Concord Free Public Library both represented space unusable for practical purposes and complicated expansion off the rear of the building. Although William Munroe had hoped that the library would eventually be enlarged in a way that would allow its preservation, the tower was taken down in 1917 to accommodate a major stack addition, shown in this 1920s photograph.
Helen Whitney Kelley - librarian of the Concord Free Public Library in 1917 - described the benefits of the new stack area in her report to the town for that year: "An event in the history of the Library of nearly equal importance to the erection of the building by Mr. Munroe in 1873 was the completion this year of the new stack. This attractive, sunny room, opening from the main hall, brightens the whole building. With a present capacity for 50,000 volumes and, by adding a third story of shelving, a future capacity for 75,000 volumes, this stack will be ample for many years to come ... The books that are classified have been placed here. Entering from the main room, the fiction is arranged on the shelves at the left, with literature in general on the shelves at the right. In the lower stack, on the shelves at the left, are the books of history, travel and description, and at the right is biography. There are still some vacant shelves, but as soon as the work upon the reclassification is resumed these will be filled. At present the books with the old numbering have been placed upon the shelves around the lower balcony and in the dark stack room. The new stack has made it possible to relieve the crowded condition of the main room, which, by the removal of the extra bookcases and the fence, has been wonderfully improved in appearance. The children's books are on the shelves back of the delivery desk, and in the alcoves here reading tables for the use of children below the high school age have been placed. This relieves the general reading room. Many expressions of pleasure at the improved appearance of the Library and for the privilege of access to the books are heard."
The 1917 stack addition undoubtedly did much to ease overcrowding due to the growth of collections and services. Nevertheless, writing of it for the 1917 town report, the Library Corporation was mindful that enlargement would again be necessary before very long.