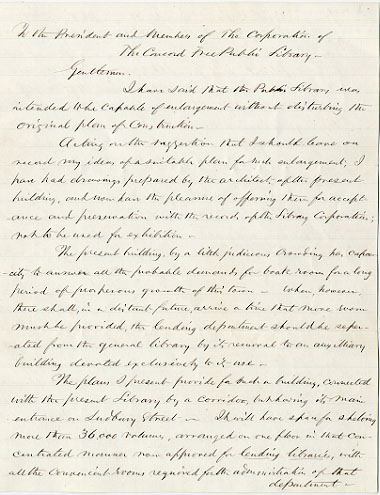 29. William Munroe's Plans for Expansion
The rapid growth of library collections following the opening of the Concord Free Public Library almost immediately turned William Munroe's thoughts to future expansion of the building. Development of the circulating, reference, art, and local collections through inspired generosity quickly consumed what had, at the planning stage, seemed ample shelving and storage space. Consequently, Munroe once again engaged the services of Snell and Gregerson to draw up plans. On September 6, 1875, he wrote a letter describing the completed plans to the Corporation, and presented them at a joint Corporation/Library Committee meeting at his Concord home on September 10, 1875.
The plans for extension removed both the circulating and the art collections to areas separate from but connected to the original library building, which would subsequently be dedicated to "General and Reference" purposes, as Munroe wrote in his September 6th letter, "the main room to be fitted with increased accommodations for the convenience of students and general readers; the present reading room serving for newspapers, or for offices."
Munroe was firm about the need for increased space devoted to art: "Collections of works of Art, worthy of study, will in this Country, long be rare except in the larger cities; and as paintings, engravings, and statuary are fit companions for books, that local Public Library will be thought lacking an important feature which does not provide rooms specially adapted to their reception and study ... A fine building, well adapted to the purpose, would be a perpetual invitation to possessors of Art treasures to consider the wisdom of bestowing them on the public."
From a modern vantage point, it may seem odd that Munroe hoped to develop the Concord Free Public Library as a museum as well as a public library. But when the library was dedicated in 1873, the Boston Museum of Fine Arts - formed from the Boston Athenaeum art collection - was only three years old. Locally, the Concord Antiquarian Society (now known as the Concord Museum) was not organized until 1886. Munroe thus saw the library meeting a need not yet definitively satisfied by other regional and local institutions.
But as time went by, specialized institutions increasingly focused on collecting, preserving, and displaying art and material culture, and the library's collecting focus gradually narrowed. Today, only Concord-related art and artifacts that mesh with existing subject strengths and complement other Special Collections holdings are accepted for addition to the library collection.
Although the library has grown considerably since 1873, Snell and Gregerson's plans for extension - preserved in the records of the Concord Free Public Library Corporation - were never implemented.