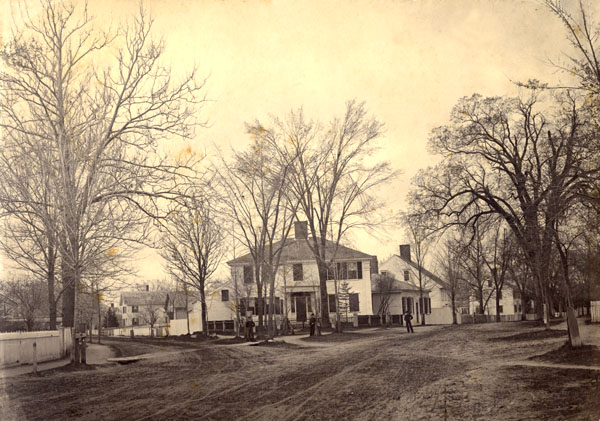 5. The Brooks House, ca. 1865
Prior to the construction of the Concord Free Public Library, the intersection of Main Street and Sudbury Road was dominated by a large house built about 1740 by James Holden. Holden kept the Black Horse Tavern in this building, which also served from 1745 until about 1760 as the meeting place of the West Church, formed by a group of liberal dissenters from the First Parish during the evangelical ministry of the Reverend Daniel Bliss. From the early 1820s until 1868, it was the home of lawyer Nathan Brooks (1785-1863) and his wife, abolitionist Mary Merrick Brooks (1801-1868). Their son George Merrick Brooks, a lawyer and judge and an original member of the Concord Free Public Library Corporation, was born in this house in 1824.
William Munroe bought the Brooks property from George Brooks in 1869. The piece of land on which the house sat provided a central and accessible location for the planned library building, with some allowance for future expansion. Brooks, an investor in the Hubbard Estate Improvement Company (a speculative real estate venture that resulted in the subdivision of the old Ebenezer Hubbard farm and in the subsequent development of Hubbard Street) moved his family's former home to Hubbard Street in 1872. The Brooks House still stands at 45 Hubbard.
This photograph shows the Brooks House about seven years before it was moved to Hubbard Street.