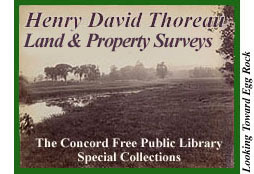 Tips for Viewing and Printing the Thoreau Land and Property Surveys
VIEWING TIPS
The surveys on this site are most often of Thoreau's draft -- not final -- work on a survey. He was well known for his difficult-to-decipher handwriting; these scanned documents have been digitally enhanced with ease of reading in mind. This means the images you see on this site are not exactly as they would appear in the original document. The surveys' enhanced clarity has allowed some of them to be better understood than before.

Size. Clicking on the thumbnails on each survey page, you will find one or more large-scale images. These enlarged images are slightly over 200% of the original documents. They should be oversized for your browser window, requiring you to scroll right-to-left and up-and-down. If the enlarged images fit your browser window, please see this important note

which will allow you to view them in their largest presentation.

Download Speed. This site was optimized for the use of scholars and researchers. We assume that these individuals most often work at institutions with highspeed broadband internet access. We therefore felt free to offer much larger images (1 MB+) than would normally be shown on the web. Readers who access this site using a dialup access will find the enlarged images very slow to download.

Contrast, Odd Coloration and Unexpected Shading. Contrast was enhanced to aid in readability in almost all cases. The scanning and optimizing processes brought out aspects of these documents which were simply NOT present in the original. Vivid coloration, moire patterns, and under-exposed darkened edges had to be digitally corrected wherever possible. And because each section of the large surveys might contain different types and combinations of pen, pencil or scoring marks, the levels of manipulation required for legibility varied throughout a single document.

Overlapped Images. For your viewing ease, in cases where surveys presented as two or more enlarged images, each image overlaps its neighbor slightly. This is meant to help readers more easily transition from one section to the next.

Score Marks and Holes. Many of these surveys contain uncolored score marks made into the surface of the paper with a sharp object. These lines have been enhanced so they may be seen in the scans, but several may be faint -- look carefully for them. You will also see some surveys contain a pattern of black dots. These are often holes Thoreau made in the paper made by a pointed object.

Enhanced View of Large Surveys. Many of the surveys were too large to present as a single enlarged image; these are offered instead in sections. Clicking on a different part of the thumbnail results in a different enlarged image. The Special Collections has a CD-ROM with a collection of the largest of the surveys as single images at 200%+ magnification. These are not available on this site and can only be viewed at the library.

PRINTING TIPS
The enlarged images may be printed from your internet browser. However, be aware that if they do not print out fullly and to their actual size, there are two things to consider.

1) Some browsers have a default to "fit to page" or "shrink pages to fit," meaning that these large images will be compressed to fit on a single sheet of paper. This is found sometimes with printers running on Macintosh. If this is the type of output desired, then this is not a problem. However, if you wish them to print out at full size, you will need to see your printer's manual for how to deselect this option.

2) Using some browsers, large images will print at the full and intended size, but only as much as will fit on a single page. This is found with Internet Explorer 6.0 for Windows. If this is the situation, we recommend you use a different browser from which to view and print. Please see directly below for more IE 6.0 info.

See note above about how the printed images overlap in cases where the survey has been presented in two or more sections.

IMPORTANT NOTE FOR EXPLORER 6.0 (Windows) USERS
Readers who use Internet Explorer (IE) 6.0 may find that the enlarged survey images fit the browser window perfectly, instead of being far larger -- as they are intended to be. There is a default on IE 6.0 which makes oversized images automatically fit the browser window. Here's how to change this default.
1. Go to Tools
2. Go to Options
3. Go to Advanced
4. Go to Multiple Media (2/3 down your screen)
5. Click Enable Automatic Images Resizing
6. Click Apply
7. Click Ok
Please see printing note #2 above for more IE 6.0 info.
Survey Printing and Viewing Tips
To the Thoreau Survey Index
To the Henry David Thoreau Papers Finding Aid