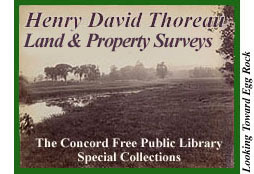 7i Plan of a New Road from the N.E. Burying Ground in Concord to William Pedrick's House ... July 1853

Original document size (HEIGHT x WIDTH): 11" x 29" (document is folded once inside protective cover)

The document below is folded in half and encapsulated in a single envelope. The thumbnail for the left half appears above that of the right half.

Click here for tips on printing these images.
Permission must be obtained from the Concord Free Public Library to publish this image in any form, including electronic.

Survey Printing and Viewing Tips
To the Thoreau Survey Index
To the Henry David Thoreau Papers Finding Aid