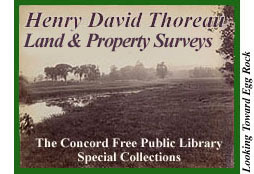 38 RWE's Land [n.d.]

Original document size (HEIGHT x WIDTH): 8" x 12" (presented here cropped; ink and pencil)

The image below can be seen in 1 larger piece. Click on the part of the image you wish to see in a larger view.

Click here for tips on printing these images.
Permission must be obtained from the Concord Free Public Library to publish this image in any form, including electronic.

Survey Printing and Viewing Tips
To the Thoreau Survey Index
To the Henry David Thoreau Papers Finding Aid