64 (top), 65 (center), and 66 (bottom)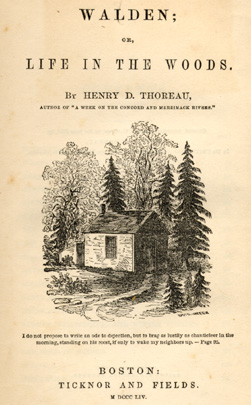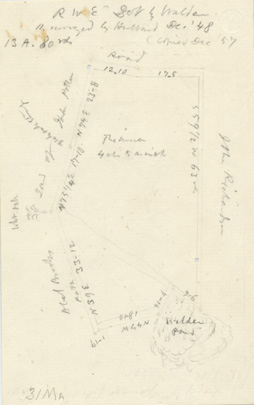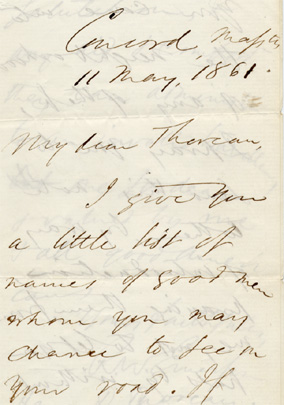 EMERSON AND THOREAU
64.   Henry David Thoreau.  Walden; or, Life in the Woods (Boston: Ticknor and Fields, 1854).  Letterpress on paper; bound in brown cloth.  Inscribed in ink on front free endpaper: "R.W. Emerson / from / H.D.T."  Presented by Ellen Emerson Cotton, 1982.
65.   Henry David Thoreau.  RWE Lot by Walden, Surveyed by Hubbard Dec. '48 (copied Dec. '57): manuscript property survey.  Pencil on paper; encapsulated.  Survey 31a from the Thoreau survey collection in the Henry David Thoreau papers.  Bequeathed by Sophia Thoreau, 1876.
66.   Ralph Waldo Emerson.  Autograph letter to Henry D. Thoreau (all-purpose letter of introduction for Thoreau in Minnesota), May 11, 1861.  Ink on paper.  From the Ralph Waldo Emerson papers.  From the collection of the Concord Antiquarian Society, presented to the library in 1974. 
 
   Despite the sympathy and fellowship that Emerson and Thoreau shared in the 1830s and early 1840s, their friendship was eventually troubled.  Each man's misplaced expectations of the other took its toll. 
   Moreover, Emerson found that Thoreau's extreme idealism made ordinary friendship difficult to maintain.  He wrote in his eulogy of Thoreau that "no equal companion stood in affectionate relations with one so pure and guileless," and went so far as to comment, "I think the severity of his ideal interfered to deprive him of a healthy sufficiency of human society."  Then, too, there was an offputting thorniness to Thoreau's personality.  Elizabeth Hoar said of him (as recorded in Emerson's journal and later incorporated into the eulogy), "I love Henry, but do not like him." 
   And yet, Thoreau could be a good comrade.  While living in the Manse between 1842 and 1845, Nathaniel Hawthorne—no extrovert—enjoyed his company.  When Thoreau informed him of his plan to go to Staten Island in 1843 to tutor the children of Emerson's brother William, Hawthorne wrote in his journal, "I should like to have him remain here."  In "The Forester," Bronson Alcott called Thoreau "the most welcome of companions."
   Although the bond between them sometimes chafed, Emerson and Thoreau remained friends.  If the relationship did not turn out as they had thought it would, each nevertheless continued to find qualities to admire in the other.  Emerson particularly respected Thoreau as a man of action and valued his useful skills and knowledge.  He wrote in his eulogy of Thoreau: "He grew to be revered and admired by his townsmen, who had at first known him only as an oddity.  The farmers who employed him as a surveyor soon discovered his rare accuracy and skill, his knowledge of their lands, of trees, of birds, of Indian remains … which enabled him to tell every farmer more than he knew before of his own farm." 
   The items shown here—a presentation copy of Walden (1854) inscribed by Thoreau for Emerson, a pencil survey of Emerson's property at Walden, copied in 1857 by Thoreau, and a letter of introduction written by Emerson for Thoreau's use in Minnesota in 1861—all attest to the endurance of their friendship.
   After Thoreau's death in 1862, Emerson had opportunity to read his friend's manuscript journal.  In June, 1863, moved by the vitality he found there, he paid private tribute in his own journal to Thoreau as a writer: "In reading Henry Thoreau's Journal, I am very sensible of the vigor of his constitution.  That oaken strength which I noted whenever he walked or worked or surveyed wood lots, the same unhesitating hand with which a field-laborer accosts a piece of work which I should shun as a waste of strength, Henry shows in his literary task.  He has muscle, & ventures on & performs feats which I am forced to decline.  In reading him, I find the same thought, the same spirit that is in me, but he takes a step beyond, & illustrates by excellent images that which I should have conveyed in a sleepy generality."
No image in this online display may be reproduced in any form, including electronic, without permission from the Curator of Special Collections of the Concord Free Public Library.
Next Entry - Previous Entry - Back to Section VI Contents Listing - Back to Exhibition Introduction - Back to Exhibition Table of Contents