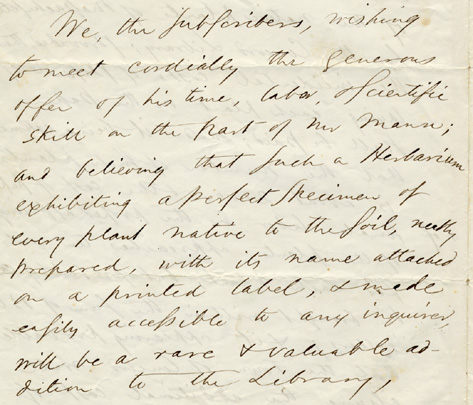 SUBSCRIPTION FOR HERBARIUM, 1866
60.   Ralph Waldo Emerson.  Manuscript subscription letter for herbarium to be made by Horace Mann, Jr., for the Concord  Town Library, [1866].  Ink on paper.  From the Ralph Waldo Emerson papers.
 
   Horace Mann, Jr. (1844-1868), a student at Frank Sanborn's school in Concord, was a son of Horace and Mary Peabody Mann.  Young Mann was a proficient naturalist who consulted with Thoreau about animal and bird identification.  When Thoreau traveled to Minnesota in 1861 in an attempt to improve his failing health, Mann accompanied him.
   In 1866, Emerson initiated a subscription to fund Mann's preparation of a herbarium for the Concord Town Library.  Subscribers included Emerson himself, George Keyes, John Shepard Keyes, Frederic Hudson, E.R. Hoar, William Munroe, Albert Stacy, Frank Sanborn, William Emerson, George P. Bradford, A.B. Warren, and George Brooks.
No image in this online display may be reproduced in any form, including electronic, without permission from the Curator of Special Collections of the Concord Free Public Library.
Next Entry - Previous Entry - Back to Section VI Contents Listing - Back to Exhibition Introduction - Back to Exhibition Table of Contents