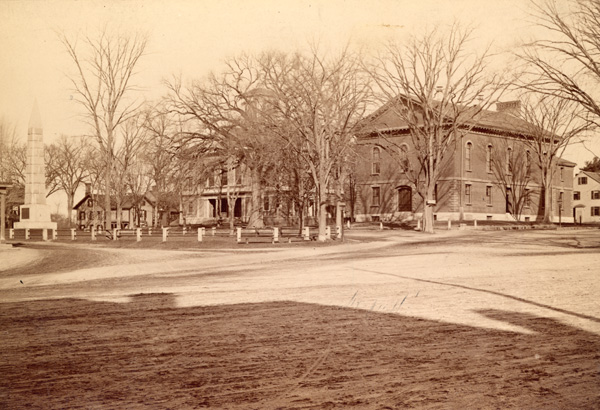 35. Munroe View of Monument Square, ca. 1885-1895
Photographer Alfred Munroe (1817-1904) was a son of Concord pencil maker William Monroe/Munroe and a younger brother of William Munroe, Jr. (the founding benefactor of the Concord Free Public Library). At the age of sixteen, Alfred Munroe entered the dry goods business in Boston, and subsequently earned his living in Boston, London, New Orleans, and New York. He returned permanently to Concord in 1877, and photographed the town and its inhabitants during the final twenty-five years of his life. The Concord Free Public Library holds an extensive collection of Munroe's glass plate negatives, as well as a number of Munroe images printed in cabinet card format.
This Munroe cabinet card photograph clearly shows the 1878/79 addition to the rear of the Town House.