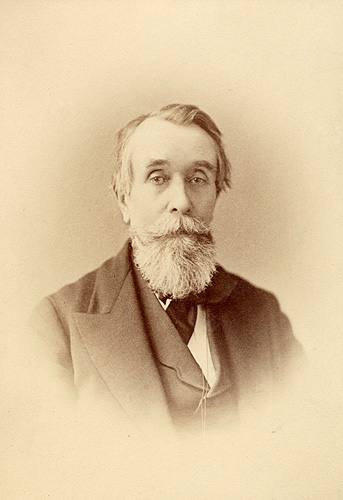 1. William Munroe (1806-1877)
Concord Free Public Library founder William Munroe was born in 1806 in what is now the Catholic rectory at 70 Monument Square. His parents were William and Martha (Patty) Stone Monroe, or Munroe. The elder William was a skilled cabinetmaker, pencilmaker, and the grandson of Jedediah Munroe of Lexington, who was killed on April 19, 1775. The younger William was the first of nine children.
Raised in Concord and prepared for college, William Munroe, Jr. instead entered the dry goods business at age fifteen. He worked in Boston as a clerk and buyer. From Boston, he moved to New York, where he lost everything to fire in December of 1835. He then set up business in London, remaining there for some twenty years before returning to Boston. As a foreign buyer for the Boston importing firm of W. & S. Phipps and (later) a partner in the Boston dry goods importing house of Little, Alden & Co. (which - under the name James L. Little & Co.- was a major owner and the selling agent for the Pacific Mills in Lawrence, Massachusetts), Munroe amassed considerable wealth. He never married.
Although long absorbed by his career, Munroe maintained a deep and abiding affection for Concord. In his Social Circle memoir of William's brother Alfred (Memoirs of Members of the Social Circle in Concord: Fourth Series), Henry Francis Smith wrote of William: "He was proud of its [Concord's] history and the memorable events which took place here, and, more than all, of the illustrious men who claimed Concord as their home, whose words and deeds have had such a potent influence in shaping the history of the Commonwealth and nation."
Munroe retired in 1861. He subsequently lived most of the year on Boylston Street in Boston, summering in Concord in his family's home at the corner of Main Street and Academy Lane (now 185 Main). He devoted himself to beautifying the Munroe house and the neighborhood, purchased real estate in various parts of Concord, and was responsible for laying out Bow Street, where he owned property. He also began to think seriously about building a new public library for the town. Having already provided in his will for the existing Concord Town Library (Concord's first public library), he shifted his focus to improving the town's library facilities during his lifetime.
Munroe undertook the establishment of the Concord Free Public Library with single-minded determination, surmounting obstacle after obstacle. He purchased private property, moved buildings, widened Main Street, negotiated and made arrangements with the Town of Concord, Middlesex County, and the Commonwealth, encouraged the generosity of others, oversaw the move of the Town Library collection into the new building, and, in the last months of his life, planned the eventual expansion of the new facility.
In 1876, William Munroe once again became a Concord resident, joining his family in their Main Street house. He died there in 1877, not far from the library he had built.
This cabinet card photograph by Allen & Rowell (Boston) shows William Munroe around the time the Concord Free Public Library opened.