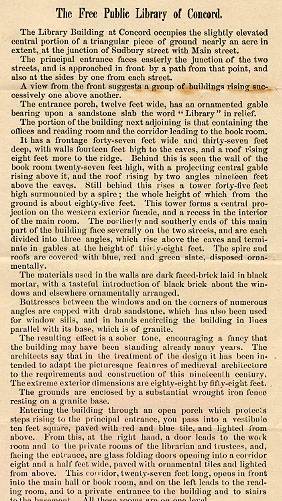 18. Two Descriptions of the New Library Building
Snell and Gregerson's brick Concord Free Public Library building was described at length in a printed notice dated September 30, 1873 and in the booklet issued as a record of the library dedication exercises of October 1, 1873. Together with the surviving architects' plans and early photographs by Augustine Folsom and others, the two descriptions make the library the best-documented of nineteenth century Concord buildings. Information is available about virtually every aspect of it - design, location, materials, methods of construction, heating and lighting, safety features, size, and shelving capacity. It is possible to know, for example, that the exterior walls were built incorporating air spaces "to secure uniformity of temperature, and to guard against moisture," that the railing creating a "waiting room for book borrowers" in the central portion of the Book Room was made of black walnut, and that the bookcases and shelves were "not placed in contact with the walls" but were rather "protected by air spaces on all sides."
This image shows a part of the September 30, 1873 printed description of the library.