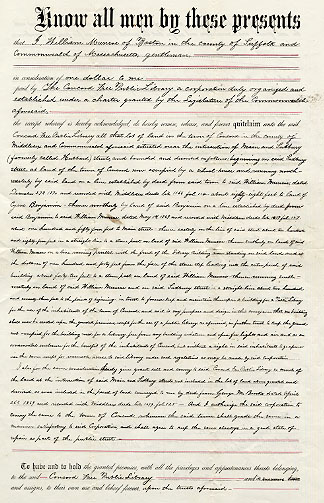 20. Transfer of the Concord Free Public Library Property to the Corporation
On April 26, 1873, William Munroe deeded the Concord Free Public Library property to the recently incorporated Board of Trustees for the sum of one dollar. Use of the property was restricted to the permanent maintenance of "a building for a Public Library for the use of the inhabitants of the town of Concord." The deed (shown here) specified that "no building shall ever be erected upon the granted premises, except for the use of a public library as aforesaid, in further trust to keep the ground not occupied for the building used for a library free from any building whatever and open for light and air and as an ornamental enclosure for the benefit of the inhabitants of Concord, but without a right in said inhabitants to go upon or use the same except... under such regulations as may be made by said Corporation."
Later, to facilitate the future enlargement of the library, Munroe bought and deeded adjacent parcels to the Corporation.