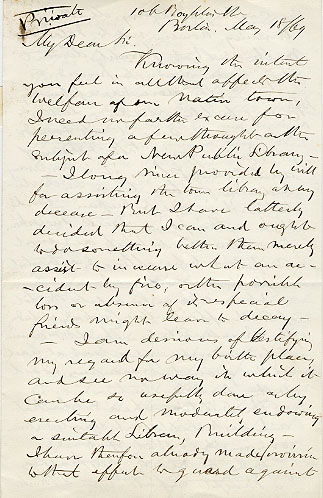 7. William Munroe Seeks the Involvement of E.R. Hoar
William Munroe purchased Concord property on which to build a library without revealing his intentions to more than a handful of local people. In May of 1869, however, he let Ebenezer Rockwood Hoar in on his plans. Hoar was a native of Concord and a life-long Concord resident, a lawyer, a justice of the Massachusetts Supreme Judicial Court (1859-1869), a key player in the Massachusetts Republican Party, United States Attorney General in the cabinet of Ulysses S. Grant (1869-1870), and a representative in the United States Congress (1873-1875). A good friend of Ralph Waldo Emerson and a member of the Social Circle in Concord, he served on the Town Library Committee for the Concord Town Library. Aware that Hoar would be both a powerful ally and a source of sound legal advice, Munroe wrote him in Washington, spelling out his plans for the Concord Free Public Library in considerable detail. Hoar subsequently helped Munroe transform his vision of a new library into reality and ultimately became the first president of the Concord Free Public Library Board of Trustees.
The letter from Munroe to Hoar forms part of a collection of William Munroe papers.