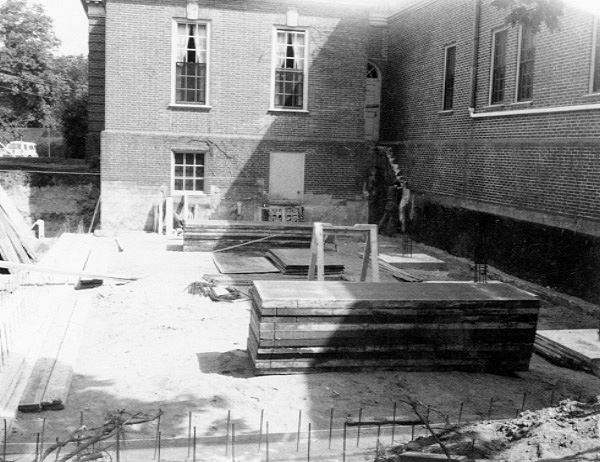 41. The Renovation of 1986-1990
In the 1980s, the Concord Free Public Library Corporation conducted a capital campaign to raise money for building expansion and improvements. In 1985, the town committed funding for the construction of a state-of-the-art library vault to house both Concord municipal records and valuable library collections. Subsequently, between 1986 and 1990, the 129 Main Street building underwent significant renovations.
In 1986, ground was broken for an addition on the Main Street side of the library to create new space for the Children's Department and, below it, for a climate-controlled, secure archival vault. The library was closed for a month beginning in December, 1986 to allow demolition, electrical work, and carpentry to proceed without compromising the safety of patrons and staff. In 1987, the Circulation Department was established at a central desk outside the original 1873 building, where it had always been located - a move that facilitated consolidation of charging duties for both adult and children's materials. Roof repair, exterior painting, and the installation of a security system continued into 1987. In 1988 and 1989, asbestos was removed from the main and Fowler buildings, in 1989 air conditioning installed to cool several first-floor areas of 129 Main (the periodical room, Circulation, and administrative offices), and in 1990 energy conservation measures were implemented. The long-awaited completion late in 1990 of fitting the archival vault for use was celebrated the following spring, marking the end of several years of inconvenience to Special Collections staff and patrons. (Special Collections had been created as a department separate from Reference in 1977.)
While much of this work was in progress, the library staff was simultaneously involved with the transition from the old card catalog to electronic bibliographic records accessible through the data base of the Minuteman Library Network. The library went online in 1986.
This image shows preparations for pouring the foundation of the archival vault.