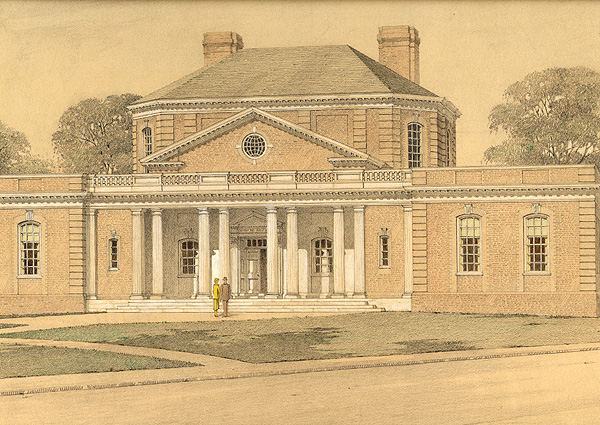 35. The 1933 Renovation
By 1930, crowding of the main Concord Free Public Library building was worse than it had ever been. Even though the country was in serious economic difficulty, the Corporation felt that it had to accept the responsibility of renovation and expansion. With personal resources increasingly strained, the value of a public library - a resource for the enrichment and recreation of all - took on great importance. Harry Little, architect of the Fowler Branch, was asked to undertake the project.
The library had retained its original Victorian exterior through earlier additions (the school building annexed to the rear of the building in 1889 and the stack area constructed in 1917). Harry Little's 1933 renovation transformed it from Victorian Gothic to elegant Georgian. The change was so complete that people viewing photographs of it dating from before 1933 sometimes ask when the old building was taken down. Changed though the building was, however, its original octagonal hall was retained and, in the interior of the lobby, appears today essentially as it did in 1873.
But the library was significantly altered in other ways. The entrance was modified. On the first floor, the present Reference Room, a separate children's room (now the Thoreau Room), a staff office area, and two alcoves (one for the card catalog) were constructed. On the second floor, an art gallery (in acknowledgment of the wish of library founder William Munroe), a fireproof vault, and storage were added.
The Frohman, Robb & Little elevations, plans, and blueprints for all of this work are archived among the records of the Concord Free Public Library Corporation. This partial elevation shows the redesigned front of the building.
No single renovation can anticipate all future needs of a thriving library. Additional building improvements were necessary within a few years of the major 1933 remodeling and expansion. The Library Corporation wrote for the 1938 annual Concord town report, "Last spring a third tier was added in the stack room at the Main Library which relieved the crowded condition of the book shelves throughout the Library and will provide ample ... space for some years to come."