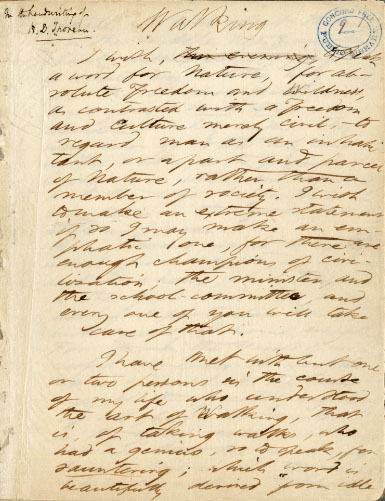 28. Early Growth of the Library Through Gift
During the first decades following the establishment of the Concord Free Public Library, the collections - including artwork and specifically Concord-related holdings - increased dramatically through the generosity of many donors. Gifts of money and materials from Concord residents and out-of-town supporters contributed to the growing reputation of the library as a rural beacon of New England culture, parallel to such urban institutions as the Boston Athenaeum and the American Antiquarian Society. Donors saw it as a worthy repository for valuable items documenting Concord's early settlement, role in the Revolution, and place in nineteenth century literary history.
The trustee reports in Concord's printed annual town reports for the years immediately following the library dedication document impressive donations of books, pamphlets, periodicals, manuscripts, personal and family papers, organizational records, paintings, sculpture, and even coins. Among the many donors listed in town reports for the 1870s are found Amos Bronson, Louisa May, and May Alcott; Josiah Bartlett; George Partridge Bradford; Augustus P. Chamberlaine; Edward Carver Damon; Ralph Waldo Emerson; James T. Fields; Daniel Chester and Henry Flagg French; Ebenezer Rockwood, Elizabeth, and George Frisbie Hoar; Frederic Hudson; Henry James; Edward Jarvis; George Keyes; John Brooks Moore; Alfred, Mary, Eliza, and William Munroe; Elizabeth Palmer Peabody; Minot Pratt; Grindall Reynolds; Reuben N. Rice; Franklin B. Sanborn; Henry F. Smith; Samuel Staples; Louis A. Surette; Sophia Thoreau; Adams Tolman; William Willder Wheildon; Albert E. Wood; and Hapgood Wright.
Some highly significant holdings were given during this early period - David Scott's 1848 oil portrait of Emerson, the 1646 first edition of Peter Bulkeley's The Gospel-Covenant, volumes from Elizabeth Palmer Peabody's Foreign Library at 13 West Street in Boston, and an extensive collection of manuscript land and property surveys by Henry David Thoreau among them. The manuscript of Thoreau's essay "Walking," a dedication gift by Boston publisher James T. Fields, stands out as a particular treasure among such riches.
Fields was one of the dignitaries and literati invited to Concord for the dedication of the Concord Free Public Library. He was a partner in the firm of Ticknor and Fields, America's most important literary publisher in the mid-nineteenth century. Ticknor and Fields published Emerson, Hawthorne, Thoreau, Oliver Wendell Holmes, Henry Wadsworth Longfellow, James Russell Lowell, Harriet Beecher Stowe, and John Greenleaf Whittier, and a number of important English writers as well. The firm attracted the best authors and maintained their loyalty by paying them well, by publishing their work in attractive, tasteful formats, and through effective publicity and distribution. Ticknor and Fields also published the Atlantic Monthly. Lowell was the first editor of the magazine. Fields took over as editor in 1861, on Lowell's resignation.
Fields was unable to attend the October 1, 1873 ceremonies in Concord. He wrote William Munroe on September 29th: "I have been confined to my room six weeks by a lame knee, and can't be with you on Wednesday. As I always intended to join in the good day's dedication, I feel greatly disappointed - more than I can express. I send for the Library a gift of five autographs, which please present in my name."
The autograph manuscripts to which Fields referred were pieces prepared for publication in the Atlantic: Emerson's essay "Culture"; Holmes's poem "Dorothy Q."; Lowell's poem "The Cathedral"; an address by John Lothrop Motley; and Thoreau's essay "Walking." In 1875, Fields added the first chapter of Hawthorne's The Dolliver Romance to his dedication gift.
Thoreau's essay "Walking" was published posthumously in the Atlantic for June 1862. Close to his death in 1862, Thoreau had revised earlier lecture and journal material in preparing the manuscript essay for submission to Fields. (Portions of the manuscript are in the hand of Thoreau's sister Sophia, whose assistance as amanuensis the dying author required.) The piece was later collected in Excursions (first published in 1863).