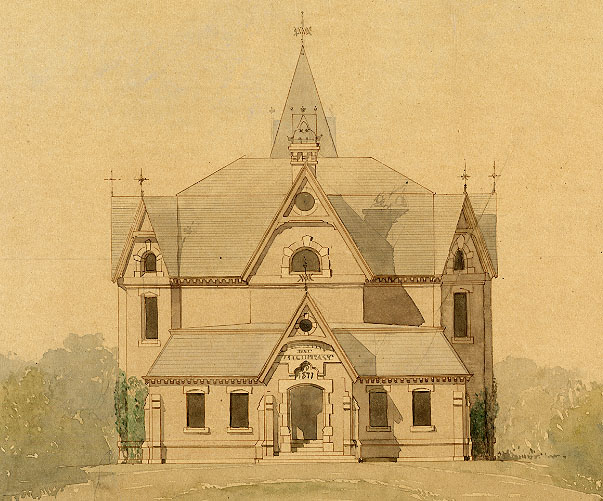 11. Snell and Gregerson Design the Library
William Munroe hired the Boston architectural firm of Snell and Gregerson to design the Concord Free Public Library.
George Snell was born and raised in London. He moved to Boston in 1850 and designed public and private buildings there. His work included the Boston Music Hall (home of the Boston Symphony Orchestra before the construction of Symphony Hall), the Studio Building, the Hotel Oxford, granite warehouses along Boston's waterfront and at the end of State Street, and the Boston Church Home for Destitute Children. In 1860, Snell formed a partnership with another architect named Gregerson.
Snell and Gregerson drew up meticulous plans for William Munroe's Concord Free Public Library, which are preserved in the library today. They later wrote of the building for the commemorative booklet for the library dedication ceremonies on October 1, 1873: "In the treatment of the design the architects have ? adapted the picturesque features of mediaeval architecture to the requirements and mode of construction of the present day." They described the whole as suggesting "a group of buildings rising successively one above another," culminating in a spired tower on the back (or west) side of the building.
This architectural elevation by Snell and Gregerson shows the proposed building from the front.
Architectural plans, written descriptions, and early photographs all reveal the sense of intellectual aspiration Snell and Gregerson hoped to convey through the uplifting rise of the building's line from entrance offices, corridor, and reading room to the higher central gable above the vaulted book room (what we now know as the lobby) to the tower, which stood eighty-five feet from ground to the top of the spire. The impression that the library's original architects meant to create survives today in the relatively unchanged, high-ceilinged, vaulted, balconied lobby.
In addition to focusing on the aesthetics of the building, Snell and Gregerson also paid attention to practical features - the library's location, accessibility, spaciousness, shelving capacity (it was designed to accommodate 35,000 volumes), its well-lit and "airy" public reading area, furnishings, safety features, and modern conveniences (gas light and furnace heating), all of which were important to William Munroe.