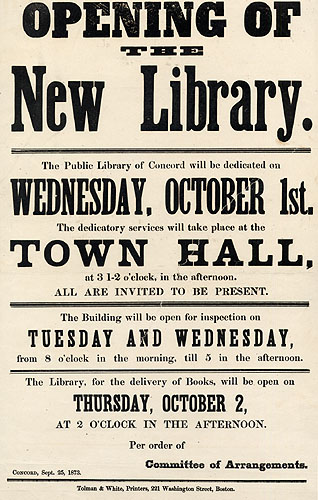 24. Dedication of the Library
The dedication of the Concord Free Public Library was planned by the Corporation and Library Committee at a joint meeting at the home of Reuben N. Rice on September 15, 1873, and took place two weeks later, on Wednesday, October 1, 1873. The ceremonies formed an expression of community pride, shared belief in the value of books, reading, and education, and gratitude to William Munroe for his generosity. Out-of-town guests - referred to in the commemorative dedication booklet as "distinguished strangers, ...natives of Concord residing elsewhere, friends of public education, intellectual life, and private and public munificence" - joined Concord citizens in celebrating the new institution.
The formal afternoon ceremonies began in the Town Hall (the large function room in the Town House), following a procession from the library, which was open all day to visitors. The Town Hall and the library building were "neatly, tastefully, and appropriately decorated with flowers and autumn leaves by a committee of ladies."
Henry F. Smith - Chairman of the Concord Board of Selectmen as well as a trustee of the Concord Free Public Library - presided over the ceremonies.
The library opened for public use the following day (October 2nd).
This broadside was printed and posted to inform local people of the upcoming library dedication.