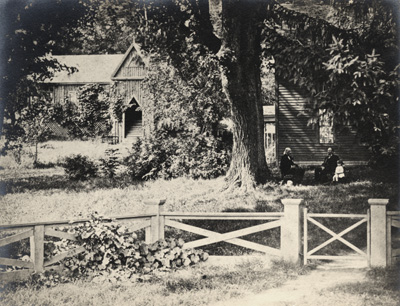 Photographic print in CFPL Photofile. Acquired by the Harvard Historical Society (Harvard, Massachusetts) from the estate of Winnifred L. Sturdy, 1981; purchased by the CFPL from the HHS in 1990.
This photograph of Alcott and Harris together was purchased as part of a collection sold to the Concord Free Public Library by the Harvard (Massachusetts) Historical Society in 1990. Although acquired from a source beyond Concord, the collection boasts a distinguished Concord provenance. It was bequeathed to the Harvard Historical Society by Winnifred L. Sturdy, who died in 1981. In 1939, Mrs. Sturdy (a Harvard resident) purchased a house on Lexington Road in Concord where Harriet G. Tolman—widow of Adams Tolman—was then living as a tenant. Adams Tolman and his father George were local historians, genealogists, antiquarians, and collectors, both expert in all things Concord. At his death in 1920, Adams Tolman left behind a large and rich collection of Concord-related manuscripts, printed materials, and photographs. An inveterate collector, Winnifred Sturdy came into possession of these Concord riches during Harriet Tolman's final years or shortly after she died. She may have purchased them from Mrs. Tolman, or perhaps simply gathered them up while putting her Lexington Road property in order after her tenant's death.
Next Image Previous Image
Back to Essay
Back to Table of Contents
Special Collections Home
Library Home
This image may not be reproduced in any form, including electronic, without permission from the Curator of the William Munroe Special Collections, Concord Free Public Library, Concord, Mass.