Staff Picks - Hoopla eBooks and Audiobooks for Teens
Teen Audiobooks -
Teen Audiobooks -
Teen eBooks -
Teen Audiobooks -
Teen eBooks -
Teen Audiobooks -
Teen eBooks -
Teen Audiobooks -
Teen eBooks -
Teen Audiobooks -
Teen eBooks -
Teen Audiobooks -
Teen eBooks -
Teen Audiobooks -
Teen eBooks -
Fantasy Teen Reads -
Teen Audiobooks
Journey Into Another World With - Teen Books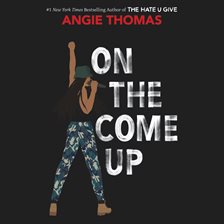 On the Come Up by Angie Thomas tells the story of 16 year old Brie who wants to become a rapper. "Brilliant, insightful, full of heart, this novel is another modern classic from one of the most influential literary voices of a generation." - From Hoopla
Genre:Fiction Format:Audiobook
"In Children of Blood and Bone, Tomi Adeyemi conjures a stunning world of dark magic and danger in her West African-inspired fantasy debut." - From Hoopla
Genre: Fantasy, SciFi Format:Audiobook
"Carve the Mark by Veronica Roth, the Globally bestselling Divergent author Veronica Roth delivers a breathtaking fantasy featuring an unusual friendship, an epic love story, and a galaxy-sweeping adventure." -From Hoopla.
Genre: Fantasy Format:Audiobook and eBook
"Caraval by Stephanie Garber is a sweeping tale of two sisters who escape their ruthless father when they enter the dangerous intrigue of a legendary game" From Hoopla
Genre: Fantasy Format:Audiobook
"In this sequel to the acclaimed Simon vs. the Homo Sapiens Agenda by Becky Albertalli, we follow Simon's BFF Leah as she grapples with changing friendships, first love, and senior year angst" -From Hoopla
Genre: Fiction Format:Audiobook and eBook
"War Storm By Victoria Aveyard is the stunning conclusion to her Red Queen series. The final battle lines are drawn and the stakes have never been higher -From Hoopla"
Genre:Fantasy Format:Audiobbok
Keep This to Yourself is a riveting thriller by Tom Ryan."It's been a year since the Catalog Killer terrorized the sleepy seaside town of Camera Cove, killing four people before disappearing without a trace. Like everyone else in town, eighteen-year-old Mac Bell is trying to put that horrible summer behind him-easier said than done since Mac's best friend Connor was the murderer's final victim." -From Hoopla
Genre: Thriller Format:Audiobook and eBook
"In a stunning graphic memoir, Takei revisits his haunting childhood in American concentration camps, as one of over 100,000 Japanese Americans imprisoned by the U.S. government during World War II. Experience the forces that shaped an American icon-and America itself-in this gripping tale of courage, country, loyalty, and love." - From Hoopla
Genre: Graphic Memoir Format:eBook
"A dystopian novel by Chris Babu. In a ruined world, Manhattan is now New America, a walled-in society based on equality. But the perfect facade hides a dark truth.- From Hoopla"
Genre: Dystopian Format:eBook
Smash hit series by Brian Vaughan."In the early hours after Halloween of 1988, four 12-year-old newspaper delivery girls uncover the most important story of all time. Suburban drama and otherworldly mysteries collide in this critically acclaimed story about nostalgia, first jobs, and the last days of childhood." - From Hoopla
Genre:Graphic Novel Format:eBook
"The powerful, unforgettable graphic memoir from Jarrett Krosoczka, about growing up with a drug-addicted mother, a missing father, and two unforgettably opinionated grandparents." - From Hoopla
Genre:Graphic Memoir Format: Audiobook
The Raven Boys by Maggie Stiefvater takes the reader into the world of magic,dreams and spirits. "Every year, Blue Sargent stands next to her clairvoyant mother as the soon-to-be dead walk past. Blue herself never sees them-not until this year, when a boy emerges from the dark and speaks directly to her. His name is Gansey, and Blue soon discovers that he is a rich student at Aglionby." -From Hoopla
Genre:Fantasy Format:Audiobook
"From the New York Times bestselling author Elizabeth Acevedo comes a dazzling novel in prose about a girl with talent, pride, and a drive to feed the soul that keeps her fire burning bright." - From Hoopla
Genre:Fiction Format:Audiobook and eBook
"Carry On is a ghost story, a love story and a mystery. It has just as much kissing and talking as you'd expect from a Rainbow Rowell story - but far, far more monsters" - From Hoopla
Genre:Fantasy Format:Audiobook
"A timely, nonstop action-adventure by lan Gratz about the War on Terror--and a family torn apart." -From Hoopla
Genre:Action, Adventure Format:Audiobook