Walking Tour of Sleepy Hollow Cemetery
Marian Wheeler

Age 88
Interviewed July 11, 2005
Concord Oral History Program
Renee Garrelick, Interviewer.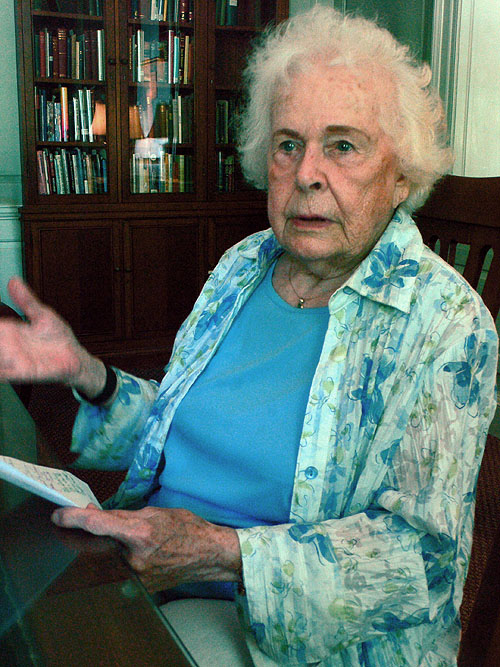 Introductory overview of Concord's 18th and 19th century periods of history.
Sleepy Hollow named before it was a cemetery for the flat depression surrounded by steep glacial ridges. In 1855 the Hollow became a cemetery; entrance through the Pritchard Gate.
Highlights of notable graves and monuments include the Melvin Memorial by Daniel Chester French in memory of the three brothers who died in the Civil by the fourth who survived it. Franklin Sanborn, the Authors ridge graves of the Thoreau family, the Hawthorne family, the Alcott family, William Ellery Channing, Harriet Lothrop, the Emerson family including Aunt Mary Moody, and the Damon family. Ephraim Wales Bull, the William Monroe family, the Hoar family, Elizabeth Peabody, Ruth Wheeler. The 1999 addition of the Jewish cemetery.
Marian is a town historian with a special interest in town cemeteries. She has been a member of the Cemetery Committee and is currently a member of the Friends of Sleepy Hollow. Sleepy Hollow Cemetery is commemorating its 150th year.
Marian is a town historian with a special interest in town cemeteries. She has been a member of the Cemetery Committee and is currently a member of the Friends of Sleepy Hollow. Sleepy Hollow Cemetery is commemorating its 150th year.
Here we are in 2005, and three or more centuries of history has gone on here in Concord. Concord is a very unique town because it has three separate centuries of history. In the 1600s, 1635 was the founding of the town and that meant we were the first town in America to be settled in the wilderness away from the Atlantic Ocean. So we were a pioneer town, a seed town we were called, that started all the other towns to the west of us.
In the 1700s, we were the scene of the first organized battle of the American Revolution. And also the first and second provincial congresses were gathered here in the First Parish Church. That is where they wrote out the laws by which they hoped we could live if we could be an independent country that were drawn up right here in the First Parish Church in Concord, Massachusetts.
Then in the 1800s, we were the center of the literary world, the transcendentalists, the authors, the poets, the essayists. The whole beautiful literary world was centered here in Concord. So all of these affairs are registered in our old burying grounds where the people lived and died and are buried.
Just a word about the past history of Sleepy Hollow Cemetery itself For 200 years we had just two small burying grounds, the Old Hill, which is the one in the center of town by the flag pole, #1 Lexington Road, and the other, the South Burying Ground or sometimes called Main Street Burying Ground, just slightly west of the center. Those two cemeteries were satisfactory for the first 200 years, but by then the town was growing. There were 200-400 people in the town, and they needed expansion. So they were able to buy a piece of land to the north of the Old Hill Burying Ground. In those days, there was no such thing as Bedford Street as it is today. It was just all farmland and contiguous and there was a path that led from the top of the Old Hill on to what we now call the New Hill. In 1823 the New Hill was dedicated and from that time on all the people were buried in the New Hill. By 1855 the town was able to buy a piece of Deacon Brown's land, who had been a descendant of Reuben Brown of the Revolutionary War history, the day of April 19, 1775. This area had been a beautiful, natural lovely place where the townspeople loved to go just to take a picnic lunch or take the children out to roam through the woods. Nathaniel and Sophia Hawthorne loved to go there and let their children play while they just appreciated the quietness of the place. They would dream of the day they would build a castle at the top of the hill behind it. And that is the very place where Nathaniel Hawthorne is buried today. It had been called Sleepy Hollow just as a kind of a title for that section of town. It was a beautiful natural hollow and a beautiful setting for a burying ground. We don't think there was any connection with the Rip Van Winkle story, but it's still a controversy. I won't get into that because there are pros and cons for both sides. We like to think we had our own Sleepy Hollow even if Ichabod Crane had his too.
So we have the New Hill to the left and this new Sleepy Hollow on the far right, but between those two was the agricultural field, where the Middlesex Agricultural Society in the fall every year held their annual cattle show which was like the state fair. There would be horse races, and it was a very exciting week that the town would look forward to all year long. That area had become a little small for all the things they wanted to do. So they bought new ground over on Belknap Street and they didn't need this old ground any more so happily they sold it to the town. Now that connected the two parts of the New Hill and the Sleepy Hollow and now it could be one contiguous piece of land to call Sleepy Hollow.
We're now in the very western corner of the New Hill Burying Ground and one of the very first stones to commemorate is the one in memory of Mary Minot, Henry David Thoreau's grandmother who died in 1830. When Henry David Thoreau died, the family did not have a burial ground for themselves and therefore Henry was buried in his grandmother's lot as was bee his brother John, and his father John, and his sister Helen. In those days this is what you did. You were buried wherever it was convenient for the family to put you. There were four children in Henry's family, two boys and two girls. None of them ever married and several of them died before they had a chance to marry. So his sister Sophia was the survivor of the six in the family. With a little money that she acquired that she didn't expect in a will from an aunt, she bought the lot on Author's Ridge and had them all transferred over there.
That brings up the subject of the bone coffins. If you read about the bone coffins, people want to know what they are. That is exactly what they were. After a person had been buried for several years, the survivors perhaps wanted them transferred to be all together. As the cemetery grew and more and more families got into this theory, they simply dug up your remains and put you in a bone coffin which was just a short or half-size coffin, just long enough for human bones to be held. That is what all these big families did to reunite their families. When you get to Emerson's lot, you'll find there are 22 people but who were not buried there originally. Ralph Waldo himself wanted his family altogether and he arranged that they all be buried in one lot.
From here on we're looking east and there are lots of important people buried here especially if you're into Henry Thoreau and you've read his journals. He referred to all these old native Concordians, Perez Blood was the first amateur astronomer in Concord. Now that's not terribly exciting to most people but just know that he was a friend of Henry's and Henry talked about him. There is also the old tomb at the top of the hill where 10 people are buried. There is Prudence Ward, who was the grandmother of Ellen Sewall, the lady that Henry David Thoreau proposed marriage to. He was fondly in love with her and she said yes, but her father said no, and so that never happened. It just happened that a few years later, his brother John also proposed to the same lady, Ellen Sewall, and again she said yes, and again father said no. So that never ever happened. Neither one of them ever married. And John died when he was only 28 and Henry when he was 43. Her father was a Unitarian minister, and he said the Thoreau boys were too radical for their family.
Further along, as we follow the path east up to the corner where the road leads to the left, there are interesting stones. One is for Ardemus Wheeler who was a gunsmith in town who had a little shop down on the Milldam. One day he invented a new sort of gun that had a revolving chamber. He thought that was pretty unique and he kind of kept it to himself but expected to do a lot with it. But he became ill and eventually died and that was the end of his career. Another man named Mr. Colt came along and found the directions of how to make it, and we now have the Colt revolver. But it was Ardemus Wheeler who invented the so called Colt revolver. Just beyond Ardemus's grave is a little Indian mortar that is the gravestone of Ed Neeley. Ed Neeley was an old man when Henry Thoreau was a young man. I believe this is the truth. Henry loved to be with him and learn from him especially about nature. Ed Neeley was a nature man. They often walked together through the woods and fields and Ed had come upon this Indian mortar so he had told Henry that he wanted that for his gravestone. So right this minute, it is full of water for a birdbath.
At the end of the New Hill and approaching the rest of Sleepy Hollow on our right, in the far, far left on the hill at the top of the hill, there is an old cannon. That is a relic of the War of 1812 that was put there by the Sons of the American Revolution as a representation.
We are at Vesper Circle and the gravestone right behind the Vesper Circle marker is Ann French Bush. At the bottom of her gravestone it says "The first woman in America to be issued a license to drive an automobile." She was a feminist and an activist. Her daughter-in-law, Winifred Bush still lives here in Concord. Ann French Bush died in 1962.
We are now in the northern end of Sleepy Hollow called the Pines because of all these beautiful, tall, graceful pine trees. This is sort of a new section that was just opened in the 1970s. There is one grave here that is extremely interesting to me and it is the grave of Kay Davis. She was the Music Director at Concord Academy for many years, and she is the lady who wrote the lovely Christmas carol, "The Little Drummer Boy". In the Pines I think with a few exceptions they are all flat stones.
We are at the grave site of Sheila Shea that has been a controversial spot. Sheila Shea was a very interesting person. She was just an ordinary Concord citizen and everyone knew her as she was the checkout girl at the Stop and Shop Supermarket before it was Crosby's. We all knew her and she was a happy, funny person, but she was told when she was in her early 40s that she had cancer and she would only live for another six months, which came to be true. . She was born in 1942 and died in 1986. So, she apparently had no family and kind of took care of herself and bought her gravestone and lot, and everything was all settled. When the stone cutter asked her what she wanted to put on her stone, she started to think about it and then said, "People will come by here and say 'Who the hell is Sheila Shea?' and so that's what is printed on the gravestone. The news media picked up this story about her gravestone because there apparently were objections from the Cemetery Committee to remove it. Ultimately, the town officials decided it would remain. But newer regulations have come in.
Now we're at Cat pond which is the far end of Sleepy Hollow that was hardly here when the cemetery was developed but the architects Morris Copeland and Horace Cleveland and Henry David Thoreau actually saw to it that the pond got built. So it's sort of a manmade pond with still water which is not always attractive but is very much a part of the original design to have a little pond here. It is at the dead end of the road as we're circling around.
At the end of this circle, there is a very small but visible path, just a little dirt path, that wanders straight through the woods and is the connection to the new section of Sleepy Hollow which is called the Knoll. That was the area that was just dedicated in 1999 with a Jewish burial area. This path is the only physical connection to the Knoll. Driving you leave Sleepy Hollow, and drive a short distance down Bedford Street to what was Asparagus Farm and that is the entrance to the Knoll, which is the extension of Sleepy Hollow.
There is one little section of the Knoll that is dedicated to Jewish law, where Jewish people, or anybody if they want to, can be buried. Then the Knoll continues on for other burials also. I think this expansion is about 25 acres. We're leaving the flat area of Sleepy Hollow and headed uphill to the Melvin Memorial, but on the way we're passing the Pope family mausoleum. It is just a wonderful example of what the wealthy did having their own private mausoleum as was the European tradition, or even today if you go to New Orleans, you find lots of these family mausoleums. The Pope homestead was at Strawberry Hill Road and Pope Road in Acton.
The Melvin Memorial is dedicated to the three Melvin brothers. When Abraham Lincoln called for volunteers for his army for the Civil War, at least 70 men left Concord to fight in the army. Four brothers of the Melvin family went to fight and only one of them returned. The other three were all lost. Asa died in action, Sam died in Andersonville prison, and John died in a hospital of his wounds. So when the fourth brother was able to return, he was well-to-do you might say and he commissioned his old buddy, Daniel Chester French, the great sculptor who had done the Minute Man statue at the Old North Bridge and had also done the famous seated Lincoln in the Lincoln Memorial in Washington. He was our own Daniel Chester French who grew up here in Concord. It was Louisa Mae Alcott's sister, Mae Alcott, who was the artist of the Alcott family who was his art teacher. She had art courses for people in town, and Danny French was one of her pupils. She recognized his marvelous ability for sculpting. She went to his parents and insisted that they be sure he got proper training to be a real sculptor. She even gave him some of her own tools to work with. It is the Daniel Chester French sculpture called Mourning Victory. It is the angel of death hovering over their graves and her shroud is the American flag. It's hard to make out, but if you look very carefully you will see stars in her shroud. She has a laurel branch in her hand which is the symbol of victory.
There has been a committee for a number of years who have doing work to restore it and clean it. It was slipping and getting a little crooked so that's been redone and stabilized it for another 100 years so it won't slide. But it does need a good cleaning which is supposed to be getting done very soon now.
We have now left the Melvin Memorial and turned extreme left. If we were walking, we would walk up a flight of steps that leads to an esker that is one of the features of the Sleepy Hollow. It's like Author's Ridge only it's another ridge. We pass a lot of important stones. Franklin Sanborn was the abolitionist. He was a teacher, a reformer, a civil rights leader, a transcendentalist, and one of the secret six of John Brown. He was a great supporter of John Brown to the extent that John Brown sent his two daughters here to Concord to attend Frank Sanborn's school. Frank Sanborn's school still exists in the house where he had it on Sudbury Road just behind the parking lot for the library. The very first house was Frank Sanborn's house where he had his school and to this day the blackboards for his schoolroom still exist. The people who live there have never taken them out.
This secret six was a very secretive body of only six people who were tuned into John Brown and his plans. Word got around to the Federal government that Frank Sanborn was one of this secret six group. So the big day came when they sent their marshals here to Concord to arrest Frank Sanborn and take him back to Washington for questioning. Well, it happened that he was living there with his sister, and she answered the doorbell when they rang and realized what was about to happen. She started yelling at the top of her voice to all the neighbors, "come, come, we need help," and sent one of the neighbor boys who appeared across the street to Squire Hoar's house to come that they were in trouble. He did come and served a writ of habeas corpus on the marshals who were trying to force him in their carriage. But he could stop them from doing that with the writ. It was an uproarious time on Sudbury Road. The neighbors were frightening the horses with broomsticks, and the horses were dancing up and down and the buggy was dancing around. Sanborn with his long legs was supposed to be getting in, but he just forced his legs against the door and he wouldn't go in. It was the most exciting day people in Concord had had since April 19, 1775. Frank Sanborn was also an author and a great friend of Henry Thoreau's.
Now there are also other important, I won't say famous, Concord citizens. There are two of the town's ministers at the First Parish Church, which was the only church in town until 1828. Everyone went to the one church. Rev. Grindell Reynolds was one of the people up here and Rev. Benjamin Bulkeley was another. He was a direct descendent of the first minister of the church, Rev. Peter Bulkeley. There were four ministers who were directly descended from the original Peter Bulkeley. Ralph Waldo Emerson was one of them. Harvey Wheeler, the man who owned and operated the Boston Harness Company, left a large legacy of money to the town for educational purposes and that is how the Harvey Wheeler building got built in West Concord, which is now the senior citizens center. There was also Judge Prescott Keyes who was one of the town fathers. And Daniel Chester French is buried here, almost where he can look down on his work, Mourning Victory. He picked the spot himself and designed his own tombstone which is very, very simple. It is a flat plaque to the ground with very simple wording "A heritage of beauty" with his name and his wife's name.
We just continue walking the rest of the ridge down to what will become the parking lot and then walk up the hill to Author's Ridge. So climbing the steep hill and stairway we come to Author's Ridge. These men lived as neighbors and they are all buried as neighbors. The very first stone we come to is the Thoreau family, all six of the Thoreau family are buried here together, two boys, two girls, mother and father. None of the children ever married so there was never any offspring from this family. As we mentioned in the beginning, they were in another section originally and moved here to be altogether as a family. People come from all over the world to see Henry Thoreau's gravestone, and they can't believe that this tiny little round topped stone is all there is to Henry Thoreau's grave. And it just say's "Henry". The other information is on the family headstone.
Across the way is Nathaniel Hawthorne's grave and his family such as it was. He had three children. Una had been born in the Old Manse and she never married and stayed with her mother to the end. Second was Jason I think, and he married and had six children but he moved off to California so we don't hear much about him except in his childhood. Two of Jason's six children died, and the two small stones to the right are Nathaniel's little granddaughters. Then the third child was Rose who became a Catholic nun and started her own hospital for poor women. It became so popular and was such a marvelous thing for her to have done. She started a convent out in Hawthorne, New York. They named the town for her, which is still there. She only took poor women who had cancer. She was married and had one little boy but he died at the age of five and that's when she became a nun.
There was a Catholic high school on Main Street in Concord named after her. Also there is a marker here for Sophia and Una, but their bodies are not here. When Nathaniel died, they were so lonesome in The Wayside, they didn't want to live there without him. They moved back to England where they had been happy for a long time earlier in their lives. They are buried there in Kendall Green, England.
Then just another few steps on the right is the Alcott family, all six names are here, mother, father and the four girls. With one exception they are all buried here. May died in Paris and her body is still in Paris, so this is just a headstone for her. There are five names all lined up with just the initials of each person. Anna, the oldest child, married and her stone is just behind the family stone, a double arch for she and her husband, John Pratt.
Follow the path a little further and you pass William Ellery Channing. There were two important William Ellery Channings. The first was the developer of the Unitarian denomination in Boston, and there is a famous statue of him on Boston Common just facing the front door of the Arlington Street Church where he preached. He had a nephew who was named William Ellery Channing, who was not as famous as his uncle but came out here to Concord. He was a transcendentalist and a friend of Thoreau's and all the authors. He was a poet. Then you can't pass the big rock that is for John Shepherd Keyes, who was the man who really did the nitty-gritty work of getting Sleepy Hollow Cemetery put together. He was the chairman of the committee and did it all. To his own credit, he says in his diary, "Sleepy Hollow now is complete and I'm very happy that it was thanks to me that it all got put together" or something like that. He was a proud town father.
Then follow the path to Ralph Waldo Emerson's lot where you'll find 22 people buried within the chains of the lot. That is only because Emerson had such a sad, sad life. He was one of eight children. He was born in Boston. His father was a minister and they lived in the parsonage. That meant ministers didn't make any money in the first place, the church owned the parsonage, and here was the minister with eight children. Then Rev. William Emerson died and left the family helpless. His wife had no home. She couldn't live in the parsonage any more. She had no money and she was absolutely destitute. So her in-laws out here in Concord invited her to come out to live with them in the Manse, the Rev. Ezra Ripley, which she did. Ralph Waldo did live in Concord as a child when he was eight years old. He spent a year living here in Concord. But then his mother wanted to go back to Boston where her own family lived, so they gave her a cow and sent her back to Boston with her children. But they were still so poor. He knew true poverty. His one wish as he matured was to have money enough to gather all his family back together again and have them all living happily together. So the end result was to at least have all his family buried together. He did his best to have them live together. He had his mother come live with them. His brother Charles was going to be married to lovely Elizabeth Hoar and that was going to be the greatest marriage in town, but Charles died before the wedding took place and that never happened. So he had his family together at the end of his life.
Of those 20 people, his own mother is there and especially Aunt Mary Moody, who was his aunt and had more influence on governing his life than any other person. She was the one who determined he must be a minister because there had been six generations before him that were Unitarian ministers and he should be one also. That's why he became a minister, but he gave it up after seven years of preaching.
You notice all the stones are facing to the north except for his own stone and his wife and daughter, Ellen. They are facing south. I think it's because you wouldn't be able to read their inscriptions if they weren't placed closer to the face where you could read them. His stone is very unusual of rose quartz rock that had been found by his friends up in New Hampshire. They felt that was appropriate for him and his stature, strength, durability. It just rises a little above all the other stones. His wife was Lydia, but he added the "n" and called her Lydian because he thought that was poetic. She loved flowers and that is the meaning of the verse on her stone. He had had a previous wife that he adored, Ellen Tucker, who he married in Concord, New Hampshire when she was only 18 years old. He was so love in with her but they were married for only 18 months because Ellen died of consumption. He was so distraught that he left his preaching and took a trip to Europe to get over his sadness and to rethink his life. When he came back, he decided to give up the ministry and just devote his life to writing and lecturing, which he did. But when his second wife produced four children after she was 35 years old, she named her first daughter, Ellen Tucker Emerson.
The Damon family is next to the Emerson family. Edward Carver Damon had the mill in West Concord, which was a big cotton and wool mill where they made all the khaki uniforms for the World War I army. During the Civil War, his mill supplied the Union Army with uniforms. The Damon Mill was the largest 19th century employer in town.
Across the way from Emerson's lot is Harriet Lothrop, the lady who wrote The Five Little Peppers and other children's books and also her daughter, Margaret Lothrop of our generation. I believe it was her mother, Harriet, who formed the CAR, the Children of the American Revolution. There's usually a wreath there placed by the CAR. Then a few more stones down flat on the ground there is a memorial to Sarah Bradford Alden Ripley. She was descended from John Alden so she was a pure Puritan from Plymouth Plantation. She was the most remarkable woman in the town. She was not educated, but self-educated and taught herself Latin and Greek and taught the subjects in her husband's private boy's school in Waltham. He was the minister at the Waltham Unitarian Church but had a private boy's school in his home. She was not only the housekeeper and the wife of the minister, but the school mistress as well. Henry Thoreau said she was the most intelligent woman he had ever known.
Now leaving Author's Ridge, we pass by Dr. Bartlett up there on the same ridge. He was the doctor in town who took care of all these famous people. Then walking down the hill at the bottom, there is a brown boulder for Ephraim Wales Bull, the man who developed the Concord grape. He was not a farmer at all. He was a goldsmith in Boston. But breathing that gold dust as he did every day, he was getting consumption and his doctor sent him to the country. So he gave up his gold business and came out here and bought a little farm not knowing anything about farming, but he turned into a darned good farmer. After 20 years of trying, he developed what we now know as the Concord grape. But he never made a penny of money for all his 20 years of work. He died a pauper because he never charged for any of his grapes. He would give them away. So on his grave that the town set up for him, it says "He sowed, others reaped". And today Welch's grape juice is in Concord and continues the legacy.
If you go to the east down that little path, you'll come to a large family lot of white stones, the William Munroe family lot. There were two Williams. William Sr. was the man who made the first pencils in America. And his son, William Jr. became very wealthy and left his legacy to the town of Concord with which they built the first public library. They were very benevolent people. One more important person to mention is Ruth Wheeler, whose stone is quite by itself but further on to the last gate which is the 4* gate right on a corner, Caleb Wheeler and Ruth Robinson Wheeler. She was the very devoted Concord historian and wrote the Concord history, Concord Climate for Freedom. The rest of her family are there with her. Caleb was a farmer and lived on the Thoreau farm in the Thoreau birth house which was moved from its original site.
If you're still walking and have found the Munroe lot and hopefully Ruth Wheeler, then head back up toward Author's Ridge again but only halfway up, and you will find the very large and imposing family lot of Squire Hoar. They were called the royal family of Concord. They were quite like the Kennedys. All the boys in the family were lawyers, judges, congressmen, representatives. Ebenezer Hoar was in President Grant's cabinet. He was the Attorney General for President Grant. For the centennial celebration of the battle of the bridge here in Concord, Ebenezer invited the entire Grant cabinet to come to Concord and they stayed for a week as guests of the Hoar family and neighbors. It's remarkable to read the epitaphs on all their graves. They have very important messages that they left.
Across from the Hoar lot is the Wheilden family. It is identified by a very large copper urn on the top, but also on the four corners of the lot, you will see a miniature Bunker Hill monument because he was the Chairman of the Bunker Hill Monument Committee, who erected the actual Bunker Hill Monument. He was influential here in Concord and a wealthy man. He was influential in having the railroad come through Concord Center.
Sam Staples was the sheriff who put Henry Thoreau in jail and kept him overnight. But he was also a very important Concord citizen. He was in the real estate business. He is buried just up the hill in back of the Hoar family on the right.
Then there is Elizabeth Peabody. You will find her if you leave the Hoar lot and take the next left back out toward the main gate, go down the hill taking the second left almost to the end, there are two stones just alike with green faces. I suppose they are copper and they have turned green. Those are two of Elizabeth Peabody's nephews. She herself is the third stone that matches those two but it's behind them. Elizabeth Peabody was the third of the famous Peabody sisters of Salem. Sophia married Nathaniel Hawthorne, Mary married Horace Mann, and Elizabeth never married anyone, but she was a very important transcendentalist. She was a teacher of young children. She felt that education should begin with small children, not when you got to six years old. She is credited with having started the kindergarten movement in the United States. She never married and never owned her own home, but she spent a great deal of time out here in Concord visiting her sisters and the Alcotts and Emersons so she was always visiting here and decided to be buried here.
Leaving the Sleepy Hollow Cemetery out the 4 gate as we're passing along the street, all these nice graves tucked under the trees, we're in front of the James Melvin grave who was the surviving brother of the three brothers for whom the Mourning Victory monument was dedicated. John, who died in a hospital, was sent home. They packed his body in ice and put it on a train and he is buried here with his surviving brother, James. The other two brothers are not buried here in Concord.
The committee of people called Friends of Sleepy Hollow are just ready to publish a new pamphlet in which a lot of this information will be in print for you to read and follow the map which will make it easier to find the various graves.
Text mounted 9th October 2013; image mounted 12 October 2013 -- rcwh.