John Shaw
109 Oak Road

Age 95
Interviewed September 28, 2006

Concord Oral History Program.
Renee Garrelick, Interviewer.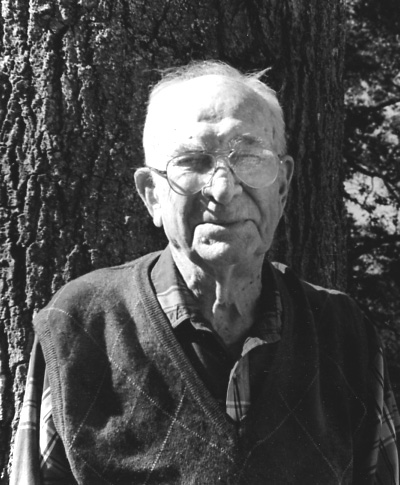 Arriving at Coolidge Park.
Mabel and I were married in 1941. We lived in an apartment on Nashawtuc Hill for one year at my Uncle Walter Shaw's house. Around 1943, Mabel and I bought and moved into our first house on 93 Coolidge Road. At that time there was half the number of houses in Concord. There was empty land and empty houses all over town. We looked at different houses, but kept coming back to 93 Coolidge Road. It hadn't been lived in for five years. The paint was peeling inside and out; animals had been living inside the house; it had a gravel driveway and a meadow as a lawn. While deciding if we could afford to buy the house, Mabel and I would come over to the meadow and the river. It was so peaceful and quiet. We purchased the house and 15 acres. And now that's the house next door to where I am now.
Around 1950, we sold some of our land to my mother, Julia Shaw who was known as Grandma. Rad Abbott, who was a family friend and an architect and builder, built a small house next to us for my mother, now 109 Oak Road. He built the house with no insulation and oil was very cheap then. After the house was built and my mother settled in, she always had tea in the afternoon at 4:30. Everyone in the neighborhood was invited to stop by and socialize and enjoy a tea party. Sometimes it was just our family, and sometimes it included people just walking their dog or biking by the house, and the tea party would grow to good size. It never lasted very long as we all had to return to our evening activities. Grandma was known as Grandma to everyone whether you were related or not.
This was and still is a very neighborly neighborhood. This area is called Coolidge Park. When we moved in, there was just Teto Florio who was quite influential in those days. He owned the land next to Route 2 across from the hospital where the old high school was that is now medical offices. He also owned this land down here next door which is Florio Drive. He owned most of this land that the Coolidge's didn't own. The Coolidges were long gone when we bought the house. It's hard to imagine a house would sit empty for five years. It had everything living in it besides us. It was quite an adventure.
Down here in front of the Coolidge house where the Walthers live now, there was a road that went across to the fairgrounds on the other side of the river. You could drive your car down that road into the river and it was shallow enough so you could drive right through it in your horse and buggy. So we used to be able to drive right down to the river on that road. Now it's all grown up with trees. One year I skated all the way to the North Bridge on the river. The river had to be frozen at least a foot thick. And last year it didn't even freeze over. Just shows how the climate has changed.
I believe when we came here the Framingham sewer department emptied into the head waters of the Sudbury River which is what this is. This meets the Assabet River at Egg Rock and becomes the Concord River. The river was just filthy. And we had muskrats, great big snapping turtles, herons, all sorts of animals. Muskrat houses were quite the thing you know. We don't have anything like that now. It's just lifeless now, but cleaner and not smelly.
Bert Newbury was my lawyer and a mentor to me when he came to town. He took us under his wing. That was during World War II, and we had to conserve gasoline. So we all drove together in one car to Boston and I was the one that did that. We had quite a gang in that car every morning going into Boston and coming out. Bert, Frank Johnson, Gil Roddy, I can't remember all the names. We had a lot of talking.
Bert recommended me to join the Social Circle. We had a meeting last night at Jack Clymer's house. We meet Tuesdays and we must have had 22 of us there last night. We all stand around and talk and have cocktails for about an hour. Then the host puts on a nice meal, pretty fancy. We sit around and eat our supper and chew the fat. That lasts about an hour so that's about 9:00. Then for more or less from 9:00 to 10:00, the host takes over and discusses whatever subject is near and dear to his heart at that moment. Jack has just bought another house and is getting ready to move. He's at that stage in life that we come to when the house is too big. He talked quite a bit about that and other people talked about their experiences of moving from wherever they lived to Concord Greene. I don't think we have anybody at Newbury Court. So we have a general discussion and at 10:00 sharp, bong, we're out of there.
We talk about town issues quite a bit. I feel the Concord Social Circle was much more influential in town affairs back 100 years ago than what it is now. It was almost part of the town government. Now, it's really very obscure. I don't think most people have heard of it. So called memoirs are written about each of the members by somebody else. Those are wonderful town histories. I think there are 10 volumes now. We just had the latest volume come out. When you join the circle, you know you are immortalized because somebody, when you die or leave the Social Circle, will write a memoir about you and your life. It personalizes the era that that individual was in. That's one of the main activities now. The clerk, who is Rusty Robb now, really runs the Circle. Bert was clerk for a long time. Rusty is very good and very conscientious. That person keeps after the people who are writing memoirs to get them written. Sted Buttrick is still doing his father's. We still have just 25 and all men. If I had my way, we'd have women. We'd maybe go to 30 and have some women in there. The rest of the people in the group have no desire for that at all as far as I can see. I've written a letter, but nothing happened. I guess I'm the rebel. Ned Perry is a member who is town moderator now. We're very apt to have the Unitarian minister, who is now Gary Smith and a member. That's very much tradition.
I was involved in the Public Works Commission for many years and at that time I was elected. I think a lot of the town offices were elected that are now appointed. When the town manager style of government came along, there was a substantial change in the town government. It was a good thing I think. It was getting more than people could handle, too much work to do, too much records to keep for volunteers to do. This made it more professional. The town manager form of government started in 1955 (1956). I was elected in 1954 to Roads and Bridges. Then I stayed on for 20 years. It was a close election and I won by six votes. Roads and Bridges combined with Water and Sewer to form Public Works in 1957. I worked with Henry Keyes, Jack Mattison, and myself, plus Henry's dog who came to all the meetings.
The first order of business was to hire somebody to clean the toilets at the battleground. Until recently, it was an awful shame that there were no decent facilities for tourists. It wasn't much like portable toilets, mostly bushes. But now it's taken care of by the National Park Service.
We really worked hard to try to control growth and make sure everything was under control. It was a battle of wills. The developer wanted to do it for as little as possible, and we wanted to have it done right. It was a very active time. Of course, one of the things that I mentioned a minute ago was that it was during the war too, and don't think about that much now, but we had just come through a terrible time. That was a tremendous strain on everybody and on everything. To arm wrestle with the developers I had to be an ornery, old bastard, I guess. Henry Keyes really led the way. He was more of that than anybody else. He was very independent. He was of the old Concord school, a real Yankee. He lived on Keyes Road. But we think the town came through pretty well. Other people might think not.
My Uncle Walter was a real influence in my life. He took me under his arm you might say as a young man and got me my first job, which was in depression times. I didn't go to college. One of the reasons I didn't go to college was that everything was collapsing financially. Everybody was jumping off a bridge somewhere because they didn't have a job and they had four children and a wife and there wasn't any possibility that they could see to get a job. It was really a grim and grizzly time in life.
But somehow E.A. Shaw & Co. stayed alive and Walter ran it. They were in the cotton brokerage business. They bought the cotton I believe from the cotton fields and sold it to the cotton gin or mills. They were skilled in evaluating the cotton and knowing what kind of cotton it was and how good it was whether it was long staple or short staple. Somehow or other he had this Peterson & Neville Company in South Boston. I think under his guidance I went to Wentworth Institute for a year which was a marvelous preparation for me. I learned how to weld, how to run a lathe, how to run a milling machine, how to make castings, how to make patterns. At the time it didn't seem like anything, but when I got my job at Peterson & Neville, it was invaluable. I understood how mechanical industries run and how to weld and so forth. They were in the sheet metal business. I stayed there for 13 years through the war and afterwards.
W.H. Nickels Company in Waltham made geroters and geroter pumps. They also made milling machines. Milling machines are a tool that spins and cuts metal. It has to have coolant sprayed on it to keep it cooled so that it needs what we called water guards to prevent the spray from spraying all around the room. Those were made out of sheet metal. As I progressed along in Peterson & Neville, I got into the sales end of it, and I called on W.H. Nickels Company because of their milling machines. That was one of the great turning points in my life because I met Arthur Nickels who was a son of the original owner, W.H., who lived there. I was not married and we became fast friends. I became interested in the geroters that they were making there. It just fascinated me. As the years went on and on, I maintained that relationship with the Nickels. I still do get Christmas cards from Arthur and Bill's children who I know quite well.
In the end, it came around that I was selling geroters for them. It is an internal vein pump. It's similar in idea to the wrangle engine that Mazda uses in some of its cars. It sucks oil in one port and pushes it out another port and is pressurized in the discharge. It keeps all the parts of a jet engine or a helicopter or any machinery for that matter where you have a sharp rotator like in your car with oil. It won't run on metal to metal; it has to have that oil. In airplanes there is a great pressure or desire to have everything as light as possible. Geroters for some reason or other just turned out to be optimum or the best you could get for reliability and weight and also altitude because airplanes want to operate at 35,000-40,000 feet where the air pressure is great. It's air pressure that pushes oil into the pump as it expands. Without air pressure, the pump wouldn't work. It just happens that the geroter seems to be the optimum mechanical device for those reasons. So they're used on GE engines, some Pratt & Whitney engines, some Rolls Royce engines. A lot of the different engine companies are happy to use Nickels geroter pumps. There still made out here in Devens where the Parker Hanalan Nickels Aircraft division is still doing the same old thing.
When I worked for Nickels, I worked for 3% commission. They paid all my travel expenses. It was just a marvelous arrangement for me. It turned out that 3% was really quite a lot because these pumps are quite expensive. You can easily spend 10 grand for one of these pumps. I was fortunate. I had good partners. I selected good people who worked with me.
I now spend about 11 hours a week volunteering at Emerson Hospital; it is near and dear to my heart. I work two hours on Tuesday, Wednesday, and Friday and then I work three hours on Sunday morning at the front desk. I help transport people. There was a time before the present management when Annabelle Shepherd ran the development office. Shortly after I got through my work in the pump business, I got together with Annabelle raising money for Emerson. We had a gangbusters operation going, Annabelle and I. I called on all the companies around here. I'd go out in the morning and drive around and go in wherever I saw something useful and appeal to them to contribute to Emerson. They were very willing, and the money just poured in.
I've been through four CEOs at Emerson Hospital. I've seen a lot of change there. Right now it's in a period of expansion and growth and tremendous change in the way a hospital operates. They have these tools now. The surgeon now has these small long tools with a light and camera on it, and sticks that into your belly button and goes wherever he wants. If he wants to take out your appendix, he can go right there to the appendix. There's a TV screen so he can see what he's doing. They are very clever using this equipment. They can cut the appendix off and it will staple the wound where it was cut so that it is sealed instantly and they just pull out the appendix. There's no wound or anything. They can do that all over your body. It turns out you might be there overnight, but you might not even be there overnight. Surgical day care is growing all the time. Fewer and fewer operations and procedures require overnight. So the nursing of people is being reduced all the time. The technology of these new noninvasive methods of operating is really revolutionizing medical procedure. So that's interesting to see it happen.
Emerson is part of this partners organization that MGH spearheads, so they have a keen interest in Emerson and they supply a lot of the equipment that Emerson uses. Emerson has to get their blessing which is good because MGH is the best there is.
I've also done a lot of similar business. I've been doing cancer driving for many years. I work with Cubby Lauderdale who runs the cancer driving here in town. We get drivers and people who need to be driven to and from hospitals where they have cancer treatment. So that's been quite active throughout the years too. When I started with this 15 years ago, we mostly drove patients into MGH, Brigham & Women's, Beth Israel, all those places. But now 99% of them go to Emerson because we have the Bethke Cancer Center. Emerson built the building, but MGH supplied the equipment.
At 95 it's sort of nice to have the telephone ring and somebody say, "John, we need you. Can you come up?" It's not going to last much longer, but it's nice now. My grandfather died at 100 years old.
Text and image mounted 25 May 2013. RCWH.