Frank and Angelina Scimone
505 Old Bedford Road

Frank, age 67 -- Angelina, age 74
Interviewed December 5, 2005

Concord Oral History Program.
Renee Garrelick, Interviewer.
Family farm begun 1925. Neibhoring farm stands along Route 62. Socialization among fellow farmers, particularly in winter. Everything at the stands were homegrown. Customers usually loyal to a particular stand, would come back if they were out of an item rather than going to another stand.
Frank Scimone home is the Samuel Fox house dating back to the 17th century. When father Frank came in 1923 the road not paved, had streetcar tracks coming from Arlington through Lexington and Bedford to Concord and Maynard. Father used to commute from this way. At Scimone stand, customers would come with a list which would be filled, rather than today's self service and check out.
Acreage farmed, crops grown, fruit trees, farm animals, chickens inoculated against disease. Parents extensive egg route, including Boston. Asparagus used to be picked up by neighboring farmer Jack Lord for the Boston market. Sometimes an overabundance of asparagus was raised, "market overflowing" and Lord wouldn't pick up. Asparagus when growing up used to be 25 cents a bunch.
Lengthening of farmstand hours and the season for business today. Used to be open until first frost, earlier spring season beginning in March. Significant growth of the flower business.
Third generation- Angelina's daughters Roseanne and Grace, who bake for the stand. The farmstand as a gathering place for the family.
Difficulty of remaining in farming today. Constantly approached by developers to sell, determined to remain in farming as long as possible. Remembering how difficult it was for family to purchase the land. Satisfying rewards of farming.
The Frank Scimone Farm has been in business for 80 years. Father Frank Scimone began farming in Concord in 1923 and was married to Grace Josephine Scimone and had four children Domenica, Tony, Angelina, and Frank.
Frank -- I remember on Route 62 in a two-mile stretch from Bedford to Concord, there were seven roadside stands, one of which included our own. They were all in full operation. In the 28 or 29 acres that we had, we raised all of our produce.
Angela -- Monsen Road was part of our farm. It was an all wooded area like part of it is now. As the years went by, my father decided to sell that strip of wooded area because we couldn't afford to cut down all the trees and add to our farmland. So he thought we could sell a stretch of land. Mr. Monsen bought it. It's Monsen Road now, and they've built homes there.
Frank -- The other farm stand started above us was owned by Earl Parks which had about 15 acres and known as the Just-a-Mere Farm. Then there was the Rocco Mazzeo stand.
Angela -- Ms. Wilder was next to Mr. Parks, and she used to bake goods for Mr. Parks. She always used to give me the donut holes to eat on the way home.
Frank -- In addition to her making donuts to sell at the stand, Earl Parks also had cows and used to sell milk. In those days it wasn't government inspected like it is today, so they were allowed to sell the milk. He later became a salesman for the milk machine called Surge. Then there was the Rocco Mazzeo roadside stand. They had their property where the Ripley School is today raising a few of their vegetables. The Ripley School bought out his property by eminent domain back in 1958. Then next coming down Route 62 is the Dominic Curro which abutted ours. They sold produce they raised such as corn, squash, beans, etc. Then we were next. We were on property that my father bought back in 1948 from the Dees. Then going down Route 62 toward Concord where Bedford Street and Old Bedford Road come together, Pasquale Rotondo had a little stand. Their land was right there where they produced their vegetables. They didn't do too much with a roadside stand. Then they had four boys and they worked on the farm. They went around peddling their produce in the neighboring community. Continuing down Bedford Street was Anthony Sorrenti. A lot of people remarked that he had stark white hair and a white mustache. They always used to stop at our stand looking for the man with the white hair and the white mustache. His property where he raised his vegetables was where the Concord Wastewater treatment is today which in those days we used to call the filter beds. Then further down a ways was Denaro. He had a little roadside stand and his wife used to do Italian cutwork and sell it there. Further down past the Catholic cemetery on the right was another little roadside stand run by Tony Curro, who was a brother to Dominic Curro that was next door to ours. He had a little farm out back.
That was a two to three mile stretch on one street with all those farmstands. They were all working stands. They all had their own people and everyone went to their stand to do their business.
Angela -- And they all had their own homegrown vegetables. They had their children that used to help them at the stand to grow the vegetables. The Italian families were very close knit. Frank -- They socialized back and forth quite a bit. They socialized in the winter visiting one another discussing the problems and whatever of the summer that they went through. Many a night that was better than going to a theater, the way some stories were told. Angela -- We would visit each other and have coffee and talk. Before you know it, it was 1:00- 1:30 in the morning. But it was fun. We were altogether in the farm business even though we might be a little bit competitive.
Frank -- We were competition but it was favorable. No friction was involved. Everyone got along with everyone else. We helped each other out. People would patronize one or the other. They would go without and not go elsewhere to find something. They would wait until you had it and come back to you. Today it is different. Today people will just go to a stand and if they don't have it, they'll go to the next one because they need something that day. It isn't that they'll make another trip back to you. Youjust lost them for the time they came to you. That's why there's call for a bigger span of vegetables, more than what you can produce because it's more of a convenience for the people to come and shop at a stand rather than be a dedicated customer to you which was the way it was years ago.
Angela -- When I was a little girl and I would work at the stand, they used to come with a list on paper and they would say to me this is what I want. And you would put everything together. When you were done, they paid for it. You said, thank you very much, have a nice day, see you next week. Next week they'd come with another list. In other words, they would come every week to your stand.
Frank -- The term "have a nice day" was not used in the times that I can remember going back in the early '50s. This having a nice day only started just a short time ago that I can remember. The people always said "I will see you again" was the term they used more than "have a nice day." Now I've heard it changed from having a nice day to have a good one. Our parents raised the most popular crops - corn as well as tomatoes, beans, summer squash, zucchini, eggplant, peppers, cucumbers, and then the salad materials such as all the different lettuces, scallions which then had to be placed as individual bulbs which grew up into scallions. Today they are sown directly as seed. This has become a different way of growing and is faster and more productive.
Angela -- Putting the little bulbs in used to be my job. They were all individually planted down on your hands and knees.
Frank -- Of course, we had chickens, 2000 laying Rhode Island Reds. Our parents had an egg route.
Angela -- In February my older brother Tony would disinfect and clean the chicken houses. Then my father would get about 2500 chicks from Cobbs Chicks in Littleton. He used to get one-day old chicks. We used to bring them here and light the stove for them at night, feed them, and they would grow. Then in April my father would have to inject them.
Frank -- He had to inject them because there was a disease called Newcastle. They did not know what the disease was but it paralyzed the chickens. Today it is in their feed and water and is controlled, they know what it is. But back in those days in the late '40s and early '50s, they did not know much about this disease that they would contract. So therefore we had to inject every chicken with medication and make sure they all were inoculated. Many times I remember as a child before they discovered the cure for this, the University at Stockbridge would send people out to these different poultry farms and investigate what to do. Many a time there would be a man coming here and wanting to see a chicken that had this and had died so he could dissect it. I remember my father bringing out a couple of these chickens, and the man would dissect them right out on the table over the mop bin and all I could see was all these insides. It wasn't the most appealing thing. They worked and worked until they discovered what caused this. And many a time we had to go one by one and inject them in the wingweb of the chicken.
Angela -- What my father would do is keep the little chicks in the house from February until about April because in those days our seasons were about what they were supposed to be. Not like now. Then my brother and my father would get the chicks outside to graze. When it was time for them to be brought in, my father would always say to me, because I was the one to feed them because that was during World War II, "when you go to feed the chickens out there make sure to look around to see if there are any eggs." That meant they were going to start to lay, and we would have to bring them into the chicken house. One day I was going in because I had to put the food in the wheelbarrow to wheel it in and what's behind me coming was a mother chicken with six little chicks. Oh boy, when I came home and told my father he said, "Oh, wow!" I used to have to open the door to let the chickens out. So my father said, "Tomorrow morning, don't let the chickens out because we have to inject them." We would then have to bring them in the house or they would be laying eggs all over the place and we would see chicks all over the place. We would take them one by one, inject them in the wing, and bring them in the chicken house.
Frank -- My parents' egg route was in Arlington, Belmont, Lexington, Cambridge, and on into Boston in the North End. My father would leave off my mother in the North End where she had her several dozen to deliver and she did her shopping while my father went through the tunnel to East Boston and Orient Heights. In the meantime my mother would have all her shopping done and eggs delivered and then he would come back, pick up her with all her shopping, go to Roxbury, Dorchester and then come home. This would take a whole day. They would leave about 11:30 or noon on Friday and wouldn't return until 10:00 or 11:00 at night. It involved climbing up three flights of stairs to deliver eggs. There were a lot of two and three floor houses where they delivered.
They started in about 1945 or 1946 and my father and mother went up to 1956, when they took off for the summer to go to Italy, then my brother took it over. When they came back, my brother took it over. My father kind of retired from that because he was getting older and couldn't climb all those stairs. My oldest brother took over with my mother until 1974.
Angela -- But the worst thing I hated was in the beginning when they used to go on their egg route in April for Easter. My mother wanted the animals that she grew up with in Italy so that meant we had goats, a cow, pigs, all kinds of animals. Come Easter time they have lamb, so where they used to deliver eggs and buy their meat, they would ask them if they had goats. So they would kill the kid goats here and take them into Boston. And that was awful. They used to be born in March and they used to play with me and then my father would say we have to kill them so they could take them to the meat store.
We had the cow and across the street lived Mr. McGann in the Fox house. Mr. McGann let my father plant some tomatoes and corn. So I used to get the cow and bring her across the street and tie her in the corn patch where she could eat. Then at night time I used to go and get her, the goats too when they were there. I went to go get them and I looked and I see the cow on her back with her four legs up in the air. So I came back and got my father. We used to do all our business with Dr. Russell and Dr. Tucker. So I called him and explained to him what happened. He came and we took him to the cow and he examined her and he said, "You know you have a drunk cow." I couldn't imagine. The corn has alcohol and when they eat it green like that it affects them. So the cow got drunk in the corn. But the goats were fine.
Frank -- Our house was also a Fox house at one time. There were a few of the Foxes in this area. Another one was right at the intersection of Cambridge Turnpike and Sandy Pond Road, right across the street is another Fox home. The Foxes date back to the 1600s.
Samuel Fox lived in the house that we live in, and I met his great-grandniece. She lives in California and she was out here to trace her great-grandfather's houses. She did come here and she did visit all the Fox homes because she happens to be a Fox herself. She took a few pictures and looked at all the Fox homes. Samuel Fox was the designer of the saltbox home and this is a saltbox house. The family lived here and then they went on to deed different houses to the different sons and their wives. But the family home was here. The plaque on the house here is 1702, but it does date back to the late 1600s. They don't know how far into the 1600s it goes. They gave it 1702 because that is the date that they passed papers from one to another.
Angela -- When my father came in 1923 the road here had streetcar tracks. There was no paving here. They did that later on.
Frank -- It was the line of the streetcar coming from Arlington through Lexington and Bedford to go to Concord and Maynard.
Angela -- And the fare used to be ten cents. My father would go up the street and get off at the Bedford/Concord line and walk a good three quarters of a mile from where we lived to the Bedford line to save ten cents to get home. He worked at the Hotel Somerset.
Frank -- When he first came over in 1923 before the family came over for him to settle down, he used to stay with a cousin in Boston on Broadway. He used to wash dishes and set tables at the Hotel Somerset which today I believe was bought out by the Ritz Carlton. In the summer he would come out and stay with his brother out here and cut asparagus. So we raised quite a bit of asparagus because it was the money maker in the spring. It was the first money maker in the spring. Then asparagus was a big thing. Everybody put it in because it was bringing in money. They flooded the market so it all went down. It became very cheap.
Angela -- Up the street was Jack Lord. When we cut asparagus, I used to pick the bunches and put them in baskets and put them on the truck. My father would drive them to the stand. So my mother would be bunching all day. My father would put them in the tray, 24 in a crate, and he'd put them into water with the tray and all. Many times I remember very distinctly Jack would come down, pick them up and bring them to Boston to market. Many times he would stop at the stand and say "Frank, I'm not going to take your asparagus tonight because the market is overflowed." So we got stuck with all those asparagus which were 25 cents a bunch. Now you've got to pay $3.50 almost $4.00 for a bunch of asparagus.
Frank -- The asparagus market was flooded. It came to a point where they didn't even want them. And my father said there's going to come a day when what I'm getting today for 24 bunches you're going to have to pay for one bunch. Today it's a luxury.
Of course, today it's too late because so many people gave up their farms and are no longer around. Fresh asparagus is hard to find around here. We still grow our asparagus.We raise some strawberries too. The next in line behind the asparagus would be the strawberries.
Angela -- The McHugh farm on Old Bedford Road had all that area in strawberries and I remember the children with all their bicycles used to go and pick strawberries. They got 25 cents a basket. Today they don't want to go and pick them. They'd just as soon not buy any. Those were nice times.
We have a few apple trees and peach trees which have to be heavily taken care of because between the insects and the pruning and whatever. Care of the fruit involves a lot of work. We sold some acreage to Monsen Road near the wildlife sanctuary and we now have 15- 18 acres, about 15 workable acres. There's a little bit of wetland here and there.
Frank -- It used to be our stand was open until it frosts. Lately we have progressively gone further into the fall. This year we had our own tomatoes up until Halloween. They were just turning but years ago I remember frost being the 10th of September. A real hard freeze then we would get three or four weeks of nice weather but nothing to pick. We had already had our heavy freeze at the full moon. It was like clockwork - the full moon in September, there was a killing frost. Then we had Indian summer. Our springs started back in March. I remember my father saying that he planted the first peas the 29th of March, as early as that. My mother not knowing too much about the weather here when it was about the 191h of April, the peas were about an inch or two high, we had a couple of inches of snow and covered the peas. She said the peas would be all gone. He told her wait until the snow melted, and when it melted the peas must have grown another inch. April was warm, May was hot and by the time June came, we were sick of the heat. And summer hadn't even started. Today we don't get summer until June. Before the season started right back at the end of March and April and ended in September.
Years ago the stand operated in that the customer came with a list of what they needed and they would ask you for a pound of beans, two pounds of tomatoes, they would not touch any produce. We picked out the produce to bag it and gave it to the people. Today it is more of a self-service. Everything is on display, they pick what they like, they bag it, and bring it to you to check out. It's changed now. They pick out their own where years ago we did the picking out of the produce. Today the customer has the privilege of handling and selecting what they like and we check it out for them.
The flower industry today has been a big thing. Years ago there always were flowers. In our case, I remember when we were just starting on a small scale, my father always liked flowers and liked to handle the flowers, and he would sell at the stand in the spring about 200 geraniums and we thought that was a lot. Now today we sell 2000 to 2500 and that's just one item, not to mention hanging baskets and other things.
My father always thought about flowers and before he built the greenhouse he was into sweet peas. Sweet peas is a flower and is produced in the spring. It grows on a trellis and it was his favorite. He would sell them in bunches in July and when the edible peas were harvested those were bunched as a cut flower. Many people would stop by on a Sunday from church and they had to pick up a bunch of sweet peas. Then he decided to build a greenhouse two years prior to his death which was in 1960. He built a small greenhouse which was 100 feet long. The man he bought it from said he wasn't going to have enough room. He thought it was plenty. Well, the following year he had to add 25 more feet because already there was not enough room. He was able to enjoy the greenhouse two years of his life. He was really into flowers and enjoyed them very much. A lot of men just don't know about flowers. The flower part of our business is really a growing part. People will spend any money on a hanging basket or any flower related plant.
Angela -- Anything that is arranged nice. Some people have a whole cart load of flowers and they don't look like anything and yet you get somebody else that gives them a handful of flowers and they can make the most beautiful display. We used to make our own Memorial Day baskets.
Frank -- So the flower business has really taken over, much more than vegetables. People will spend all kinds of money on any flower related plant, but will hesitate twice if they have to buy a pound or two of tomatoes, they might get by with what they have. But they think nothing of spending $40 or $50 on a hanging plant. I think it's because they get more enjoyment from the flowers. A lot of people think it's relaxing and fun to take care of plants, and they give weeks and months of enjoyment.
Angela -- Now the girls, Roseanne and Grace, bake. We have our own baked goods at the stand. There's nothing better than homemade food than you get at the stores. There's more taste. Our cider is from Jack Lord's son who has a place in Stow. All the small orchards give them their drops and they make wonderful cider.
Frank -- It's difficult to keep farming these days. The only thing that helps is that we are paid up mortgage free. We don't owe but just our property taxes. In some cases people have had to get other jobs to help pay because farming in this area is just a seasonal thing, and we don't have it year round. Family members have worked elsewhere to help pay the taxes and bills to carry us through the winter until spring. That's where a family works together to help each other out. Otherwise it wouldn't be possible. Unless you have other means of income, there's no way that you can get through the winter because the winters are long. It's a long winter to get through.
Angela -- Especially this year with the road construction and all. We really got flattened out.
Frank -- We get calls all the time about selling our land for development, but we're not ready just yet. We still want to continue farming for now. I have business cards after business cards and people knocking on the door not even mentioning the word. They face you with these millions of dollars. But there's millions of dollars that won't buy certain things that you hold onto. I remember the land that we purchased was so difficult to purchase because it was during hard times and we had to sacrifice a lot to be able to come up with the payment for the land that they bought. Today I'm not about to sell a speck a land for a million dollars because I know how hard it was to get. Until we're really ready we're not going to let it go. Money doesn't buy everything. A million dollars won't buy you the pleasure of morning walks around the fields, the liberty you have that all of a sudden you become confined in a certain area, and this is where we have been all our lives.
Angela -- My mother always used to say "You get a barrel of money and you've got a lot of money, but if you keep taking it out and you don't put it in, the bottom will show very, very fast."
Frank -- The farmstand has been a family gathering place over all these years. There was my sister, Dominica, who's gone now, my brother Tony and my parents. We were all working together to keep up the stand and the farm from hard times to good times. All of us pitched in.
These 80 years have stressed us out in many ways but it's also been rewarding. We enjoy it because if we didn't, we would have given it up long ago. We'll still stick it out another year and hoping the next year will be better. As I speak today, it is my mother's anniversary of her passing which would be 28 years. It gives me a great feeling about this whole idea of farming and all. I think she would be pleased at what we're doing as well as my dad.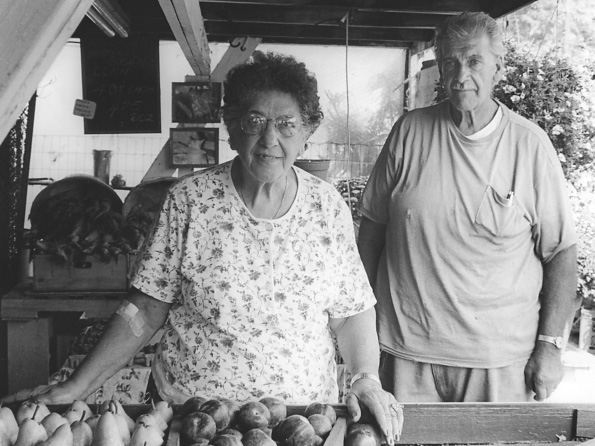 Text and image mounted 25 May 2013. RCWH.