Dr. Elmer Purcell
2194 Main Street
Age 63
Interviewed October 26, 1988

Concord Oral History Program
Renee Garrelick, Interviewer.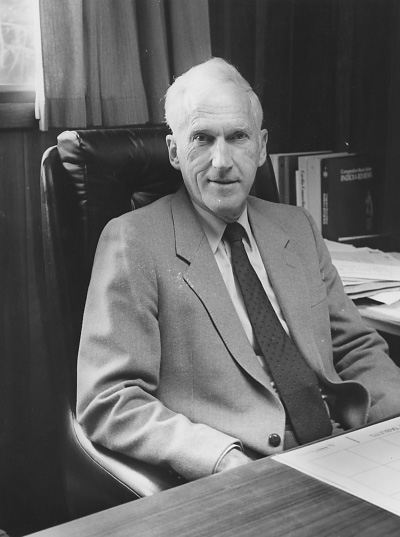 -- Impact on physicians of Medicare and Health Maintenance Organization caps
-- Group practice and the independent practitioner
-- Medical training and difficulty establishing private practice in Concord. Purchase of land for office from Dan Hayes
-- Influence of Drs. Charles Duston, Reginald Johnston, Randolph Piper, Howard Robinson
-- Medical staff at Emerson Hospital
-- Formation of Middlesex District Central Medical Society
The government at the federal level has placed caps or salary limitations on charges on medicare patients. The Blue Shield system in Massachusetts requires all participating physicians to sign a contract that they will accept Blue Shield fees as their total fee. The state of Massachusetts has decreed that by law physicians must accept the assignment of Medicare as a condition of having a license to practice. They are telling us that it is a privilege to practice medicine and in order to receive that privilege we must accept whatever Medicare pays. In theory, the doctor could live with this. In theory, Medicare usually accepts 80% of a doctor's charge and agrees that 80% is a fair figure. They, in turn, will reimburse you 80% of that, which will be 64% of your original bill. Now you are legally allowed to bill the patient for the difference between the 64% and the 80, but in the real world it doesn't work that way. Medicare undoubtedly has thousands of medical bills to process daily, and if one submits a bill of say $100 to Medicare, (1) It may be rejected. It may even be stated that this service is not indicated, or perhaps on a $100 charge they may pay $10; and when this happens you cannot bill the patient for the difference, and all you can do is re-submit to Medicare.
Dealing with Medicare is like dealing with any large Government agency. You can never talk person-to-person with any responsible individual, and all you can do is have your computer talk to their computer. We have found in the last year or two that, for instance, if I see a man for a physical exam and perform an electrocardiogram, we bill Medicare for this, but perhaps the diagnosis does not involve the heart. Perhaps the man has arthritis. Then Medicare says that ECG was not necessary, and so they pay nothing. So we found that a lot of the services we were billing for are being denied or paid a very low rate. Now on the other side, while the income for the physician is either not increasing or decreasing, the cost of running an office is escalating. Office employees require or expect a raise of perhaps 5% a year, and supplies and telephone lines and everything else goes up, up and away. I think the general public knows that our malpractice rates have skyrocketed, and periodically articles are printed in the Globe stating that everything is under control, but it isn't.
I don't know exactly what the cost of malpractice insurance for an internist is, but a few years ago I paid $1800, and before that I paid $800, and this year I think I paid about $5000, which sounds like nothing compared to what the surgeons pay. They can pay $20,000, $50,000, or $70,000, but the insurance companies put a tail on the charges; and that is, in addition to being billed for 1988, I get a second bill for 1987, 1986, depending on the claims that were made. A mishap in 1985 may not enter the court system until 1988, so the insurance companies are going back and billing. So I paid about $5000 in supplementary payments, bringing my total malpractice bill this year to the $10,000 range.
Oh, you have to pay that. In fact it is so bad that some doctors coming into practice have to pay the tail even though they weren't in practice, and this we think is an injustice. Now at the present time, as I read in the Globe, the auto insurance people are trying to put a tail on people. There is a huge outcry from the public, and they are introducing legislation to stop this horrible practice; but we physicians have not been very politic, and there aren't many of us to influence politicians.
The HMO's were introduced as a method of lowering the cost of medical care, and the physician joins an organization like Tufts or Bay State with the idea that he will share the costs. These plans typically will pay the physician 75% of his standard fee. The idea is that at the end of the year if there is a profit, they will reimburse you for the other 25%. Well, the way these organizations are run, there is never a profit. There is usually a loss, so the physician starts off immediately working for a diminished fee. The HMO's have an answer. They say: Well, the good news is that you are guaranteed you will be paid, you don't have to bill the patient, and (2) we will furnish you with more patients so you will have bigger volume, and you make this up. Well, you can only see so many patients, and as you get these extra patients, you have to hire extra employees, and with the HMO system, when someone chooses a physician, all referrals have to come from that physician; so if this patient wants to see the psychiatrist or the dermatologist, or whatever, they have to come to me to get a referral. This is time consuming. It increases your office overhead, and the physician does not get reimbursed for all this paperwork. I think the bottom line is that the income is not increasing at all; in fact it is decreasing, and the overhead is skyrocketing. I think it is only a matter of time before private practitioners, such as myself, are going to go out of business. Now the answer if you are smart, smarter than I am, is to join a group. Now the group does what any large group does. They can buy in bulk, buy wholesale, and the groups here are introducing a lot of services that the hospital provided. This group will buy its own mammogram machine. They have put in their own laboratory, their own x-ray department, their own physical therapy department, their own dietician, their own diabetic- teaching program. All these programs are reimbursed by the state and federal government fairly generously. Now due to a quirk in the law, there is no cap on the amount of money that a group like this can make. There is a cap on the hospital income, and so I think the physicians who went into groups were either smart or lucky.
I was in two groups in my early days and I didn't really care for the group concept, so I am getting my come-uppance. I think every group is different, but I guess all doctors are individualists; and when you are in a group you have to give up a lot of your independence. You work closely with people with personality conflicts. Even though you admire and respect some of your colleagues, sometimes you just don't enjoy working with them. Decisions are made by the group, and you leave some of the independence you thought you were going to reach when you went into medicine. In my opinion groups became popular right after World War II in most of the country. In my area of Arkansas and Missouri the groups were founded there in the late 1940's and 1950's. When I came to New England in 1961, I found that groups were almost non-existent, and the style of practicing medicine here was conservative, backward, or whatever you want to call it. Only now is New England catching up with the rest of the country, and I think there are some growing pains with this.
The practice of internal medicine today does involve a tremendous amount of referrals. Just on general terms, when I practiced in Springfield, Missouri, we were far removed from bigger cities, and I could be an expert on anything. When you come to Concord, you are only 18 miles from Boston; and with all the world-famous hospitals there, there is no way that you can consider yourself a specialist. Now on the local level we have sub-specialists in practically all fields, and I think our relationship is really very good. If I have a patient with colitis, I am not at all unhappy to refer this patient to a gastro-neurologist and have him manage it, and the same applies to rheumatology, etc. I do not think there is any real problem between the primary care doctor and the specialist here.
If you let me pick your specialist, I will pick the one I think is the best. I may be wrong, but in my opinion I am giving you the best; but there are two exceptions to that -- one is the family or the patient may have a choice, and I do not override that. Unless I think the choice is absurd, I will try to override it. The other has to do with the HMO -- if you sign up with an HMO, then this is a program of insurance that you bought. I didn't sell it to you, and so I have to stay in the system; and if you require a specialist, I will pick a specialist in that HMO, and that person is not necessarily the person I would prefer, but he or she may be the only one available for this insurance organization. I think this is one of the handicaps for the patients in joining an HMO. They lose the ability to pick their own doctor or to have their own doctor pick their specialist.
For instance if someone joins Bay State, my concept is that Bay State Health Plan has perhaps close to one-quarter million subscribers. There only may be 4000 in this area, and we are only a small appendage in a big organization. They work out contracts. For instance, if a patient comes in with a psychiatric problem or an alcohol problem and needs hospitalizing, they cannot go to Emerson Hospital, they have to go to Marlboro. I received a letter from them sometime earlier this year stating that if I referred a patient out of plan, I would be fined $250 for the first offense. I received another letter stating that all pap smears had to be sent to some lab in New York, a lab I never heard of, and everyone who listens to TV knows that some pap smear labs are not the greatest. I am certain that Bay State would pick a good one, but it does not completely reassure me, since I never heard of this lab. So there are a few little problems like that.
I was born in Rector, Arkansas, a town of about 1700 or 1800 people, and my dad was a pharmacist and I grew up working in the drugstore, and I wanted to be a veterinarian. My mother said: No son of mine is going to be a horse doctor. She and our local doctor convinced me to be a pre-med student instead of a pre-veterinary student. Due to one or two quirks, I started at school when I was five, I was promoted to second grade on my sixth birthday, and I was promoted to 3rd grade while I was still six years old. This put me as the youngest person in my class, and I graduated from high school in 1941 in May and entered pre-med and college, and in December 1941 came Pearl Harbor, and then everything accelerated. I was still too young for the draft and all this. I joined the Navy V-I program and went to college twelve months a year, so by May or June, 1943, I had finished three years of college.
This was Hendrix College, in Conway, Arkansas. I had been accepted to med school in Little Rock. Then I received my orders to go to Ruston, Louisiana, to Louisiana Tech to study to be a deck officer. I had my acceptance to med school and didn't know what to do, so I called the Naval Headquarters in New Orleans, and they told me, "We are just starting a new program called V-12, and it is not in place yet; but return your orders, go to med school at your own expense, and the Navy will catch up with you." That is what happened, so I went four years of med school in three years and ended up with my MD when I was 21 years old. I interned at Kansas City at St. Luke's Hospital for 12 months. The war is over now, so the Navy called me in to pay them back for my education time.
I served as a medical officer in the U. S. Navy on the West Coast and on a transport in the Pacific 1947 to 1949. I took a year's residency in pathology at Parkland Hospital, Dallas, which later became famous. I went to Dallas because Dr. Tinsley Harrison was Chief of Medicine there. He was a world-famous cardiologist, and I wanted to get a job with him. While I was there he left and ended up in Alabama, and he took no one with him. I went out to the VA Hospital in McKinney, Texas, which is about 30 miles out of Dallas and part of the Southwest Med School Teaching Center, and I spent two years there as a resident in medicine.
The Chief of Pathology sent me to the Thorndike Lab in Boston. The Thorndike Lab is the site of at least one Nobel Prize. It is one of Harvard's finest research places, and my pitch was that was like asking a sandlotter if he would like to play for the Yankees; so he sent me to the Thorndike. I came up here to Boston City Hospital in 1952-54, and then I went back out to the University of Arkansas Med School as Assistant Professor of Medicine for a little over two years and finally decided that I really wasn't going to be a professor and that I would be in practice. I joined a clinic in Fort Smith, Arkansas, for one year. They were good guys, but they really weren't organized well. Their philosophy was: We have never broken a promise. The way that they did that, they didn't make any promises; and their concept was, "You stay here five or six years on faith and we'll take care of you." That just didn't set, so I had an offer to join a group of internists in Springfield, Missouri.
In 1957 we went to Springfield and were there for four years; and again after four years I just wasn't happy in a group. There were four or five of us and we had our personality problems. It was a thriving practice. We decided that we would come back to New England, and we picked Concord. In 1961 I moved into the Concord Medical Center. The staff had about 30 people at Emerson. Dr. Reginald Johnston was here. Dr. Randolph Piper, Dr. Howard Robinson, Dr. Charles Duston, Dr. Jack Holmes, Sid Wanzer had come one year ahead of me, he was the first full-time internist in Concord. Gordon Winchell and Charles Keevil from Lincoln had an office at the Concord Medical Center and each of them spent about one day a week in Concord. We had Gerry Dennison as the obstetrician, and Ernie Smith came to town the very same day I did and joined Gerry Dennison. Paula Hallett was here in Psychiatry.
I was hungry and I had no practice. Paula was married to Gordon Olsen, who is now dead; and he was the head of the Valleyhead Hospital in Carlisle, and Paula was the medical director. This was the place where shock therapy was very popular. At that time shock therapy had a very horrible reputation in my estimate and locally. There would be one doctor from Lowell, one from Newton, and one from Belmont. They were known as the shockers. They all congregated at Valleyhead. I used to go out and do a physical exam and electrocardiogram on these people who were brought in there for shock. It wasn't pleasant, and the patients were usually agitated and didn't want to be examined. You examined them as best you could, and then when you sent them a bill they never heard of you. They had no idea that you had ever been there. I did this for about four years. The first year I had very little practice, so I had time to do it. Valleyhead was a little psychiatric hospital. It is now closed. Not everybody had shock therapy, but at least a lot of them did.
When we came to look at Concord, the night before Peg and I drove up, one of the doctors I was working with invited us over for a drink and his wife said, "I have a very dear friend in Concord named Margaret Crockett. Call Margaret and Jim Crockett and tell them that you are friends of mine." We did, and they showed us around, and they were lovely and very enthusiastic about coming to Concord. I knew Ed Bell from Boston City, and he was enthusiastic about Emerson. I remember Margaret urging me to go see some of these doctors. I took the attitude which I think was correct in those days that if I went to see any doctor and said, "Do you think you need any competitors here?" -- I thought he would say, "There is a lovely spot about 25 miles down the road." So I thought the best thing to do was just come. This was a mistake after I got here because the doctors on the staff apparently said, "We don't know this guy. We are not going to harm him, but we are not going to help him." So they just ignored me. The surgeons who were here mostly had a referred practice, and they didn't have anybody to refer, and most of the referrals came from my internist friends. Sid Wanzer on his day off, his office would send me someone -- and Dr. Keevil's office, he was only in there one day a week. So if people wanted to be seen right away, his secretary would send them to me.
There were just a few doctors that really had the town pretty much sewn up. There were about five doctors who more or less controlled this town -- Dr. Johnny, Dr. Piper, Dr. Robinson, and Dr. Duston. Dr. Holmes was actually a salaried employee of Duston for many years. Dr. Johnston, and I am quoting his patients now, not him, would say, If you had a problem, I am sending you into Boston. If you went to Dr. Johnny with your cold, you get treated; but if you went complaining of weight loss or something that sounded more serious, it was his practice just to refer you in to some good internist at Mass. General. So a lot of the doctors really felt there was no need for any internist here. They controlled the practice. Trying to cover Dr. Piper's patients was awful. Piper's patients worshipped him, and if you saw a patient of his when he was away and didn't do precisely the kind of thing they expected Dr. Piper would do (for instance, if you ordered a blood sugar on a diabetic, and the patient says, "He never gets blood sugars"), the patient resented it. It was tough going. That first two years I might have gone back to Missouri if it just hadn't been pride.
Dr. Johnny was hard of hearing and was sort of reserved, quiet, he must have been a heck-of-a-good guy because he had what I considered the old Yankees, the wealthy, and a lot of very nice people. Dr. Piper was a good looking dude, smart, but I thought he was a pretty arrogant guy, and he certainly was jealous of his practice, and woe be unto you if you saw his patient on Sunday afternoon and didn't get him back to Piper on Monday morning. My concept was that he had the country club practice. He also had a big practice, and he certainly had patients who loved him. Dr. Robinson to me was a tough, rough, gruff guy; and I think he had patients who liked a tough, rough doctor. I never saw him trying to have a bedside manner that was smooth, but he was a medical examiner and he was a physician at the reformatory; and he was one of the three big ones.
I got off on the wrong foot with Dustin when I first came. I have to give Duston credit. He did a lot for Concord medicine. He came out here as a general practitioner doing surgery, and he bought this land and built the Concord Medical Center. Because of this building he drew a lot of good doctors here, and I think you have to give that man credit. Emerson Hospital wouldn't be what it is today if he hadn't brought out a lot of good people. People like Walter Kerr, from the Mass. General in urology, came out here. I think Charlie Duston got him out here. He was superb! We loved the guy. He did a great job in urology. Duston, to me, was a little Napoleon. He was a short fellow who was arrogant as he could be and completely used to having his own way. When I came to town he owned the Concord Medical Center, and I had to go to see him about the place. I believe that Cap Jenney was a partner in this building, and Tom Byron the accountant was in charge of running the building and collecting the rents. Tom took me in to see Charlie, and Charlie said two or three things: (1) You are from the Midwest -- we had a doctor come through here not long ago from the Midwest and there was something mighty sneaky about him. (2) You have an X-ray machine -- we have got a doctor over in West Concord who has an X-ray machine and he is a crook. (3) We don't need any internist in Concord -- if we did, we would go to Boston and get a good one. I wasn't ready for this, and I was so upset that I was trembling. I was shaking. I went back to see him the next day, and he with a little smile said, "I have no objections to your coming to this building because all Tom Byron said was: I don't know anything about his medical ability, all I know is that we have a room for rent and he wants to rent it." So I guess Tom must have discussed that with him. I rented in that building for two years and then I got evicted. That was not really my own doing. I wanted my own office. Across the street from Emerson Hospital was a family named Shumaker. Marjorie Shumaker was from Georgia, and she gave my oldest daughter piano lessons. I made a deal with her to buy a half-acre lot right across from Emerson Hospital. It was still vacant, for $9,000, contingent upon the town giving us permission to build it. After agreeing with this, the more we talked about it, we were going to go down and ask the town to sub-divide a substandard lot (she had an acre and a half and this was 2-acre zoning) for non-conforming use to put a business in a residential area, it didn't sound very plausible. Mrs. Shumaker was a very convincing woman, and she said, "Look, I have been down there before, they are very reasonable, and I am sure they will see it our way, and besides what can you lose -- $10." She said, "I will go with you." I put my $10 and my application in the hopper. Simultaneously with this, you have to go back to Charlie Duston who built the Concord Medical Center. He built it on a variance and then he put in a pharmacy, another variance, he put in a laboratory, another variance, he bought the house next door and put in a children's educational center or something, another variance, and now he has two dentists come to town, Dr. Kenneally and his partner. They just bought the house on Main Street where the Walden Nursing Home is now, and they were going to put the two dentists in there, but they had been warned, "Don't come back to the Board of Appeals. If you want to expand, that is fine, go to Town Meeting, get it re-zoned, but don't ever come back here." I just happened to put my application in the hopper when they were putting their application in the hopper. The story I get, and I never confirmed this -- Jim Crockett's father lived across the street from Emerson Hospital, and he was very upset about his property value if they had a commercial building there. He went down to Bob McWalter and said,"I want you to represent me. If Purcell comes in there with an application, fight it. McWalter happened to be Duston's lawyer, and so he told Duston that this fellow Purcell has loused you up. I think we might have sneaked one more medical variance, but there is no way on earth that they are going to approve two medical variances." Duston is a practical man. He said, "That's fine, let's evict Purcell and put Keneally in his office," and that is what they did. That is how I ended up buying a piece of land out here.
That has a story too. In the hospital one day I was asking everybody, "Where can I find land?" Randy Piper said, "Go see Dan Hayes in West Concord. Dan has a lot of land. He might have something." I drove out to see Dan Hayes and found him in his BVD shirt, and he got in my beetle and we drove out here. It was just a gravel pit here. "How much land do you want?" I said, "About one-half an acre." He said, "I will sell you one-half acre for $10,000." Wonderful! So I went to the Town, and the Town said, "You don't understand, that is industrial park four-acre zoning." I went back to Dan and said, "I guess you can't do it." Dan said, "Take four acres then, same price." Then I went back to the Town, and the Town said, "You still don't understand, there is four and one-half acres there, if we let you have 4 then Dan has 1/2 and that is illegal zoning." Dan said, "Well, take the whole thing." Overnight the Board of Appeals or whoever had a change of heart. They knew Dan. They said, "Okay Dan, you can keep your three-quarter acre, whatever." That is the way it happened. Then when Dan died a few years later, his wife started getting tax bills. Her lawyer is Bob McWalter. He found the land and she insisted that it was mine. He said, "No, it is yours." She said, "I don't care what you say, Dan wanted him to have it, so transfer it." She transferred the other three-quarter acres, so I ended up getting five and one-quarter acres.
He owned a mill on Commonwealth Avenue. I know I am rambling, but Dan is one of my favorite people. Dan, as I understand it, was a young Irishman who probably didn't have a lot of education and was working for a garment mill in West Concord and was foreman. One day the boss brought in his son, and Dan wasn't dumb and he saw immediately that his prospects weren't good, so he quit. He and his wife told me that he went down to the Concord Co-op Bank and spoke to the president, who knew him and was very nice to him. Dan said he wanted to borrow $10,000 to go into business. They asked him the usual banker's questions about how much do you have, what can you put up, and Dan didn't have anything to offer for security. They gave him the lecture about, "Sorry," and Dan said, "I am sorry to bother you." He was walking out the door and he said, "All I know is the Ajax Machinery Company in Philadelphia just sold me $100,000 worth of machinery on credit. "Well, Dan, come back in here." So Dan got his money and he built this new garnet mill, which being modern was able to outdo the old one. They never did anything on speculation. He took orders. He filled the orders. The depression came, and Dan made money. Dan being a simple man thought land was a good investment. The conventional wisdom was that this was terrible. So while poor, old, dumb Dan was buying up Maynard, Concord, New Hampshire and Maine, everybody was laughing at him. One day he and his wife picked a spot, which I think is about where Peabody School is, and they thought it would make a good place for a future school. They offered 30 acres to the Town as a gift. The response of the Town was, "Dan, you are just trying to avoid taxes. We won't accept your 30 acres." Then World War II came, land values started going up, and suddenly Dan wasn't so dumb. He was wonderful to me.
It was all on a handshake. When I finally got my $10,000 and I called him to tell him I was ready to consummate the deal, he said, "There is a fellow here in the office I think maybe you ought to talk to." Someone was there trying to buy two acres for $15,000. He said, "Gee, I don't know anything about that, you'll have to talk to Dr. Purcell." Somebody wanted to build a nursing home out here.
The surgery was all done by general practitioners until Dick Austin came I would guess about 1958. Dick came out from the Mass. General and was an excellent surgeon. He helped the general practitioner surgeon, and they referred their tough cases to him and they got along just fine. In a year or two came Dr. Seymoure DiMare and Dr. Jim Knight. They were a couple of full-of-vinegar guys. They looked around and they saw surgery being done by general practitioners which they didn't think should be done by anyone but a trained surgeon. They started a campaign to change things. This did not set well with the GP's doing surgery. As a consequence, I think Dr. Austin got the vast majority of the referrals, and Knight and DiMare suffered in their practice build-up because of their outspoken views. They were the three surgeons here for years. About 20 years ago we got three more, Joe Barrie, Dick Larson, and Whitey Hays, and then Jim Knight developed melanoma and died. Since then we got a whole bunch of new surgeons who have been here just a few years.
Because there were so many referrals to Boston when I arrived, I think I heard it a few times that people said, "You ought to go see Purcell because he will examine you." I think in 1963 or 1964 Mother Nature came to my rescue in that Dr. Robinson died, Dr. Johnston retired and moved to Maine, and when he did that Dr. Dahill gave up his practice. Dahill had been associated with Johnston, and he came to Emerson and just did anesthesia. Suddenly within one year more than half of the general practitioners were gone, and suddenly Sid Wanzer and I were busy. If you think of the concept that the general practitioner in those days might book two appointments every 15 minutes, and the internist might see one patient every one-half hour, so you need four internists to replace one GP. We have been busy ever since.
Emerson Hospital has grown a lot. We now have roughly 150 doctors. We had 30 then. It sounds barbaric now, but we had an emergency room for instance with nobody in it. One of the 30 doctors each month would be on call for the emergency room. So if a patient came to the emergency room, then they would have to go out to call the doctor in his office and ask him if he would come over and see the patient. That sounds preposterous today. The X-ray Department was tiny, and we had these roving x-ray men. On a night or weekend the radiologist on call might have to drive 40 miles for him to come in if you want him to look at an x-ray. We now have an excellent full-time X-ray Department here. We had no pathologist. The chief of pathology at Mass. General would send his young men out to do autopsies, and he would come out every two months or whatever and have a clinic with us. If you were going to have a breast biopsy and have a frozen section, you would have to make an appointment so that somebody from Boston could come out, and it was a very archaic system. Now we have top-notch pathologists. I think the world has changed though.
In the last few years doctors have changed from being colleagues to being competitors. As I see it, about let's say roughly 10 years ago we perceived two threats. First of all back in the Nixon Administration in those days nobody could get a doctor, and everyone said we needed more. In the Nixon era the federal government created 35 new medical schools, each of them started turning out 100 or more doctors a year, so the volume has picked up. We began to realize that there is going to be more competition in medicine. It is not going to be the good old days. There are two things that worry us: (1) Harvard Community Health Plan in Boston. That is patterned after the Kaiser Permanente Foundation on the west coast, which is a big HMO. They were going to offer low-cost medicine to the masses, and they were in Boston and we were afraid they might come out here. If they did, they could just take over the whole town and all of us would be out in the street. The other thing we were worried about was Lahey Clinic because we didn't know what they were up to. We heard they were mean, aggressive, and they'd do whatever they wanted to do. That is another story. Because of those two perceived threats, we decided that we should have some sort of a program locally to offer to people.
The only plan that was available at that time was Bay State. They were the first, and they set up an HMO which we joined. A fellow named Jason Stone who was head of the rate-setting commission looked at Bay State and said in effect, "You don't really have much capital." So all the doctors who joined this had to put up $1000 seed money, so we all chipped in $1000 to join an organization which most of us wish we had never joined. Then Acton Medical set up what you'd call a multi-group. It is a chain of groups up and down 128, and that has evolved and they are now along with Concord Medical and Harvard Health Plan. So once you find that one group of doctors is in one organization and another is in another, and some of your best patients sign up at work and they leave you and go to the other guy because of their insurance coverage, a little bit of hostility pops up. At the present time I think a lot of doctors are frustrated, depressed, a lot of the old doctors are quitting, younger doctors are coming in. Rina Spence just quoted in a newsletter that we have 25 new physicians at Emerson in the last year, which sounds great; but very few of those are primary care doctors. In fact, all of them are sub-specialists, and I think it is getting back to the 1960's -- it is getting hard to get a doctor.
I don't think that it was any big deal to form the Middlesex Central District Medical Society. Where I came from in Arkansas and Missouri, everybody went to the Medical Society meetings. It was just part of your faith. You didn't even think about it, you just went to medical meetings. When I came here in 1961 we were part of Middlesex South, in Cambridge. They had about 800 members. You'd go to a meeting at Fantasia Restaurant and there would be about 400, 500, or 600 people. You didn't know anybody, and you didn't know what they were talking about, so you just didn't go. It was like leaving the church. So a group decided that if we are going to have any role in the state medical society, have any influence, we had to have a smaller organization that we could control or at least communicate with. Twenty-five years ago in 1963 we petitioned the Mass. Medical to split off from Middlesex South and form what is now called Middlesex Central. We now have about 150 or 160 members primarily around Emerson including some doctors who live in Concord and work in Boston.
The Medical Society has not been the most lively of our organizations on earth. Again, I think a lot of doctors feel that politically we are whipped -- at least my concept is that. When we get beat on, when we say, "I can't raise my fees, my overhead goes up, I start to make less money, in fact I am making very little money this year," there is no politician on earth who is going to champion the doctors. The doctors have an image -- we are all rich and we all play golf everyday, and we all drive Mercedes. I think the general public could care less if I have to take a 10% cut in income this year. So we go through the motions, we have a Medical Society, and we are plugging away, but we don't expect much relief. For instance, there is a report sponsored by the federal government to look at the way money is spent on doctors. Now the feeling was that what they call cognitive services, that is the diagnostician, the internist, the general practitioner, people who are dealing with people, that they are grossly underpaid and they should be getting about 60% more. Some of these high-priority surgical specialists, such as eye surgeons, were grossly overpaid and they ought to be cut. We had a man from the federal government talk to us at Mass. Medical a couple of weeks ago, and he said in the real world he expects that they are going to cut the high flyers but they are not going to help the internist. They are trying to cut the cost. They don't want to give anybody more. So the way I feel at the moment, if I were a young physician, I would join a group where there is a chance for making a living; and as a physician at my age, I am planning on just sort of sticking it out with the idea that I won't be here 20 years from now. Things have changed since I came to Concord in 1961. I was charging $5.00 for an office visit and was happy, and I paid my first secretary $55.00 a week. Then along came Digital which started hiring everybody. Wages started going up and costs went up. At the present time I believe we are charging $38 for an office visit, and I am having a harder time making ends meet now than I did then.
Text mounted 11 May 2013; image mounted 22 May 2013. RCWH.