Marian Miller
53 Belknap Street

Age 89
Interviewed February 8, 1977
Concord Oral History Program
Renee Garrelick, Interviewer.
In 1918, it was decided there should be a good dramatic group in Concord and the Concord Players was formed. At first the Concord Players performed in private homes or in the Town Hall. The group took over all the assets of the old Concord Dramatic Club, mostly just some scenery and a few costumes. They had no place to store things, so everything was lugged to the Town Hall, where their plays were usually produced. The Town Hall had no backstage and very little room out front on stage. The stage itself was very small. So after a year or two, it was decided they should have a place of their own.
Immediately subscriptions were made and the town appropriated half of the money, and the Veterans Building on Walden Street was taken for the players. The building was remodeled and a very good stage was built. The stage was a replica though smaller of the Colonial Theater stage in Boston. It was designed by my father (Mr. Blackall), who really researched the work. The players once in their new home became more ambitious about doing bigger plays and taking plays to other places. The most ambitious thing we did was take our play &Clarence& down to New York with Bill Tilden, the famous tennis ace, in the leading role. This play was put on for the benefit of Life's Fresh Air Fund, and the audience was a most sophisticated one of all the prominent actors of New York. They marveled at our temerity in undertaking such a play.
Another activity that I was much interested in was the Antiquarian Society. Early on I became acquainted with their collection. I was taken to the Reuben Brown house on Lexington Road, which was where it was housed, to see the collection. Everything had been collected by a unique character named Cummings Davis. He had spent years acquiring old pieces that had a Concord association. He seemed to have an instinctive feeling for the right thing. He didn't limit his collection but took anything that came his way, such as furniture, pottery, paintings. Many of the things were extremely valuable.
The collection grew until 1887 when Mr. Davis's health began to fail and he started to sell some of his possessions. Then the town began to realize that he was more than just a funny man who kept the newsstand in the center of town. Arrangements were made to care for him as long as he lived in exchange for his collection. And that was how the Concord Antiquarian Society was formed. For many years it stayed at the Reuben Brown house. By the 1920's with interest in antiques increased, the town decided it was time to have adequate housing for the collection. So a very beautiful building was erected with the rooms arranged in chronological order and furnished with Mr. Davis's possessions. It is a rare collection and much prized in Concord.
I worked with the Antiquarian Society for many years. I did everything from scraping the floor to being a director. I was particularly interested in the collection of costumes. They were collected by a Mrs. Allen French. As a young woman, she had a great deal of illness and was required to spend much time in bed. As a little girl, she had been fond of playing dolls and as an invalid, she began to make beautiful dresses for dolls. That grew into a mania for collecting costumes. She was very meticulous about her costumes and in her work. Her costumes were catalogued and dated and often times, she repaired them. Gradually her collection grew so large that she couldn't store them in her home. She asked the Antiquarian Society, when they moved into their new home, if she could store them there. The collection is now over a 1000 pieces. I worked with Mrs. French for years and after she died, I carried on her work at the museum.
The library that I began working for in 1942 and served until 1957 has from the beginning been one of my favorite spots in town. I was the librarian for the children while I worked there professionally. The children's room is not like it is today. It was in what is called the Thoreau Room today. It was not a collection of books for little children; it was more of a youth library.
I used to collect books for the schools and I used to have lessons in cataloguing for the children. Of course, the collection was much smaller than it is today. Nowadays, the children have a story hour, and the collection is very large and colorful.
The work I do now for the library is just what comes up that needs to be done. I have made up indexes for various collections, and I look up information for questions that come into the library particularly geneological ones. I go there one day a week to do what I can to help.
My own private life was a very happy one. I married Hans Miller in 1915, and when we came to Concord, we had three children, the youngest one a baby. My mother-in-law lived with me most of my married life, and my own mother and father passed their final days in my home. My husband was very active and creative. He did a great deal in the Concord Players that was constructive. His work in the players was much more important than mine. I was secretary for several years as well as president. But my husband was on stage both acting and constructing. That attitude was carried into the home. He was always building something in some way or another.
His greatest idea was to do things that would educate children, and one of his biggest projects was to build a lighthouse. We lived on the bank of the Sudbury River and there were rocks there that interfered with our canoeing. The children were taught early to handle a boat, a kayak and a row boat. We were often on the river. But one large rock in particular when the water was low would scrape the bottom of the boat. So he decided to build something there.
One hot August when the water was low, my husband started to build a lighthouse. He built one with the help of our son that was about 15 feet tall. It was white and was lighted with electricity from our house. In our cellar we have a big board which indicated flow of water, weather, and everything associated with the lighthouse. That equipment was put on the board through an electrical company in exchange for pictures of the lighthouse which were used in advertisements for their firm. Everyone in town enjoyed the lighthouse and it even inspired a citizen to write a poem about it. It was noted in the Boston Herald and in other parts of the country, the furthest being in Louisiana. It was a fine lesson in reinforced concrete and electrical equipment for our son.
The lighthouse stood for about 6 years. Then one winter day we had a terrific storm. It was preceded by heavy rain and the water in the river rose very high. The rain began to freeze and hugh ice blocks began to form in the water. The water rose so high that great pressure was pushed at the top of the lighthouse. And it eventually fell into the water. It was a terrific blow to us to have it go down. You can still see the foundation of the lighthouse if you look from the Nashawtuc Bridge.
When I wrote the history of Trinity Church, I first consulted a history that had been written by Fred Tower, who was the postmaster in town and a devoted member of the church. He had written up to a certain point and I took that, rewrote some of it, and carried it from that time up to the present. The church in which we worshiped was a small chapel built in 1883. But we gradually outgrew that chapel and decided to build a new church. There was great discussion as to the style of the new church. It was difficult to find an architect to build a church in the old style which was Victorian type. We finally built a very large church with a beautiful window of glass made in France. The church began to grow in number, and as it grew activities in the church widened.
Of course, church activity is very different today then when I first came to Concord. A great deal of the charitable work was done by churches back then and now is taken over by organized societies in town. When I first came here, we did a lot of sewing to make money. One of the things we did was to make all the maids uniforms for the Union Club in Boston. We kept them supplied over the years. Another activity was to send flowers to The Floating Hospital in Boston. We also did some foreign missionary work. And now that is not done so much by an individual church but through the church world services, the larger organization. It seems everything has been more institutionalized and organized; the personal touch has been taken out.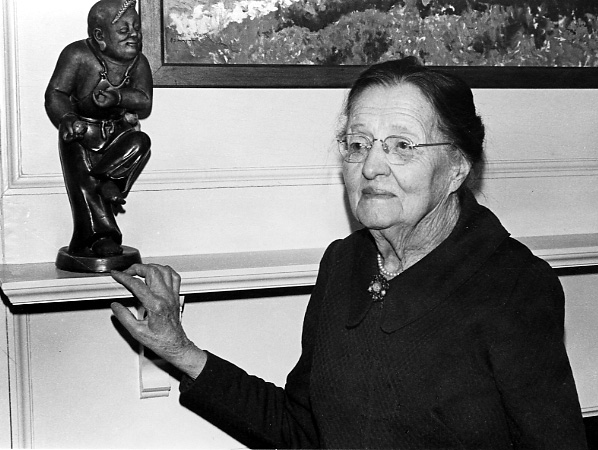 Text mounted 27th April 2013; photograph mounted 1 May 2013. RCWH.