Michael Marx
Olympic Fencing
Interviewer: Carrie and Michael Kline
Date: July 11, 2016
Place of Interview: Fowler Branch Library, West Concord, Mass.
Transcriptionist: Adept Word Management, Houston, Tex.
Click here for audio.
Audio files are in .mp3 format.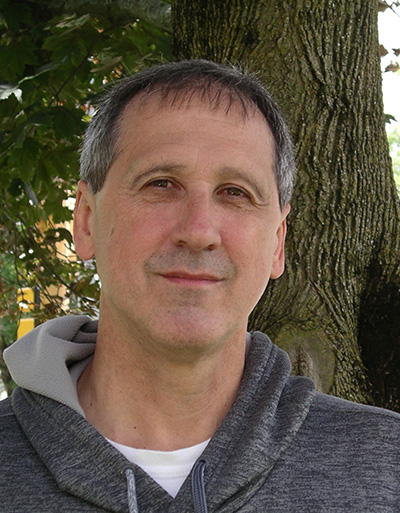 Michael Kline
00:00:03 Today is July 11, 2016, and My name is Michael Kline, and we're in the West Concord Free Public Library. It's been kind of a chilly few days in the middle of July. I've never seen anything like it. Carrie Kline is here with me. Would you please introduce yourself? Say, "My name is."
Michael Marx
My name is Michael Marx.
MK
And your date of birth please? I'm just checking the levels as you speak.
MM
July 7, 1958. But if I could change that, could I change it to like 2008? (laughs)
MK
Wouldn't we all like to chop about fifty years? Yeah. If you don't mind, maybe we could start off. Just tell us a little about your people and where you were raised.
Early Life and Family in Portland
MM
Well, I'm originally from Portland, Oregon, and my family—my whole family was from there originally. My grandfather actually got off the boat in New York, and he found his way to Chicago, and apparently he worked for Al Capone as a cook. And then from Al Capone, someone apparently said, "Gabe, you're a good man. Here's some money. Go west." And he went and ended up in Portland, Oregon, and had my mom. My mom eventually had me and two other boys, and so my family's all in Portland, Oregon, except for me. I made my way back out east.
MK
And what did—what were the family's activities in Portland?
MM
Well, my mom was a single mother for at least—I have very few memories of my father—maybe just a couple from when I was a baby. And my mom kind of raised us until she got remarried to now my dad, and she worked several jobs up until then. From my younger days, we were pretty poor, and we would have marshmallows and hot dogs for Christmas—things like that. And obviously, we walked three miles to school in the snow and both ways uphill, of course—those kinds of stories. But it was—we were a pretty tight family. Being an Italian family, there's always some separation somewhere, and so there was half the family we didn't know and half the family we did know, due to some quarrel from twenty or thirty years earlier. On one occasion, my brother was in a store with my mother, and my mother, who was named Colleen, said, "Hello, Pat." And the woman said, "Hello, Colleen." And then my brother, who was in his late twenties at this point, said, "Who's that?" "Oh, that's my sister." (laughs) So we didn't know. But the family grew up there. When my mother passed away, everyone kind of united at that point, and I met my mom's sister, and I met a lot of other family, and we've been staying in touch since. But that was a long time ago.
MK
A lot of cousins.
MM
Yeah. I've got several cousins. Some of them are actually coming out to visit us in a couple of weeks.
MK
00:03:25 Were you aware of an Italian community in Portland? Or did you live sort of off to yourselves?
MM
We were off to ourselves. My grandfather did the Italian thing. Every Sunday, he'd open up the side door and then the patio door, and he'd have a spaghetti that he had made, and there was sauce that had, of course, been cooking for two days. And every Sunday, the neighbors would come in with a plate and a fork, and they'd walk in the side door, go through the kitchen, get their spaghetti and their sauce, and then go out the patio door and sit. And the whole neighborhood would sit there and have Sunday lunch together.
MK
And this was in Portland.
MM
This was in Portland. Yeah. It was a different time where every one of the kids—you know. The kids could go anywhere, and you could stay anywhere, and it was so much—we never wore helmets when we were riding bikes and things like that. It was a pretty easy time for the kids. And everybody was a community.
MK
And what did the kids do for entertainment? Of course, what I'm beating around the bush here—I'm trying to get you to talk about early games and stuff that kids played and athletic awareness on your part.
Kids' Activities in the Neighborhood
MM
Yeah. Well, for me, I was considered the best rock thrower on the street; and therefore, my brother, Bob, became the best rock dodger on the street. We would race bikes, and we would jump over bike jumps. We'd make jumps and jump up to see how high we could get on a bike, and we'd try and do—at that time, doing a wheelie was a big deal. But for our neighborhood, we played Monopoly. We ran around. We would just do things that were just outside. Everything was outside. Even though it rained a lot in Oregon, it wasn't too bad, and we were just outdoor kids. If we did anything indoors, it was maybe playing Monopoly or a game of Life or something like that. Besides riding our bikes or playing catch or the basic stuff, we were just doing adventures.
MK
Were you particularly nimble as compared with other kids? I'm thinking of fencing and footwork. Did you see yourself as being better coordinated than most of the kids around you were?
Early Fencing Experiences and Motivation to Excel
MM
I don't think I was any different. I still don't think I'm really any different than anyone else. For me, I think there are several areas where you can be good. In fencing, it's not just a sport. I mean, if you're physically great, it's good. It's great if you're a good athlete and stuff. But it's a learned sport. If you work hard and you learn properly, you can be good at fencing. In fact, virtually everyone I know that's worked hard and—some of those worst athletes can be great fencers because they do the work. In my case, I remember as a young kid I was fencing, and I had one particularly bad meet where they were mostly against adults, and they were picking on me. They weren't torturing me or anything like that, but they were pretty mean to me. And they were turning their back. At that point, you could turn your back. I'd go after them, and they'd turn around and block me and hit me. They were kind of taunting me that way, and I was the only kid in fencing at that time. There weren't a lot of kids fencing, so I had to deal with the adults.
At one point, I remember I kind of snuck up on a guy and I hit him when he was turning his back, and I got furious with myself that I allowed this person to make me do that. And for the next year—that—everyone remembers that moment. That was the moment, for me, I said, "This isn't happening to me again." And I trained so hard. I'm actually grateful because those hard times in your life are what usually propel you forward. I trained five, six days a week, four or five hours a day. And the following year, I fenced that exact same tournament. It was a state championship, and I crushed everybody. I fenced everybody I fenced the year before, and none of them touched me. I fenced five of them. There were five people I fenced, and I beat them each 5-0. I was still angry, but it taught me. It taught me that I didn't want to be that person. I didn't want to be picked on. I didn't want that to happen. I just—I used it as motivation, and for me, I just worked hard from that point on. For another six, eight years, I got a work ethic, and I trained hard, I worked hard. I would never miss practice. Every lunge I did was as hard as I could, and I think that's what worked for me, because I don't think I'm any super athlete or anything like that. I just worked really hard. And when I practiced, I practiced as best I could.
MK
00:08:25 So these opponents that you whooped up on, were they all people that had picked on you previously? Were you, in a sense, settling a score? Were you showing your new stature as a—?
MM
It didn't feel like I was settling a score. It felt like I didn't want to be that person. I didn't want to feel that way again. And in essence, they were the trampoline that I jumped off of. They were behaving badly, and I didn't like how it felt. I do know that I fenced the same people, and when I did fence them, they weren't going to touch me. And it was funny. I saved the one clipping from the paper. It's about an inch by two inches, and it has my—I saved that clipping in a little plastic baggie for the years—just saved it because that was the one. I remember that was the moment. So in essence, I'm thankful. I still know the people's names. I won't mention it. (laughs) But I don't think they were—I think they were just playing with me, and it felt cruel to me. And in any case, it motivated me.
MK
But they were playing with you in the context of fencing? Or were they picking—what was this hitting stuff?
MM
00:09:43 In fencing—and in current fencing you're not allowed to turn your back, and at that time you could. The rules—
MK
What do you mean? When do you turn your back?
MM
Well, you would normally never turn your back on an opponent, but you start facing your opponent. So the referee would say, "Ready, fence!" and they would turn their back, and I would go to hit them, and they'd spin around, and they'd block me, and they'd hit me. And that was funny to them, and it wasn't funny to me at the time. And then they would—it's like a—imagine there's a boxer who drops his hands right in front of you, and you try and throw a punch, and they move out of the way, and they slap you. Muhammad Ali could do that. But he did it against other professionals, and he was just so much better. These guys were not Muhammad Ali, and I was no George Foreman. (laughs) And so they were just picking on me. Again, I don't know if it was mean or not or what the intent was, but I know what the outcome was.
MK
What a great story.
The Drive of Olympians and Overcoming
MM
Yeah. It's—I've told it to people before to say I don't know—one of my favorite moments of the Olympic Games were—you have to go to the opening ceremonies, which is in a large stadium. And you've got to put thousands of athletes into another place, so they were putting all the athletes—they'd have to get their early, and you'd be in a large venue adjacent to the stadium so you could walk in. And that was the most interesting time for me because you'd sit and you'd talk with Edwin Moses, or you'd talk with these famous athletes—Greg Louganis or someone—and they would openly tell you. They would talk very openly, and almost all of them kind of veered back to what motivated them, what drove them. And the stories were amazing how virtually every athlete I know has to overcome something or has overcome something or is constantly overcoming something, and that drive makes them stronger.
I had a student who was amazingly talented, and I was joking with him that—I said, "I don't think you're ever going to make it." It was Nick. He goes, "Why not?" And I told his parents, "Because your life's too easy. You've got the perfect mom, perfect dad. You've got the older sister, the dog. You know. Everything's going too well for you, and you haven't had to really overcome something." And he kind of got it, too. He understood, and his parents understood it. You wouldn't want to change it, but it's—that would take a serious personal drive to find something to overcome.
MK
So in cases where there's something to overcome, there's almost something the equivalent of—it sounds like a hunger to—
MM
00:12:28 I don't know. I think a lot of it's human nature. If you talk to a guy that went in the Army and he went to boot camp, he's going to talk about that guy who—the drill sergeant who made him do all these crazy things. He's going to talk about he took the gas mask off when he was in—these things become memories, and they talk about that. If you're in war, they don't talk about the days they were sitting around. They talk about this battle where the bullets were flying over their heads. These are the things that, I think, make us, and they build us or they break us. So I think those times are something to embrace and something to overcome, and I've had lots of athletes that had some pretty hard times, and I've told them—each and every one of them—what a nice opportunity. What a terrible event but what a nice opportunity for you to be stronger and come through that and share it and share it with others and make yourself better and help other people. And if you look around us, that's what's happening all the time. All these great athletes are doing things like this. They're telling about what they went through and how they overcame things, so I see obstacles as kind of, again, a trampoline to bounce off of. Or a pool to fall into. I'd rather bounce off it though. (laughs)
MK
I noticed from your bio there that you—it mentions another weapon. Épée?
MM
Yes.
MK
I don't even know what that is. Here I am holding this microphone. I don't even know what that is.
The Three Conventions of Fencing
MM
Well, the mics not dangerous so it's okay. There are three weapons in fencing—foil, épée, and sabre. Most people would say that you would start in the foil because it has three conventions. Obviously, we don't die from fencing anymore. It's like so many sports that came from warfare—the javelin or archery or things like that. Fencing is just another one of those. People loved it, and when they stopped using—with the invention of gunpowder, using a sword wasn't really helpful anymore. So people loved doing it, so they did it for sport.
The foil was actually a training weapon to practice something, where you had to only hit the chest. You had to have what they called right of way. Right of way you didn't need when it was a real sword. If it were a real sword, if you went to stab me, I would defend myself or I would retreat out of the way somehow. I wouldn't just stick my arm out and hit you because I would die. But obviously, now, since no one dies, they have the convention of right of way. So you have to hit with a certain chest. You have to hit with only the tip, and there's right of way. So foil has the three parts to it—the three conventions we call it.
Épée was fence to first blood. Épée was the first one that touched, so now they have machines that can tell you within a thousandth of a second who hit first, and if you both hit within four hundredths of a second, both lights will go on, and you're bot hit. Other than that, if it's hit-hit, only one light goes on. So in épée, you can hit anywhere on the body, and it's whoever hits first. You can see how tall, thin people would like that because they can outreach you—things like that.
And the sabre was taken from the cavalry. The sabre is a cutting weapon, so in sabre you have right of way because the person would be lopping your head off, and you wouldn't just let them hit you. You would defend yourself. So the sabre is a cutting weapon. I call the people who like it like Rambo. You're a crazy person. You go for sabre, a match will last about fifteen, twenty seconds. That's all it lasts. It's ready, fence, and you go—you go after each other.
Épée is more of a thinking person's game because anybody can hit anybody. There's no right of way. Whoever hits first—so there are kind of a lot of counterpunching stuff going on there.
And foil, because they have the right of way and you have to hit with the point, there are a lot more exchanges. That's more of a—more of a conversation when you're fencing foil—more of a conversation with the blades and stuff. So those are the three weapons. They each tend to draw a different type of personality for them.
MK
00:16:46 Can you talk more about that?
Fencing Personalities
MM
Yeah. I describe it like this. If you were at a party and you saw a pool way off in the distance, a sabre fencer would be running and tearing off his clothes and jumping. He doesn't even know if there's water in the pool yet. He's just going to jump, and he may crash and burn, but he's going to jump.
The épéeist is the antithesis of that, I think. The épéeist would be with his buddies. He'd see the water. He'd walk over there slowly, take his shoes off, put his toe in the water to check the temperature, and he and his friends would slowly wade in.
And the foilist is kind of in the middle. He'd run over there. He'd see the pool and say, "Hey, guys. Let's swim." And they'd maybe do their cannonball or dive in. So you kind of have three different personalities. Then an épée bout will go to the maximum amount of time, usually almost always. It quite often ends in overtime. In sabre, they don't even keep time. There's no reason to because you have three minutes to fence, and your bout's going to be about fifteen, twenty seconds. And in foil, it may go time. It may not go time. It generally doesn't, but it goes usually between a minute and two minutes. So there really is a strategy to all three.
Something I love about the sport—I'm a Phys Ed teacher, and I taught Phys Ed for many years. And there's no sport that I really—that I've ever been so drawn to like fencing. I played soccer in high school, and I also did different sports, like most kids did. But fencing always captivated me, and I could switch from weapon to weapon, and as you saw earlier, I fence foil and épée. I compete in sabre also. In fact, if you go to my club, I keep one trophy there, and it's a sabre trophy. Because I entered the foil event, and I took second and I was really irritated—not because I took second but because first prize was this really nice silver cup and a bottle of Dom Pérignon. So I entered the sabre—
MK
00:18:44 Can you spell that?
MM
Dom Pérignon? It's the champagne. Dom Pérignon. D-o-m Pérignon—I'm not quite sure. I'm not sure.
Carrie Kline
We'll look it up.
Fencing in the Family and the Olympics
MM
Dom Pérignon. It's the famous—it's a famous champagne. And I ended up taking second in the foil, so I entered the sabre, and I won the sabre. And everybody's like, "You did sabre?" Yeah. Yeah. I've done sabre. So it's kind of fun. So I really was a foil—trained in foil, and when I was a young kid, my brother was training in épée, and at one—my brother also made three Olympic teams. And in 1975 at the Junior Olympic championships, I beat my brother in the finals, and I was already on the team in foil, and I fenced the épée just for fun, and I knocked my brother out in the final. And he didn't make the world team, and I did. So the—
MK
This is your older brother?
MM
My older brother, Bob. And people said, "Why didn't you give him the bout? Why didn't you do that?" And this is an honorable, noble sport. (laughs) I'm not giving the sport. And he had a pretty good career. He won a few national titles and made three Olympic teams, so he had a pretty good career. And the following year, I won the foil, and he won the épée. So we both made the world team together, and this was the under-twenty national championships.
The following two years, he was too old for the épée. He'd already aged out, and I still had two more years. So I fenced, and it was the Junior Olympic championships. I fenced in the foil and the épée, and I won them both. And it was really fun because I'd come back and I put the trophy—I put the perpetual trophy back on the shelf, and Bob goes, "Hey, here's your trophy back." So for the—he won the foil—I won the foil, he won the épée in '96. In '97 and '98, I won the foil and the épée, and I put the trophies back on the same spot. You could see the dust ring around it and stuff.
And then after that, when I aged up into his event, I didn't fence épée very often anymore because he was the épéeist and I was the foilist, and we just didn't want to compete with one another. And he made the team in '84 and in 1992, and he retired in 1992. And my last team in foil was '92, so I started—I was teaching épée.
I was a national coach in women's épée, so I was trying some new skills, some new tactics, and some new ways of approaching épée. So I said, "Let me try it." So in '94, I started competing in épée just to try the skills, and I ended up making the '96 Olympic team in épée. So I didn't have to compete against him, and it was fun. So I got to compete in Atlanta in 1996 and in LA in '84. So it was really fun to have two Olympics in your own country.
MK
Wow.
MM
I blather. (laughs)
MK
You've got a lot to blather about.
MM
00:21:46 No.
MK
Come on. We're—
MM
Yeah, it was fun. It was fun to walk in the opening ceremonies with your brother.
Natural Ability vs. Schooling
MK
I can't help wondering if this—this sword fighting, if you can lump it all together—doesn't resonate somewhere in your past, your Italian past. Have you ever thought about that? How could you have two from one family with such amazing talent?
MM
Surprisingly—maybe not surprisingly. It's very common in this sport. Fencing's a very complex sport, and there's so many—so many avenues where you can become a strong athlete and so many avenues—so many areas that you need to be at least solid in. And in this sport, you can look around, and you will see there are so many families that if this kid was good the other one was good. There are many. I mean, I can name—I can name ten people that their brother and sister were both national team members or both Olympians.
MK
And this is generally you mean? In any sport? Or—?
MM
No, no. In fencing. I mean, I'm sure they have it in other sports, but maybe because there is something that you're born with, and I've been arguing that for years.
There was a guy that coached for forty years, and he was saying what—and I was the national coach, and I have to work with him. And he's telling me all this stuff all the time, and I go, "Wait a minute. Wait a minute. You know, you've been coaching for forty years. I understand that, and you've got a lot of knowledge. But, you know, you're overwhelming everybody because you think—you're saying things I don't necessarily agree with all of that. Name your top three students." And he named the two sisters, and he couldn't name anyone else. I said—I said, "I don't mean to be mean or blunt, but you've been coaching for forty years, and you've got two good students that happen to be sisters. Is it possibly them? Is it possibly them that were good?" And I really didn't mean to—but the guy was taking over our program and stuff, and then all of a sudden people realized—yeah.
And then you talk with a lot of coaches. You can look around. There are so many coaches that coach for twenty, twenty-five years, and they've never had success. And then this family moved in, and all of a sudden the girl and the guy are really good. Then all of a sudden he's a great coach. So in this sport, I would argue the coach—and I've heard many, many—in fact, my thesis on fencing—I went to Poland to get my fencing master degree from a man named Zbigniew Czajkowski, who is—
MK
00:24:23 Now, you'll have to try to spell that.
MM
Yeah. I can spell it for you later.
MK
Can you do it now?
MM
Zbigniew is Z-b-i-g-n-i-e-w. That's his first name. It's really been Zbigniew. And his last name is Czajkowski. It's C-z-a-j-k-o-w-s-k-i.
MK
Thank you.
Thesis on Fencing
MM
Zbigniew—you can look it up online. The guy's amazing. He's in his nineties now. But I moved to Poland to train under him. He was the best—the best fencing master there was, and he was telling me how—during my thesis, I asked him if I could write about different school's defensing. So I wrote on every school from Cuba to Canada to China, and I asked them all—I asked every national coach I interviewed. One of the questions I asked was do you believe that your best champions come from something that they bring to the table or that your school of fencing. And every single national coach said it has nothing to do with our school of fencing. The athlete—what the athlete brings to the table. And they said 90 percent of our athletes are just uniquely going to be good, and I've found that to be true because the sport is so complex. There's something about you. It's tenaciousness.
I've seen a guy—I worked with when he was a kid. He made the Olympic team because he had a heart of a lion. There was another guy—there was a Russian guy who could hit you in your fifth lumbar while looking at you somehow. He had this ability to just see through—just know how to find the target. There are guys that just have a beautiful sense of timing. There was a guy who won the Olympics on nothing but being able to move his body. You couldn't hit him. Like he'd just turn his body to the left or the right or duck down or get away, and you couldn't hit him. It was amazing.
So I think more and more, it's becoming more athletic, and you really have to be more of an athlete. But the best fencers—you can see they start—they become good when they're young, and they stay there. It's just amazing how that works. So I think it's the athlete themselves.
Athlete-centered Coaching
00:26:38 You could ruin—I've seen coaches who could ruin an athlete. (laughs) I kind of joke. I had a student of mine named Ariel. I said if Ariel did not make a national team I messed him up.
CK
Oriole spelled like the bird?
MM
Ariel—A-r-i-e-l. And he was from Oregon, and he won several national titles. He was ranked number one in the world for a while. I mean, if he didn't do this, I had to mess him up because he was that talented. So it really—what I have to do is just stay—get out of his way. I call it athlete-centered coaching, where you look at the athlete and you kind of coach around them—what makes sense for them as opposed to just doing what—doing what you do and hope they fit in your mold.
MK
Very interesting distinction there.
MM
Yeah. Well, I firmly believe in, in this sport, in fencing, athlete-centered coaching. If you want to really make an athlete good, you need to look at their strengths and weaknesses and develop them that way.
Training with a Polish Master of Fencing
MK
Talk more about your master training in Poland. Where in Poland was it? And describe the regimen—how long you were there, your relationship with this Master Czajkowski.
MM
This will interest you a little bit. This guy is well known for being a difficult person. I think, in my mind, when I think about it, he's difficult because he knew more than everyone else. He was smarter than everyone else. He did more science. He did more research. And people didn't give him his due, so he let them have it.
And one of the best examples is there was a—about thirty years ago, there was a training at the Olympic training center where about forty coaches from around the world, plus forty American coaches came. And they were all—it was a big, huge seminar on fencing where everyone would go up and speak and talk about their school of fencing and such. One guy spoke. No one else would go up to the podium when he was in the room. If he wasn't in the room, they'd all be sitting there talking and gabbing. When he'd walk in the room, they'd all go sit in their chair—yes, professor—and he would lecture for eight hours.
And that really told me, okay. This is the guy. (laughs) I mean, the best Olympic champions, national coaches from all over the world, and they just went—they just zipped it because he would just bury them. He was more knowledgeable. Unfortunately, about, I think, 40 percent of the people were gone within the first—before the first two days because he just insulted them. He said, "What are you doing here? You don't know what you're talking about." And he was the guy that told me you can teach a monkey to fence épée. You know. And he was serious. I mean, he really called it as it was, but you couldn't argue with science. You couldn't argue with knowledge. You couldn't argue with the work that he did. He still writes to this day.
00:29:43 So I had a Polish fencing master who I worked with for three years. He's now a national coach. He's had two Olympic champions. He said, "Michael, you've got to go work with Czajkowski," because I had this longing for more information. So I packed up, and I moved to—I moved to Poland. My French fencing master of twenty years was rather angry with me because it wasn't French school, but I had studied the French school. So I went to Poland to study with this guy.
My first day there, he was so difficult. He said, "I will not let anyone go through my school who's not the best you can be," and he'll ask you a question that he doesn't think you have the answer for. And if you have the answer, he'll find a way to make you wrong. I mean, he asked me—when I first got there—my very first day, I didn't know that much about what this guy was like. And he goes, "Which is faster—your visual or your tactile speed of reaction?" I said, "Your tactile." And he goes, "No!" And I said, "Well, I believe it's your tactile," and I started explaining why and how the vision works and how it goes through the brain and all this sort of stuff. And because I had the right answer, he was angry. So he said, "No! Both!" And in reality, if both senses are involved, you react faster than one or the other one, but he couldn't let me be right, right off the bat.
My final exam—you're supposed to be get—I passed all the practical. I had an exam where I had to be at a table with the president of the school and two professors, and I had to answer three questions. You're supposed to be given the questions two weeks in advance. Four days before, he gave me two of them. The next day, I had—he asked me about one of them, and I had recited all the information. So he said, "I'll have to give you another one." So now it's three days before and I haven't done any of them. But I'd done my work. I worked for fourteen-hour days. I mean, he literally had me wanting to jump off. I lived at this place called the 00:31:48 Tee-shen-flet-cha (??). It's in Cav-lay-veet-za (??).
CK
The what?
MM
It's called Thousand Years. It was a housing complex that my friend, Ed Korfanty —that was his—
CK
Can you spell all of these?
MM
Ed Korfanty is K-o-r-f-a-n-t-y, and he's a national coach here, and he was with me when I was working at Notre Dame. We worked together for three years, and he suggested I go there. So he gave me his apartment to stay in.
CK
And what street were you living on? How do you spell it?
MM
00:32:21 It's called Teesh—I couldn't spell it. It's Thousand Years. It's just where I lived, and I was literally—I was on the fourteenth floor, and the guy had me wanting to jump off. I mean, he was just—I'd be going over—he starts talking and when I—he doesn't stop. If you have a question, he does not stop. You don't get to ask the question. And then I would tape everything, and then the tape would go out. And he would just keep talking. I had to quickly put the next tape in. He wouldn't stop to let me change the tape or anything. And then I had to transcribe all those things. He talked for hours, and I had to be there. I remember—I can still say 00:32:57 ___(spoken in Polish)___ (??) , which is key and the number for his room, because when I got there I had to have his tea made for him. And the first day I got there, I didn't know this. The door was locked. I'm waiting out for him. He goes, "Why wasn't my tea ready?" I said, "I didn't know." So I went the next day. The door's locked. So I go and I ask the lady. I'm trying to ask her, and I get someone else to ask her. She acts like she doesn't know what I'm saying, because he told her I had to say it in Polish. I figured it out, and I got it, and when he got there the next day, I had his darned tea ready for him. He was not—he was not—he was not going to break me. He was not going to win. And so he was doing that the whole time.
Final Exam Transcendence
So three days before I get my questions, and so I'm preparing for them, and I get to my final exam, and there's three people in front of me. And they asked me a question, and it was the second time in my life I remember I went into transcendence. I mean, I literally—I mean, my handwriting changed I wrote so much. I remember looking at my handwriting. It was terrible, and by the end it looked like it was script from a computer—all the amount of work that I had done. And it just came flowing out of me. I spoke for like twenty, twenty-five minutes on this—on this one topic, and I can see them looking at each other. It's like a fog to me. And they go, "Okay. Stop." And they asked the next question, and I go on for like ten or fifteen minutes going from the history and everything through it. And they looked at each other and they go, "Okay. Stop." And they asked me the third question. I get five minutes into it and they go, "Okay. That's good. You can leave." I go, "What?" "You can go."
So I left, and I'm outside in the waiting room. I don't know what's going to happen. They didn't tell me anything. And I hear the—I brought—I brought each of them a gift. You have to bring them gifts, so I brought three bottles of wine for—I brought a bottle of wine for each of them, and I wore glasses. He said intelligent people wear glasses. I didn't wear glasses, so I found clear glasses, and I wore glasses for the interview for him. And I'm out there sweating bullets, and I hear (makes popping sound). They're opening the wine. (laughs)
00:35:02 So they're in there drinking the wine that I brought, and I'm out there waiting. After about a half hour, they stick—he sticks his head out and says, "You can go." And I find out the next day that I'm the first foreigner ever to get perfect scores from everybody. But I didn't know it that well. He pushed me so hard my brain just went into a whole different area.
I call it transcendence because I was just spewing off everything very eloquently in different languages. Like everything was coming out, and I'm sitting there looking at myself from the outside going, "Who are you?" (laughs) You don't know this that well. Do you? And it was very strange, but he pushed me very hard.
Even the last day I was leaving. I had already graduated. I already had my passport. The family I was staying with—Ed Korfanty's family—said, "Can we take you to dinner?" And it was about six o'clock, but the practice didn't get over until seven, but my practice ended at four. He looks at me and goes, "No, of course not. He has to be here until seven." Everything was done. It was just—they were just bouting, but I had to stay there. Nothing was allowed. Nothing was allowed, but I could never be more grateful because he somehow figured me out immediately. How am I going to get the best out of this guy? And he just was relentless. Relentless. He would never let go, but it was great because I wasn't going to let him win, and now we're close. So.
This guy was—he's a genius. He's written, and he speaks six languages. He's got two PhDs. He's actually an MD. He was in World War I, World War II. He was in the concentration camps. Maybe not world—yeah. He was in the concentration camps. He's ninety-something now, so I don't know if he was in World War I, but he was in lots of wars and stuff. There are great stories about him. Good guy and mean as—mean as can be. Mean as can be, so a lot of people talk about how tough he is.
MK
I'm not your friend. I'm your teacher.
MM
Yeah, and he made that really, really clear. After I graduated, he was very, very respectful after that, and he wrote about me. He talks about me. He speaks very—he wrote me a book. He wrote in my book. He gave me his book. He said that I was the smartest—no—the most intelligent and diligent student he ever had, so that was—and I lent the book to someone and I don't have it, which is really irritating because I want the book back. (laughs) So if you have my book, give it back. (laughs)
MK
That was a very cogent description of transcendence that overcame you. Did that ever overcome you when you were actually fencing?
MM
Yes. One time after I said it, it happened to me when I was fencing.
MK
Can you talk about that?
'76 National Championships
MM
Yeah. I was competing in the '76 national championships, and I had a four-way tie for first, and I didn't do well. I ended up taking third, and it was in a big year. It was a big deal to me, and I ended up taking third. The following year in 1977, the nationals were held in the Hilton Hotel in Portland, Oregon, where I was from, and they had the same four-way tie for first. There was a pool of six, four people had three victories, and everyone else had lost more than that. So we had to fence another round robin of four. Those four of us had to fence each other again. And a really close friend of mine—a man who—a guy who doesn't know how important he is to me—he doesn't even know how important he is to me—named Carl Borack. He's an amazing man. He's a producer.
MK
00:38:45B-u-r-a?
MM
B-o-r-a-c-k. Carl Borack. He captained several Olympic teams. If you ever—he was a producer. He did many movies—The Big Fix with Richard Dreyfuss, and he did Benji the dog stories. He did all the—he was just a—he was just a guy. He was a—he was the youngest national champion in fencing, and he was a three-weapon champion. Amazing guy. And he walked up to me. I'm sitting there in a chair staring at the lights, and there was a red light and green light. I want the green light, and they want the red light. And I'm looking at the light thinking that red light's not going to go on. That red light's not going to go on. And he walks up to me at that moment and he goes, "You fenced that one for the audience. Fence this one for yourself."
And I still get emotional by it. And I crushed everyone after that. I don't remember. All I remember is that I won 5-0, 5-0. 5-0, 5-0, 5-1, and the 5-1 touch was a bad call by the referee. (laughs) They have a video of it, and I go, "Wow. I didn't get touched after that. And next thing I remember I'm being thrown up in the air by everyone. I don't even remember what I did, what the touches were. I just remember I was just in a zone.
MK
But you were doing it for yourself.

MM
(laughs) Apparently, yeah. But he did that. He did that. He knew what to say, and he was one of those guys that's just—you know he's there for the right reasons, and I was breaking his record of the youngest national title, so I beat his record. He didn't care about that. So that's that story.
MK
Well, then, if I asked you if that was your most memorable match, you wouldn't be able to tell me.
Most Memorable Match
MM
(laughs) Yeah. I wish I had the film. Someone said he has it on film, and he looked at it and he saw that the one touch was a bad call by the referee, and everyone said, "Oh, you didn't get touched." So instead of 5-0, 5-0. 5-0, 5-0, 5-0 it was 5-0, 5-0. 5-0, 5-0, 5-1, but who cares if you win 5-1 or 5-0. Who cares? It was memorable because it was in Oregon, and I remember it was at the Hilton Hotel. Maybe this shouldn't go on tape, but this woman—
CK
Do you not want it on tape?
MM
Well, you can decide yourself. She was like six feet tall, and she was gorgeous. She was at least ten years—I was eighteen—ten years older than me. She walked up to me, and she had big, red lipstick on and the poufy hair, and she gives me this kiss right on the lips, and I like—what? And she said, "Congratulations," and she took her room key, and she put it in my hand. (laughs) So I'm like going, okay. And I said, "I'm out of my league," and I just went and put it at the front desk. So I just said—you know. I'll just put that—I want to know who that woman was, but I may never know. I just put that—took that—it was a green key. I think it was green. I put it at the front desk. Eighteen but I knew when I over my head. (laughs) I've got lots of crazy stories from fencing and stuff and traveling, so I've been through a lot. You pick a topic I probably have some crazy thing I did.
CK
00:42:06 That's great.
MK
Well, I'm speechless. I just think it's fantastic. I wish I could understand more about how you would train for this. Is it all just hand and eye? Or is it—?
Training
MM
For me, I had an amazing coach, Yves Auriol—Y-v-e-s and Auriol—A-u-r-i-o-l. And he was like my dad. He trained me. My mother brought him—actually his brother, Leon Auriol, brought him to Seattle, and he was going to coach either in Portland, Oregon, or Vancouver, BC, and we were both vying for him. And so my mother actually found a site, the old Elks Temple, in Portland, Oregon, and we fixed it up, and we brought him down there, and he became my mentor and my kind of a second dad, and he was a professional rugby player as well as a fencing master. His training regimen was—first thing we'd do, we'd go to the beach with car tires, and we'd cut the tired in half, and you fill them full of sand, and you put duct tape and wire around the ends, and you put them on your shoulders, and you run up the steps, and you do steps, and you run the mile for time every day, and you—you just work hard. He was—his fencing was his teaching was French classical with physicality, which was really a nice combination. If you can be the classical French style with being an athlete—I mean, he brought that out of you. You had to push hard and drive hard and so he was a good mix. He coached four Olympic teams, so I was really lucky to have him. Thanks to my mom for doing that.
CK
How old were you when that happened roughly?
MM
He got there when I was about twelve. I started when I was ten, and I was just kind of doing it for fun. When I was a kid, my mom would put a blanket out. My mom fenced. My mom got in a car accident when she was young, and at that time, in the fifties, they didn't have physical therapy. They didn't have things like that. I was born in '58, and she was—it happened, I think, maybe in '59, and the doctor who treated her had fenced in college. He said, "Hey, let's try—why don't you try fencing for physical therapy." So she started fencing, and she got my brothers and me into it. And she would—when we were kids, there'd be a blanket here on the—in the center, and on the left would be the fencing gym, and on the right would be the water fountain. So the blanket here was my brother and I. That was our castle, and we were given a foil, and we had to defend our castle, because everybody had to walk from the gym to the water fountain. So they would walk by with their foils, and we'd go tat-tat-tat-tat-tat and we'd fight them. Tat-tat-tat-tat-tat. And then they'd go to the water and they'd walk back and we'd go tat-tat-tat-tat-tat. We could be there for hours defending our castle, then mom would just come, take the blanket, and go. It was great. But I wasn't allowed to start till I was ten. Nowadays, you've got under-ten national championships, which I think is sad, but I'm okay. (laughs)
MK
Sad because—?
Coaching and Kids in Sports
MM
It's great to fence when you're younger and have fun with it, but I think they start kids too seriously when they're younger, and there's too much information telling you don't do this. Let them be complete. Let them do different sports. It will transfer. It will. Let them become complete and not let them become machines. They burn out, and if you're successful when you're younger, generally it's because you learn how to win and not because you learned how to fence.
And when you get older and all of a sudden that blade becomes quite the equalizer and the people can hit you now, targets you're not used to, and you've been used to curling up in a ball and trying to protect yourself that way, and all of a sudden now people can hit you in different areas, all of a sudden you're not good anymore. You may be the best in the country in the Y10 and Y12 but by the time you're in the cadet area, which is under seventeen, people don't know you anymore. And that's a hard shock on the system.
And whether you like it or not, parents and friends talk. "Oh, he's going to get a scholarship. He's going to go to the Olympics," and when you're ten or twelve, that sticks. And when you're fourteen or fifteen and it's not happening, that's a shame, and that's the hardest thing to put on a kid. I'd rather have them have fun and have a great time and just see—oh, boy. I'd like to be that. That'd be cool. Then all of a sudden you get closer and closer and closer, and then you know what's around the corner. You can do it. But not that it's thrown in your lap and you're not ready for it. So I think it happens, and you can't help it. I mean, you're a parent. You see your kid.
I mean, I watched Isabella in a swimming class just at a sports center. She took a swimming class, and I watched her, and I had to catch myself from getting up and going to the guy, "Hey, is she any good?" And I thought, what am I doing? But it really helped me realize—Isabella is my daughter. She was six at the time. I realized just what all the other parents feel when they come and ask me, "What's my kid going to be?" And I have to find a way to say, "Just let them go. They'll be fine. Let them go." It's hard.
I'm not a strong advocate for having kids do things so strongly at a young age, especially with my Phys Ed degree background. I say let them swim; do gymnastics when you're younger. First start swimming then go do gymnastics, then do some soccer, and then move on to other sports after that. But first learn how to move in space and things like that and don't specialize at a young age. I just don't think it's wise. But I'm not—actually there are millions of people that agree with me on that (laughs)—millions of professional people that agree with me on that. That's the teaching part of me. I coach. I don't know if you know. I coach coaches. I don't know if this would be in there, but I worked at the Olympic training center for over a decade coaching coaches.
Best Schools of Fencing
MK
At the Olympic—
MM
00:42:06 At the US Olympic Training Center. Every summer, they have what they call the coaches college, and the USFA, which is our governing body for fencing, hired me to coach coaches and to run a coaching program. So I'm trying to find a way to educate coaches on what the best practices are. In the US, it's hard because there is no school of fencing. You've got Italian, French, Hungarian, German, Chinese—all these different forms of different schools, and they all claim that they're the best. And they haven't—and I'm more of a Bruce Lee approach where I take the best of different schools. Like I said earlier, in my thesis I wrote about all the different schools, and so I studied them all. By studying them all, you can pick and choose and see what you like, and they all had wonderful parts to them.
A funny story to that is the—every school—like the Italians did. Italian school is best and the French is next. The Russians said the Russian school is best and the French is next. The Hungarians said the Hungarian school is best and the French is next. The French said the French school is best and the German is the worst. And the Germans said the German school is the best and the French is the worst. (laughter) Every other country said their school and then French; but when it came to the German school, which is completely different than the French school, they didn't say what was next. They said best/worst, and they both did that. Both of the national coaches said German school is worst, French is the worst—French school best, German the worst. And it was very humorous. I wish I had predicted that, because I wrote up my report and submitted it before I interviewed everybody, and it was—it was—(laughs)
MK
When you do the math on that, how does it work out?
MM
Well, I think that people believe the French school was probably the founding—the strongest founding school, and then you go the Hungarian and then the Italian, and the Spanish have a little influence in there. But it really develops—it has developed in the last three decades. The Koreans and the Chinese have put a lot into it, but the Chinese formula is the one, I think, is the probably least effective but very effective, but they just put it in a gym full of 10,000 kids, and the cream rises to the crop—rises to the top of it. And they just put so many kids in there, and they just—
MK
The cream rises to the top.
MM
Yeah. So, I mean, they just work them to death. You have to survive it. And it's just—our sport is still an art form, too. Again, if you put 10,000 people in there, you're going to get one or two really good ones. But I can take a hundred and get one or two really good ones, just because I'm going to adapt to what they do. And that—but it works in China. It wouldn't work here because in China it's paid for by the government, and here—here it's a sport that you sign up for and you pay for, so it's different—a whole different formula.
MK
00:51:26 Uh-huh (affirmative). So, without taking too much of your time, the French—were the French the first to make a sport out of fencing?
MM
Well, Pierre de Coubertin started the modern Olympics in 1896 when he started them again. He was French, and he was fence—he was a pentathlete, and fencing was one of the original four sports in the modern Olympics.
MK
Fencing—
MM
Wrestling, fencing, I think there were track and field events. I should know this, and I—but there were four original sports, and fencing was one of them. So the French have a strong influence in fencing throughout time. When I trained, I moved to France to train but that was primarily because my coach was French, and I could train with the national team and things that most people couldn't do. Until I got better. When I got better, then they wouldn't train with me anymore. (laughs) Sorry. The practice would somehow change to another time, to another location, and I just was never informed and stuff like that. I mean, the athletes were all good with me and stuff, but you don't want to be training a guy that's going to be beating you. You know. You don't want to help them, so it was understandable.
Germany was really good for that. Probably my closest friend in fencing is a German kid. He'll be—he was here last month. He'll be here again. We're still friends. He'll be here in two weeks. He is actually a German and French fencing master, which is almost like vinegar and oil. (laughs) It's hard to imagine. But I would always train in Germany, and he was—the guys there were very open and very easygoing about it.
Fencing in the Movies
MK
Uh-huh (affirmative). And I guess Scaramouche was French.
MM
A wonderful movie. Some pretty good fencing scenes in there. I think my favorite is still The Princess Bride. I think it's when they're talking about all the little things—how you use Capoferro and things like that. Those are actual fencing terms.
MK
Capo—
MM
00:53:40 Capoferro. They talk about different things that they did. Oh, you're going to use this defense on me. If you need to use defense, are you going to use—I chose this. And when they're talking about it, when they're doing the duel, they're actually using fencing terms. I like that. It was kind of cool. I recognized it.
MK
In which film?
MM
In The Princess Bride.
MK
The Princess Bride.
MM
There are some wonderful movies out there with fencing. Every time a new one comes out, we have four or five kids come into the club. Nice advertising for us. It's like Bruce Lee films did for martial arts.
MK
Have you got any questions?
CK
Well, I've got to know how all of this made its way to Concord.
Fencing Comes to Concord
MM
Oh. Yeah, I had a club in Oregon for the longest time. We built it up, and I trained a guy, who became the—he coached the French Olympic team in Athens, and then he coached the Brazilian team. He had some Brazilian heritage, so he met some Brazilians and he hired them for Beijing, and then—for 2008—and then he came back to work with me in Oregon.
I hired him, and then his cousin, Simone, came out to visit, and she fell in love with one of my students. He fell in love with one of my students, and he's a fencing master, and they ended up getting married. And so now, they're deciding whether to live in Aix-en-Provence, France, or in Portland. They wanted to be in Portland, so now I hired him. I basically hired myself out of a job. I had job offers in other places I could have gone to, and I hired them, and I couldn't fire them. But they both came at the same time, so I hired them both. Sebastian was great. He offered—he became the national coach, and he offered to give me his—some of his pay and I said no. And I ended up considering offers, and I was made an incredibly lucrative offer that gave me some freedom here in Boston. It turned out that it wasn't that way when I came here (laughs), but I didn't get anything in writing, so it was my bad. So I came here, and I worked for four years here.
CK
Here?
MM
In Boston, in the area—in the Boston area. And we moved to Concord, and we loved it. We just fell in love with Concord, and my wife and I said, "This is where we are going to live the rest of our lives." And just the town was right. We were in what they called the Ka-den-ton (??) group for a while. We were—I mean there's someone who will say, "Hey, you want some firewood?" And you go over and you pick up firewood. I'm going to the airport on this day. Could someone give me a ride? Boom. It was—I mean, things just—everyone was cooperative.
CK
00:56:39You were in Ki-man-tum (??) for a while you said?
MM
We were in the Ki-nan-tun (??) group, yeah, off of Garfield Road. And we eventually moved to White Pond, and we just love it there. We love coming downtown and we love—they're always planting the flowers, and you see the guys watering the flowers every year. And the neighbors—everyone knew each other. When we first came here, everyone came by to say hi. I mean, even the city itself was involved. So it was such a friendly environment. It reminded me of the sixties, what I remember when I was a kid, and my daughter loves the school. She loves all of her teachers. I mean, it's not a utopia but it's—

MK
How did you happen to choose Concord in the first place? Did you just stumble into it?
MM
No. Actually, we chose Concord. There was a young lady from Singapore, and their family—she was trying—she was fencing, and she wasn't having a lot of success. They had a private coach had traveled around the world with her, and she wasn't having the success she wanted, and somebody recommended me. And so they flew me and my family out to Singapore, and we got along great, and they wanted me to move to Singapore to train their daughter, and I said, "I can't. I'm in the US. I'm staying there."
So they moved her here. They moved her here, and she went to Middlesex School for her last two years of school, and I trained her. And so, we moved to the Concord area, where I chose near Middlesex. So as it turned out, their goal for her was to have some national results and to get into Harvard. And she ended up making two national finals. She ended up fencing in world cups, having results in world cups, and got into Harvard. And she's going to be—this is her second year at Harvard, so it just—they were going to be here, so we moved here to be near her to take care of her and stuff. And they're like family now. They actually—the dad no longer works in Singapore. They're in Rye, New York, and she's a sophomore now at Harvard. We're going to France in the middle of July for a veteran camp, and she's going to come there to train with me and stuff. So she's still—
CK
A veteran camp did you say?
Camp for Veteran Fencers—Fencing and Fine Wine
MM
00:59:10Yeah. We have a—we call it veteran camp. It's called Fencing and Fine Wine. It's an amazing event, and what happens is all the veterans meet, and you have to be over forty. They all come and we really work out for like two, two and a half hours. That's it. And then we get in a nice air-conditioned bus, and we go to all the different chateaus, and we do wine tasting and have meals. And it's an amazing time. It's an amazing—and we have national coaches from France and the US there, so you've got the best staff in the world, and you've got the best place in the world really for food and for wine. I mean, it's amazing, and so we have this Fencing and Fine Wine event, and so the veterans go, and she's going to come to train with me while I'm there. And she comes here. She trains here. She comes from Harvard. She comes over here to train. It's just hard for school and stuff.
MK
So you're still working.
MM
Yeah. I still work whenever she needs—
MK
Are you called a personal coach or—?
MM
Yeah. I coached her at the NCAA Championships. I didn't like actually go in the pod and disrupt her, but she'd come and we'd talk about stuff, and then she'd go out and compete, and she'd come back and we'd talk. So I—whenever she needs something—I mean, she's like a daughter almost now. Her name is Shawn—Shawn Wallace—and she's wonderful. I've got five kids at Harvard right now that I trained, so it's kind of a nice—kind of nice. I'm feeding Harvard students now.
MK
Right. Is there a Harvard team?
Fencing and College Aspirations
MM
Oh, yeah. A very good team at Harvard. Yeah. The ivy leagues. Fencing is a really good sport to get into college. And because most of the colleges that have fencing are all the upper-level—all the higher-tier colleges and they're hard to get into. And with fencing, the top two students—fencing wise, the top two got into their first pick, so they both—they both wanted to go to Harvard. They both got into Harvard. And it's not a—it's not a coincidence that your top two ranking are the ones that get to go where they want, and the person ranked far below them doesn't get where they want to go because the school's recruiting you if you're strong enough. So I've got—if you ever come down to the club, you'll see I've got all the banners of all those schools and all the names where the kids went to school up on the wall.
CK
The club?
MM
Yeah. My club. It's just about a two-minute walk from here.
CK
Tell us about it.
Marx Fencing Academy
MM
01:01:37The club? The club is kind of my dream come true. I didn't want to name it the Marx Fencing Academy. It didn't feel right. I don't like having my name so much attached to it so much, and this symbol was actually me lunging. But we had another name, and it was close to another name, and the other fencers didn't like—hey, you're close to our name, and you're—so I said fine. We'll just change it to Marx Fencing Academy. So we're right on the Commonwealth Avenue. We're directly across the street from Reasons To Be Cheerful, which is how we found the place to begin with. So we're right there, and we're right on the street. We call it the fishbowl because you can't help but see it, and people at night—you drive by and you see all—see the kids fencing in there and stuff. It's great. So we'll be staying there. We'd like to be able to buy the building. We just can't afford it right now. So it's a wonderful place. We plan to stay there from now on.
MK
How many kids would you see fencing there?
MM
Oh, from a hundred to a hundred and fifty members.
MK
Wow.
MM
Yeah. They're not all competitive members.
MK
All of this in the few years since you've moved here you've done this?
MM
Yeah. It's been amazing. We just hired a gentleman who was second in the Olympics in Sydney, and he's a German fencer. When I went to Singapore, I was consulting for the Singapore Sports School, and he was the guy who ran the program, and he was excellent. And I asked him, "Why are you here?" And in my report, it didn't make the Singaporean people very happy, but I wanted to be up front with them. They had a really nice package but nothing inside. And so they would make it look great, but there was no avenue for the kids to go on really as far as they wanted to go.
Some of these guys had Olympic aspirations, and they could—they were happy with the Asian Games and things like that, and some of these kids wanted to go farther, and the coach was frustrated with it, and I spoke with many coaches, and it was unfortunate. I told them—I said, "You could do so much more with what you have here. Your goals are here, and these athletes' goals are here. Why wouldn't you want to pursue them?" But they were happy with what they had.
That's not my call, but I told them, and this guy—after we worked together for ten days, he really liked the way I was—my coaching methodologies. He flew out here for a week a month later, and he met the parents and met the kids, and they fell in love with him. The next thing I know, he went back to Singapore and gave them his notice. This is my last season here, and now he's working here. He just got his visa—a German—a gentleman named Ralf Bissdorf—he was second in the Olympics. He was number one in the world.
MK
01:04:32 Ralf—?
MM
Ralf Bissdorf—B-i-s-s-d-o-r-f.
CK
He's from Sydney, did you say?
MM
He was second in the Sydney games. He lost—he lost fifteen-fourteen in the gold medal match by one touch—fifteen-fourteen. It was sad. But he still goes out with second. Are you kidding? (laughs) One touch I could have been first but I was second. So yeah, he's a German. He's now here. He's got his visa, and he's working at the club with us.
I'm hoping to get another student of mine. I've got—we have a student named Koko Dee-matter (??), and he fenced in the Athens games, and I trained this kid, and he's also a wonderful coach. So we're trying to recruit him out here. We'd have eleven Olympic games between the three of us. (laughs) It'd be a nice staff to have, so we'll see.
But we are building something. Our goal is to be a world-class fencing facility that is a community, because I've always believed that you can have kids and adults fencing in an environment that can also produce Olympic-quality athletes. I don't think you have to have this strict formula—only these people can get in—because I think there's a process that you—most of these kids start as kids, and then they work up, and they go to another program.
Then they go to another program, and they see these Olympians with them as opposed to I have to move to this Olympic training center. No. You can build them at home. And we did in Oregon. We had five Olympians with one coach. We did it in Oregon and I've done it before. I've had three different Olympians, and they made it from a small little club. So that's what we hope to do here. Worst-case scenario, they can get into the college that they want. That's kind of what I'll tell parents. If they work for four years seriously, the worst-case scenario is that they will get into the college that they want.
MK
That's the worst-case scenario.
MM
Pretty much. From my experience, yeah. So it's getting harder and harder to get into colleges now though.
MK
Is there some way you would like to wrap up this interview? Is there anything we haven't touched on yet?
MM
01:06:56 I could go—I talk too much as it is. No. Being about Concord, I'd say glad you were here. I'm glad we found you. It was a little utopia for us. My father-in-law and my mother-in-law are selling their home in Oregon and moving out here. They came here and they visited, and they're coming out here. Ralf loves it here. My student, Ko-ko-dee (??), may come out here. Adam, who was here now—Adam lives right next door to our fencing facility. He's renting a place right next door to it. So
I think I'd like to make fencing in Concord kind of phenomenal. It's like, whoa. Here's the place. If I'm a little guy from this town, I can go to the Olympics in this sport. That'd be kind of fun—a fun thing to be able to do. Put Concord on the map as not only an amazing town but that it has a community area that if you have aspirations of being a world-class athlete in fencing you can. I know Acton's got a lot of that, so we'll take them down. (laughs) We'll work with them. I don't mean take them down. But I know Acton's an amazing sports town. That's the town right next door. You're not from here so you wouldn't necessarily know that, but you may want to leave that out. (laughs)
MK
No. I think this is a good way to end the interview, with you tossing the gauntlet.
MM
Tossing the gauntlet—actually I like Acton.
MK
Well, thank you. This is just—
MM
My pleasure. My pleasure really.
MK
Fabulous.
CK
Thank you so much.
MM
I hope they can understand because—
01:08:44 (end of audio)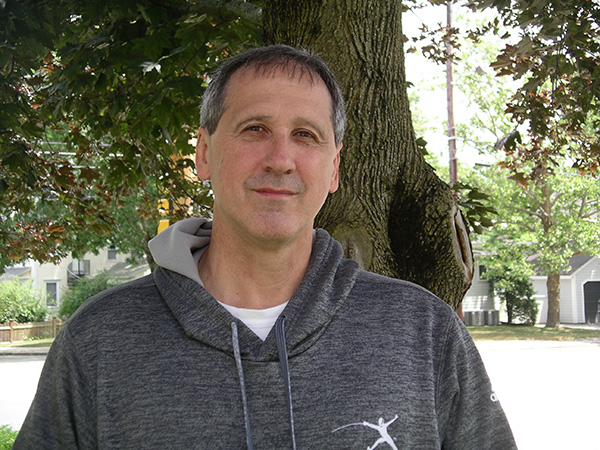 Text, audio and image mounted 17 September 2016 -- rcwh.