Richard and Diane Marshall
Marshall Farm
169 Harrington Avenue
Interviewed August 3, 2005
Concord Oral History Program
Renee Garrelick, Interviewer.
Richard Marshall -- Name originally Machado, family originally from Portugal. Moved from Cambridge in 1939 to Concord. Richard born in the 169 Harrington house in 1941. Harrington Avenue neighborhood mostly Italian, working class. People had multiple jobs then. Father a Concord policemen but also had a restaurant-Marshall Food Shop on Commonwealth Avenue, worked in furniture store.
Even non farmers raised vegetables on their land and had chickens. Early interest in farming, worked for Italian neighbors farms, particularly Frank Gerardi. Worked for Wilson Farms, development of Marshall Farms, building of first greenhouse in 1975.
Off season work in West Concord in Apple Storage Damondale Mill.
Diane Marshall -- family was Engenbretsen, Norwegian, grew up on Walden and Fielding Streets. Division between Concord and West Concord, restricted socializing. Town recreation programs, July 4th parade and town celebration.
Partnership in farm- planning what to grow. Changing socioeconomic patterns of buying produce, cooking, including popularity with men. Greater diversity in purchasing vegetables, not restricted to ethnic groups as in the past.
Sale of land to town, no longer growing corn, involvement of son and grandson on the farm. Pride in self sufficient family farm but difficulty for next generation being able to farm.
Richard -- My family came to Concord in 1939 from Cambridge and settled here. Our relatives in Cambridge thought they had moved out in the woods somewhere. There were strawberries growing in the front yard and strawberries growing in the backyard. All different types of fruit were here from the previous owner who was from Italy and had planted all kinds of fruit trees and grapes. I was then born in 1941, and I went to school and lived my whole life here.
There were probably five houses then on this end of Harrington Avenue and just about everybody had a little garden or a small farm in their backyard. All the kids in the neighborhood worked on the farms in the summer months and even after school. Probably 90% of the people on the street were Italians. Next door was a Frenchman and we were Portuguese, but everybody else was Italian. I got so I almost understood Italian because you were working on the farm and they would tell you "go ask Mrs. So and So what time it was", and they would tell you and you would say it and pretty soon you picked up the language, not fluently but at least enough to get by and understand.
We had the Cotinos, Gerardis, Ruggerios, Rogers (their original name was Ruggerio but they changed it to Rogers because there were two families on the street with children by the same names). My family's name which was Portuguese was originally Machado. Both my mother and father's people came out of the Azores. My father was born here, and my mother came when she was three years old.
The farming here was all vegetables. Everybody had a little plot of land in the backyard. If they didn't have enough land or money to buy a truck, we had an express company out of the Connecticut River valley that would stop here on their way to Boston and would pick up all the produce. They would add little cardboard carrots with a number on it and by that number they would recognize your produce when they took it off the truck in Boston. So everybody did that. Other farmers like Rogers and Gerardis with the bigger farms had tractors and trucks and were much bigger and they hired the neighborhood kids and kids from the surrounding towns. We also had migrant workers that came in 1955 from Puerto Rico, and that's when you got so you understood a little Spanish. I spoke a little bit of Portuguese, a little Spanish and Italian all mixed up together but we could understand one another.
The neighborhood around here was definitely a blue collar end of town. The whole area of West Concord was compared to Concord. We had our own schools until the 6th grade, and then starting at 7 grade we would go to the Concord schools. But we definitely were blue collar compared to Concord. We were very aware of the geographic separation. You felt the difference. It wasn't bad. They even had a school dance in the 6th grade where they would bring Concord kids to West Concord for the dance so you could become acquainted, so the transition to the Concord schools in the 7 and 8th grades wouldn't be so bad.
My father was a policeman. He had a restaurant in West Concord and my two older sisters, my mother, and my brother-in-law would run the restaurant, and my father held down a job besides. The restaurant was right across from the West Concord Supermarket where Lattuca Travel Agency on Commonwealth Avenue is now. It was called Marshall's Food Shop. It was very common for people to have more than one job. Back then farming was only for three or four months in the summer, and you had to find yourself a job in the winter to make it through and pay the fuel bill and feed your children and everything else. All the people in the neighborhood weren't educated at all. I don't think any of them went beyond the 6h grade, but they found jobs in the winter time and they actually ended up doing very well. Most of the men ran their own businesses. Even though they lacked education, they were able to make it through life because they were very hardworking. My father was a special duty policeman most of the time, then he was a regular policeman for a short period of time. But he had a heart attack while he was on the police force in 1949.
I've liked farming ever since I was probably 8 or 9 years old. I'd pick beans by the bushel and strawberries for a nickel a quart. Beans were 50 cents a bushel and it took a long time to pick a bushel. When I was at the Peter Bulkeley School in 7h grade, we were asked about our vocation, and what I'm doing now is one of the three things I chose as to what I wanted to do for a living. It's hard for a kid in the 7* grade to think about that. This was one of my choices and I do it for a living. I worked for Rogers when I was 11 years old and they gave me $1.00 a day. The next year in 1953, Frank Gerardi offered me 50 cents an hour. I remember working 50 hours at 12 years old and coming home with $25. I always gave my father half my week's pay. I realized he had five children to raise. I was quite happy to make that amount of money at such a young age. I ended up working for them a good many years, and I became a business partner in 1960. Then in 1982 I bought what was left of Gerardi's farm and I also bought Joe Gerardi's retail business in Acton. Then we sold that in 1987 and started Marshall Farm out of our front yard. But the farm was always here supplying the retail businesses that we had in other towns.
The four acres that I bought from Frank Gerardi next door was sold to the town in 1987, and I was able to farm it for 21 years after the sale as if it was my own land. That will be up in 2007. And I honestly don't know what will happen then.
The Harrington House is probably the oldest house on the street. On the old county maps, it shows Harrington Avenue ending as you go over the hill toward the Concord direction. I remember Ralph Leballister raising potatoes in the lower field which is now all grown in and very swampy down there. But they had good drainage in it years ago when it was all ditched. He also had cows. He was the only person in the neighborhood that had animals. Everybody else had a few chickens, but it was mostly vegetable farms.
It was common to raise their own vegetables and have a few chickens to subsidize their week's pay because it was so hard for everybody to make it. Most of them had seven, eight or more children in the family. So to subsidize a week's pay whatever they could do in the summer months to pick up extra money they would do. Usually the children would end up picking the crops so you wouldn't have to hire any labor. There again they did a lot of canning in those days. I can remember having a canning cellar just full of canned goods that we only raised in the summer months. It got so that people who really weren't farmers raised vegetables and put them up for the winter. We had a root cellar where we put carrots and potatoes and stuff like that for the winter.
I split up with one of the Gerardi brothers. We were business partners and I split up with him in 1968. Then I worked for Wilson Farms in Lexington for 12 years. It was quite an education because they were one of the best produce and farming businesses in the state. Very honest, decent people to work for and to do business with. I just can't say enough about the people -- they are very, very nice.
Diane -- Also during that time we were raising 15,000 trellis tomatoes that Richie and I and the boys would do on his day off. He would do all the tractor work and Wilson Farms would buy everything we raised. That's how we got our start here. First we built one greenhouse, then we built another one, and then I said to Richie, let's try selling something out front. He said, "Well, it's all up to you." The first year I was kind of out there by myself, and then it just all snowballed, and here we are today.
Richard -- In the beginning we were primarily vegetable farmers. As I said, we were raising for Wilson, and if there was any abundancy that he couldn't take care of, he would send it to Boston for us. We built the first greenhouse in 1975 and as she said, we put them up one at a time. So every year we put up another one.
Diane -- As we got busier, we were able to save enough money so that we could continue putting greenhouses up. When we got to the eighth one, Richie had a heart attack and then we stopped at number eight. We stopped there because we couldn't manage it all ourselves. Our son and grandson help us. Basically we were doing it all ourselves in the beginning. Our kids worked right beside us when they were little. When our daughter went to college, she said thank God I don't have to pick any more zucchini squash.
I grew up on Walden Street. Then we moved to Fielding Street when my grandparents died. They had left my mother some money so she was able to buy a nicer house. And that's where I lived until I met Richie. My last name was Engebretsen, and my grandparents actually lived on Bedford Street. They were one of the first Scandinavian families to settle in Concord in the late 1800s. That side of my family has been here for many years. They came from Norway.
My grandparents had nine children, and my grandfather was an electrician. He would take the train from Concord and go into Boston every day to work. There were quite a few other Scandinavian families on Bedford Street along with Italians. I think there were more Italians and some Irish up there on Bedford Street and off of it on those little side streets.
My mother's side lived in Waltham and they were English, Old Yankee and American Indian. I don't know what American Indian tribe it was. My grandmother was actually from England.
As a child growing up in Concord, they had a recreation program. Every child back in the '50s was allowed to go to this program free. You would have swimming lessons, arts and crafts, and they would take you to the Red Sox games. This was all free to every child in Concord. As far as the Picnic in the Park that they now have today, back in the '50s we always had that, but it wasn't called Picnic in the Park. It was just a 4* of July celebration. We would have doll carriage parades. The kids would decorate their bicycles, and we would actually march right through Concord Center with the high school band and end up at Emerson Playground for a big picnic and then fireworks. That went on until the late '50s. Then it just fell apart and they didn't do it anymore. Now the new people of Concord have picked it up, and I think it's great because it brings the community together.
The parade was like the West Concord Festival type parade. It was mostly townspeople. We didn't bring in too many outsiders. It was basically the high school band and maybe some soldiers, but it was basically for the children of the town. It was a big thing because the kids would get their bicycles all decorated up and they awarded prizes. Then there would be baseball or softball games and everyone would be involved. It was wonderful.
We were actually in high school together, but I wouldn't go out with Richie in high school because he was from West Concord. After I graduated, I met him at a party right down here on Harrington Avenue and that was it.
The Concord kids really did not like the West Concord kids. But I can say one thing that most of my friends ended up being from West Concord when I was in high school. A lot of the Concord kids that were my friends actually ended up going to Concord Academy or to private high schools. Elaine DiCicco, who was the principal of the high school, and I grew up together. She went to the Catholic school, Rose Hawthorne, in Concord. We've been friends since we've been about two or three years old because our parents were friends. I have pictures of her at my birthday party, and it's funny because she's a good customer of ours and she brings her mother here. We always kind of reminisce about when we were children. It was sad that we felt that way about the West Concord people, but it just was part of growing up.
Richard -- One day I looked out in the yard here, and of my customers, there were five people that I went to kindergarten with. They didn't meet here; it was just coincidence. All these years later that you see that many that you went all through school with.
A lot of the people in the off season would work in West Concord in several of the mills. The apple storage place was a popular place for all the boys to work. All the apple growers would store their crops there through the winter. They then employed people just to pack the apples when they shipped them to market. A lot of people in the neighborhood would work there. It was owned by Jack Lord. Jack Lord also had his own orchard in Stow, and it is still operated today as Carver Hill Orchard and Box Mill Cider Mill is also in the family. They all started right here in Concord. Jack Lord's son runs it.
They sold to the local A&P, and then finally the A&P actually rented part of what we called the apple storage which is the Damondale Mill. They did all the produce packaging for all their stores there, and some of the neighborhood women used to work there doing the packaging.
The majority of the people in this neighborhood all came from Italy around 1920-1930, some maybe a little before or a little after, but right after the World War I. I think they felt right at home to be amongst their own people even though some were from different parts of Italy.
Years ago for instance if you weren't in the Italian neighborhood, you didn't sell eggplant. If you were in the Portuguese neighborhood, you sold a lot of kale. But today the younger people use all the ethnic foods from all nations, and it's commonplace to have these vegetables to sell.
Diane -- Especially eggplant. Now there are so many different varieties of it. It's not just the classic dark one. There are some that are lavender, some are white, and some are like the little Japanese ones that are long and thin. I see all the young people coming in and taking bags and bags of it, and they just put a little olive oil and some herbs on it and just throw it on the grill. Of course, ratatouille has become very popular because it is an easy dish to prepare and a lot of the young people do that today. So vegetables like eggplant, kale, arugula are very popular today. The young people are now really getting into kale. They really didn't understand before how to prepare it. Swiss chard is becoming very popular with young people. They saute it where we used to just steam it. They chop it and saute it in olive oil and garlic.
Richard -- Herbs are very popular also. Basil is very big now. There are a lot of herbs being used today that weren't used in the past. They used the basics in the past. Today these young people are more gourmet cooks.
Diane -- I find a lot of men are really cooking today. More so than when I was growing up. I see a lot of young fathers coming in here and they're doing the cooking. They like to get all the basils, rosemary, a lot of mint. We also have a lot of Lithuanian people who use a lot of mint. Sometimes they call me up on the phone ahead of time because they'll want 10 to 20 bunches of mint. It's interesting to see how vegetables have evolved since we started back in the late '50s and early '60s. The young people are really into cooking and they love their grills. Across the street when they're cooking on their grills, you can smell all those things.
Richard -- We've noticed a difference in corn sales from 1960 until now. Everybody use to order a dozen of corn or two or three dozen of corn because of the large families, where now everybody has two kids, and they buy two or three ears or half a dozen. Once in a while you sell a dozen.
Diane -- But they're also concerned about staying slim - the carbohydrate intake so they watch what they eat. I probably wait on 80% of the people most of the time.
What the breeders are doing now, they're going into these countries such as deep in South America to find things like the heirloom tomatoes. You know we had those way back, but then they kind of lost popularity and now they've really come back strong because of their flavor. When you make a plate of tomatoes with red, yellow, purple, green, it's really pretty, but they also have wonderful flavor.
Richard -- We probably raise 25 to 30 different kinds of tomatoes between the heirlooms and the regular tomatoes, and the cherry tomatoes, grape, and plums.
Diane -- You really have to keep up with the competition today. If you don't have what the yuppies want, you're really out of business. You want to satisfy everyone. We do have a lot of older people that come, but a lot of young people want whatever they've read about in the paper or in the new cookbooks. They have to have it. So we pay attention to all of that. We also go to seminars so we know new things that are coming out every year, and we really try to keep up-to- date on that. Richie and I always talk about that. I'm always looking for new things to grow and I tell him because he's the grower. I'm the planner, but he's the grower. You have to pay attention to the new things because there are a lot of places in Concord to buy things, and you want people to keep coming back and you want to give them good quality and be knowledgeable about everything that's out there. We just love what we do.
We grow just about everything we sell. The only thing we don't grow is the corn and we tell people that. We get it from a grower in Littleton, Gary's Farm Stand on Rte. 119. Richie goes every morning to pick up fresh but that's about the only thing. Well, we do bring in onions. But it's a thing that everyone needs with summer vegetables so it's just kind of a courtesy thing to give to the customers. But everything we raise right in these fields.
Richard -- We don't raise corn because of the space and the equipment that we have is antiquated now because it was bought back in 1950s. We just didn't want to start over again at this age to invest thousands and thousands of dollars.
Diane -- Our thought is corn takes up many acres and we would rather grow many other things. These two fields here are wonderful growing fields. The soil is wonderful. Everything grows well here. We have strawberries to pick in June. But this land has been farmed for over 200 years. It was used as farm land even before Frank Gerardi owned it. Edwardson's owned it. It would be nice to make sure it always stays farmland.
Richard -- We're only working with about 10 acres now. We're getting up there in years, and we can only do so much.
Diane -- The thing is it is enough to keep us supplied out there for our customers. We did used to rent land. But we've given up the wholesale. We just raise the stuff for retail now. Everything goes out the front door here.
Richard -- It's awfully hard today to pass this on to the next generation. To make a living for only three or four months a year is difficult enough, and the way the tax structure is in the towns around here and the cost of living, it's almost impossible to pass this on. It's hard to hold down a full time job and farm besides, so it's difficult.
Diane -- What we find with the young generation and not just with our family but with other farm families, the younger generation just don't want to put in all the hours. We probably work 80 hours a week from March until the end of October. The younger generation doesn't want to do that. Like my husband said it's the taxes, the health insurance because you're self-employed and you make enough money, but it's all going out. Where years ago you were able to save money and today it's difficult to do that.
Richard -- It's easier on us physically at our age to raise flowers than it is to raise vegetables. If it wasn't for my son and grandson, I couldn't do it myself.
Diane -- Richie doesn't go in the fields any more. He does the tractor work, but my son and grandson do all the planting. Richie tells them where things have to be planted. They do all the picking. I do some of the picking also, but we try to keep Richie out of the farm because of his heart. We both love this. There is a sense of pride because you can do it yourself. I tell people all the time we don't have migrant workers like other farms in Concord. Our family does all the work. It's a sense of pride. People come in here and they say everything looks so beautiful and it's because we are a family, and we take care of things better than other places who have hired help where it is just a job to them. This is our life and that's how we feel. It's hard some days. It's 98 degrees out there and the humidity is high, but the people also make it enjoyable. Our customers are like our friends. They really make it worth it.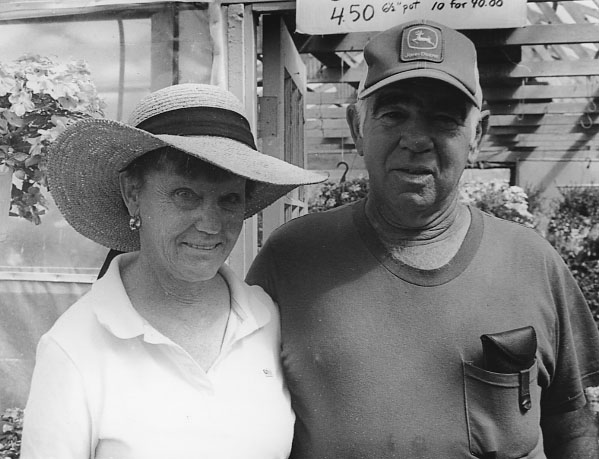 Text and image mounted 17th April 2013. RCWH.