Anna Manion
28 Fairhaven Road

Interviewed February 15, 1977
Age 69
Concord Oral History Program
Interviewed by Renee Garrelick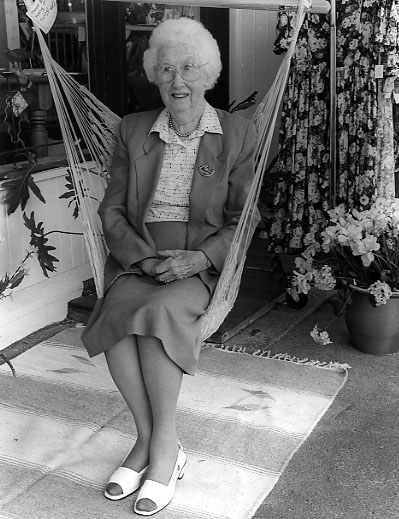 I was born in the house next door at 12 Fairhaven where my father was born in 1870. This was a very strong, closely knit neighborhood. The Hubbards lived below us on Sudbury Road and the neighborhood was named for the Hubbards. It was called Hubbardville.
The Hubbards moved away and another family moved into that farm. There were two families of Wheelers who lived across the street from us, the Wilfred Wheelers and the George Wheelers. The Hemenways were up the street, and there were many Hagertys in the neighborhood.
Most of the people had farms. We always picked strawberries in the summer for all the farmers. When we grew up and became a certain age, we were allowed to bunch the asparagus. You felt quite grown up if you had gone past the picking strawberries stage. Of course we always bought our milk from a local neighborhood friend who had a cow. We would go every night with our milk pail and get the milk and bring it home just fresh from the cow.
There was a lot of open land here. This land this house is on and all the houses in back of it belonged to my grandfather and was asparagus fields.
The neighbors were very good to each other and relied on each other. We were considered to live far from town in those days. We were considered to live in the sticks since we were one whole mile from the center of town.
Some of my dearest friends are the people I grew up within this neighborhood. Even though some of them aren't exactly my age I still count them among my closest and dearest friends. Most of them are near enough that I see them quite often.
The neighborhood has changed such that now we hardly know some of the people in these houses because the population is changing and moving around so much. I think we miss that feeling of closeness and doing things together, such as skating and coasting in the winter or hopping the pungs or sleighs.
A pung is a wagon on runners which all the businessmen had in the winter in those days. Of course, the snow stayed on the roads a long time because they didn't plow very much. One of the fun things to do when we were young was to hop onto the pungs. The driver would always try to whip the horse so the horse would go faster, and see if we could still catch him. The sleighs usually had the fastest horses, and the one we could never catch was the horse that belonged to Charles Francis Adams, who lived at the top of Fairhaven Hill. He was a descendent of John Adams and John Quincy Adams.
Route 2 wasn't built in those days, and we considered Fairhaven Hill as part of our neighborhood. After school and on weekends, we would always go up there and coast down in front of the Adams house down to the river. The pond at Arena farm was much bigger before Route 2 was built. We used to skate on that pond. At night the boys would build fires and then we would go to somebody's house for hot chocolate. There were always piles and piles of snow and lots of ice when I was young.
I went to the Ripley School to kindergarten, but only stayed about two months. I was sent to the Peter Bulkeley school to the first grade. The teacher was Miss Welch. I remember her very well. She was quite elderly, very straight and stern, with her white hair in a pug on top of her head. But, she was very kind even though she had strong discipline. We were a little afraid of her but fond of her too. I can still see all the huge cards of words up in the front of the room. We had a good basis to learn to read. It seemed impossible to go through Miss Welch's first grade and not learn to read.
I can remember very well all the teachers I had, such as the Findeissen sisters, Minna in the sixth grade and Maude in the eighth grade. Everyone was a little frightened of Minna because she used to throw things when she got mad. But they were both excellent teachers.
Of course, we walked to school every day which was about a mile from home. We had an hour and half for lunch, and we would walk home and back to school unless there was a big snowstorm then we would take our lunch. We had a lot of fun on the playground. We were lucky to have such a wonderful playground as Emerson playground.
I particularly remember Armistice Day when World War I was over. We were all screaming and yelling and couldn't contain ourselves. Even though we were quite young we knew something great had happened.
My high school graduating class was made up of 83 students from Concord, Carlisle, Acton, Boxborough, Lincoln, Sudbury and one was from Tyngsboro. That's where I met my husband; he came from Acton, and he used to come on the barge to school each day. They had no high school at that time. We had very good teachers. Our French teacher, Miss Weir, was such a good teacher. When I went to college at Tufts and another friend of mine went to Harvard, we met later and both agreed that we were far better trained in French than anybody we had met at either Tufts or Harvard.
We had different categories of courses of study in high school. In eighth grade they decided what you were best suited for, and I was in the college course. There was also a scientific course mostly for boys. It was similar to the college course but they may have had more science than we did. There was a general course, a domestic arts course for girls, industrial arts for boys, and a commercial course for those that wanted to go into office work. The people in these courses made their friends in the same courses. There was not too much crossing of lines, which is too bad, but we just never seemed to get to know other students in the other courses.
I think some of that same feeling existed between Concord and West Concord people. Some of the West Concord people felt they were considered second-rate citizens and didn't get the same attention that Concord people did. I hope that has been changed.
As far as shopping in town, we bought all our groceries in town but not our clothes. My mother had been trained and worked as a nurse in Boston and was oriented toward Boston, and she took us there a great deal. So we always bought our clothes in Boston.
But we used to have fun doing the shopping in Concord. We used Mr. Whitney's meat store and Mr. Byron's grocery store. Mr. Bryon used to send a man to our house twice a week to take the orders. I learned to drive on Mr. Byron's Model T Ford truck. We also traded at Anderson's. They would come and take orders from my mother.
We also traded at Mara's store, and Billy Cross's store. He was a real character. He not only had the dry goods business but he was also the town clerk. He used to conduct his town clerk business from the store. We also traded at Miss Buck's store. She had everything. In fact, I worked at her store after I got out of college. That was my first job as I couldn't get a teaching job.
Being elected as Concord's first selectwoman in 1973 was a very enjoyable experience. I didn't run into any opposition from the men at all. The men on the Board of Selectmen gave me every opportunity to have my say and listened to me and gave me the same respect that they would any other man. The town was very supportive of my candidacy, and I served as selectwoman for four years. Running for office was a great opportunity to meet new people and hear what they thought of the town. That's how we get to know what the town needs.
I learned about town government and how it operates. I feel the one thing that I may have contributed was to listen to people and be available to people. Most people feel they can call me and I try to help them find the answers. Most of the men in town have full time jobs and when they serve on the Board of Selectmen, they don't have as much time as a woman to listen to people. It is amazing how many hours so many in town give in a volunteer way to the committees.
Text and image mounted 17th April 2013. RCWH.