Connie Martinson Lawrence
17 Concord Greene
Age: 82
Interviewed November 18, 1992
Concord Oral History Program
Interviewed by Renee Garrelick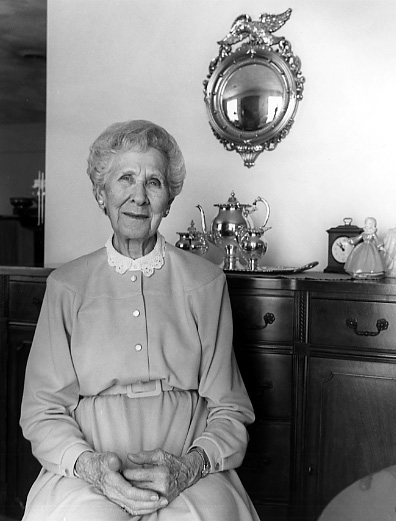 As Asst. Town Clerk to Elsie Rose, 1938,
as Town Clerk 1948-1970

The Town Hall, departments of
Police, courthouse, public welfare
Renovation of
Introduction of Town Manager
Renumbering of homes

Finding the Boston Post Cane, 1979

The Norwegian community
I became Assistant Town Clerk to Elsie Rose in 1938. At the time the Town Clerk's position was an elected one but the Town Clerk appointed her own assistant as it is now. The salary for the Town Clerk and her assistant was $1600.00. At that time there were 3,716 registered voters and 7,900 residents in the town as compared to the present figures, 11,037 registered voters and 15,344 residents.
Everyone knew everyone else at that time. It was a real togetherness feeling. The Town Meetings were very well attended at the Armory and those minutes were all copied by hand. People really have no idea of the time consuming work involved, but it was all a joy. There were two precincts for voters when I became Town Clerk in 1948 and I saw the addition to three and then to six.
The Town Clerk's office was a tiny space to the right of the front door, large enough only for one regular sized desk, chair and typewriter, and her assistant sat at a very small table. All of these behind the counter - only enough space to get in and out. The vault we used across the hall on the other side of the building in the back of the Town Treasurer's office meaning that the Town Clerk had to go back and forth for all the records. The Town Treasurer and Tax Collector, Town Clerk, Board of Public Welfare, Water and Sewer Department, and Town Accountant's office were all on the first floor, all separate walled offices plus the Police Department taking a good portion of the rear of the first floor with a few cells there. Upstairs was the selectmen's office, Board of Assessors and a good portion of the second floor used by the District Court. They had a judge's room, courtroom, Probation Officer and Clerk of Courts.
At times I had to go to a vault in the cellar and that was an experience as it meant crawling by flashlight through the police rifle range to the vault door. No one of us wanted to do that too often.
The war years were interesting. Men called to duty or those on furlough arranged marriages in a minimum of time. This meant that the Judge of the District Court, Physician and Town Clerk were all involved, first to provide a waiver of the waiting period, secondly to speed up the blood test procedures and finally to the issuance of the license. There were service men coming home at different times day or night meaning people calling me or knocking at my door at all hours. It was a family affair seeming that the whole town was involved. Many birth or marriage certificates were needed at this time. I felt close to these people hoping to help in some small way. I have to say that through my whole time as Town Clerk a great feeling of sadness came over me whenever I had to issue a death certificate to any one of our townspeople. The whole town was friends then so I would know everyone, and I always felt sad for them.
When Conantum was being built, that was quite an uproar in the town. That was the first major development in the town and the people were very upset about that. They felt that the people were going to rule the town and it would be such a change that it was just overwhelming, but as it turned out, they were very fine and caring people who have done so much for the town that they were an asset to the town when they got here.
The town was very conservative and a strong Republican town at that time. That has changed, of course. They have more Independent registered voters now.
The first year I ran for Town Clerk was 1948 when Mrs. Rose retired and I was opposed by Bernard Rush, a World War II veteran. I did not have any opposition after that. I won but it was a trying time for me because I did not really want to run against a veteran, but I had promised to do so, so I felt I had to keep my promise. At the time I promised, there was no opposition. But after that first contest, I didn't have any opposition. Then the Town Manager's position came in, the Town Clerk's position became appointed. Each year I had to be appointed by him.
Welfare was one of the town services when I was Town Clerk. The welfare office was right next door to mine and they were a very active committee until 1968 then the state took it over. Now the assistance is provided through the state. It was a big responsibility of the town when the town did that service.
I dispensed fishing and hunting licenses from my house on Main Street for many, many years. I did it because it went with the job. Everybody had done it, so I did it. It was just the thing to do, but there again, particularly when the hunting and fishing season first opened up, well, there were calls at all times of the day and night. People would suddenly decide they would go tomorrow morning, and so I did take care of that. It was not an eight-hour a day job, but it went with the job and it went with the size of the town at that time.
I don't think anyone realizes what goes on in the Town Clerk's office. Aside from the town records, we have to take care of the vital statistics, births, marriages, and deaths. Because of the hospital in Concord, there is a vast amount of work in the Town Clerk's office in Concord but not in the offices of surrounding towns. You're doing their work. Everything is recorded at the hospital and you are responsible for verifying those records and sending them to the other towns and sending them to the state and recording them in our own town. So there is much more work for the Clerk of the town of Concord because of the hospital. Now it is about $5.00 for a birth certificate and I remember when it was first 25 cents, then 50 cents, so you can see how everything changes. Even in the Town Clerk's office, inflation.
People expected the Town Clerk to know everything about the town. That's what made the job challenging for me, to be able to answer all the different questions that came in, and I really did want to answer them. I did not want to say, "I don't know." It was really a challenge to me which I enjoyed.
There was a great feeling of togetherness in the town hall. We all knew each other very well and worked together well and enjoyed each other and were happy to say "Good morning" every morning and "Good night" when we left. One thing I remember in particular when Ted Nelson became the first Town Manager and came to town, and he was there when Alan Shepherd, the first astronaut went up in space, and he went out and borrowed a little TV set, I think from George Lawton, and we all huddled around that. We were so excited but very fearful that Alan Shepherd would never come back to earth. That sort of thing made it a great feeling of family closeness for all of us. We cared for each other and helped each other as much as we could, which is something nice to remember.
The Town Manager position first came about in July 1956. The staff were a little uncertain. We always worked with three selectmen who were fine people and we enjoyed working with them, and we just thought the whole thing was going to fall apart. We really were concerned about it, but we met him and he was very kind to us and told us what he planned to do, and made us feel at ease and after he came in there was no problem. We melded together very easily, so that was good too for the town, not to have the employees in a upset over change.
In 1956 the medical insurance for the town employees was offered and that was a fine thing for the town too. We really needed that. We were very pleased that the town considered it, and did decide to do that for the employees. In 1958 they put burglar-proof doors on the vault on the first floor and it was quite surprising that they were not burglar-proof before. Then we had the renovation of the Town House in June of 1960. We had been informed by the architect that we could work right there through the renovation. Well, when we came in on Monday after the weekend they started the work, the walls were all down and plaster was all over, we could hardly find our desks, so we realized that we could not possibly work there. We quickly moved down to the new fire and police department which had just been built but not yet occupied. So we were fortunate that we could just move everything down there. That renovation was when they made just one big wide open office, no walls, and of course we had all been walled in before that, so that was quite a change too.
I remember when the movie Never Too Late was filmed in 1965. The movie industry just moved in and took over the town. It was very interesting but it was very trying to some people because they had the enormous wires all over the streets, all over the center, and you had to watch where you were walking. It was interesting to watch them. They did quite a bit of filming over at The Colonial Inn so we were able to observe what they were doing.
To back up a moment, I might say that in 1963, the town signed a lease with the United States Government National Park Service regarding the battleground area. Also on November 25, 1963, the Concord Independent Battery fired the cannons in salute to John F. Kennedy on the day of his funeral service. It was a very memorable day. It happens that the same cannons were fired in salute to Abraham Lincoln 100 years previously. Isn't that interesting? I think that's nice for people to know. We're still using the same cannons.
At the 1965 Town Meeting the town voted to renumber the houses at that time. That really caused quite a stir. In particular, I remember one of our citizens who lived on Thoreau Court and she called me up and she was so upset, she said that she had always had the same number and it was part of her life, and she certainly didn't want to change her number at that point. I tried to make her feel better about it. I don't know if I succeeded or not. That one example just stands out in my mind - that shows what certain things mean to certain people. That was her home and her number and she just did not want it changed.
The community was small then but it was growing. Of course, at that time, everyone knew everyone else and so did the postman. They didn't need a number because they knew all the families, but then when the town started to grow, that changed. They just simply had to have every house numbered. Knowing the house by the family was not appropriate any more.
The Boston Post was an old newspaper in Boston. They sent out to Concord, and I suppose other towns also but I don't know for sure, a cane that was to be presented each year to the oldest citizen of the town. The town did that each year. They looked through the records and found the oldest person and presented it to him or her and inscribed their name on the cane, and they kept it until they were deceased and then it was passed on to the next oldest person. That was carried on for many years and then for some reason or other, it stopped. The cane was put in the vault that I had charge of and stayed there. Then they decided to get the cane out and give it to the honored citizen each year. Well, that caused a little bit of a stir because that was not why it was given to the town, but I expect the authorities found that they could do that. I remembered where the cane was, and since then they have given it each year to the honored citizen of the town, and that is a nice gesture.
My parents came as Norwegian immigrants to the town of Concord. They were single at that time and they became very quickly involved in the church which was a close ethnic group. They belonged to the Evangelical Free Church on Lang Street. First they met at the Congregational Church and then when they had enough money, they built their own church in 1920 on Lang Street. That church was built by the Concord, Acton and Carlisle Norwegian families, which was quite an undertaking. That was really the social center for all the Norwegian people. My father, Christian Martinson came from Loiten, Norway and my mother from Trysil, Norway. My father worked in the harness shop in West Concord and later owned a shoe store on Walden Street near Mr. Healey's fish market, and later worked for the Hay family as a cobbler. Some one of the children and later grandchildren delivered his noontime meal and afternoon coffee to his work place. All the young Norwegian women who came to Concord were taken in as domestics by Concord families. My mother worked for Dr. Chamberlin on Lowell Road until she married my father in 1903. They like all the families had very good relationships with the Yankee families in town.
They assimilated very quickly. They came here to be Americans and they learned English very quickly. I was born in 1910 and grew up in Concord on Hubbard Street, and there were nine children in our family. We all got around on our bicycles. There was no such thing as a car, we had seven bicycles in our family. I remember trudging through the high snow drifts when we had to go to Stensby's farm on Walden Street every day to get milk. My sister did that and we always liked to go into the Stensby house because Mrs. Stensby had very large pans of milk standing there waiting for the cream to come to the top, and that was very fascinating to us. It was just down beyond the new courthouse.
Everything was homemade in our house. I used to go by Urquhart's bakery and my mouth would just water for all those goodies that I would see in that window there, luscious frosting all over everything. We had good healthy food, but none of that fancy food. I just hoped that sometime I would have enough money to buy something out of Urquhart's bakery. A child's fancy, I guess.
We shopped at Lars Anderson's, who came from the same area in Norway. All the Norwegian group looked up to him and went to shop at his store. As children we picked strawberries at 1 1/2 to 3 cents a box at different farms in Concord. We also picked up asparagus at the farm on Bedford Street, which is now known as Asparagus Farm. We also delivered fish on Fridays for Emil Thorpe and did babysitting. My sister recalls once when there was a bad snowstorm and all the lights were out and she had to go by lantern to babysit for some people on Main Street.
In the summer we enjoyed visits to Lexington Park. I can remember my parents getting us all dressed up, filling the picnic baskets, and hurrying downtown to board the open trolley car for a big adventure to Lexington Park. There were so many of us we took up several of the benches.
Then we had sleigh rides and pung rides, Christmas tree and sing in the church, and wonderful church picnics, and all the cooking and cooking that had to be done beforehand for every occasion. Always coffee and goodies were served at every church service there.
In the church, we were all the same, all the families were the same, we were all going in the same direction in our knowledge. We were all children together, knew each other, grew up together and still carry on those associations after all these years. In fact, I went to Arlington a couple of weeks ago to meet a friend I probably hadn't seen for 25 years and we had a great time reminiscencing about our childhood days in the Evangelical Free Church. So it's nice to know there are still people that you can discuss those memories with. It makes them very vivid and you are able to carry them on.
They carried on the old traditions and in fact we still do. We have Christmas traditions that we carry on and we are passing them on to our children and we expect that they will pass them on. It's a continuity of the family life. Cooking is probably the biggest Christmas tradition. We have certain types of cookies and things that we make every year. My mother taught me and I taught my children and now we're teaching the grandchildren. I expect in the early part of December, they will be here. We have certain irons we use and so forth. The grandchildren are interested in learning about that so they are coming and my sister and I are going to show them how we do everything so they can do that in the future. They are special things that I haven't seen in other cultures. They are very different. We only do it once a year and so everyone looks forward to Christmas. There's work involved in it but joy involved in it too.
These are wonderful memories I have of this town. In the present too busy world I sometimes wish there could be a happy medium between then and now. Also going back to the Town Clerk's office, I enjoyed all my years of service as Town Clerk. I worked with fine people right from the top down, and everyone was interested in doing the very best they could for the town. It was a very caring community and each day, as I said before, was a challenge, and I did enjoy that.
Text and image mounted 19th December 2012. RCWH.