John (age 71) and Althea (age 67) Lambert
250 Old Bedford Road
Interviewed April 11, 1977
Concord Oral History Program
Interviewed by Renee Garrelick
When we moved here in 1945, there were only a few houses within sight of this house. This house was the Frank Peterson house. He was a Swedish farmer. There were many Swedish farmers in Concord at that time. The nearest house to us was across the road in a northwesterly direction and that was the Peter Dalton house. That was surrounded with farm land. On the southwest side across the road was the George Magurn house which was also surrounded with farm land. Going to the north of us on Virginia Road was the Philip Kenney house and the Lawrence Kenney house. These were brothers who farmed the land to the northeast side of us. The land on the south side of us was the McHugh farm. All of this was farm land all the way up to Bedford Street or Route 62 where the Arthur Magurn farm was located. He was an auctioneer. In fact, he had some of the equipment he used at auctions stored in our shed when we came here.
The farm land was entirely used for growing various vegetables. Strawberries were major crops on the McHugh and Dalton land. Other big crops for these farms were cucumbers, shell beans, celery, squash, and pumpkins. Lawrence and Philip Kenney had 50 acres to the northeast of us where they grew spinach, tomatoes, cucumbers, carrots, parsnips, squash, pumpkins and many other vegetables. This was all cleared land, excellent farm land. The Caleb Wheelers were further along Virginia Road on the north side of the road at the top of the first hill. The Caleb Wheeler farm was the site of the original home of Henry David Thoreau.
There is a cold bog or quaking bog in back of the gravel pit on Lexington Road next to the McHugh farm house just south of the Ripley School. It is named as such a bog because it has alpine plants in it. It is sometimes called a cold bog because these are plants that are found principally in Canada and on areas that are covered with sphagnum moss and peat moss. There are a number of these bogs throughout the state but this is the only one, I believe, in Concord.
The Kenney farm has had many kinds of labor on it but back during World War II they used German prisoner labor. They were being kept at the Ft. Devens area and farmed out to various farmers for labor. This was between 1943 and 1946. When we came here in 1945 we saw the prisoner farm labor working on the farm here. They came here in buses with armed guards and worked on the farm. One time we saw quite a discussion going on and we found out the reason was that because the poor carrots were being discarded or thrown away as they always are, the German prisoners couldn't understand why we were throwing good food away. This disturbed them greatly.
Sometime in the 1950's, I received a letter from the Concord Post Office and asked if I would please answer it. It was addressed to Ephraim Bull, who was the originator of the Concord grape down on Lexington Road. The grapevine cottage is there now with a tablet in front of it. The original vine is there as far as I know. This letter had been written by a person in Ohio who asked if Mr. Bull would please send a Concord grape cutting to him. Of course, Ephraim Bull has been dead about 100 years and the post office felt perhaps I could answer it, as I have a great interest in grapes and it is a hobby of mine. So I sent him a grape rooted cutting. I had a cutting from the original Concord grapevine, and had been reaping grapes from this vine for many years.
I was state director of forests for 44 years and managed the Commonwealth's woodlands. Concord has been influenced by many conservationists in the past particularly Henry David Thoreau. But there has also been a concern about preserving various forests, woodlands and farmlands over the years. The town in the bicentennial anniversary of the founding of Concord in 1935 decided that a fitting memorial would be to spend some money from the Hapgood Wright fund to buy an area which would be known as the Concord Town Forest sometimes now known as Fairyland. It is on Walden Street across from the high school.
It is a beautiful area with a spring-fed pond and had, at the time, a very heavy stand of white pine on it. However, the 1938 hurricane blew down most of the major white pine on the area.
Harold Chase was the original chairman of the town forest committee at that time and was very instrumental in getting the town to spend the money for this purpose. Since the town has owned this area, they have added more acreage in recent years. It is now almost 100 acres of beautiful forest land.
The Conantum area was probably one of the first development areas in Concord after World War II. A large estate off Sudbury Road at the junction of Garfield Road was bought by a number of Harvard and MIT professors and divided up into approximately two acre lots with a large area kept as common land. These owners were very concerned as to how the lots should be developed and were very conservative about allowing the developers and contractors destroy any trees at all. They asked me to go over the lots and point out trees that should be saved or cut out to improve the quality or aesthetics of the area.
Here in Concord we are trying to preserve forest land, open land, and farm land to keep the rural atmosphere as much as possible in an area we realize is growing. The Concord Natural Resources Commission was formed in 1967 from the old town forest committee and the Concord conservation commission.
As far as the woodlands of Massachusetts, I think that we are going to continue to hold a large acreage of these lands even though we have a high population. Massachusetts has roughly 5 million acres of land, and at the present time, we have roughly 3 million acres of forest land or 3/5 of the total land is woodland. This was not so back in the 1840's when only 1/5 of the land in Massachusetts was woodland. It was mostly open farm land.
With the West opened up, the gold rush in California, and the Civil War period, much of the farm land in Massachusetts, and in New England as a whole, was abandoned. So we have gradually come back into woodland, however in the last 20 years we have reduced about 2/3 of the acres of woodland to 3/5 in Massachusetts. Still there are several counties, Worcester, Franklin, and Berkshire, that increased their acreage of woodland. I think we will continue to hold onto at least half of our acreage of woodland for many years in the future.
This woodland has many uses. At the present time, we have been harvesting about 100 million board feet of timber a year in Massachusetts. One of the great natural resources of Massachusetts is wood. In fact we are exporting some of it now to such countries as Sweden and Norway. I feel the use of wood will continue not so much as timber but as fiber and possibly for chemical uses. Wood has the same chemical composition as coal and oil. So when the economics are such that wood can do or produce the same thing that coal and oil can at a less cost, it will be used that way.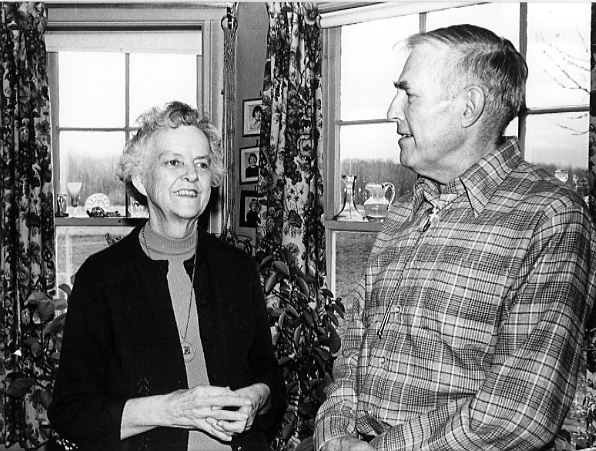 Text and image mounted 19th December 2012. RCWH.