Kussin, Louisa Alcott Pratt (Mrs. William)
79 Main Street
Age: 80
Interviewed June 10, 1980
Concord Oral History Program
Interviewed by Renee Garrelick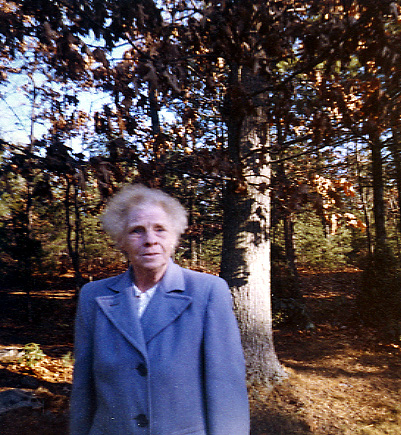 Family relationship to the Alcotts
Growing up in the Thoreau-Alcott House on Main St.
The Ghost Story
Youth in Concord
The Kussin Children's Clothing Business
My father was a son of Anna Bronson Alcott, who was one of the sisters of Louisa Alcott and was Meg in "Little Women". She had two boys, the oldest one my father, and the youngest, my uncle, John, who was later adopted by Louisa Alcott. My father was Demy in "Little Men."
Though I have been called Polly all my life, I was formally named Louisa Alcott Pratt after my great aunt. Another sister of Louisa May Alcott was May, who was Amy in "Little Women" and a talented artist. She died in Paris the year her daughter Louisa May known as Lulu was born. Lulu was brought up by Louisa May Alcott for the first eight years of her life, and thereafter lived in Germany and Switzerland. She had a dynamic personality and often came to visit us in Concord.
When I was young, it was my greatest ambition in life to be just like Louisa Alcott, but I soon found that I wasn't talented in writing. But I could still honor and respect her.
My parents, particularly my mother, were involved in setting up the Orchard House in Louisa May Alcott's memory. Even though my father died in 1910 and the Orchard House opened in 1911, I suspect my father must have had some idea about the plans for the Orchard House. I was only ten years old at the time and I don't recall exactly all the details.
My mother desperately wanted the Orchard House not to be a museum. When it was first opened, it was a very simple arrangement. It's a business now, and that's the way it has to be. Times have changed, but we try to avoid the word museum.
Lulu was very interested in the Orchard House and visited quite often. She came every few years from the time my father died until about 1953. She usually stayed with us but the last time she stayed at the Colonial Inn.
I grew up in Concord in the Thoreau-Alcott House at 255 Main Street. I was also married there. There is a ghost story about the house. At the back of the house, although it wasn't there when I grew up, there was a shed which had a second floor. In that second floor Thoreau made his pencils. He used every room that had a fireplace. After he died and the Thoreaus left, the Alcott family came to live in the house. During the time they lived there, they had a helper who used that room in the shed to sleep. One day after being there a short while, the helper came to Mrs. Alcott and told her she couldn't stay any longer as there was a ghost in her room. She said the ghost came in every night after she was in bed. The ghost, who was a woman, would go to the mantelpiece and brush her hand across the mantle to see about the dust. She would take a broom and brush the hearth and then would walk out and disappear.
My mother and father had the house remodeled and the shed was not there when I was growing up. Growing up in Concord was great fun. There was no traffic and one experienced freedom from confusion, noise, and cars. Bicycles was a common means of transportation. And we used to ride them very fast up and down Main Street.
April 19 was the big day of the year with cannons going off at daybreak on Nashawtuc Hill. Baseball was very popular. Track meets were watched. It was simple fun.
We had a good yard in the back of our house for playing the simple games like ally, ally, over. Our group of friends were a close knit group of girls and boys some of whom I still know to this day. I attended school at Miss White's on Belknap Street. My remembrances include the streetcars that ran down Main Street, and early cars such as the Stanley Steamer. Prescott Keyes lived across the street from me and he rode in a Stanley Steamer. I was scared to death of him.
In 1938, with two other women in one room over Hollis Howe's Jewelry Store, I opened a shop that carried clothes, children's accessories, books, and toys. My husband, William Kussin, was an architect, who designed the Girl Scout House and the original buildings of the Fenn School. There was not much work for an architect in 1941 during the war, so he joined me as a partner in the business. One of the original partners had left after one year and the second one left after the second year.
For a time the store was on Main Street where McWalter's Law Office is between the two banks. We carried teen sizes where the Paint Pot is now. In 1947 we moved to the store's present location. The building was very run down and it took courage to take it. It was full of rats. My husband successfully remodeled it, and the business grew. The junior shop was the last addition to the business. I must give my husband just due for he had a great deal of imagination and courage.
Text and image mounted 19th December 2012. RCWH.