Barry and Dorothy "Dot" Higgins
30 Laws Brook Road
Barry - age 72
Dot - age 75
Interviewed May 9, 1994
Concord Oral History Program
Renee Garrelick, Interviewer.
Click here for audio. Audio file is in .mp3 format.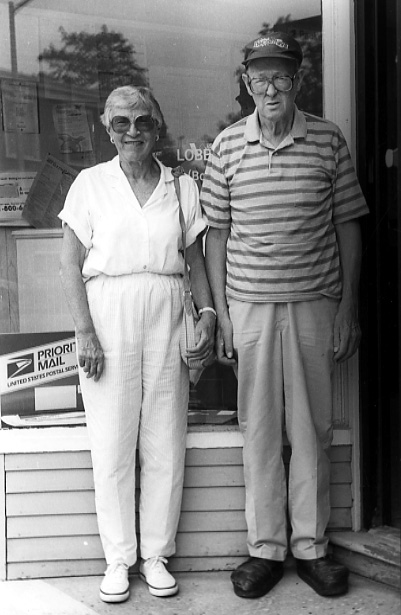 Barry Higgins-As a postman, I had an intimate look at West Concord life. Since 1901 the West Concord Post Office has been located at the corner of Commonwealth Avenue and Beharrell Street, and of course, it is a focal point of the community, people coming and going. You do keep in daily contact with all the people that do business there. My postal route ran from upper Barrett's Mill Road on the other side of the rotary down Commonwealth Avenue to my home at Laws Brook Road, and then it went up Laws Brook and Conant to Main Street and back down to the library corner. It was route 11 at the time I carried it. I actually started with the post office during Christmas 1939, filling in. I was asked by then Postmaster Margaret Coughlin, who was my boss during my career, to work there as a substitute until I went into the service in 1940-1942. I came back in 1946 and continued as a substitute for seven years then I became a regular. I was a regular carrier for 15 years then I went inside. I stayed with the post office until my retirement in 1980.
During that time I saw the separateness between West Concord and Concord. It was always two very distinct areas even in the postal operation of it, although nowadays, West Concord is part of the Concord postal system under the new regime and has been that way since 1970. That was the year that West Concord was absorbed by Concord and became a station of Concord and at that time it's carrier service moved to the main office where it has operated from ever since. Now the station just provides clerical and box service to the public and still is as busy today as it's ever been.
West Concord or Concord Junction was always a very definite separation from the main part of Concord with Route 2 the dividing line. We operated as a separate community with West Concord as the industrial section for both communities, and was always considered the "other side of tracks," you might say, from Concord center. Some of the industry included Concord Woodworking located on upper Main Street near the Damondale Mill originally until it was burned out and then it came down to Beharrell Street behind the West Concord Post Office where it also burned. Eventually it went out of business. The Damons, John Damon's family - John and Bill, owned that for many, many years, and they had a lot of local people work there. Of course, the Reformatory or MCI was one of our main industries you might say. A lot of people worked there and also lived in the White Row, which is the housing section opposite MCI. A good many families lived there for a good many years. Then we had Dovre Ski Binding Corporation and the apple storage up at Damon Mill. The apple storage at that time belonged to Jack Lord from Bedford, who ran the Concord Cold Storage where they kept apples fresh throughout the year. The A&P had a facility there and a lot of women worked there packing and grading potatoes and onions. That went on for a long time until Richard Damon and Bill Sullivan took over and converted the building into what is now a multi-faceted place of business
My father, John G. Higgins, worked for the Boston & Maine Railroad, and that's why we moved out here from Malden where we lived originally. Friends of my father that he worked with at the Boston & Maine, John Fitzpatrick and Harold Chase for example, suggested that we move out here because it was right on the Fitchburg division and they could commute by train. The railroad was very important to West Concord; a very vital factor to the town itself. We had something like 43 or 45 trains that ran through here from Boston to Housatonic, NY, and then of course we also have the New Haven trains that were running from Framingham to Lowell and New York City. So it was very, very busy around the train station. We had a switching tower, tower operators and switching tracks. We had a lot of long distance freights go through here. At that time it was nothing for 80 and 90 cars to go through, as well as the famous trains like the Minuteman going from here to Chicago. It used to go through at 4:00 in the afternoon every other day. That was quite a modern design.
We had all kinds of mail hookups. We'd hang the mail bags there. We had mail bags going east and west. Four or five times a day you had to get them hung up so that they would be grabbed by the operators of the train. That was quite a function. It was when they became part of the MBTA that all of that went out the window.
For many, many years the operators of local businesses were after bank people to open a branch in West Concord and they never would do it. People like John Palmer of Palmer's Movers or John Mandrioli, Dan Hayes of the Concord Garnett Mill, they were constantly after the banks downtown to open a bank here. I guess the banks just never thought it was worth their while. A bank never opened in West Concord until Hudson National came into town and opened in June 1968. That was really an upgrading for the community. It wasn't too long after that that all the banks got in the business here.
The Derby farm which was across from the West Concord Fire Station was converted into the present West Concord Shopping Mall about that same time. It is one of the focal points of the community. Banks and stores are now there. That was the first time we ever had anything of that nature in West Concord. Arthur Carr, John Collins and several other people were involved in developing that shopping mall. John Collins was with the Middlesex Bank and Arthur Carr owned the West Concord Pharmacy.
I grew up on Prairie Street off Central Street. Prairie Street is a section of West Concord that later became part of the Thoreau School area now. My family moved to Concord in 1927, and Prairie Street became a recognized street that year. They put in a road and street sign and fire hydrants. This area was right next door to Cousin's Greenhouse, which was one of the leading carnation growers in the country. They shipped them all over the place. A lot of local people worked there during the year. That went on until the 1970s when the older son bought it and he couldn't get people to work in the greenhouses anymore. He turned the land over to the town, and it is presently a soccer field.
I grew up with Jim Condon who owns Condon's Package Store, Pete and Johnny Mandrioli of the West Concord Supermarket, Howie Soberg at E&S Service Station, and Bob Carter, who just recently closed the family business Carter's Furniture Store after 70-odd years of serving the public. Bob was a classmate of mine graduating in the class of 1940.
We attended Our Lady Help of Christians Church. We were alter boys and went to Sunday School. I graduated from Harvey Wheeler in 1936 and then I went to St. Mary's High School in Waltham. I also went to the West Concord School for the first three years. The school and the church were very much a civic focus.
Upstairs over the post office was the Association Hall and across the street above the West Concord Shoe Store was the Odd Fellows Hall. Association Hall at that time had a third floor where they had the early movies with player pianos. They had all kinds of traveling medicine shows. They'd come in and put on a different play every night featuring local people in the acts. There were no movies in Concord ever. They finally did get a permit to build a movie theater in Concord Center behind the Middlesex Bank in the parking lot but then they found out they couldn't get first run movies because you had to be 20 miles out from Boston. But they used to have movies at 51 Walden Street and a couple of other places. These were older movies. Maynard was the focal point of movie activity for first run movies.
There was a slaughter house up on the hill behind the Damon Mill along the railroad tracks and we always called it Goat Hill. I don't know why. Jim McGuire was the mayor of Goat Hill, and the present Hawthorne Apartments was originally the poorer section of town where before welfare, people lived in places like Goat Hill. These were families that tended to be poorer.
The Garnett Mill run by Dan Hayes was located on Commonwealth Avenue next to E&S Service Station. This was a wool reprocessing operation that operated 24 hours a day. I don't know how many years Dan ran it. He couldn't get any of his boys to take it over for him when he wanted to stop working. He and Glen Swett owned most of the old Powder Mill woods where the American Cynamid Company was during World War I, which is now part of Nuclear Metals. Dan and Glen bought that whole area of land after the war for taxes. It developed into a highly industrial area. Glen Swett owned the local West Concord Pharmacy on Commonwealth Avenue for many years. He and Dan Hayes were old Musketquid Club friends for many years.
I've been a member of the Concord Rod and Gun Club for many years. It is located up on Strawberry Hill Road. People can fish and trap shoot there. It has been around just over 50 years. It is 35 acres of beautiful land. The Musketaquid Club is fairly exclusive by comparison. They only have 100 members and they're originally an offshoot of the Rod and Gun Club, where fellows who wanted to do more trap shooting, particularly the Macone family, and branched off and organized their own club, which is also a very lovely area off Old Mill Road.
I was on the Recreation Commission at the time Bernie Megin was in his heyday as football coach and athletic director at Concord High and then he later became the first Recreation Commission Director, which indirectly involved our setup with Walden Pond swimming lessons. One of the main issues we ran into at that time which was in the 1950s was that it was time to expand the bathhouse situation at the Walden Pond. We put in another new bathhouse and extended the swimming area which also involved taking down some of the trees in the area, and that in of itself brought down the world with the local Thoreau Society who were up in arms over this situation. That was what we were best known for at that time.
Softball was a big interest of mine and of course I live across from Rideout Playground. After semi-pro baseball died out, softball took over and it is still very active at Rideout. They're doing a lot of things with Rideout now, Little League, softball. Baseball was very big on the weekends and holidays. I managed the team for some years.
I was constantly interested in getting my sporting teams into the local papers so I started writing sports news and then I branched out a little and got off the sports and into my column "Junketing Around the Junction," which was odds and ends about local people, and which I am still doing. This was with local papers but primarily with the Concord Journal, although I had been with the former Enterprise and Free Press or whatever papers were available for free fill-ins.
One of my columns included nicknames of local people such as Lawrence "Froggie" Sigmon and I think the name was due to a voice problem. Then there was the late "Chick" Mayo, well known former postman; "Dutchie" Damon or Henry Damon, one of the Damon boys which I think had something to do with his haircut more than anything; "Snowball" Johnson, captain of the Concord Fire Department well known by his name "Snowball the Dancing Bear." "Cheekee" Tombeno and his brother John ran Tombeno Brothers, a plumbing and heating business. "Trucks" Caldwell is Bruce our next door neighbor who is a former heavy equipment operator.
Dot Higgins-I was a teacher for 20 years in Concord having taught in Tewksbury before that. I taught in Concord from 1963 to 1983. When I started teaching, most of the teachers lived locally, maybe not all from Concord but in surrounding towns.
Some of the new programs that started while I was teaching included the METCO program. It started in the high school before it started in the elementary which was a good way to begin. We started with the first grade with four or five students and added new students at the first grade level as they moved up the grades. I thought the METCO program was well received. The first class I had is the graduating class at the high school this year. I have to be there.
We didn't have libraries in the schools and I felt that was very important. That is a fairly new addition to the schools. The 1970s was the time there were a lot of major changes. That was when learning centers and reading labs started, and also teacher aides.
I taught first and second grades and for a few years taught second and third, then I went back to second and first. I liked having people coming to the classroom. Bob Carter would come in on Citizenship Day and talk to my class and I would invite other classes too. Then during Fire Prevention Week I always contacted the Fire Department and the firemen would come and have a program outside. I remember during the bicentennial I had Roddy Loynd and Jim Powers come in and talk to my class about how they were setting up the town for the different programs that were going to happen. There was always a strong bond between school and community.
Volunteer organizations are a part of the community. When I taught school I didn't belong to any extra organizations, but when I retired I took a course at Emerson Hospital about joining different things. I joined the West Concord Women's Club, the Milldames and the Concord Auxiliary of Emerson Hospital. This year I had one of the highlights of my life winning the Volunteer Award of the Year given by the Chamber of Commerce. I received lots of nice comments and cards.
Every year on Memorial Day we have a coffee here at our house after the parade, and it has grown from just a few neighbors to about 50-60 people. People bring whatever, coffee, cake, etc. and it just works out great. We're right out in the yard. We do it for the veterans and the Minutemen, and it's fun. We've probably been doing it for about 15 years, we'll probably do it forever.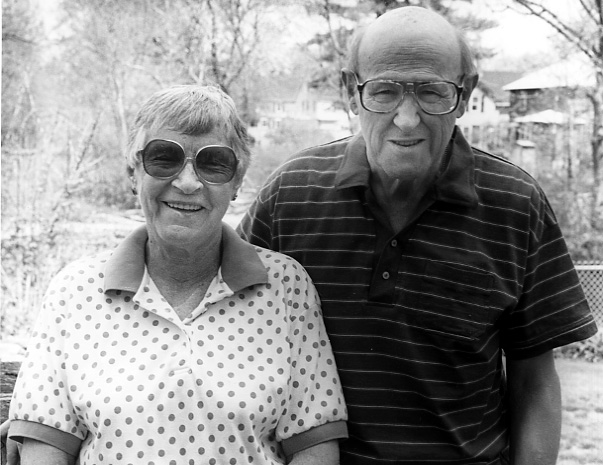 Text mounted 9th January 2008; Images mounted 11th October 2012; audio mounted 13 July 2016. RCWH.