Joseph Dee
350 Bedford Street
Interviewed February 14, 1978
Age 82
Concord Oral History Program
Renee Garrelick, Interviewer.
Click here for audio in .mp3 format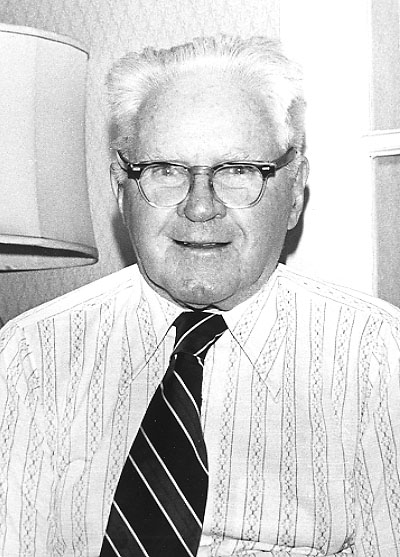 All these houses were here when I was growing up. These were asparagus farmers. They produced a big part of the asparagus that was raised in Concord at the time. It was taken in by horse and wagon to the market. It was a big industry here, very thriving and flourishing industry. They had to work hard and they were well rewarded for it.

Over on Old Bedford Road there were all farmers. There was Mr. George Clark on Lexington Road, Mr. Thomas Burke on Old Bedford Road, Peter Dalton, and across the street from him was Mr. Frank Peterson, and the Magurns were all highly successful farmers. But as time went on they passed on.

As young boys we were taught how to cut asparagus. We started cutting early and if they were looking for help we were available. We had to cut it and pick it up and put into the bag, but we were young in those days.

Horses pulled the asparagus cultivator, there was no such thing as a tractor then, and many a time I walked up and down there behind the cultivator and I wasn't much higher than the handle but my grandfather introduced it to me and that's how I got my start. The farmers all had two horses, some of them had four but as soon as the season started it was time to cultivate to keep the weeds down in the fields and the cultivator was just as essential as the air you were breathing back in those days. Those horses knew just what to do. They didn't need any reins, they'd get up at the end of the row and that horse would swing right around and get into the next row and go and back forth all day, never a rein on him. The horse knew as much as the driver. The cultivator now sits out in front of my house a sign of days long past.

My grandfather bought this house here. He came over here from Ireland during the Civil War in 1864, I think it was. Back in those days, the federal government had a draft system but it wasn't exactly like in past wars. You were drafted but if you could get somebody to replace you, you were exempt. Irish immigrants were just beginning to come over in big numbers and drafters would be down at the dock here in Boston waiting for these fellows to get somebody to serve for them and make them legally exempt. A lot of these young fellows were called "greenhorns", that was the standard name for any nationality coming over. But my grandfather wasn't interested in that and he got off the boat and walked out to Lincoln. He saw a man up in the field with a pair of horses plowing, so he climbed over the wall and went over and asked if he could use some help. It was the spring of the year so he took him on. My grandfather worked for him for a few years then he bought this house here which was standing at the time. My grandfather died in 1921, I believe and my father took the house over from my grandfolks and later on I bought it from my father and have been here ever since.

My grandfather was a caretaker, he took care of Sleepy Hollow Cemetery up here. It wasn't as big then as it is now but he had two or three men with him and he was there until he died. He was 82 years old when he died. His oldest son, my uncle John was a probation officer up at the court. The court was on the second floor of the building where the insurance company is facing the town square. When the insurance company grew and needed the space, they moved to the second floor of the town hall. They were there for a number of years and then the town grew and the new court house was built on Walden Street. Another uncle when he died in 1946 was superintendent of the Massachusetts Reformatory. That was the same year my father died, the two of them died in the same week. Another uncle, Bill was a mail carrier here in Concord for years. He lived up the street here, he worked until he was 70. The post office was right around the corner from Richardson's store. Mr. Tower was the postmaster there for years.

My father worked for Willard T. Farrar who was the undertaker, that's what they called them back in those days, today they call them funeral directors. The town was small and Mr. Farrar used to also take care of the court house as a janitor or maintenance man and also the bank downtown, where the Harvard Trust is now. In my time in the one building where the bank is now there was The Middlesex Savings on the left side of the building and the Concord National Bank on the right half of the building. There was an elderly lady that lived next to the bank between the bank and the old cemetery named Mrs. Holland. When she died, Middlesex Bank bought the house and tore it down and the Savings Bank sits there today.

My oldest brother, who was a year ahead of me in school went in the funeral business with my father. He was there all his life and when he died, his son Charlie stepped in and carried the business on and he's carrying it on today.

When I got out of the service, I worked at the armory. I didn't know what I wanted to do when I got out of the service and this fellow, an officer from the armory asked me if I wanted to interview for a job. Back in those days very few went to college. About one out of ten young fellows my age went to college when they got through with high school. So I went to the armory in 1921 and I retired from there in 1966. The armory on Everett Street was built in 1915 and used for quite a few occasions and organizations and the school used it for a gymnasium.

When I went into World War I, the armory was the old veterans building which is now 51 Walden Street. I enlisted there on December 16, 1914. The old Company I was the Concord company from that building and it still means a lot to me. When I graduated from high school in 1913, I was working in Boston until I was called up in 1917. Company I was in the 6th regiment and when the war came along, all the different outfits were put into the 26th division.

My World War I experiences resulted in the naming of a street. I was sent up to Nancy, France which is about the size of Boston. It had been pretty banged up by German artillery fire because is wasn't too far from the German border. The nearer they were to the border, the harder they got hit. The streetcars were still running on a limited scale. Right outside the railroad station in Nancy which was like South Station in Boston they had a shelter built of concrete.

I lived in a French barracks there and there were some French soldiers. I was given some money and I would eat in the local restaurant. We were detached service. I had to go down to city hall with a woman I met because she didn't have any food or ration money and she asked me to go with her. I would get paid in American money and the banker would turn it into French money and I would give her some money. But Nancy made a tremendous impression on me.

In the winter of 1918 I was sent to Rouceux near Alsace Lorraine and lived with a French family. It was the practice of the army to make arrangements with French families to provide shelter for a small number of soldiers. I stayed in the hayloft. The mother of the family was like a mother to me. There was many an evening I spent in the family kitchen. I learned considerable French and she asked questions about this country. We agreed to write and before the war ended, I got a letter asking me to be godfather to the new baby of the family. I was able to get a pass to visit them the following year. The family had the baptism and I signed the baptismal certificate.

When World War II began, I lost contact with the family until one day a letter came to Concord from my godchild explaining that her mother had died during the war from lack of medical treatment and asked me to continue the correspondence with her. I hoped to get back to France one day and in 1967 I did and arranged to meet my godchild in the hotel lobby of the town where she was born. It was quite a moment for me. I had only seen her once, the day she was baptized. I remember that moment when she walked up to me and asked, "Are you Joseph?"

When I got home and later on started developing this land, there was going to be two roads and I wanted to call one of the roads Nancy Road. It was about 1953. Being in Nancy really showed me what war was like. In school we had a choice of taking either French or German so I took French. I liked French, it just came easy to me and then about three years later when I got over to France, I found I had a pretty solid start on French. I was there six months and I could speak with the French just like you and I are now.

I was working at the armory at the time of the 1925 celebration. Golly, there was a terrific snowstorm. They waited 25 years for it and they couldn't have had a worse day. The armory was headquarters. On many of the April 19th celebrations I couldn't participate because the armory was usually parade headquarters and I had to be on duty there.

I've lived the transition from the horsedrawn wagon to the automobile. Back in my days when I was a kid, the streetcars would go. You could ride from here to Lexington for a nickel. The streetcar tracks ran along Bedford Street and another streetcar line, The Concord-Maynard-Hudson met downtown at what they called the turnout, and people would transfer from one line to the other. And that was a very thriving, flourishing industry for quite some few years. Then Ford showed up and he kind of revolutionized things and the streetcar line faded out and just gave up.

The people knew the motorman and conductor because they were very friendly. They ran on a schedule, every hour or three-quarters of an hour whatever it was. If you wanted something downtown, you waited until they came along and ask maybe for a loaf of bread or a newspaper and they would drop it off maybe 15 or 20 minutes later on their way back. They would walk in here and maybe chat for a few minutes, the passengers would sit out there just as calm as could be. That's the way life was then. They weren't in a big rush in those days. Or if you didn't need anything downtown, you would just give them a wave.

The roads back in those days were just gravel. There was no such thing as hardtop then. It was mud in the spring of the year after the snow melted. There were big ruts you couldn't get out of them, you just had to keep going. The conditions of the road were poor and then they got macadam which was a fairly hard surface and better than the mud. The Department of Roads and Bridges was on Bedford Street for years. Most of the equipment was pulled by horses, there was no such thing as a truck then.

The Macone brothers were the first automobile agency in Concord in the early days. They grew just like the automobile industry grew. They were highly successful and sold quite a few cars as the years went on. They were fine fellows and they were all natural mechanics. If anything went wrong, my God, they could fix it. They were highly thought of in Concord. Nick could fix anything. No matter what it was, my God, Nick could get it right.

Judge Keyes had a Stanley Steamer. It was made in Newton. He had that all the years he was living. He was the judge of the court here and he was a powerful influence in the town all the years he lived.

I've been in the color guard of parades for many years. I started during the fall of 1919, and I carried the colors until 1975.

In the Virginia Road area the farmers were the Kenney farm, the Wheeler farm, Carlson farm and the McCaffrey farm on the Concord- Lincoln line. Mr. Fred Carlson had made several attempts to get the town to improve Virginia Road which was a side road off a side road and by the time they got there, there was never much done to it. Anyway he tried for several years to get the road improved and then the following year they had a committee to decide on buying the first motor vehicle for the fire department which had been using horsedrawn equipment. So they had all these facts and figures turned in before the town voted on it and Mr. Carlson stood up and said with all these glowing reports he would like to see it go down Virginia Road in the springtime. With that remark on the floor of town meeting, he got the road fixed.

When I was a kid, everybody burned wood in the old kitchen stove, and these fellows that we used to call hobos would come along and see the pile of wood in the backyard and they would come up to the door and say they were hungry and ask if they could split some wood, if you would compensate them by giving them a meal. My mother and others on the street would give them a meal. And they gave good value, they wouldn't be out there twenty minutes, they would be out there a couple of hours. My mother would call them in and sit them down and give them a meal. They never knew when their next meal would be or what it would be. They'd appreciate the meal and thank you and be on their way. That would be quite common. If they came along the next year, which they probably did they knew where the soft spots were. But that is something that is no longer.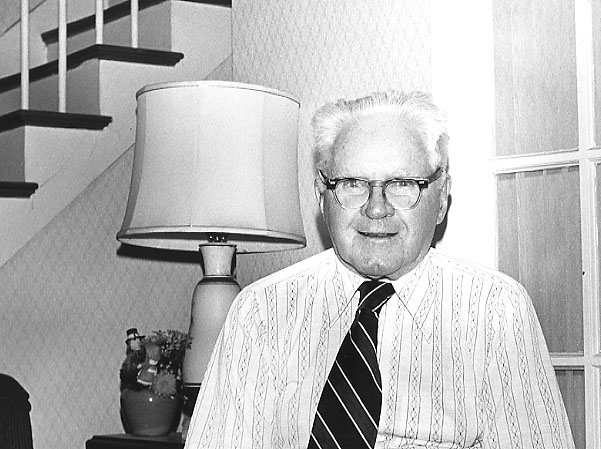 Text mounted 17th March 2012; .mp3 audio mounted 3rd July 2013. -- rcwh