Richard Damon
1623 Main Street
Interviewed October 24, 1990
Age 67
Concord Oral History Program
Renee Garrelick, Interviewer.
Click here for audio in .mp3 format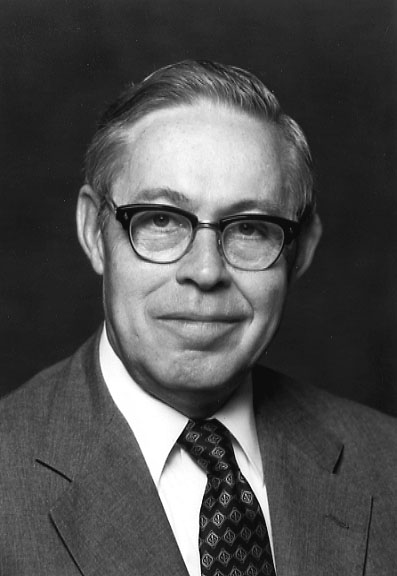 A house of Damons- 1623 Main Street
Parents Winslow and Florence-community life

Boyhood friends and activities
Importance of Boy Scouts
Personal diary excerpts (includes Sept.21, 1938 entry of hurricane)
West Concord unity
Sunday School-West Concord Union Church
Newspaper Route

The Damon Mill
Founders Calvin Damon and great-grandfather
Edward Damon
As apple cold storage
Restoration as Damonmill Square
Contribution of William Sullivan.
Richard Damon, a retired physicist, has long family ties to West Concord and the Damon Mill that first brought his great-great-grandfather Calvin to Concord in 1834. The restoration of the once thriving textile mill for today's commercial use by the Mill Square partnership continues that bond and legacy. Enduring as well are the contented memories of his boyhood years and associations that have lasted a lifetime.
The house at 1623 Main Street was built in 1884 and has always been lived in by Damons. This was my grandparents' home. They had 12 children, my father was the sixth of those 12. He grew up in this house and after my grandmother died and my twin brothers were born to make the fourth and fifth sons in his family, we were crowded in the house we were in on Pleasant Street and moved here to 428 Main Street in 1931. He had Martin Hojem primarily as the carpenter to overhaul the house. They changed the shingles, changed the color from dark green to light gray, replaced all the floors, updated the bathrooms and the kitchen, changed the heating system from registers with hot air to a convection hot water system and generally brought the house into the 20th century. I was eight years old at that time and grew up here as did my brothers. In fact, my father finally sold the house to me in 1963 when he built a house at 179 Prairie Street for himself and my mother, where they both lived until they died. I've been here now with my wife Ann and children ever since 1963, and it's a wonderful place.

My father, Winslow, was taking care of the land around here from his grandmother's estate, Anne Damon. Anne Damon's executors were my father's uncles Will and Bob, but he was the one on the scene and he took care of Hill Block and the land around here and sold it and rented Hill Block. As his pay, sometime in the late '30s or early '40s, he received the land behind the house here and across the street. The land across the street he sold about 1950, and my brother Henry built a house over there, as well as two other houses. That was called "Valley Garden." In the mid'50s he sold the land behind the house which used to be called the "cow pasture" and which is now Westvale Drive and Prairie Street. A number of houses were built there. He offered me an option on the land directly behind the house, if I still lived here when he died. I did and so I exercised the option. That's where we now have our blueberries and used to have a garden. My father planted the blueberries and he gardened it all the way back down to the blueberries. He was a very active gardener. My mother canned the vegetables. My father also maintained various animals. We had chickens from which we got the eggs and the meat, he would buy a pig or a lamb and have it slaughtered and kept it up at Jenks deep freeze in West Acton. I had rabbits, as well as a dog and cat. My twin brothers had goats and sold the goat milk. We had a busy time around here.

Both of my parents were very active in town affairs. My mother, who was born in Boston and then moved to Dedham, was a teacher in the West Concord schools. I recall that she told me that she rang the bell on Armistice Day in 1918 in the Harvey Wheeler school. Also while in the West Concord school which has since been torn down, there was a drawing in colored chalk on one of the blackboards in the southeast corner of that school. When I told her about it, she said "Well, I did that many years ago and no one had erased it since that time." Nobody had done it better. It was a picture of a rabbit sitting under a tree. She was president of the West Concord Women's Club twice and on the school committee for nine years and chairman for five. She was on the school committee from 1943 to 1952, at the time they were planning and building the new schools, like Alcott and Thoreau. She was also a leader of the 4-H clubs and taught us crafts. The Cub Scouts were formed after I was too old for them but she was a den leader when my twin brothers were in the Cubs.

My father was on the board of public welfare for many years, from the mid'30s until 1952. His real outside activity was the Masonic Lodge. He was the master of Corinthian Lodge in Concord, he was district deputy commander of the 12th Masonic District which was headquartered in Lowell and he was in the Sir Galahad commandery. In 1972, on their 50th wedding anniversary, the Masonic Lodge dedicated a scholarship fund called the Winslow J. Damon Scholarship Fund and presented him with the certificate and started to endow that fund. It's doing very well since that time. Most of the recipients have tended to be involved with DeMolay or other Masonic activities or their parents were. It's not a requirement, it just happens to come out that way.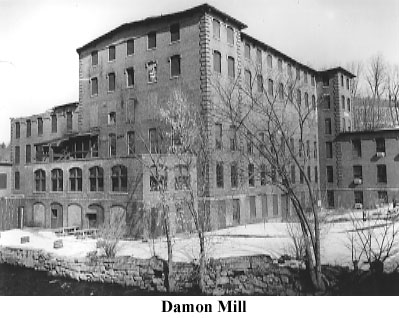 We had a wonderful time in my childhood. I used to walk to school and met a number of friends there. It's about 3/4 mile from here to the school and it took about 15 minutes. We came home for lunch. One of my closest friends was Henry "Bud" Harmon, and I was also good friends with Jim Condon, Barry Higgins, John Chase, Paul Boyd, just to name a few. And with the girls, Mary Loughlin who is now Mary Smith, my cousin Margaret Damon, Bud Harmon's younger sister Mildred, and several others. We played a lot of sports after school. We generally played on the field that was the old cow pasture that was at the end of Central Street and Brown Street. We played baseball and football there. We also played at the Percy Rideout playground on Laws Brook Road. Percy Rideout who was killed in World War I; he was the twin brother of my high school English teacher, Gertrude Rideout.

We played hockey on Warner's Pond primarily, skated also on Hatshop Pond now Kennedy Pond. There used to be an ice house on Hatshop Pond. It disappeared about the time of World War II. I don't how many people remember it, but it was a very active ice house. They cut the ice on that pond.

In the period before the first World War I'm told my father was an ice man around Concord. A lot of people remember him because he was just a very likeable person. Everybody knew the ice man. He then joined the Army in 1917 and was in several battles in France and was wounded, and thereafter was very active in the American Legion. He always played Santa Claus at the Legion's Christmas party. He was a leather salesman. He worked for E.R. Nash Company on South Street in Boston and he bought the business in the early '30s. But he lost it during the depression and worked for the Cambridge Rubber Company. Then in the '40s he and some friends formed Seal Tanning Company and the Seal Sales Company and that was what he was with until he retired.

We had a lot of close friends. A large number of children my age lived down around Central Street, Francis Street, Prairie Street, Chase Road. Jim Condon still lives in the house he grew up in on the corner of West Street and Main Street. Woody Blocher who was in our class lived next door to him. The Harmons lived on Commonwealth Avenue, and Ed O'Neil and his brothers lived in the White Row, and Elizabeth McNally and her brother lived in the Green Row. So we got together skating on Warner's Pond for example, playing hockey, swimming at Libby's Beach over on the north side of Warner's Pond, where Ralph Gerow lives right now.

Of course, we were always very active in the Boy Scouts, most of us. The West End Land Company had graciously let the Boy Scouts use an island in the middle of Warner's Pond and we camped there a great deal. We built a cabin there. I have a number of notes about carrying bricks from the mainland over to the island or pushing them across on the ice to the island and then carrying them up to the site of the cabin in the summer time.

We had some wonderful Scout masters. Some of those I remember include Huck Graham, Sarge Rowen, George Rowen's father, Dr. Dow, Jim Denton, Horace Fletcher. We went through them at a pretty good rate. We had one or two a year. We went on a lot of hikes as patrols. We did a 14 mile hike, we did tests together. We went to Fairhaven Bay, went to a place we called the Junipers over on Old Pickard Road at the boundary of Concord and Sudbury. We generally had an awfully good time in Scouts.

In 1937 there was a Scout jamboree in Washington and several of us wanted to go to that. Those that I remember were Bill McCarthy, Bud Harmon, my cousin Bob Damon, and me. We worked for about six months to raise the money to go. We did all kinds of things from cleaning cellars, raking lawns, weeding gardens, washing windows. We generally got about 25 an hour and as it turned out that required about eight hours of work a week for about six months to save the $50 we needed to go to Washington. We took the train out of Framingham and went down to Union Station. Our camp site was just across the Memorial Bridge about where the Pentagon is now. We set up our tents and stayed there for a week. We had a big convocation. It was quite awe inspiring to see about 15,000 or 20,000 Scouts in one location. I remember standing out in the sun at 950 for over two hours waiting for President Franklin Roosevelt to drive by at 35 miles an hour waving to us all. We did a great deal of trading with boys from all over the country. The Waltham Watch Company had given us neckerchief slides with watch faces on them, and I remember trading them with boys from New Mexico and Idaho and Maine. It was just a wonderful experience.

Two years later Bud Harmon and I went to the World's Fair in New York City. We stayed with my uncle who was in the Navy at the Brooklyn Navy Yard at the time, and we took the subway over from Brooklyn to Queens to go to the World's Fair. Some of what I remember was the Unisphere with the city of the future model, that was exciting, and the RCA television exhibit. When I was in graduate school ten years later, I had to fix one of those television sets up for an experiment for the students. I remember also Tommy Dorsey's band, Dick Haymes and Helen O'Connell singing. It was generally an exciting time for both Bud and me. We arrived back in Boston, set aside our train fare out to West Concord, bought an ice cream cone, and I arrived home with a dime in my pocket. I kept diaries for a few years during my boyhood in the '30s. Some of them are better than others. The 1933 one I think I lasted through February or March although I generally put in the holidays later. I had one in '34 where I did somewhat better up until about August, and '36 and '38. So it covered from when I was about 9 to 15 years old.

February 9, 1935.
Jumped off hen house roof. Threw snowballs. Went to see Flying Yankee, a new streamlined train. Went to Harvard Observatory to hear lecture on the Earth, Moon and Radio. Looked through 15 in. refractor telescope at the moon. Also one in yard not so big, about 5 in.

April 15, 1935.
In afternoon rode on bike to S. Acton center, Maynard center, Pickard's Farm and all around town with Jimmy Condon.

Wednesday, February 16, 1938.
After school I went skating with Bud. We were skating around when we saw that someone had fallen in. When we got closer we saw that it was Charlie Harmon.
Bud and I raced like hell and Bud went in after him while I kept busy pushing the kids back. Mr. Pago fell in trying to get them. When Bud had Charlie, Betty McNally held my feet while I pulled them out. Boy, some excitement.

Wednesday, April 20, 1938.
I went over to the island in the morning and started work on a bridge. Terror (Ed O'Neil) and I got it about half done. In the afternoon, Bud and I raked leaves for Aunt Alice and got half a buck each. Then we came in and read photography magazines. After supper, I went down to Higginsville. We had a good game of hide-and-seek, then we had a race, 5 times around the block- Frances Street, Prairie Street, Chase Road, etc. I came in a close second, very close. Just under 2 miles - 1 5/8 mi.

Tuesday, September 13, 1938.
After school, I got my bus ticket straightened out, had a meeting of the orchestra, repeated a Latin test and got 85%, went to a meeting of the "Voice" staff, did the reports for my summer reading and went to football practice. We had a scrimmage with the 1st team. I got home at 6:15, did my magazines and homework by 9:30 and listened to B.G. and Hal Kemp 'til 10:30.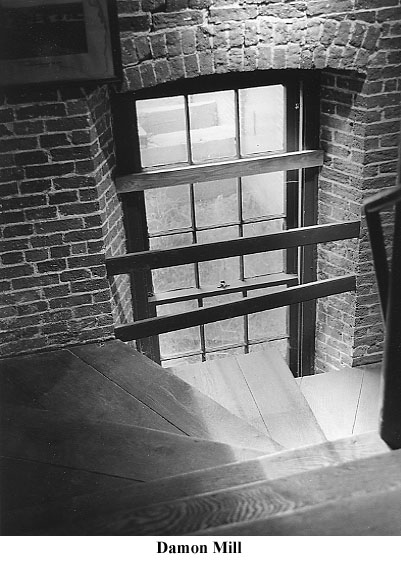 On September 21, 1938 was the day of the famous New England hurricane. My diary says "Wednesday, September 21, 1938. After school I went to football practice, and what a practice it was. The wind was blowing so we could hardly stand up, and it was pouring. When I came home, the car couldn't get up Main Street because a tree was down. About 6:00 we had a real hurricane. One of Veno's chimneys went down and both of Foley's. (Foley's was next door and Venos was down by Conant Street.) Four of our trees, one of Veno's went and the exhibit across the street fell over. The light and telephone wires are down too, so we use candles. All the town power is off. There are at least 50 cars out front, as cars can't get past here to go to Maynard for all the trees are down. It lasted till about 12:00 p.m." So that was an exciting time, and for the next several months, my brother Henry and I chopped or sawed and split wood.

We had a real unity of people in West Concord. I don't think anybody disliked anybody. The Boy Scouts was an example of the kind of group feeling we all had for being together.

I wanted to join the Scouts. When I was 12, my birthday was on a Wednesday and I joined the Scouts on Friday. But before that I had wanted to join the Scouts, and I was too young and there were no cubs yet, so I formed an organization called the Society of Science (SOS). It had quite a number of members, Woody Blocher was the president, Henry Harmon was the treasurer, I was the secretary. The members were Francis Ahearn, Carl Anderson, Jim Condon, William Delfino, Mary Loughlin, Patricia Gerow, Priscilla Gerow. I've got the minutes of seven meetings from January 1934 to October 1934. As an example, "The fourth meeting. The SOS studied Mars. Everyone except Carl Anderson, Walter Murray and the girls were there. Refreshments were served. The meeting was held at Richard Damon's house Friday, May 18, 1934. The treasurer report said we had 70 cents. Respectfully submitted by secretary Richard Damon."

Mr. Stone was the minister at the West Concord Union Church at that time. I didn't have much to do with him because that was for people who went to church; I was still in Sunday School. I remember some of my Sunday School teachers, for example, Brick MacWilliams, Clarence Manter, Bill Robus, Lillian Miner. We went to Sunday School almost every Sunday along with many of my friends, my cousins Bob and Margaret, the Harmons, the McCauleys from Francis Street, Paul Boyd. We had a good time in Sunday School, and then as we grew older there was the Christian Endeavor which met in the evenings. Basically it was the youth organization. I recall that in Christian Endeavor we took at least one trip to Mt. Monadnock for one day and we had parties together, and it was quite interesting.

When I got into high school, we began to have parties without Christian Endeavor or scouts or anything. We had a group of anywhere from eight to a dozen or so of us, it varied by the week, who got together in each other's home almost every Saturday evening and listened to "Your Hit Parade" and danced and talked, had some light refreshments. It was a good way for us kids to be together and have a good time.

I always had a job. Starting when I was about 10 or 11 years old, I had a magazine route, Saturday Evening Post, Ladies Home Journal, Country Gentlemen, and then I graduated as I got to about 15 years old to a newspaper route which was the Boston Herald Traveler. I would pick the papers up in the morning (the Herald) at about 6:15 or 6:30, and my route went up Commonwealth Avenue to Assabet Avenue, a shortcut across to Barrett's Mill Road, then back down Commonwealth Avenue out Laws Brook Road, Conant Street, Main Street, and I even had a customer over on Harrington Avenue. I delivered at 6:30 in the morning and I met the 5:12 train in the evening for the evening delivery (the Traveler). At the time Bud Harmon, Jim Condon, and Herb Blodgett all had routes also. So we would meet twice a day like that picking up our papers and sorting them out and folding them. I delivered also on Sundays. I delivered typically about 25 or 30 papers in the morning and about 60 in the evening and about 60 or 70 on Sundays, and I made $6 or $7 a week. I got three tenths of a cent for each paper. The paper cost 2d in the drugstore, and I charged 15I a week so I made 3 a week for each delivery that way. I also collected 12 a week for insurance and I don't know what the customer got for that, but it was a life insurance policy. The newspaper was selling the insurance but it had nothing to do with the newspaper route. My boss came around once a week and he would collect from me. I would either give him the money or the dateline from the newspaper and if somebody didn't pay me, I lost. During the depression there were a few who led me on a few weeks. I learned human nature and I learned accounting.

Then I left that-to go to work at a filling station, an Esso station, on Thoreau's bean patch at the corner of Route 2 and Walden Street. The proprietor was Mr. Dunn. I would pump gas, fill radiators, add oil, repair flats, lubricate and change oil. I got 25d an hour. During vacation times I worked as much as 80 hours a week, and during school times it would be more like 40 hours a week. I rode my bicycle down there and back.

I left there in the spring of 1941 to go to work for Adams and Bridges, which was a classical grocery store in West Concord across from the post office. It had the large pieces of cheese which I got skilled at cutting off a half pound when somebody asked for it. It had a cracker barrel. The canned and boxed goods were all up on a shelf to the ceiling, and we used a clamp on the end of a long stick to pull it down for the customer. The customers didn't serve themselves, they had a clerk serving them and so I would get what they wanted and then add up their bill on the brown paper sack in which they took their goods home. The thing I liked about the job was first of all I only worked about 60 hours a week instead of 80 and I got paid $17 a week, and they had delivery and I got to drive the car. A video store is there now, right next to the Hay shoe store.

Calvin Damon who was born in Amherst, New Hampshire moved to Concord in 1834. He had come by way of Andover and Framingham and bought the mill at the site where it is now located. He ran it successfully as a woolen mill. He died in the 1850s in his early 50s, and his oldest son Edward, who was then 17 left school and came back to run the mill. He was at Philips Andover. And at 17 he did so successfully. About six or seven years later in 1862, the mill burned to the ground. Before it burned we have a map, a survey done by Henry David Thoreau showing the old mill (the wooden mill) that Calvin and Edward owned. In 1862 Edward rebuilt the mill of brick, five stories high, and subsequently added on one story and a couple of wings since he built it. In the Social Circle memoirs it was stated that when Edward was building the canal he was accused of spending too much time building it, but he said he was going to do it this right "so my children don't have to do it again." My greatgrandfather was a member of the Social Circle along with Ralph Waldo Emerson and others. He ran the mill again successfully with various names and partners until into the 1890s. In 1893 he took in his son Ralph as president and Edward became treasurer and chairman. At that time Edward was also made president of the Concord National Bank. However, he had a mortgage on the mill at the Middlesex Institution of Savings, and in 1898, they were unable to meet the mortgage and the bank foreclosed. It was then sold to another woolen company (Strathmore Worsted) that ultimately became the American Woolen Company, and they moved most of the equipment out of that mill up to Maynard where they operated for many years.

The Damon mill ran as a textile mill until the early 1920s, about 1922, which was when the equipment was moved out. Then it became a warehouse for the A & P and in the early '30s, Jack Lord of Stow bought the mill and made it into an apple cold storage plant. He ran that until 1970. It was a busy place, there were a lot of trucks full of apples pulling in all the time during my youth. A number of people around here worked there. In 1970 Jack Lord sold it, and it went through three successive hands until finally in 1977, Bill Sullivan who was my next door neighbor at the time told me that it was going to be up for auction soon. I had just been looking at an apartment property that I might purchase, and it had just fallen through so I happened to have a little bit of money. We got together and Bill propositioned one of the previous owners to take back a mortgage on it. So we acquired the mill with caved in roof, the top two floors decayed, all the windows broken, the north end of the building walls were falling in, it was quite a mess. Anybody in their right mind would never have considered it. But we both loved it. I had been down there three or four years before that taking photographs of the architectural details because it was clear it was going to go.

We had a deep desire to make something of it and it happened, although there were some awfully touchy moments. Bill just worked terribly hard, he worked six days a week, twelve hours a day, he did everything from cleaning out the muck in the cellar and canal to doing the creative planning of what we could do with it. We started out just getting people in there for warehousing. People like Data Terminal Systems, Ecos which is run by Dave Delporto and his wife Elva, Ken Erickson who made exhibits, Glen Olsen son of Ken Olsen was there with the Moose River Pitchfork Company for a while, Chuckie Harmon was doing house insulation, Don Spigarelli had Hybrid Technology Corporation down there, Pat Thornton was an industrial designer, Nashoba Winery with Jack Partridge, and Chip Carpenter who made custom furniture. It was an exciting time but it did take us until 1984, seven years, before Bill Sullivan finally put it all together, got enough people to commit themselves to purchase condominiums or long term leases, and we were able to get the financing to renovate the building.

There were some times when we were concerned. It took some more transfusions of money and time and effort and we didn't think it would be that long. It has been very satisfying. I understand there are about 300 people employed down there now in 20 or so different companies. It's a lot of satisfaction.

The Damon name continues with the complex. Bill suggested the name of Damonmill Square, and it was very nice of him and people seem to have accepted that.
Mounted 21st March 2012; .mp3 audio mounted 29th June 2013 rcwh.