Gladys Clark

Interviewed on April 12, 1981
Age: 88
Concord Oral History Program
Renee Garrelick, Interviewer.
Click here for audio in .mp3 format
Education in Concord.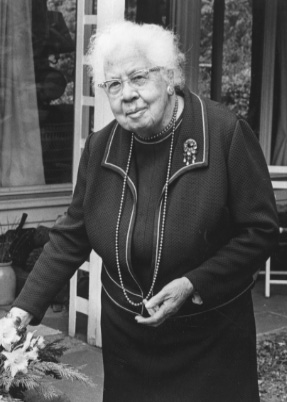 Originally our schools were based on the education to be found in England. Our settlers were people who lived in an area of England which had all the advantages of the education there. It was natural that they wanted their children to continue that same sort of life here in America. So a school was started in the very early days which was called The English Latin Grammar School, in the form of the old English Latin grammar schools. This was in the early 1640s.

The original schoolhouse was situated on Lowell Road about where the Masonic building stands and is now on Bedford Street, that little old red house. It's much larger than the original building as it stood on Lowell Road. In order to be admitted to this school, a child must be able to read. The reading was taught by the dame in the dame school. That was a group of women in various parts of the town who would take the children of the neighborhood into their home and it is exactly what was done in England. Therefore, here in America the same procedure was followed. A child must be seven years old and able to read in order to start this English Latin Grammar School. Latin and English were the subjects that were stressed and it was primarily for the boys so that they would be able to continue with their education at Harvard. But then it wasn't long before others were admitted, those that would not be following in their higher education, and girls finally were admitted.

In this school, morals and religion in the form of prayer was taught. Every session began with a prayer and it ended with a prayer. Morals were very very strongly accented. Of course, Latin, grammar and Greek were the essential subjects. Mathematics did not come into the schools until a child was fourteen, quite the reverse of the way our education today is operated. Today mathematics begin at the very beginning of the entrance into school and it seems that English is taking a back seat. And Latin has just been knocked out. That of course was the foundation of the English language and was recognized so in the early days.

And morals and discipline, it's amazing that discipline had such a strong bearing in the schools in those days because singularly it was very difficult even in the high school to keep a teacher or to keep the principal of the school. And we have always heard of all the difficulties encountered.

In 1687 it was decided that education should branch out and more should be included and that town support should be given for these schools. And so it was soon after that we find the Latin Grammar schools located in three different places in Concord. These schools were about where the town hall is, one on Lexington Road, and I'm sure exactly the location of that but I think it was about where the present place where they keep the cannons, the guns, and another one where the library is. Well, that was about 1781 that we had those schools going.

One interesting thing was that the writing was done with a quill. Steel pens were not available. The quills were sharpened by the teacher. The child took his own quill to school and the teacher sharpened the quill for use. That's how we got the word "penknife", it was a knife that was used to sharpen a quill pen. Latin and accent on grammar continued to be the essential things that were taught along with Greek.

In 1799 it was decided that the education should expand beyond the centers of town and so the district schools were started. These were finally centered so that by 1817 there was a school in each of the nine districts of the town. These districts were operated entirely by the people of that district. The taxes were paid directly to those schools, the people of the area in which the school was centered had control, over the school. They had to pay the salary of the person who was teaching, supply the materials that were used, supply the wood and see that the building was kept in order. The superintendent of schools of the town was quite often the minister and supervised all of the schools but each district was responsible for that particular school.

As far as the subjects went, it was agreed that practically the same subjects were to be taught in all the schools but again it was English, reading, writing and spelling. The teachers were paid a very small salary but in those days, it seemed to be sufficient, usually about $5 a week, then in high school it was $6 a week or sometimes $7. The principal of the high school, I believe, was paid about $800 a year.

The discipline continued to be the tragedy of all the schools. Teachers refused to stay more than one year in most cases. They were usually girls, practically always girls who lived in the area in which they taught, so there again it wasn't the easiest thing for the teachers or for the students to be so closely tied. But they were all wonderful women who undertook this work. Some of them remained until the later days even when I started school.

Then came exhibition day. Instead of examination it was called exhibition. Exhibition was an examination of what had been accomplished during the year. This exhibition day came early in the year. I'm going to tell what was presented at some of the schools and this was March 16, 1861. This exhibition came early in the year because as soon as spring had come and the ground was able to be worked, the boys were always out on the farms and so school did not keep too late in the spring. The exhibition of the high school was an order of exercises, a remark by the chairman, and a prayer by Grindall Reynolds. Then came remarks by the superintendent and I think at that time it may have been Mr. Alcott. The high school sang a song, "All the bluebonnets are over the border; March, March, mothers and grandmas; Come from each home which stands in our border; March, March, fathers, and grandpas; Now young America waits in good order; Here is a flower show grown under winter snow; Ready for spring with her sunshining showers; Here every blossom grows, shamrock, thistle, and rose; And fresh from our hillsides the pilgrims mayflowers." This of course was typical of the songs that were sung and especially at the time of the war. It was just the beginning of the Civil War "All the bluebonnets are over the border".

Now we have the intermediate school and here again for their exhibition, they sang a song, "This is Our Yearly Jubilee", a recitation "Then and Now" and they always had these sad sad things, a recitation, "There is Areba who's name is death", they always had to get something in like that. Then of course, there is that "discipline do good" recitation. Then because the Irish had come into Concord we had a recitation, "Shamus O'Brien" which of course was very wonderful because it took in that element of our town, then came an extract from "Walden".

At the east center primary school, we had Miss Jane Hosmer for the teacher. Miss Jane and Miss Abby Hosmer lived on Lowell Road in that house which is just over the bridge or near the bridge and they were wonderful wonderful people. I think everybody who lived in Concord or went to school in Concord even until the Hosmer girls were in there late 80s finished their education with the Hosmer girls, Miss Jane especially. She taught Latin and Greek right up to the very end. They were just marvelous people.

Anyone in high school who was failing and could afford, of course they didn't charge very much for their services, or anyone who was going to college always went to the Hosmer girls to get brushed up in their education. So back here in 1861, Jane Hosmer was teaching at east center primary school. And she had this song for her exhibition. "We are little flower buds; the little classmates" and I can just see how Miss Jane was making those people so happy. I knew her very well way back when it got to be 1915, 1916 or maybe into the '20s, and it was always a happy day for me to visit there. It seems that my greatgrandmother and the Hosmer girls mother were inseparable friends and I have the chair which my greatgrandmother willed to Abby and Jane's mother and then it went to my aunt and now I sit in it.

The north center primary school is where Miss Susan Goodall taught. I don't happen to know anything about her. And here she had a song, "Come and Join Us Dear Companions" and a recitation "Contented Life". Oh, that they might have things like that today! And then next was "Marion's Dream" then "Across the Rainbow" and a recitation "We Are Seven" something which I have taught all my life up until these very last years of my teaching even right here in Concord, I used to read that poem "We Are Seven". It made such an impression upon me when I learned here in school that I happened to be wandering through a churchyard one Sunday afternoon in Conway, Wales and went into the church and there was a baptismal service and I couldn't understand anything that was being said in their Welsh so I wandered out into the churchyard. And there was seven little crosses and I said "Oh, We are seven!". Sure enough this was where the little cottage was, where she sat and ate her porridge up and here were the seven little graves. It made such an impression upon me that when I was teaching I continued to read that poem and show the children the picture of that graveyard and the seven little crosses. And see how many years that has gone through life from 1861 until 1980, goodness me.

And here is a very appropriate song they had "Cleanliness". I don't know if we need to stress that today or not but I think there were times in those days when they did have to. Then "Willie and The Apple Tree" and of course, that was a fun poem "Willie and The Apple Tree", the children should enjoy the apple tree more today. Then "The Ants", and here comes nature again and then of course, comes the religious part of their schooling, a recitation, "Jesus, Tender Shepherd, Hear Me". I'm glad Miss Goodall carried out the instructions of the early days to close things with a prayer.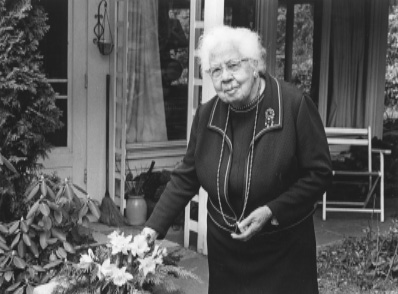 Next we come to the west center primary and Miss Sarah Richardson and she continued even into my day, not as a teacher but she continued to live very well and comfortably and honorably here in Concord even into the 1920s, I'm sure it was 1920. And her song "Vacation Days", "Boston Boys and General Howe", she brings in the history which had transpired not too long before. Then the song "Gentle Annie" and "The Pilgrim's Progress" a story from the "The Pilgrim's Progress", a recitation "Minutes" which probably emphasized the importance of time. Then the next recitation "The Union" and here again we get the history which she was stressing. And finally ending with a song.

And next we have a recess and then we go to the east quarter school. You see the minister and the chairman of the school board or what trailed around to all these schools on exhibition day and witnessed all of these exercises and so they had to have a little recess.

Then we come to the east quarter and I hope you people all know where these different quarters are. The east quarter is down here in the Lexington Road area, way down. And here Miss Abby Hubbard was the teacher and she begins with a declamation, an extract from Washington's farewell address. We get the history. Next you see because this is an older class is a children's geographical exercise and I am wondering just what that geographical exercise might be because I understand that geography had to wait until a later time before that was introduced. Then comes a reading "In Rome" and here again the history and geography, and next recitation is from "Evangeline" and again the geography and history play a part. Then comes gymnastics, now that is quite unusual in those days I presume to have gymnastics because of all the exercise the kids had walking to school and doing the farm chores, they certainly got plenty of exercise. But gymnastics I suppose was deep breathing and correct posture and all the sorts of things that would be necessary if they were going into the army with war just around the corner.

When I was teaching and had little gymnastics exercises to limber them up a little bit, I stressed very strongly to keep in motion together because if you are not together you will be the first man shot. You will be spotted immediately. So perhaps this was why she was having gymnastics. And then we go on with a happy little closing song.

The north quarter which was up where Middlesex School is, no it was farther north than that. The north quarter was way up in the Westford Road-Spencer Brook Road area. The teacher was Miss S. A. Brown. Now the Browns lived where the Middlesex School now is in that farmhouse there. Mr. Brown owned that whole great area where the Middlesex School is or most of that area and it was called a stock farm, so I suppose Miss S.A. Brown was the daughter of the Browns who lived there. She had a recitation "The Crystal Hunters" and the "Explanation of Cube Root". Now if anyone who lived up in the north quarter ever had a use for cube root is a question in my mind. They were farmers to the nth degree and back country people. However, cube root might have been used for some of their wood piles or manure piles or something like that but I can't imagine, but anyway that is what she taught. That just floored me whenever I found cube root up there! Evidently her father was a very brilliant man and taught it to her so she was passing on the knowledge.

Now we come to the Bateman's Pond School which was right at the intersection of Lowell Road and Westford Road and Miss S.P. Bean. The only Beans I knew lived downtown but she might have boarded out there somewhere while she was teaching. And here we see the "Pilgrim's Progress" which seemed to be acted. It was a little portrayal of "Pilgrim's Progress"; it says "Scenes from Pilgrim's Progress" so I would say it might have been a little play. Then there was an exhibition of printing, the printing as opposed to the cursive writing. Then "Dialogue of the Mathematician" so you see the cube root and the mathematician are centered out in the Lowell Road area. I just wonder how many of the people who lived in that area made use of these instructions they received. Next came writing on the board and again Miss Bean apparently thought printing and writing were very essential so that whatever they wrote could be recognized, and then a little declamation "I Love Little Pussy". I can't see "Little Pussy" going in with the mathematicians but still this is a one-room school with everything from the first grade up through the eighth grade so I suppose the "Little Pussy" recitation was for the first grade where the mathematician was for the upper grade who would be going into high school. So she had quite a bit to cover.

Then we come to the Barrett's Mill School and here we see Miss M.E. Prescott. Now the Prescotts of course lived over on Monument Street but whether at one time some of the family lived down on Barrett's Mill Road, I'm not sure because I do know that Cyrus Cook lived on Barrett's Mill Road where the Currys live now and Mrs. Cook was a Prescott. So there was evidently some tie in there that the Prescotts would have lived on Monument Street or whether they did live for a time down there on Barrett's Mill but she was teaching at the Barrett's Mill School. A dialogue "What is Most Beautiful?" then we have a geographical chart and there again shows a more advanced use of the school facilities, and then a dialogue "Metaphysics". My father went to this Barrett's Mill School and my aunt went there and my uncle, and my father became an engineer and his sister became a very expert typist and secretary and my uncle was just a wonderful, well educated, all around man and a very understanding person. So metaphysics or not, they certainly got a good education there.

Next we come to Miss Whitney at the Factory Village school in West Concord. You know there is a brook over there and that was just called the Factory Village where that brook is. And here she had a song "Little Canoe" which of course with Warner's Pond and the Lake there, "Little Canoe" would be quite appropriate. Then the song "Happy Land".

The Nine Acre Corner school had a Miss Stearns. And here we have a dramatization and a song "The Seasons" then spelling comes into play and this is the first school where we have found that spelling played an important part in the exercises. Then a dialogue "The Four Wishes", the song "The Echo" and a dialogue "The Ladder". There is nothing here that shows anything to do with mathematics or geography or history, spelling was the one thing so everybody at Nine Acre Corner should certainly be an expert speller.

At the high school we had a Mr. Shepherd, and there we have a speech by Mr. Bowers and remarks by Mr. Shepherd then a song "Farewell Ye Friends". Evidently the high school which closed the session didn't play much of a part to entertain folks. It was the end of the day and I guess they were glad to see it finish. Mr. Emerson closed the day with remarks and then the song "Auld Lang Syne". And that takes a great deal of listening to.

The high school was on Hubbard Street where the Hunt Gymnasium now stands. Mr. Eaton was the teacher and the principal when the high school was established and he finished his career my first year in high school which was 1906. He passed away at that time, and he established a very fine feeling among the students and the teachers all over town. When we had the centralized grammar school which was called the Emerson School, the high school had been built and the older high school on Hubbard Street was used for kindergarten downstairs and first grade upstairs. Again we had local people as teachers. Miss Worthly who lived on Lowell Road was the kindergarten teacher and Harriet Clark who had been teaching from the district school days was the first grade teacher.

Harriet Clark in what was the old high school and called the Ripley School, was my father's cousin. I said the Clarks have all been teachers right down through my generation. My nephews, my nieces are all teachers, I guess we don't know anything else to do but teach, but you know the word Clark means one who can read or write, a clerk is one who can read or write and I guess we followed that right down through the generations. In fact my first ancestor to America who was Samuel Clark I find that in the archives in the State House in Boston, his will when probated in the early 1600s contained his Latin books and Bibles, so you see it's just sort of a continuation through the lines. You can't change the breed from reading and teaching.

Well, anyway Harriet Clark later was the third grade teacher and she was really an inspiration to every child in Concord. Later on I found that men who had gone to school to her as a child have said "Harriet Clark, oh, she was my teacher. She always dressed so nicely with a pretty pink ribbon in her hair." A little pink bow or a yellow bow or a blue bow in her hair. She just made herself attractive for the children so that they would be happy. And she was very musical and taught music. She just impressed every child that went to her and when they became adults and if they knew that I was related they were extra good to me. The classes were large, she always had 50 children but every child meant something to her.

Well, by the time that I went to school I got through the Emerson School in 1906 so it took about six years for me to get there, and so I went to the second grade in the high school. You see the high school at that time, that building is now torn down you know, it's a parking lot, had plenty of empty rooms and so a second grade was downstairs in the high school on the side nearest the library. And I was there for a month which I think was long enough because the one thing that I learned was a poem "The day is dark and cold and dreary, and the wind is ever weary, and the lingering vines to the walls still cling, and the day is dark and cold and dreary." Well, I guess I was pretty happy to leave that dreary atmosphere and go upstairs to the third grade, and I remember that teacher's name, she was Miss Chadwick and she really brought a bright array into my life but that bright array was arithmetic which I wasn't especially found of but we had pages and pages and pages of adding, subtracting, multiplying and I guess we started a little dividing. But by that time I began to have whooping cough and rheumatic fever and everything else and I really never had a chance to learn to read because I skipped all those phonics and everything through one thing after another so that I finally landed in the fourth grade which was in the Emerson School and that was downstairs on the west side. There I had a wonderful teacher, Miss Whiting. She was young and very attractive and she never scolded and we read or I tried to read, I guess the others read and if we couldn't read why she would read the poem to us or the story to us. Black Beauty stood out in my mind and fairy stories and things went along very smoothly.

But there I learned how important it was for a teacher to wear pretty clothes. My teachers have always been well dressed but you know the same dress every day day after day and you know just how the teacher's going to look every day but this teacher on Friday went home to visit. Apparently she had a boy friend because on Friday afternoon she came dressed in a very lovely suit. In summer it was a green suit with a lavender hat and in winter it was a purple suit with a green hat and I always looked forward to Friday afternoon to see that pretty vision coming into the room and staying with me all the afternoon.

Well, by the time I got through fourth grade I didn't know much about reading and I don't know that I knew much about anything else but I went into the fifth grade which was upstairs and there I had Miss Hurd. She was the inspiration of my life really. She lived with Miss Legate at the Emerson house with Miss Ellen Emerson and she brought all the Emerson inspiration that I loved right next door to me. And she just knew that I hadn't learned all that I should have learned in the past and she just very gently let me know that I should be more careful with my arithmetic and that I should really concentrate on my reading and my spelling and she just made me realize that I must work hard. So although I wasn't too proficient when I went into the fifth grade by the end of the year, I was really where I belonged. And I had her again in the sixth grade and there I really learned what life was. She just inspired me so with stories of the Greeks and the Romans and just everything that was really worthwhile in literature. And of course that just inspired me to do everything else better because I felt I was getting a grasp of the things that really meant a lot to me in life. So that year just stood right out in my life and continued from then on to have given me a focus on that to which I must aspire and so then I went on to the seventh grade.

That grade didn't matter much and then came the eighth grade with Miss Legate and no one who was ever in Miss Legate's room could ever forget that room. Scared to death of her! She was the principal and it was always a happy day when she was going into the office and the assistant had full swing. Well, I survived but many didn't and it was in the eighth grade that one after the other of the people who had gone with me through other grades dropped back, stayed back, stayed back. And the big boys, I think they all left school about then and I saw them around town later, I guess most of them have died by this time, and I thought well, you know, they weren't so bad after all, they should have kept right on going, but oh, she was going to make perfection out of everybody so a few of us went on into high school. So through high school we continued and it was really wonderful to graduate in 1910 with people with whom I had started and gone through all the grades. There might have been ten of us who had gone through all the years together. Then when we had our fiftieth reunion in 1960 we still had so many personal wonderful things to remember.

So our Concord schools have been wonderful wonderful schools. The education here had made everybody realize that they have lived in a town that has given them the best. When I went to Normal School, I don't really know why I went to Normal School I hadn't really thought about being a teacher but I just heard that everybody who went there, Fitchburg Normal, had a wonderful time and that's what I wanted to have in life at that moment. But I found that I really liked teaching after I got into the swing of it and you know class after class I would say to myself why is it that these girls don't know this and don't know that, and they would say to me "How did you know this?" and I'd say "I had it in school." And so one thing after the other I just assimilated my work there at Normal School very very naturally because it was only carrying on the education that had been started in Concord, the facts that I had learned in school here were really above the average because I had no difficulty in just going on and finding that I knew things that the others didn't know because it had all been taught to me here.
Webmaster's comment: This oral history is based on a talk Miss Clark gave to the Concord Woman's Club in 1980. The collection includes an audio cassette of this talk; but unfortunately, it was recorded under poor conditions and is completely inaudible. RCWH.
Text mounted 28 September 2011; audio mounted 30 May 2012 RCWH