Harold Chase
76 Prairie Street
Interviewed on October 31, 1977
Age: 90
Concord Oral History Program
Renee Garrelick, Interviewer.
Click here for audio in .mp3 format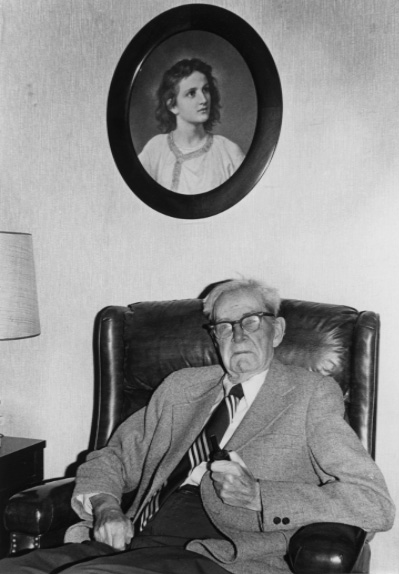 Fifty years previously on the town's 250th birthday, a man named Hapgood Wright of Lowell, originally from Concord, left a sum of money to be used for any purpose the town wished on the 300th anniversary. I happened to be on the committee for that anniversary. After much discussion of various uses for the funds, we decided on a town forest. We decided on the Fairyland as the most beautiful place in town.

This was during the Depression and the men working on the forest were employed through the WPA. Over a period of two or three years they planted 11,000 seedlings about 6 inches or a foot high. They came from the state nursery.

Bebe Hosmer was in charge of the WPA workers. He brought some black walnuts down from New Hampshire. He had a bushel of them that he was going to plant all over the forest. He left them in a pile and went off to another area of the forest, and when he came back, they were gone; the squirrels had taken them. Of course, that's the way nut trees spread anyway by the squirrels carrying away the nuts and forgetting them. One of the problems we ran into was counting the young pines. You have to do some thinning and we were criticized especially by some women for destroying trees. It's like you can't make an omelet without breaking eggs and that was our problem.

The Town Forest Committee eventually was absorbed by the Natural Resources Commission. I served on the Town Forest Committee about 35 years and was chairman most of that time.

John Fitzgerald of West Concord was a Congressman from the Boston district. He was very fond of West Concord and was very well liked. I knew his daughter, Rose, as a child. Of course, one of her sons, John Kennedy, became President of the United States. One time when we were about in the fourth grade, we were playing with matches in the area which is now Thoreau School, and we set the whole field afire and the Concord Fire Department had to come and fight it.

Chase Road is named after my uncle, who was a strawberry grower. He raised all kinds of fruits but strawberries was his biggest item. His land extended from where Thoreau School is now from the river to Route 62 including all this area where I live now.

What is now West Concord was at one time three villages. West Concord or Concord Junction was previously called Warnerville, Westvale was the area around Damonmill, and the Prison Village. My father told me a story that happened before I was born that when Warnerville was changed to Concord Junction, they had a big parade. They had a hearse with a sign across it "Warnerville is dead". Concord Junction was so named because of the two railroad lines, the Boston & Maine and the New Haven, meeting there.

There was a feeling of separation from Concord Center when I was quite young, but I think it has very much died out now. The various ethnic groups in West Concord got along very well. One thing that helped bring the young men of West Concord and Concord Center together was the National Guard. It also brought various ethnic groups together. This was the old Company I at the Armory, which is still in existence with a different name. That company has been in existence since 1775.

Of all the industries in town, the Reformatory for many years was the biggest employer. It was up until not too many years ago really a reformatory, and they had a wonderful system there that was copied all over the country. Since then it has degenerated now into a prison. Every inmate that came in was graded as second grade. With good behavior they went into first grade, and they were allowed special privileges. Those in the third grade were the bad characters and they were segregated.

The prison officials were very much a part of the community. There was also a school for the inmates that couldn't pass the eighth grade. I taught there for about a year.
[Includes a tribute to Raymond Emerson which is only on the recording.]
Text mounted 28 September 2011; audio mounted 25 May 2012 RCWH