Laurie Baker
Olympic Ice Hockey
Interviewer: Carrie and Michael Kline
Date: July 11, 2016
Place of Interview: Fowler Branch Library, West Concord, Mass.
Transcriptionist: Adept Word Management, Houston, Tex.
Click here for audio.
Audio files are in .mp3 format.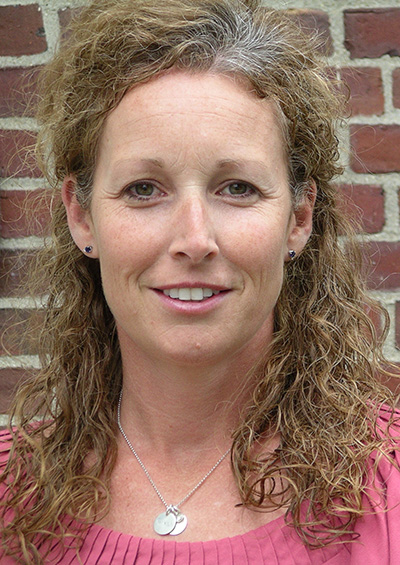 Carrie Kline
00:00:02 Okay. We are at the Fowler Branch Library in West Concord—first time for us, and that's great. Today's July 11. I'm Carrie Kline here with my husband and partner, Michael Kline, and would you introduce yourself? Say, "My name is."
Laurie Baker
My name is Laurie Baker.
CK
Once more please.
LB
Laurie Baker. My name is Laurie Baker.
CK
Great. And your date of birth for some perspective?
LB
I was born in November 6, 1976.
CK
Tell us about your people and where you were raised.
Early Life in Concord
LB
I was born and raised here in Concord. I've lived here pretty much all my life, except for about four years when I was traveling around playing hockey with the national team. And I live here with my family. My parents still live here as well. I have two kids—a nine-year-old daughter and a three-year-old son—and my husband. And like I said, my parents are here as well, and I have an older brother and his family, who are in town.
CK
Great. Talk about the people that were around you when you were young and the places that you frequented.
LB
I was—you know—like I said, born and raised here. I pretty much stayed here, and through athletics it was here. The rink was down the street, and so I had a lot of influence. My older brother played hockey, and my father, here at the high school in Concord.
CK
And his name?
LB
00:01:27 David Baker. And I just sort of fell into that athletic realm between my father and my brother sort of being dragged to different fields and rinks and whatnot, so that's how I sort of got started. And beyond that, just traveling as a young child we would go—we have a family place up in Maine. And then, other than that, it was pretty much traveling around for athletic events between myself or my brother.
CK
Talk about the Concord of your childhood.
LB
Yeah, it's been great. I mean, even—I look back on my childhood and to be able to still be here in Concord is really something I cherish. Just such a great, amazing town. I never wanted to leave. (laughs) So, like I said, I'm glad. I'm happy to be here still. But just the school systems, the people, the small town feel—sort of outside of Boston but easy to get to. It's just been great, and the support I've had throughout my career and after getting through the Olympics and the people here have been amazing. So I'm glad to still be here to have—be able to raise my children here, for them to go to the schools and experience the history and the atmosphere, the small knit community just—I'm happy that they're able to experience the same thing that I've been able to.
CK
Take us a little bit on your path then maybe winding out back here.
The Beginnings of the Athletic Pathway
LB
Well, like I said, as a small child I grew up with athletics and being here and moving on to—I did leave the high school here in Concord to attend private school out in Groton, Mass, at Lawrence Academy for the last two years of my high school career.
CK
Due to athletics?
LB
No. It was more an academic situation where I felt like I was going to get a little bit more support that I needed at the private school. The athletics did help because they did have ice hockey, which the public schools did not have girls' ice hockey at the time. So it was the best of both worlds, I guess, moving over to the private school for my last two years. And then after that, after I graduated, I went on to Providence College, so I moved to Rhode Island for college, which was great—a great experience. Loved the college and everything about it. And then traveled around with my hockey career.
Michael Kline
The college again was—?
LB
Providence College.
CK
00:04:18 In Rhode Island?
LB
In Rhode Island. Yep.
CK
So moving to a good-sized city then.
LB
Yeah. Yeah. I lived on campus, so it was great. It was sort of—you know. Again, I chose Providence because it felt like I was here in Concord. It was a very small community—not a very—not a large student population, and it felt like home. It felt like being here. Even though it was a city, the campus was very contained within the city. So it felt like a Concord (laughs) to me.
So then just traveling around. I've traveled to different countries and obviously the hockey led me to be able to do that. Finland, Sweden, China, Japan—so some great experiences being able to travel around to some different places and have those different experiences.
And then after my playing days, I knew I wanted to settle back here in the area, and hopefully in Concord. I did—I went back to Lawrence Academy as a faculty member, so I worked in the athletic office, and I coached three sports—three girls' sports—soccer, hockey, and golf. And—
CK
Of your choosing?
LB
A little bit. Yeah. They had asked me. I was primarily there to coach the hockey, but I threw in the other sports that I was familiar with just to be able to help out and to sort of give the girls some of the stuff that I knew and my experiences. So that was great. And then, to be honest, wasn't looking—you know—obviously, always looking to come back to Concord, but it wasn't the right time. But then a couple of years later, a house popped up in Concord, and I was able to buy it, and so here I am. So that was about ten years ago, and I don't see myself going too far. I like Concord.
CK
Why?
LB
Like I said, just the close community. My family's here. I just think it's such a lovely place and I, like I said, really want my children to have the same experience growing up in such a great community with great schools. It's just a comfortable feel—the downtown—the two downtowns, I should say—the West Concord and Concord. They're different in ways, but it's just great to be able to go to either and show the kids—say when I was a kid—you know. This is what I used to do. I lived here in West Concord, so this was actually the spot that I came to. Now I live on the other side, outside of Concord Center. But to relive those memories with my kids and say, "Oh, this has changed, and this is the same," or, "This is how we—how I used to ride my bike here and I'd come right by here right to the downtown." So it's fun.
CK
00:07:22 Great. I'd love to hear what you did do as a kid and how Concord has changed.
LB
Yeah. As a kid, I was jumping around. I think times have changed where you can't leave your kids out to do what I was doing. I was riding my bike downtown. I was constantly playing sports. I was following my older brother around, trying to get into his sporting events with his friends, which I think really helped me in the avenue that I took on.
And in terms of changing, I just think Concord's really been built up in terms of the stores, the storefronts, the working people who are in those stores, and I love to support them. I do most of my shopping here (laughs) in Concord in terms of birthday gifts and that type of stuff that—you know. You have these local shops, and I think I really like to support them. So you're—just more growth within the town, within the shops, and like I said, the school systems I don't think have really changed. I think they've rebuilt some of the schools, so that's changed. (laughs) But I think on a whole, the feel of Concord is the same. It's the surroundings have changed a little bit.
CK
Do people recognize you when you go into the stores?
LB
Not really, no. I mean, if they know me they obviously do, but no. They don't know me. They don't recognize me. (laughs) I like to kind of stay under the radar as well. That's sort of my personality.
CK
Really?
LB
It is, yeah. Surprisingly, yeah.
CK
I'd love to hear about your first experience in the rink.
First Experiences in the Rink
LB
On the rink? Well, I started as a figure skater, which was probably at the age of five years old. My parents bought me the figure skates, and I learned how to skate and took some classes and was working my way up, getting some patches through the figure skating realm.
CK
Patches?
LB
Yeah, like skill level patches that you would get. But like I said, being—earlier I said being dragged to the rink and to the fields I just grew to love hockey through, obviously, my father playing but my brother—you know—being able to watch him and every weekend being at the rinks with him.
CK
And his name?
From Figure Skating to Girls' Hockey and Playing With the Boys
LB
00:10:05 His name is David as well, the same as my father. And the hockey just stuck with me and it just—street hockey out in the yard. I finally said to my parents for—you know. They asked me what I wanted for Christmas, and I said I wanted a pair of the black skates. So sure enough, come to Christmas I did get the black skates, and then—so I was probably about seven at that time.
CK
The black skates.
LB
The black skates. The hockey skates. Yep. No more white skates.
CK
Meaning we're—you're changing your sport?
LB
I was changing my sport. Yep. So I took up hockey and went through the ranks. It was a—something that's changed, obviously, is how the opportunity for girls and women to play hockey. So when I started, there were no girls' teams for my age. It started at age twelve, and very lucky here in town to have a huge supporter of women's sports and women's hockey and girls' hockey is Carl Gray, who lives in town here. He's still working at the rink and he has a program called Assabet Valley and so—
MK
Hold it.
LB
Assabet Valley.
CK
Can you spell Carl? There are two different ways to spell Carl and Gray.
LB
It's C-a-r-l, and it's G-r-a-y. And so he started a girls' program here. I'm not sure how many years before I was playing, but it was pretty well established when I started playing. So I was eight, and the youngest girls' teams were twelve year olds. So when I was more proficient with my skating with the hockey skates, he was gracious enough to let me go out and practice with the older girls, just to get the feel of it and just to get involved and be there at the rink. And when I felt confident enough, I decided, because they didn't have a girls' team at my age, I played with the boys, which a lot of girls my age and before me—that's how we grew up playing—was with the boys because that's the only teams that were available. So I played with the boys eight, nine, ten years old until I was a little bit older and I could play on that U-twelve team with the all-girls. So I did both for a long time. By that time, I was playing on two teams—sometimes three teams—depending.
CK
00:12:36 What were the differences playing with the boys or the girls?
LB
Well, the boys—we actually—there was checking at that age, which they no longer do that now.
CK
I'm sorry. I don't even know what that is. Can you define—?
LB
Body checking. Yeah, so body checking where they could hit you into the boards—or we could hit each other into the boards, I should say. And the girls game—there was no checking. No body checking but it was based more on skill. There was a lot more skating and skill work. And so those are differences. I think they both had a huge impact on my career because, one, playing with the boys and experiencing the—sort of the rougher aspects of the game and then, two, being able to not have that with the girls but have to work on more of your skill. So those two things I could mesh together.
CK
Your skill?
LB
Yeah. Your skill work. Your stick handling, your shooting, your eye for the game, being able to see your teammates and make good passes and that sort of stuff. So those two came together, and I feel like I became a more complete player because of that.
The Influence of Carl Gray
CK
I'd love to hear more about Carl Gray, too.
LB
Carl. Yeah. Carl was just—he had two or three daughters. Had a son. And I'm not sure exactly how he got into this whole realm of the girls' and women's hockey. But he's wholeheartedly into it. He's still into it. I want to say he's probably in his late seventies—yeah, probably late seventies, so he's still up at the rink and just providing a great opportunity for girls/women to play hockey, like he did back when I was playing. And big supporter. He's had some really great players come through his program. He still does. Probably even more so now than when I was playing. Heading to Division I colleges and making a national or Olympic team—he has quite a few players go on to do some really great things for some different teams.
CK
00:14:57 He's had other Olympians?
LB
Oh, yeah.
CK
From Concord?
LB
I'm not sure. Well, yeah, I should say he has. He has. Yeah. Oh, not from Concord but on his team. So the girls that play on that team come from everywhere. They're not just from Concord. I should have maybe said that. They come from all over, sometimes as far away as Connecticut. Sometimes they fly in for the weekend to play. So he has girls coming from all over pretty much the United States—probably the Midwest to the East—coming to play for his program.
CK
Here in Concord.
LB
Here in Concord. Yep.
CK
That's an amazing feature for a small town.
LB
Yeah. And like I said, he's still doing it. (laughs) Yep. That's amazing.
Drawn to Hockey
CK
Something about this sport really gripped you then from early—from the black skates.
LB
Yeah. Yeah. I'm not sure if it was the speed, the—like I said, the skill. It was just something about the sport that really drew me to it, and I would say it's the competitiveness, I think, maybe. As much as I am sort of humble and sort of don't want to come across as that type of aggressive person, I think deep down, I really like competitiveness and being a competitor and winning.
CK
Of course, figure skating would have enabled you to be a single or a duo victor. Instead, you chose a team sport.
LB
00:16:42 Yes. I never did an individual sport, and I think I really like that team aspect. Being around others who love the sport, who are competitors, meeting new people, and working towards a common goal is always something that I have really taken in, especially through the national Olympic team. It just—it really brought that team aspect to a fruition in terms of like being able to see like this is really like a team, and it's people who have a similar interest and have a common goal, which you don't get a lot. People seem to have their own goals, which everybody does. On a team you have your own goals, but I think the bigger piece of it is that when you're on a team you have—it's one goal.
CK
Almost one body in a sense.
Olympic Team Mentality
LB
Yeah, it is. I look back to 1998 at the first Olympics for women's hockey, and our team was sort of that one body. We became the one body, and I'm not sure—you know. I went on and played in the 2002 Olympics as well in Salt Lake City, and I don't feel like our team was one body. And that year we obtained the silver medal, and I look back and I say—you know. Thinking to myself—the differences with team and how the '98 team was different from the 2002 team, even with some of the same players on it. That was very interesting.
CK
Talk about that—everything you can remember about Seoul and '98.
First Womens' Olympic Team in Nagano, Japan
LB
Well, it was Japan. It was in Nagano. Yep. I don't know. Like I said, it was—Japan was—like I said, it was our team. We felt like it was one body. We all had a common goal. We were all in it together. We all knew what that goal was. We were on the same page about how to obtain it and to be selfless and to—you put everything out there for your team and for your country, ultimately. We knew that it was for the country as well, so—and then to look back, in 2002, I think, being here in the United States was hard. It was a real big challenge in terms of the comfort level of being able to do different things and know you are and feel comfortable was sort of a distraction, and I think a lot of that—you know—a lot of stuff leading up to those games was difficult. It was difficult. We had some different players, who hadn't experienced winning a gold medal before. And we had some younger players—younger players than we had had on the '98 team. And it just didn't come together as we had hoped. We had a great team. We probably had a better skill team in 2002 than we did in '98, but, again, we just didn't—we just didn't come together, I think, as we had hoped to reach that common goal.
CK
I can't imagine either the joy or the disappointment. Is that the word to use?
LB
It is. You want to be joy because it's such a—even a silver or bronze medal is great, is an accomplishment. But you also do have a sort of a level of defeat because you've worked so hard for so many years for this (laughs) and for your country. And the hours you put in, the hard work you put in, the traveling you put in, the sacrifices—you want to come out on top.
CK
00:21:12 What are the sacrifices?
Olympic-size Sacrifices
LB
Well, I think as you go through your career, you have different sacrifices. But at the younger ages, it's not being able to go to the movies on Friday nights because you're at practice. Or not being able to go to the football game with your friends because you have practice. At the younger ages—more that social piece. I think as you get older and you're after college and you're at that age where you could be working a full-time job and making an income, you sacrifice to not do those things and to figure out how to live on not a large income. And to just dedicate your day to just training and to—whether it be the actual physical part of practicing the sport or the off ice, so to speak, that we call off-ice regimen, which includes being in the gym and weightlifting and cardio to—you know. Again, missing out on maybe going out with friends or going out to dinner with friends or being with your family or missing maybe a family event—those are the sacrifices that you have to make.
CK
Then ultimately, you get to—you're working with your team, and then you arrive in a foreign country with a completely different culture, in many cases.
LB
Yeah. I mean, it was—again, yeah. So you add that to the other stuff that you're—your goals and then you're not in a place that's comfortable. And then so you're navigating that. But again, I think our team did that wonderfully in 1998 in terms of, okay, we're here together, and we'll navigate together, and we'll figure out what we're going to eat, and we'll figure out how to get around, and we'll figure out the jetlag and when we should go to bed and—to make sure that our bodies are prepared to play and to give it our best.
CK
Can you tell me about some of the different members of this body from the '98 team—everyone's roles and personalities?
Team Personalities and Roles
LB
Yeah. Well, we had a pretty broad range. I want to say our oldest player was probably in late twenties. Our youngest was seventeen, so we had a pretty big age range. We—I think half of the girls were from the east coast—or probably a little bit more than half were from the east coast. We had players from California, Michigan—some different places, some different states—which was great. And personalities—all different (laughs) from quiet and soft spoken to loud and crazy and everything in between. And I think that's what made us so special and be able to work together is that you had different personalities. And being able to get all those personalities to do—and to focus on that one common goal—but everybody was really persistent, and that was the objective of the whole process. And to this day, I still am in contact with my teammates. A lot of them still actually live in the area, so we try to get together to chat and meet families and stay in touch and relive memories. (laughs)
CK
00:25:16 So you have reunions?
LB
We do. Yeah, we do. We had a ten-year reunion, and so our twentieth will be coming up in another year or two. So we're hoping to get everybody together for that.
CK
From the '98 team?
LB
From the '98 team, yeah.
CK
Do you do that with other years, too?
LB
No. The 2002 team—we haven't done a reunion.
Playing Forward
CK
What position were you?
LB
I played forward—the forward position primarily the center. So it was a good—good for me in terms of, like I said, my—the skill and being able to be free. The center position you can be a lot freer on the ice and go sort of in different areas, as opposed to—you know. You have more responsibility on the ice when you're on—or I shouldn't say more. I should say different responsibilities that are more flexible and open, where some of the other positions are—this is where you need to be, and this is—on different situations, you need to be here. And so, it was a lot freer, which allowed more creativity, I think.
CK
That's always been your position?
LB
For the most part, that's been my position. Yes. Yeah. I tried a few of the others, which is great. I always tell kids nowadays who play any sport, including my own daughter, play all the positions because you get a different perspective on the game from different positions.
Sports and Family
CK
Your daughter?
LB
Uh-huh (affirmative).
CK
What's her name?
LB
00:26:59 My daughter's name is Carlie.
CK
You mentioned ages before. Remind me.
LB
Carlie's nine, and I have a three-year-old son named Ryan.
CK
And Carlie's playing sports?
LB
She is. Yep, she plays quite a few sports. She does soccer, hockey, basketball, and lacrosse right now. She's trying to figure out (laughs) which one she'll stick with. But she loves sports and is—every day of the week we have something.
CK
Has that been going on for a while?
LB
It's starting to pick up. Yeah, in the last year or so—a lot more traveling with different teams and not just staying in town. We've been traveling outside of town to play some other towns within the sports.
Transition After the Olympics
CK
Let's go back to that. I just want to hear about coming home and the transition from forward center Olympic ice hockey to coming home.
LB
Yeah. I mean after winning a gold medal, everybody's just like, oh, when you get home, when you get home, and you don't know what to expect because before when you came home you were just an everyday person in town, and you did your thing and—but coming home was interesting. It was—to see—to really see the support that I was receiving—you know—from being afar for nine months that I was traveling—didn't get back here much to see the support, but there was a banner in town. There was a parade set up. There were some really great things—a dinner event that was set up when I got back. So just to be able to come back and see the support—that Concord did recognize and was rooting for me was really special to see. And it, for a while, changed life a little bit where you were—like I said, when you did walk into a place, people would probably recognize—would recognize me. Nowadays no, but—so it was the support—really being able to see the town support of my journey was great to see.
CK
I literally cannot imagine coming off of the ice and just being a townsperson and the change in your own goals, because you had been so singly focused.
LB
Right. Yeah. Again, it was just good to be home. It was good to see people because you don't get to—you don't get to see a lot of that when you're training and working hard and traveling and living out of a suitcase and being away from home. So it was a different focus, but it was sort of the celebration part of the journey, which was great. It was a big relief, obviously, to do what we did and then come home and be able to celebrate that with the people here in town.
CK
00:30:17 And when was that?
LB
In 1998.
CK
Oh, in '98. You're talking about the first return.
LB
Uh-huh (affirmative). Exactly. Yeah.
CK
But then you went off again and kept training.
LB
Went off again, kept training, and didn't get the same reception (laughs) the second time. But I think that was expected whereas, like we talked about before, even winning a silver and a bronze medal is a great accomplishment, but it's really—it's not like winning the gold. The gold really just puts, I guess, the icing on the cake for what you put into that journey. And I think people—you know—people like to see gold medals, so—
CK
I wonder if you'd won the other medals first and then the gold—
LB
Right. Yeah.
CK
—if it would be easier on everyone.
LB
Yeah, I don't know. I don't know.
CK
So talk about your ultimate transition from being an Olympic athlete to returning—when and how and how did that feel?
LB
Yeah, so after 2002 I decided that that was going to be the last go around for me. Just the toll it takes on your body and, again, making sacrifices and I knew it was time to sort of close that chapter of my life of playing hockey and traveling around and being away to then go on to get a job and be in what you call the real world, I guess, and to start that chapter. And it was great. I'm glad I was able to do it that way and to be able to see that it was time for me to move on. I had the great experiences. I wouldn't give anything to change those. I wouldn't take any of that—anything that I did back. But just to—okay, this is it. This chapter is done and to move on to the next chapter, which was becoming a mature adult and getting a job and then hopefully having a family one day. So that was my—that became my focus. I still want to stay in good shape, which I still try to do to this day. I keep myself in shape. I have to keep up with my kids. (laughs)
CK
00:32:49 How do you keep in shape?
LB
I enjoy running, going to workout classes, making it more social. I like the running by myself usually—but then to attend some workout classes with some friends to get the social piece and see other people. (laughs) It's good. But yeah, so that's sort of where that—like I said, '02 is where the career ended. And then just looking—getting into the job and to—
The Dream Job
CK
The job?
LB
The job of—what I always wanted to do was become an athletic director. And so that dream came true as well where I've been an assistant athletic director for the last twelve years. So being able to be around athletics and to give back—for me to give back what I learned and experiences that I had—to be able to help young girls and boys feel like they have something to give and they can set goals and achieve—strive to achieve their goals. So that was my main priority. So that's why I ended up coaching.
CK
Coaching?
LB
Coaching the ice hockey primarily but the other sports at the—at Lawrence Academy, I coach the soccer and the golf as well. And I moved on to another school where I just coached hockey, so I coached hockey for ten years at the high school level, which was great. At the time, I hadn't had children yet, so I could really put my heart and soul in giving back and letting the girls run things by me and me give them feedback, whether it would be on-ice stuff or helping them find a college to attend to continue their playing. So those are the things I really enjoyed. And then that chapter closed with the coaching, and then I had my children, and so my focus now is on them. So I look at it as I've had some chapters, and this is like the third chapter (laughs)—to expose my kids to many things I can expose them to, whether it be sports or arts or the music. That's what I've been trying to do the last few years. (laughs)
CK
00:35:14 Arts and music, too?
LB
Sure. Yep. I've been trying to get my daughter to play the guitar.
CK
Why?
LB
I don't know. I just think to be well rounded and to do some different things is great.
MK
Do you play?
LB
I don't. I do not play, which I kind of wish I picked up the guitar. I like the guitar.
CK
It's not too late.
LB
Yeah, I know. (laughs)
Struggling to find Balance
CK
What do you think she would get from adding an instrument, adding the guitar?
LB
You know, I think sports can be—the competitiveness and the amount of sports that kids do nowadays—is a lot and I think it's a huge commitment, even—it's changed considerably since I was growing up playing sports. A lot of sports are year round, a couple of times a week. It forces kids to sometimes choose which sport they're going to play at a young age, which I'm not always in agreement with. I think kids need to play all different sports. But then to have some down time to do maybe some like quiet time to sing or, like I said, play the guitar, sit and do some art I think is important. I think it's important to have that balance. We're go, go, go competitive but then to be able just to sit back and relax and do something different.
CK
Down time.
LB
Not a lot of it but—
CK
I like that idea.
LB
Yeah.
CK
It's so counter to, as they say, this push for schedule, which often translates to the sports competition.
LB
00:37:04 Uh-huh (affirmative). Yeah. The—I'm struggling to keep up with it, to be honest with you, because it wasn't anything I ever experienced—the way the kids are playing sports. It's a lot higher level, I think, but they're also playing sports year round, which I never did. I always had the three seasons—the fall, winter, and spring—which I feel helped me as an athlete become the athlete that I was because of playing different things and using different muscles and seeing games that might be similar but using a different object—a puck, a ball, a stick—as opposed to your feet or your—you know. Just being able to use those different muscles and see games from different perspectives, I think, really helps to be an overall athlete. So I'm trying to do that with my kids—is to sort of keep them, as much as I can, season to season. It's hard. It's difficult. (laughs)
CK
Season to season?
LB
Season to season in terms of playing a sport in season and then dropping it and then going to the next season and playing a different sport. I think that's important for overall development, especially for a young child.
CK
Yeah. Were you saying they're more scheduled than you were?
LB
Oh, yeah. Yeah. A lot more schedules. A lot more traveling at a younger age. And like I said, there are sports going all three seasons. One sport will be—you just play every season, and then you're trying to fit in other sports, and it just—the schedules just don't sometimes match up, which forces kids to have to quit one sport at a real young age, which I don't—I'm not a big fan of.
CK
Building professionalism so young—like you say, lacking the balance of arts and down time, creative time, quiet time.
LB
Yep.
CK
00:39:27 But yet you're as experienced as they come and you're a parent. What a challenge to try to have some control over that.
LB
It is. It's been a real challenge in terms of friends are doing this, and friends are doing that, and wondering if your child going to be better because they played all year round or they played four times a week as opposed to two. It's challenging but I sort of put my blinders on and do what I think is best for the kids—for my kids.
Current Work and Professional Goals
CK
That's great. And you're still working as well?
LB
I still work. I actually am back in town at Concord Academy. I took a job there last year, so that was really exciting to get back to Concord and to work a mile and a half from my house has really been—has really been great. It's—like I said, being able to walk down town for lunch and still experience the town every day as opposed to just a couple times during the week—just to be here and to be with the community and to be at a great school, such as Concord Academy—I feel very lucky.
CK
Great. What are your goals for that position or goals for the future?
LB
Yeah, just to—you know. Concord's always been a school with very high academic and very high arts and very good athletics. It's one of those things where I think their—we want to try to have a little bit more of a balance in terms of sort of building up that athletic piece. Again, the arts and the athletics, I think, is important and to be able to have those two things on an equal playing field, I think, is going to be a great thing, especially for—at a school such as Concord Academy.
CK
Are you working with girls and boys?
Lessons Learned From Being Part of a Team
LB
Yep. Girls and boys. You know. Coaches and the community and getting people more excited about athletics and to—athletics has a component to it where I don't think people sort of know—and we talked about the common goal in being able to work with others to reach that goal, I think, is a really important life lesson. I think when people join a team and then look back years later, I think that's one of the things that they take away from their team experience—is the fun of being with others and working together, I think, is—like I said, it's something that I took away from being on a team, but I think others do as well.
CK
Fun and translatable to succeeding in so many ways.
LB
Uh-huh (affirmative). Yeah. And just learning you succeed and you fail and learning the failure part not only as an individual but how to learn to fail as a team as well. And that it's not—you know—one person's fault or three people's. It's a team that wins and fails together. I think it's an important life lesson.
CK
Survive that.
LB
Uh-huh (affirmative).
CK
Wow. This has been wonderful.
Most Memorable Game
MK
Can I hear about the most memorable game you ever played?
LB
Well, you're probably not surprised but, obviously, the most memorable game was the gold medal game. Just we had—we played against Canada—team Canada—and we had played them—I believe it was ten times previous, and we had won five games, and they had won five games. And so this was the one to see who, obviously, was the better of the two teams. And it was just an amazing game—back and forth. It ended up in a score of three to one, where we, obviously, took the victory. But it was just a really—obviously, being the gold medal game, it's emotional. It's exciting. But there was no other game like it. It was—you were on your toes. There were penalties at the end of the game. There was—
MK
Penalties?
LB
00:44:31 Penalties. Yep. So somebody did something that they weren't supposed to. It was against the rules. They go to the penalty box, and they play down—they play a man short or a woman short—a player short—and it's a time when the other team can really capitalize and hopefully score another goal. So there was a lot of that during the game. It was a really rough game. We've always played rough games with them pretty—you know—pretty physical. And it felt like it lasted forever, especially when we were winning two to one until the very end of the game. And just to be able to come out on top and to—it was the relief of, like I said before, all the traveling and all the training and all the sacrifices. It was like that's it. It was like the end of the story. And then, obviously, receiving the gold medal, I think, that was one of the—besides the game—the highlight, obviously, of that game was experiencing that and having the gold medal put around your neck. People ask, "Well, how does that feel?" And it's one of those things that you just—you really can't describe. It's the end of the sacrifice and to the hard work and the fun and the team that you reached—you finally reached that common goal.
MK
I know you when you're playing on a team like that you probably don't even think of yourself as an individual. But somebody made those three points. Who? Do you remember who scored?
LB
That's funny. Yeah. I do remember who scored. Gretchen Ulion, who was from the North Shores scored. And then Shelley Looney, who was my line mate, scored. She was from Michigan. And then at the very end of the game, team Canada pulled their goalie to get an extra skater on the rink, and we ended up scoring. That's a typical thing you do in hockey. And Sandra Whyte, who's from Sagas, Massachusetts, scored that goal. That one sealed the deal. But yeah, it's funny because you say—you don't look at an individual—like no, I—like I'm not one of those people who remembers that stuff. Like I remember we won. I can remember the score, but a lot of like the really detailed stuff about who scored—a lot of times people laugh because—like you don't know who scored in different games. You don't remember who scored? I'm like, no. It was just—it was really just a team—really a team effort, and your mind sort of is trained to—from the time you start as a team training for those nine months, you really—your mind becomes a team and not thinking about those individual—who scored and who did what.
MK
00:47:49 Well, as a forward, you were undoubtedly often in a position to set up a score rather than scoring yourself.
LB
Uh-huh (affirmative).
MK
Is that true?
Personality of a Team Player
LB
Oh, yeah. Yeah. I mean, setting up plays and scoring—yeah. That was all part of it, and it's funny because people are—oh, how many points did you get or how many goal—and honestly, I couldn't even tell you because (laughs) I don't really remember.

MK
00:48:15 The setups are just as important as the—
LB
Oh, yeah. To me, as a player, my—I felt much better setting up the goals than I did actually scoring them. For some reason, that just—I don't know. Something about it was really—I don't know—special. It was a different feeling than from scoring the goal.
CK
Really?
LB
It was, yeah. Yeah. Very interesting. I don't know. It was just—I can't—I don't know if I can even describe it, but it was just fun to do that. It was fun to—you didn't always get the recognition. Usually the goal scorer gets the recognition, but a lot happens before that goal. So maybe that's why I enjoyed that.
MK
But you've talked from the beginning about your love of teamwork.
LB
Uh-huh (affirmative).
MK
And that seems consistent with—that seems like part of your pattern.
LB
Yeah.
MK
Wanting to see the play, set up the success rather than being the flag waver yourself.
LB
Yes, and I think I said that talking about being humble and not like—I don't like to be in the spotlight. I never have, and so I think that is true and maybe that's why. Just not getting—people don't always see the play or who set up or the last pass before the goal, and so I think that—I guess that goes towards my personality.
MK
Well, just because you're humble doesn't mean you're not competitive.
LB
Oh, right. Oh, no. Oh, no. Like I said, I was—
MK
And even aggressive.
LB
Right. I wholeheartedly have those two—the aggressive and the competitiveness—but I don't think I show it until I get into a situation, such as playing hockey or another sport. That's where it really came out.
CK
What about as being a parent on the sidelines?
LB
It's funny you say that because I—no. I have learned, I think, from, obviously, being a player myself then being a coach, I try to—I try not to say much, especially on the car rides home. I try not to say much and just let my—obviously, my son hasn't started playing the team sport competitive yet, but with my daughter I just—I try to just let it go and maybe talk to her the next day or later that day if there was something that—a critique that I have. (laughs) But I try to limit it. I really do. I'm not a rah-rah, yell, scream parent from the sidelines. I don't—that's just not my personality.
CK
That can be hard on a community—all that aggression from the sidelines.
LB
Oh, yeah. Yeah. Yep. Yeah. I don't want any attention. I don't want people looking at me because I'm yelling. But that's just my—again, that's my personality. I think, as you said, that sort of runs through sort of our conversation here—is that to be sort of behind the scene. I think it's true in my job as well. I'm an assistant athletic director, so I do a lot of the behind-the-scenes stuff that sort of goes—sometimes goes unnoticed but I like that.
MB
But makes it happen.
LB
Right.
CK
You like that?
LB
00:51:46 But I like that. Yeah. But it makes it happen. Correct.
CK
So in a sense you're a model for putting the sport before the individual or even team success and the competition and the anger that can go with it.
LB
Uh-huh (affirmative). Yeah. It's—yeah, I think through any sport you just—I guess people are different in that respect, but to look at that and then, for me, it was the sport that I love and then the team that I was on, the friends that I made, and then myself. And I think everybody's different in terms of how they see those pieces fitting.
MK
How they prioritize.
LB
How they prioritize. Yeah.
CK
You've had a chance to bond with women the way few women do, too.
LB
Uh-huh (affirmative). Yeah. It's, like I said, all different ages and all different backgrounds and it was great just to meet people from different—you know—at a young age, I was twenty when I first started in this whole national Olympic—or nineteen when I started in the whole—really being on that sort of—here's our one common goal type of team. And all different states, all different, like I said, backgrounds was really special to be part of.
CK
Really taught you or encouraged your tendencies toward support, compassion.
LB
Uh-huh (affirmative). Yep. Most definitely.
CK
Focus.
LB
Yep.
CK
Well, this has been really great.
LB
Thank you. Yeah.
CK
00:53:30 Really inspiring. And like I said, I couldn't have imagined—anywhere else anyone wants to go? Thank you so much.
LB
Thank you.
00:53:42 (end of audio)
Text, audio and image mounted 17 September 2016 -- rcwh.