Mary Soutter
684 Sudbury Road
Age 84
Interviewed June 2, 1994
Concord Oral History Program
Renee Garrelick, Interviewer.
This tape is sponsored by the Concord Land Conservation Trust through a grant of the Cultural Arts Council. Marion Thornton, President of the Concord Land Conservation Trust is also present at this interview.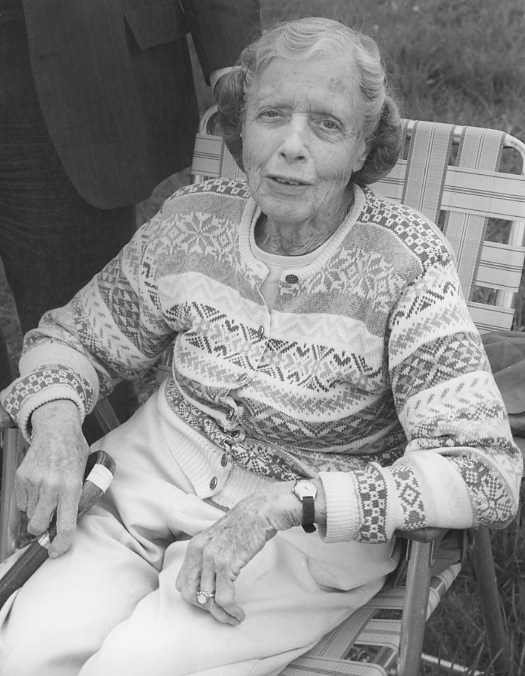 Mary Soutter - My family moved to Concord about 1908. I was born here at home. None of the land transferred to the Concord Land Conservation Trust belonged to them except the boat landing at that time. As other parcels came on the market, they bought them. All their land, about 125 acres, had been acquired well before World War II.
I have very pleasant memories as a child both on the land and along the river. I had a very interesting childhood. I love the land and I love the river. I think the field that the Trust now has is terribly appealing and I'm very fond of it. The river front is even more important to the town in many ways, certainly it is to the river as a whole. The long frontage on the river has interesting plants in it, and it is quite a long piece running from Route 2 around to the boat landing. I happen to remember in particular the north meadow at the bend of the river opposite Emerson Hospital. There is a lovely big meadow with clumps of trees here and there, swamp land and even almost a quaking bog in it with bull rushes, plants and cranberries. We used to rake the cranberries in the autumn and take them home.
In the woods there were wildflowers, particularly Lady Slippers, many, many of them, which came out around Memorial Day. Children from the village used to come up and pick armfuls of them and make entire wreaths of Lady Slippers alone. There are very few Lady Slippers left now. I don't know if there are any in that area.
My father, Henry Bryant Bigelow, was a scientist, an oceanographer and he went to Cambridge every day on the train. Later on he became the first director of the Woods Hole Oceanographic Institution which he held for 10 years, and then he went back to his activities in Cambridge. My mother was Elizabeth Shattuck Bigelow. She was a very vigorous, energetic, adventurous type of person, and also had much affection for us all. She led us in all kinds of activities in the country here. She took us rowing up the river in a row boat my father built in the attic. My father took us to the spring which was in the river just near the Deaconess Home. That spring seems to have disappeared. You used to see newts in that spring.
We had great freedom to walk or ride in the woods all around here and in Lincoln and Wayland. My family had horses and the usual other animals. They had a work horse, a riding horse, a pony, a Holstein cow, pigs, hens, chickens, dogs and cats. My father worked the land on the weekends in his spare time. It was not unusual for people who were not farmers to work the land. Route 2 knocked off part of our land. I have since talked to my brother who said Route 2 also filled in a small pond that he remembered.
In the summer the fields were planted in asparagus, and sometimes squash. In the winter big snowdrifts came onto Sudbury Road. We would travel in sleighs, and the sleighs would tip and slide on the drifts, very scary. My father started with an automobile when they became available and it kept breaking down, so he went back to horses. So for several years at least through my first school years, he traveled exclusively with horses back and forth to the railroad station.
During World War II, beef cattle were put in the field on the corner of Route 2 and Sudbury Road. When they were slaughtered, the meat was put in a freezer which was located where Friendly's is now.
During my childhood in the winter, we skated up and down the river. We'd lay on our stomachs on the black ice and look below, and had picnics on the ice and fires. It was great fun in the winter. Later when skiing came in, we started skiing around the edges a bit. In the summer we used the river for boating and for swimming. My father taught us how to swim safely through the lily pads which is a very important thing to learn because you can drown. We really had a wonderful time here.
It took years of thinking about it and talking it over in the family whether to donate the land to the Land Conservation Trust or different ways it could be done or different recipients that could receive it. It took almost two years. It seemed obvious to have it go to the town really. The Concord Land Trust started talking to us long ago and they seemed very interested. I was very interested and it finally came to pass.
Marion Thornton - The Concord Land Conservation Trust was started in 1959 and it is a complement to the Natural Resources Commission, which had been started at the same time. It is a private complement to a public group. We own about 560 acres in Concord and we also have some conservation restrictions. We have a membership of about 350 people in Concord. The Soutter land was a piece of land that often made everyone very happy to look at and contemplate as part of our rural landscape, but particularly the Soutter land continues the linking along the river, which Mary talks of as an important part of her life and of my life. This particular piece of land became a corridor from Route 2 all the way up to Fairhaven Hill and Fairhaven Bay and on to the Lincoln land. As we all know, Hubbard Brook starts in Fairhaven Spring near Fairhaven Woods and comes down and crosses Sudbury Road and into the Soutter land and out to the Sudbury River. A very historic spring and brook as well as being a real delta in that land of Mary's filled with some very wonderful and rare plants. So the Land Trust has enjoyed very much the whole prospect of working with the Soutter family towards making this link possible.
We like to think we have some expertise in land preservation and we offer some of that expertise in these transactions. We also have funds available to help people with surveying and legal fees that we could make available if needed. We feel that that is the kind of seed money we can provide in order to preserve land which is too costly to buy outright, so we depend on the generosity of Concordians to help us preserve this open land.
Mary - To describe the land, if you started at the bridge over the river near the hospital, that land that runs along the westerly side of Route 2 to Sudbury Road then roughly along the brook on Sudbury Road down along the fields to the first solid woods and goes southerly to the left and runs roughly to the river and along the edge there where the boat landing is.
The land was transferred to the Land Trust with a conservation restriction which was given to the Sudbury River Valley Trustees. The conservation restriction is very elaborate and very carefully thought over. It took over a year to do that. It is very detailed in order to protect the land more or less as it is now. I think these two groups can strengthen each other by this arrangement. We hope that will be the case anyway.
Marion - The Sudbury Valley Trustees is a regional group which is particularly interested in the Sudbury River which flows by so much of Mary's land. They own land from Hopkinton all the way down where the Sudbury River goes into the Concord River. Being a regional group they have a stronger connection to the river and to the region. They are very interested in Concord and they have been good working partners in several endeavors but this is the most important. I wanted also to add that some of the wonderful parts of Mary's land were not only the field that everyone perceives at this end of town as the most important piece, but there are some wonderful old trees that are growing along the edge between the wetlands and the high land. So often we don't see large trees any more in the town of Concord because much of the wood was used and so not only do we have the fields and the wetlands but we have some wonderful oaks, pines and hemlocks.
We had applied to the American Greenways Foundation for assistance with this project and were very pleased to find we received $1,000 because it was a greenway and a corridor. We were one out of many to win the American Greenways Dupont Award. I think there were over 50 people who had applied and we were one of five who won this award, so we knew we were doing the right thing.
Mary - When all this was finally done in 1993, I was very happy and relieved because I am 84, and I was very happy to be able to accomplish this.
Marion - I would just like to add that this was a wonderful project to be involved in. The community had many meetings about how to raise funds for the expenses, and the community just jumped in with enthusiasm because everyone appreciated this gift so much. It was wonderful working with Mary particularly and working with the neighborhood, very positive.
Text mounted 28 Jan. 2008; revised and image added 12 June 2013 -- rcwh.