Thelma Soberg, Age 76
Lillian Vaccarello, Age 81
Concord Greene
Interviewed November 21, 2002
Concord Oral History Program
Renee Garrelick, Interviewer.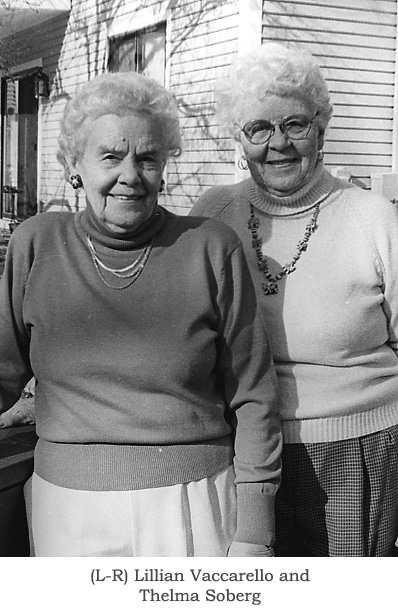 Thelma and Lillian are daughters of Elizabeth and Herman Hansen and will describe the Norwegian community in Concord and their neighborhood on Elsinore Street, "back of the depot".
Thelma — My father, Herman Hansen came from Frederickstad, Norway and my mother Elizabeth Kittlesen came from Christiansen, Norway. She entered through Ellis Island but my father came directly to Boston. Elizabeth arrived in 1906 and my father arrived in 1905 with Ludwig Petersen and Ollie Burstad. My mother came along later.
When they came over, they needed to be employed or have someplace to work. My mother worked as a maid in Worcester, but I don't know what my father did when he first came over. They were married in Worcester in 1910 and moved to Concord. They lived on Barrett's Mill Road first and then Bedford Street and then moved to Elsinore Street known as "back of the depot". When he came to Concord, he delivered ice for Mr. Mason. Then he went into the carpentry business. Eventually he worked for Mr. Jack Bend???
There were six children in our family. Four of the girls shared one bedroom which was pretty tight. Lil remembers kerosene lamps in our house and a toilet downstairs in the basement until we had one put upstairs. I don't remember that. There was also a little house next door — a four-room house that they owned across the driveway and we shared that driveway with the other people that rented it.
Our house is still there. We went in it not too long ago which was fun. My dad had also built a doll house and it was attached to the garage and we spent many, many hours out there playing. Monday was wash day in the basement for my mother. She washed the clothes all by hand for the whole family and always hung the clothes out on the line to dry. In the winter when they brought them in, they were stuck to the clothes line and it was hard to get them off. Tuesday was ironing day and Saturday was for baking homemade cakes and homemade beans in the wood stove which was the source of heat and a way for the children to keep warm. Twice a year in the spring and fall, the house was cleaned from top to bottom, every room, the walls were washed down and the rugs taken out and beaten. The curtains were washed and ironed and starched.
Lillian — Back to the ironing, she always had four black irons that sat on the stove and as soon as one got cool, that would go back on the stove and she would take the other one.
Thelma — We did have a vegetable garden and there were apple trees on the property. We also had chickens which we ate the eggs, and they also slaughtered the chickens to eat. There were quite a few Scandinavians, not so many behind the depot but there were quite a few in and around Concord and West Concord. Some of the names were Jensen, Johnson, Nelson, Helsher, Andreasen, Bertelsen, Burstad, Johansen, Berlied, Martensen, Larsen, Hojem, Petersen. Leif Nash and Odd Overgaard were Norwegians and they began the Dover Ski Binding which was on Beharrell Street. The Norwegian men had a fraternal society or a benevolent society called the Norwegian Sick Benefit Society, and they would put money into this fund, and if anyone was sick or needed anything they would provide the money or whatever they needed. The women also had a sewing circle and met in each other's homes. There was also a society called the Sons of Norway which is still in existence. They belonged to that. The Sons of Norway had a fair every year and the women made tablecloths, scarves, knitted sweaters and all kinds of things for the fair.
Lillian — The Sons of Norway from Concord played other Norwegians from Belmont or wherever and there would be the tug of wars. It was all Scandinavians involved. It was a big long heavy rope. I remember we would go to these places and they would have these contests and they would be so delighted when they won and they would fall over and laugh. It was really a fun time.
Thelma — My parents spoke English. When they first came over, they didn't. My oldest sister Edie only spoke Norwegian when she was little. We could understand Norwegian but we never spoke it. Our parents spoke Norwegian, and there were many words that they got mixed up with the English words. But, we knew what they meant.
There were a lot of dialects back of the depot. Italians had very heavy Italian accents and the Irish women had brogues, and my mother and father also had a Norwegian accent. My father spoke better English than my mother probably because he was out working and mom was in the house all the time. My father did carpentry work, and as I said, he also worked for Jack Bend. He did a lot of work at the Antiquarian which is now the Concord Museum. He told us he put his initials on a window sill down there. We were there one day and looked for it, but we never found it.
We had the Norwegian Evangelical Free Church. It was a pretty strict church. You were not supposed to dance or smoke or play cards. We went to Sunday school there for many years. They also had a young people's group that we all went to. I have a funny little incident about my sister Liz, who was older, and she had a boyfriend and would meet him on Sunday mornings. She gave me her money that she was supposed to put in the collection so I wouldn't tell our mother and father that she had gone out with a boyfriend.
Lillian — What I was thinking was the story about Margaret. We were on Monument Street and my father had left us off and my sister Margaret had on a pleated skirt and she was tiny. After my father dropped us off, there was another car that came down Monument Street and it was really going very fast, and my sister's skirt came up and she literally flew over the car and onto the other side. But we all went on to church.
Thelma — The church was on Lang Street. Now it's condos. I first remember Rev. Johnson as the minister, and then Ray??? and then Rev. Oldlen???. He married us in that church. My husband is Howard Soberg, another Norwegian name, and he went to that Sunday school also. Most people would know him from the gas station on Commonwealth Avenue in West Concord. He owned that station with another Norwegian, Ted Edwardson. They first started on the corner of Baker Avenue and Main Street. They rented that station and had that for a number of years. The rent kept going up so then they bought the land on Commonwealth Avenue and built the station. That was about 1951. Ted retired and went to the Cape, so two of our sons took over. Now they've taken over the garage too, and Howie is still there pumping gas, and keeping an eye on them.
Even though the church was very strict, my father loved music. He played a number of different instruments. He played the accordion. It was a funny looking one that he brought over from Norway. He also played the coronet and the trombone. He belonged to the Concord Legion band and he played a baritone in the band for many, many years. That band went to the World's Fair in New York City in 1939. The band had concerts in Monument Square and also in West Concord at the Rideout Playground. This would be on Friday nights practically all through the summer. They also marched in all the parades on holidays and so forth, and not only in Concord but they went out of town and marched in parades as well.
Families did get together in somebody's kitchen and play music. I remember them dancing and playing music.
We had many picnics and were on the river a lot, not in canoes but in row boats. My father would row up to Fairhaven Bay and we'd have a picnic up there. Then we had many overnights down at Fairyland, which is right across from the high school. Not only us but other Norwegian families with us.
And we ice skated on what was called the meadows on Nashawtuc Road. It always froze over and there was a little island and we would make a fire. Everyone skated there. You'd be frozen and you'd run home and open the oven door and put your feet in the oven to get warm.
Our house was not far from the agricultural fairgrounds. I remember the cattle show and the fairgrounds but I heard Jim Powers say there was a big building there that I don't remember. I also remember the circus going up there. But I don't remember the track that used to be there. And Lil remembers the gypsies. We were petrified by them. We thought they were going to take us away. They were actually peddling goods, mostly baskets.
Lillian — Well, I remember brooms and mops. I remember mom buying some brooms or mops from them. But we children were always back in the house somewhere really so we wouldn't see them, or they wouldn't see us I should say. They were dressed very colorful and they all had very black hair and their skin was much darker than ours. There was just something that scared us, and it wasn't just the Hansen family that were afraid of them. We were all afraid of them. And they had big hoopy ear rings.
Thelma — I had a friend on the end of Belknap Street, Rosemary Mark, and we played up at the fairgrounds all the time. It was fun because there were so many trees there. You could play hide-and-seek up there because there were so many bushes and trees. We'd play up there for hours and hours. Children were always playing in the neighborhood. In the summertime we swam in the river, and that was off the fairgrounds. As I said before, I never remember playing in the house. We were always outside.
Lillian — If you ever said you had nothing to do, my mother would find you something to do. If nothing else, she would give us scissors and a piece of material and a thread and a needle and she would tell us to sew those two pieces together just to keep us busy.
Our father made our skis, sleds and toboggans. Out on our driveway he would pack all the snow right close to the garage and so we would be up there on the top of the snow and we could go right down the whole driveway and we would naturally end up in the street. We played out in the snow often. We coasted on Grant Street. We thought we were on a big mountain but when you look at it now, it's just a little grade. But every kid back of the depot coasted down Grant Street hill. That was a lot of fun.
Thelma — Christmas in our house was a big thing. On Christmas Eve we would get together with our cousins, the Johansens. We would all get together and have a big meal and open probably one gift. If we had Christmas at our house, we would have Thanksgiving at their house. They lived on Crest Street. We always had Christmas Eve with a lot of food. Sometimes we had fish but not a lot of fish. We had meatballs and pilsa, which was like pork sausage, cakes with whipped cream, open faced sandwiches -- a lot of sweets.
Lillian — They also had something like fresh shoulder and they put it in some kind of brine and put something heavy on it to keep it down in the brine, and when they took it out it sliced very nicely. That was delicious. I would love to have some of that now.
Thelma — And the Norwegian cookies. Lil and I still make some of them, not all of them, but some of them. They're called sandkaka. They're made in a little tin and you press the dough in with your thumbs and smooth it out and bake it. Then there were fattigmann which were cut-out into like a little knot and put in deep fat. Then the krumkaka is made on an iron and you just drop a spoonful of the batter on and let it brown and then you take it off and you roll it into a cone. That's my favorite.
Lillian — Bonnie Lawrence used to make them and give you some.
Thelma — Thanksgiving was just always a turkey and all the fixings, traditionally American. And if we didn't have enough money, we ended up with chicken. But you know I don't think anybody even thought of themselves as poor, but we didn't have a lot of money. If you wanted any money, you never got money, you'd get a milk bottle and you cashed it in for a nickel at Johnny Bart's store and got an ice cream cone. My friend Rosemary was an only child and I was one of six and the youngest so I never had any money, but Rosemary was one child and she had her mother and father and her grandmother and grandfather, so she always had money. I remember she would get a dime, and we'd go down to Tucker's Ice Cream Parlor, where Sally Ann Bakery is now, and we'd order a plain cream soda with two straws. By the way Rosemary lives in here in Concord Greene now.
Lillian — When I was young, we put real candles on our Christmas tree. The only time they would get lit would be Christmas Day and they would be lit for a very short time because my mother and father were always afraid of fire. I guess when Thelma came along then we had the regular lights. They were much bigger lights than we have today. By that time we'd gotten electricity. Before that we just had kerosene lamps. A lot of people didn't have electricity so they probably did the same thing.
Thelma — Another thing about our Christmas tree, it was just put in a wood frame that my father built and there was no water. It was just a tree that dried up. To keep us busy the only ornaments on the tree were all homemade. We had popcorn and cranberries on a string, and we would make the little Norwegian baskets out of paper. That was all that was on the tree.
The back of the depot neighborhood was great. It was made up of all working class families, and as I say, everyone was in the same boat as we were. If there were squabbles with the kids playing, parents never ever got involved. There were very few squabbles actually. If your mother and father ever had to go to school, you were really in trouble. They never went to school. The parents now are at school all the time. The only time they ever went was if anyone was in trouble. But I don't think our parents ever had to go.
Some of the stores back of depot were the depot and we played there a lot. There was Bartolomeo's grocery store and Whitney's. There was also Cutlers.
Lillian — I think Cutlers was where Pioneer Foods bought. Johnny Bart's was here, Cutler's store was here and then there was Sully's Barber and then Whitney's.
Thelma — On the other corner at Middle Street was McManus's garage. There was also Wilson Lumber Company and we played in the lumber yard all the time. On the way to school we would walk through Wilson Lumber and right through the grain store there. I don't know why they allowed us children to walk through but they were nice and would say "good morning". When we would walk through the lumber yard we would cross the railroad right there. We never went to Belknap Street or Sudbury Road. If we had to go to the store, we'd just cross the tracks there.
It was a close knit neighborhood and the families kept in touch. It was a wonderful neighborhood to grow up in. Everyone got along.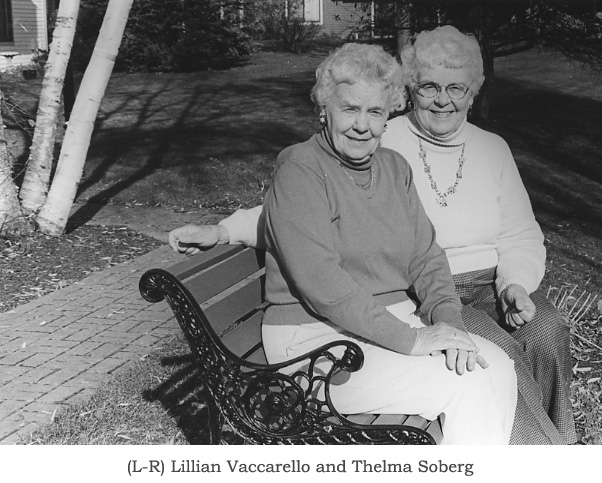 Mounted 20 February 2008; revised and images added 15 June 2013 -- rcwh.