Robert McWalter
Law Office, 97 Lowell Road
Age 66
Interviewed January 9, 2003
Concord Oral History Program
Renee Garrelick, Interviewer.
The focus of this taping will be the changing demographics of the town as Bob has experienced it, and from the perspective of being the fourth generation of the McWalter family in Concord.
My great-grandfather came here from Ireland in the 1850s. His name was Patrick McWalter and he married Mary Hopkins, who I believe came here about the same time along with her family. Both families were stonemasons and in the building business. They married and had several children. One of their children was Maurice McWalter, who was my grandfather. My grandfather owned a shoe store in town, but then became a lawyer and practiced law. He practiced in the same field I practice in, and that's trusts and estates, estate planning. It's interesting to go back and read cases that he argued before the Supreme Judicial Court because I never knew him. He died in 1934 before I was born, but the practice continued down through my uncle and then to a cousin and that law firm still exists in town today.
His oldest son was John McWalter, my father. My father owned McWalter Insurance Agency which had also been owned by my grandfather, not actively run by him but he owned it. My father ran the agency and then it passed on to my brother Dick who died when he was quite young, and it passed to my brothers David and Jack until it was finally sold after about 100 years in the family. I have four children all of whom have had to move with their families to neighboring towns, and they all have children.
I believe at one point we counted 47 McWalter's in the town of Concord. Those would have been descendants of my great-grandfather, and mostly descendants of my grandfather.
I grew up on Barrett's Mill Road which is a very old road in town. The families I recall were the Hepburns who lived on the corner. Andrew Hepburn was the famous architect. Then there was the Sawyer poultry farm. Across from us was the big Cameron mansion, and the Cameron family lived there. Their hired man lived more directly across from us and was very kind to us. Mrs. Cameron was a Grey from the Grey Motor Vehicle Company, which I believe merged with Ford. As one went down the road from there, there was a lot of open land and then there was the McGrath farm, which was owned by Tom McGrath. Tom was one of the last real affluent farmers in Concord. He drove a big red Chrysler car and his two sons worked on the farm with him. During the war he was assigned German war prisoners, and we always enjoyed going there and visiting with the young German prisoners. The Sheehan family lived just beyond that and they owned a good deal of farm land.
Then going up Strawberry Hill Road, there were some poultry farms and the Scofield farm, a large dairy farm. It was primarily a rural area and when I look at Barrett's Mill Road today, the thing that strikes me the most is that it's a wooded area. From Hildreth Corner, that's the corner of Barrett's Mill and Lowell Road, trees are all the way down to what we referred to as "the bend" where College Road goes off to the right. It was just all bare open farmland back then. Wherever there were not homes and yards, everything was farmed.
The Forbes saw mill was run by John Forbes. He owned the Concord Ice Company and he owned the saw mill just below the pond. We used to fish in that brook and fish in the pond, and he ran a very active saw mill in those days. There was still a fair amount of lumbering. In fact, my father owned a large tract of land on Strawberry Hill Road and during the 1938 hurricane, it suffered very severe damage. John Forbes got the logs out and milled them and then arranged to sell that lumber, and it was used in the construction of two homes in Concord.
The East Quarter was heavily farmed as we were kids. It seemed to be the Irish farmers settled there probably quite early because most of the farmers I knew were third generation Concordians. Their grandparents were ancestors who came to Concord probably in the 1830s to 1840s and were able to buy farmland. They included the Daltons, the McHughs, the Burks, the Magurns. Arthur Magurn was also a very prominent auctioneer, primarily a farm auctioneer. That was all farmland, Old Bedford Road and down Virginia Road. The Kenneys came here the early part of the 20th century and began farming at that time and that farm passed down through their family. There were also some Italian families. The Italian families occupied more of Bedford Street. Some of them came shortly before World War I and some of them after World War I. Some families like the Sorrentis and the Scimones, the husbands came from Italy and worked very hard until they could buy usually two or three acres, and they would start the farm and then they would go back and get their wives and children and bring them here. Then they would acquire more and more land, and of course a good deal of that still is farmed but as the generations die off, that farming is decreasing. However, there still are a number of farm stands in the families. I think particularly of the Scimone family, that farm stand is about 80 years old. I knew Frank Scimone, the original settler of the farm, and all of his younger children. They were contemporaries of mine, the ones born in this country. Then he had two granddaughters, and they are all actively engaged in the farm.
The farms out on Monument Street were numerous. I think when I was growing up there were only a couple of active farms left. The Puffer farm was a dairy farm. The Puffers were contemporaries of mine and their father and mother ran that farm. The other farms were Peverill Petersen who was still farming. At Annursnac Hill there was a gentleman still farming. That was also a dairy farm. I got to know him later on in life but as a child I knew the children of his main farm man, the man who managed his farm. There was Jesse Baker, who was sort of a gentleman farmer who also drove school bus #1. The Lawrences were an old farm family. John Lawrence died back in the 19th century and his original farm house was torn down so that they could build two new barns for his two sons. I believe one of those farms is still in the family, no longer farmed, but still in the family. There was also the Windhol family. They were right in that same neighborhood, and they were farming actively as I was growing up. In one way or another the Windhol sons remained in the farming business after the farm closed. One of them in the farm equipment and the other one in some related farming business. So Monument Street was quite different from what it is now. It was primarily a rural area back then.
Nine Acre Corner still is actively engaged in farming. The appearance of Nine Acre Corner has not changed dramatically over the years except that the Nashawtuc Country Club replaced the Rego brothers farm, a very large farm. The Verrills used to be a big dairy farm and switched to vegetables, and they are now very active and run a very nice farm store. The Tarantos acquired a great deal of land. Russell Eldridge, who died just recently, of the Eldridge family farmed that area. The Anderson family and the Wheelers were related and they did farming. The Wheeler family was in two or three branches all having large farms in the Nine Acre Corner area covering Plainfield Road, Powder Mill Road, and Wheeler Road. As I began to practice law, those farms were slowly closing down as the older Wheeler generation died off. That would have probably been the 13th generation. When it got to the 14th generation or perhaps the 13th, people were doing other things and the value of land had increased dramatically and there were developers out looking for land. Two farms in that general area were the Fred Jones dairy farm and the Mattison farm. Fred Jones came down through his family, and they owned a great deal of land in the area of Old Road to Nine Acre Corner and Williams Road. Fred also had a door-to-door milk delivery and what is now the very pastoral field called the Mattison field in fact belonged to Fred Jones. As one looked out beside the barns, you'd see rows and rows of milk delivery trucks in the afternoon waiting to go out the next morning. I knew Fred very well. He died I believe in 1962, and was a very interesting man.
The Mattisons came to Concord I believe when I was a child. I can remember the oldest in the family showing up in school. We have remained close friends all the lives and continue to be close friends. They did dairy farming. Mrs. Mattison from Beacon Hill adapted very quickly to farm life and Bill Mattison, her husband, ran the farm. Their son, William Jr., known as Jack got his degree in agriculture and continued the farm after that. I believe that farm is still in their family. But after Fred Jones died and his trust was being administered, the Mattisons were able to acquire a good deal of the Jones land which they made good use of. Fortunately, much of that remains open today.
To me, the biggest change in the town during my life time is that everyone in those days no matter your job could live in town. The demographics of the town have changed dramatically. When I was growing up, it was a heterogeneous community. People of all income levels lived in town and there was real estate available for them to buy and live in. We didn't have to worry about state and federal programs to provide low or moderate income housing or mixed income housing. There was housing that people could afford. It seemed that the people who worked in town, lived in town. That was a great benefit to those of us growing up through the schools because we every kind of family you could imagine. It might be farmers' children, bankers' children, firemen's children, stockbrokers' children, policemen's children. We had the bulk of the reformatory staff and guards live in Concord, many of them on Commonwealth Avenue in what became known as White Row. They were some of my close friends growing up.
The teachers could live in town. Most of the firefighters and policemen lived in Concord. In fact, I can't think of any who didn't live in town. The police chiefs and fire chiefs down through the years always lived in Concord. That was advantageous to the community because they knew their way around. We didn't have street numbering so if someone were to call and report a fire, they would report the fire as being at a certain house, the Emerson house or the Smith house, and the firemen and police would know just where that house was. The numbering system was put in place when that was no longer possible and emergency gear had difficulty finding places.
It just seemed that everyone connected with the town lived in the town. Naturally there were people who commuted to Boston. Concord has always had a very busy railroad station, and that was a whole culture in itself, people who rode the train to Boston daily. Unlike many towns where the towns were bedroom communities, Concord was not. Concord was more of what I would refer to as a financial center. The banks were in Concord, the hospital was in Concord, the doctors were in Concord, the lawyers were in Concord, and people from a fairly substantial geographic area particularly to the west would come to Concord for their services. At one time Concord was the county seat and the county court was here, and I suppose maybe that had something to do with its being such a central place.
The high school was a unifier. The West Concord schools were completely separate from the Concord schools through the 8th grade. So we would meet the kids from West Concord when they came to the high school. Each area of the town had it's own school. Someone told me recently that they used to put them on buses in West Concord and drive them to the high school so they could learn the way from the high school to West Concord, and learn their way around the high school. Many of us met our closest friends in that process when we met our fellow townspeople in high school. That changed more in the early 1950s and perhaps even before that because the Carlisle kids came to Concord High School as tuition students, as well as the Bedford kids, a portion of Acton, and a portion of Lincoln. While we weren't a regional school, we really were a regional school. Now 50 years later we tend to remember our little groups, those who came from Lincoln remember they were the Lincoln group, and those from Carlisle were the Carlisle group. I don't think we thought that so much when we were in school, but it's a way of identifying. I was in the class of 1954.
In those days the public works employees mostly lived in Concord, grew up in Concord and were educated in Concord schools, and then elected to work for the department of public works or the municipal light plant or one of the town groups. It was then extremely unusual for someone to come from out of town to work in those groups. Our chief of public works came from an old Concord family and his name was Elmer Joslin. He and Mrs. Joslin and their family lived here in town. Mrs. Joslin was the pianist for the dancing school. Their daughter Virginia married Dr. Tucker, the veterinarian, who practiced here his whole career. The water department was a very small department, didn't need many people and it seemed to run just fine. John Robinson from another old Concord family headed up that. His kids went through the Concord schools about the time I did, and unfortunately, were not able to settle in Concord.
The teachers were also able to live in Concord. Teachers may have had primary residences away from Concord and many of them lived out of state even, but they were able to rent in Concord and they would arrive on Sunday night and teach all week and leave on Friday night and go home. We had fun on Halloween because we could go around to our teachers' homes and visit them, and they had just as much fun having us visit.
Some of the great reformatory superintendents were families who had lived in Concord for a long time. I think of Colonel Dee who was a great superintendent who once took on the whole prison population single-handedly. And John Dolan was another one who I think succeeded him. Several members of the Haggerty family were involved at the prison, and Bill Haggerty was deputy superintendent. Many lovely families came out of that group of reformatory employees. They had a tremendous crew at the reformatory.
So there was a very broad spectrum of town employees that lived in town. Different ethnic groups were able to get along together and live here together. The original settlers of course came here quite early. Then the group that came from Canada and some of the European countries and I would identify them as members of the Congregationalist faith and the Unitarian faith. Many of them were Scandinavian families and lived out on Monument Street and Lowell Road. They eventually became the Yankees, known as the Yanks. The next group to come along were the Irish. The Irish came, and Concord like many areas where the Irish settled, unfortunately there was a lot of discrimination. Births, deaths, and marriages were recorded in the public records as Irish and non-Irish. But all that changed. Somewhere along the way the Irish and the Yankees came together and moved very close. Maybe it was to defend themselves against all the other comers. They did grow very close, and that was a very happy time. I can remember a certain time. My own father who had grown up with so many of his Yankee friends that there was a block between them, but when those walls came down there was a very emotional, teary time when they could all come together again. As time went on, more Scandinavians came and then after we got into the 20th century, the Italian families came. The next group that I was aware of was the post-war group, people who came after World War II. There was a great deal of development in the town with housing that families could afford, a nice cape in a nice neighborhood for $12,500. Some wonderful families moved into town and put their roots down. There were all sort of families that I wouldn't tie to any ethnic or religious group.
As we became more technologically advanced, Conantum was built and a large number of people associated one way or another with MIT moved into Conantum. That also brought about some political change. Concord had traditionally been strictly a Republican town, but after the 1950s as they moved along, more and more Democrats lived in town and balance was achieved somewhere along the way.
We didn't have television until after World War II and even then very few people had it. Going back into the 19th century, all of these now second generation farm families who were able to own their farms and in many cases several siblings might live on a farm, and they needed something. They needed some social outlet. That's when the fraternal organizations began to grow. I believe maybe the Masonic order was here earlier, but the Knights of Columbus, a strictly Catholic organization, and the Ancient Order of Hiberians, the Concord Lodge of Elks, and the Grange all got started. So many of these organizations grew rapidly. There were meetings in the evenings and people looked forward to them. That was their getting out of the house and doing something. That probably continued very actively up until World War II. While the organizations continued on and most are still in existence, people now have so many demands on their time that they're not looking for more things to do. So those organizations may have outlived their usefulness.
But, one of the reasons that at least some of those organizations formed was to provide life insurance because life insurance as we know it wasn't readily available. But as large groups it was. So for example, the Knights of Columbus became a very, very large life insurance company and still is. Its members could buy life insurance and still can, and as far as I know that organization still has tremendous assets around the world. But that brought a lot of those groups together. I can remember those groups still as being very active as a child. But I've also watched the decline over the years.
These different groups provided entertainment. It might be a minstrel show or a talent show or plays. It would be interesting to watch a minstrel show and watch 10 to 12 farmers as end men, like the McHughs, on the stage. The Burks and the Daltons were very active in those. The jokes were good. I can still remember many of them. A lot of the humor was based on town affairs. Monument Hall burned to the ground in 1947 and that was where many of these things were held. It took a few years for it to be rebuilt and I can remember Peanut Macone and Chick Mayo writing a song, "Why or Why Did They Ever Burn our Building", a very funny song. That's what it was about. Everything was sort of light and light-hearted. There certainly was controversy at town meetings. When I was a child, I heard lots of stories from my parents and lots of stories handed down over the years, but I think the townspeople were better able to come together in those days and big school versus non-school issues didn't exist until the 1950s when newer groups in town had all sorts of newer ideas about school construction and teaching methods.
Even in the 1960s and maybe into the 1970s, I could walk up and down the Milldam and know every merchant, and in almost every case know the family members of every merchant at some level. Either I watched them play football or they were classmates and I was well aware of the generations preceding those merchants. I think as I mentioned earlier McWalter Insurance came down through the generations, and I guess that's probably the oldest business on the Milldam. Vanderhoof Hardware is right behind it, originally a plumbing contractor. They eventually started selling plumbing supplies and one thing led to another, and they became a hardware store. They have come down several generations and I've known many of the generations. Phil Vanderhoof, the grandfather of Scott Vanderhoof, who now runs and owns the store, was a great pal of mine, a great conversationalist. Every store sold something you had a need for or you could use. Recently I was talking with someone on the Milldam who said that today it's really just a boutique area, and a lot of people who are seen on the Milldam during the week or particularly on Sundays are not buying either. They are looking at shops. The shops are a tourist attraction and that's sad.
We had two automobile dealerships, Muddy & Terrills and Middlesex Motors. We had grocery stores, Stop & Shop, A&P, First National, the Economy, Anderson's Market known as L. Anderson and Son. We would consider that unique today but that was primarily a phone in your order store. You would either go sit on a stool at the small counter or you would phone Nellie Nelson, the operator, and give her your order and it would be placed in a delivery truck and sent to your home. I suppose because when that store opened there were very few automobiles in town and as time went on, there were certainly very few families with more than one automobile. So that changed dramatically.
There were shoe stores that sold work shoes. There were more service related people on the Milldam. There were doctors on the Milldam. It was just so very different from what it is today.
We had no parking lots in those days. There was sufficient parking on the street. The big central parking lot was just an open field when I was growing up. There was a driveway going through it to get to the back of Anderson's Market where their delivery trucks were garaged. My father had an incinerator out in the middle of that field and used to send us out to burn his office trash. The other parking lot came about in the 1960s. I think I might have been president of the Chamber of Commerce when we negotiated the purchase of the land for the other large parking lot bounded by the Main Street stores, the Walden Street stores, and the Hubbard Street houses. That would have been about 1967. H. Whittemore Brown was a builder in Concord and later served several terms on the Board of Selectmen and was our first Town Manager, had in fact introduced the Town Manager form of government. Whit and I negotiated the purchase of that land for the town. It was interesting times. The land where the parking lot is off Walden Street was Muddy & Terrill's garage, and I believe there were five smaller houses that Mrs. Black owned. Mrs. Black lived on the Milldam in the house that is now Cambridge Trust Company. She owned five rental houses in the back, and she owned a great big warehouse and there was a cabinet maker back there. All that changed to make room for the parking lot.
There never was a movie theater. The first big parking lot was the site of the movie theater we were going to have. Maynard had two very fine movie theaters, one would get first-run movies played there. They had another movie theater which played not quite first-run movies. The admission was 9 cents and the bus fare from Concord to Maynard was 10 cents, so one could have a pretty good afternoon spending very little. The argument always was that Maynard had all the movies we needed or one could go to Waltham and see a movie. But there was a move to build a movie theater where that parking lot is. I've often thought what a disaster that would have been if we couldn't have built that parking lot. This is the parking lot behind the banks and Keyes Road runs through it. Keyes Road wasn't there then. When Keyes Road was finally built, it went right through the parking lot. I think Keyes Road was built in the 1950s. That was the subject of much controversy in town. It was obvious that the Milldam was over-crowded because back in the 1930s Route 2 went through the Milldam, then Route 2A and Route 126, and particularly after the war when there were a lot of defense plants still up and running and the electronic industry moved in, people began commuting through Concord and traffic was heavy. So there was need for a bypass and there was a bypass committee that worked for years, and it just never got voted. The public works department by that time had moved to a spot off Lowell Road so why not connect the driveway into the public works department to Main Street and bypass the very, very center of town. There was some objection from the merchants but not so much. But it just couldn't seem to get passed at a town meeting. It just seemed that somehow as the public work trucks emptied whatever they happened to be carrying, that little stub of a road kept getting longer and longer, and over a period of a few years, it extended all the way to Main Street. That made it seem not quite so bad and eventually it was paved and became Keyes Road.
My great-grandfather actually worked on the Harvey Wheeler building. He came to Concord and fairly quickly started his own construction company. He built a number of homes in Concord and he built a church in Chelmsford. Then when it came to the Harvey Wheeler School, he built that. That turned out to be his last project. He died on the roof in 1917 just as he was completing it. There was no tower on the building at that point. His funeral bill from the Dee funeral home was $290 which included a $12 charge for sending a wagon to the new school at the Junction to pick up the body. The Harvey Wheeler Building is now under renovation and is being put to probably its best use ever, the Senior Center. An interesting point about the school is that I read in a history that was written not long ago that the West Concord school, which was a big frame three-story building on the corner of Church Street and Main Street was torn down shortly after the Harvey Wheeler School was completed. So I made a point of talking to some of my classmates recently and they all recall spending all of their school years at Harvey Wheeler and the West Concord School and not leaving there until they came to Concord High School in 1950. We're all quite sure it was standing in 1950 and being used as an active school. They went to the Harvey Wheeler School for the first three grades and then they moved next door to the big West Concord School. It certainly was not torn down shortly after 1917.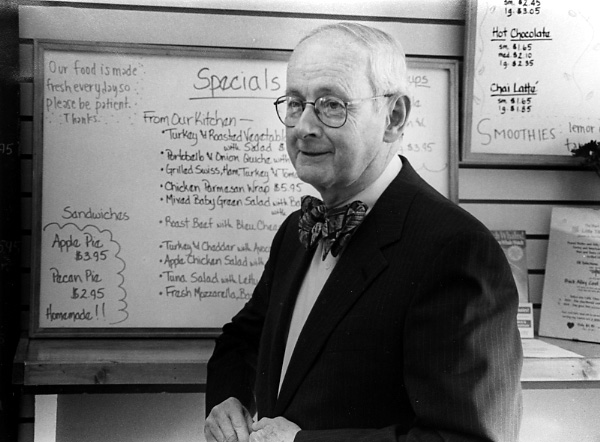 Mounted 20 February 2008; revised, and photo added 27th April 2013 -- RCWH