David McWalter
President, The McWalter Insurance Agency

57 Main Street
Interviewed March 4, 1997
Concord Oral History Program
Renee Garrelick, Interviewer.
The first member of my family to have a business on the Milldam started a shoe store around 1900 where Concord Hand Designs is now. In 1907 my grandfather Maurice opened a law office, insurance agency and travel agency in the National Bank Building which is now where Footworks is. That stayed there until 1958 when the insurance was split off. My father John moved across the street. Maurice Jr., my father's brother, took over the law. My grandfather had died in 1933, so my father put Maurice through law school and when he got out, he took over the law office. My father took over the insurance, and they got rid of the real estate and travel. After that ironically, Maurice died at age 59, and his son who is Maurice III took that business over, and my father died right after that, and I took the insurance business over. My cousin and I now have those two businesses, and we are both the same age. There are a lot of fourth generation accounts. On the Milldam I guess that would be the history of it.
Prior to that my great-grandfather Patrick was a stone mason and he died at age 59 working on the Harvey Wheeler School. Patrick came over here in 1884 from County Roscommon, Ireland. His family name was Hopkins and they were mostly stone masons and Tom Hopkins who just died in the last two years was a descendant of one of my great-grandfather's brothers. My great-grandfather was never involved in the shoe business. That is something that my grandfather started and the interesting sideline of that is Alvin Fuller wanted him to start an automobile agency in Concord and my grandfather said it was ridiculous because they would never sell. They were going to sell Orient buckboards which are very small economical automobiles. But he kept the insurance going. Just before my grandfather died, my father took over the insurance and he bought a small agency over in Bedford for $100 and had Maurice run that while he was going through law school. Then when he graduated he practiced law and he stayed there until he died in 1972.
My brother Robert had been in the insurance agency but he studied law and became a partner to my Uncle Maurice. Then he went with Sherburne, Powers & Needham in Boston, and just in the past three years, he left there and is back on his own again down on Lowell Road. My brother Dick had been in the insurance business also. He died in 1972. My oldest brother Jack started in the insurance agency in 1947, he's the only one in the family that studied insurance and then he became an airline pilot for Northeast, Delta and worked part time in the agency after Dick died from 1972 until two years ago when Jack retired from the agency.
While I was growing up, we lived on Barrett's Mill Road in the old Clark house. It was built in 1906. My parents were living with my grandmother on Belknap Street in the house that my grandfather had built as a wedding gift to my grandmother. While my mother was in the hospital having me which in those days took two weeks before HMOs came in, he bought the house on Barrett's Mill Road in August 1940 and he paid $4500 for it. It's an absolutely beautiful house with beautiful landscaping and beautiful English gardens. My mother found out about it by reading the Lowell Sun while she was in the hospital. My father had just redone his office and said, "John McWalter in one week has a new baby, a new house and a new office." This Clark that built the house originally invented tapioca pudding. It's a very well constructed house and he had died and his heirs sold it off. In 1940 there were a lot of houses that were sold very inexpensively. My father had his choice and he chose that one. The bank at the time looked at it and offered to give him a $5000 mortgage on it, which I don't believe he accepted.
When my father was growing up on Belknap Street, he was on the Concord center side of the tracks, so he wasn't really part of the Back of the Depot section. It's the second house toward Concord center from the funeral home. It was beautifully built with a separate brick garage, steam heated to keep his car warm and that way he could walk to work every day. I was the fourth child and my parents had been living for a while down in Dr. Flavin's house on Lexington Road, then I believe they moved back with my grandmother just before I was born and then that's when they finally moved to Barrett's Mill Road.
The Depot crowd of Irish and Italian were very loyal customers for insurance in the family. The main reason for that was that back in the '20s my grandfather as an attorney brought a lot of Irish and Italian immigrants into Concord, and he would sell them their real estate, handle their legal affairs and handle their insurance, and if they were prosperous he would send them on a trip through his travel agency. That was why he had them all tied in together. Those people have been very dedicated to us and we now have the fourth generation of a lot of those people as customers.
Ever since my earliest days I can remember the Catholics and Protestants in Concord were divided. There was a big division between them in a lot of areas. Basically our insurance agency only insured Catholics and Appleby & Wyman Insurance Agency or Appleby Insurance Agency back then, ironically Joe Appleby was my father's cousin, insured all the Protestants. The Middlesex Insurance Company in Concord up until the early 1970s would not employ any Catholics in any management positions or as an officer. It was something that was drummed into us that you would never even think of marrying a Protestant, and the Protestants had the same feeling toward the Catholics. Until they became a particular friend and then they dropped that barrier. So from a social standpoint at a party at our house or anything else, you might very well have a mixture of half Catholic and half Protestant and there was no problem. It wasn't the individual, it was the overall religion that was always talked about. Until the day my mother died she was very prejudiced against Protestants unless they were friends and then she liked them very much. It was the overall religion and the split between the two that we used to hear a lot of and we still hear from the Protestant side. It was just really very interesting. No harm was really ever done by it. There were no slanderous remarks towards each other, but I must say and it is not proper to say, if my father got really mad at somebody, the worst thing he could say to them was "you dirty Protestant." Not to their face but he would say it behind their back. We used to get remarks occasionally as altar boys. There was a Protestant, a Swedish gentleman, and he lived on Lowell Road and he would sit outside the Catholic Church as the altar boys would come out and he would call them dirty Catholics and why were they being altar boys? Today that person would be arrested for that I'm sure. He just died at the age of about 90. But he was one of our clients and we insured him all his life. I don't know where he originally started but he moved into the smallest house on Lowell Road. He'd roll over his grave if he knew that his little two bedroom house is on the market for $450,000 because of the value of the land it's on. The sign out front says "Land for sale" not "House for sale."
The stores were somewhat divided like I'm talking about. We had no choice but to go to Anderson's Market because they delivered. All the meat was delivered by George Davis and I don't think there was any connection between Catholic and Protestant there. With the Andersons, they were always good friends but there was always talk they were not what was called "one of us." When Bill Wyman bought Joe Appleby out, my parents had him to the house for dinner and he being a Protestant came in, and the first thing he said to my mother which she never forgot until the day she died was "It's too bad you're not one of us." So the Protestants were saying the same thing about the Catholics. Didn't mean it to be mean or cruel or anything, he just thought it would nicer if they were all the same group and members of the country club. It was really a problem, but not so much the stores. The Middlesex Insurance Company again that was always a question as to whether they would ever allow a Catholic to work in there. The people on the other side of the depot were mostly Catholics and even some of the Swedish or Norwegian who lived over there, some of those were Catholic and some weren't. Ironically when in tracing our family history when they came to this country, a lot of them stayed in the Boston area and the rest went on out west. I've talked to the ones out west. We have the same relatives, we know we came from the same place in Ireland, same family first names, and they say they are all Scotch. When they went out west, they didn't want to be known as Black Irish so they told everybody they were Scotch and still kept the same name. Basically we are all Irish.
When Rose Hawthorne was built, I don't think it created a problem with the Protestants and Catholics. The first graduating class of Rose Hawthorne were students my own age that had left the junior high to go to Rose Hawthorne and I don't recall if there were really any problem in the split between the Catholics and the Protestants in that case. The same when Xavier was built as a Catholic high school. That didn't seem to be a problem. In early years prior to that a lot of Catholic boys were sent to St. Mary's in Waltham. They went in on the train every day. My parents thought it would be better if we all went to public schools which we all did. I graduated from high school in 1958. At the time my cousin Mac and I were in the same class. An interesting sideline when my mother was pregnant with me, she wanted to name me Maurice after my grandfather. Well, my Aunt Jean, whose husband's name was Maurice and she had two daughters, called and said "Please don't use that name in case I have a son, I want to use it." So my mother couldn't think of anything else so she called me David and now my cousin is hooked with the name Maurice. It was lucky it never happened to me.
I remember the Milldam as the place where you could buy almost anything. You could go into Vanderhoofs Hardware which is still there. Starting at the end of the street, there was Petanellie's little food store. We'd always go in and buy candy, plus there was always The Country Store for penny candy. We used to steal it and not pay for it. Then there was the 5 & 10 in the Coulter Building. That was a lot of fun. It was a nice big 5 & 10, really old fashioned, the old counters. Next to that was Macone's Sporting Goods for a while then it moved over to where Tuttle's Livery is now. Macone's was famous, and Dan Monahan of the Town's Natural Resources Department would love to hear it, it had an outhouse in the store that was over the brook. It just dropped into the brook. Somebody would come in and want to buy a new fishing lure, Peanut would say, "Let's test it!" and dropped it in the brook. I don't think he ever caught any fish but that was his way of testing it. When they moved out of there, a Chinese laundry moved in. Our family had all the laundry work done there. Interesting thing there was my father, Bill Towler and George Lawton and I can't think of who else, one time got up on the roof over the entrance with a bunch of eggs, and somebody had crossed the street and was hollering at the Chinaman and went he came out, they pelted him with the eggs. But in later years, that's where we went to get our laundry done.
Then there was Anderson's Market which delivered to the house every week. You would just call in your order. At the same time you have George Davis as I mentioned delivered the meat every week. We were not a wealthy family that was just the way it was done. The Cushman's Bakery man was John Heinz. They called him Pickle, and he would come to the house, come in, check the cabinets, find out what you needed and just fill the cabinets and send you a bill at month's end. If he wasn't busy, he might sit down all by himself, open a beer from the refrigerator and turn on the baseball game. That was the way it was in those days. People could just come and go. The service back then was tremendous compared to what it is now. It was the same way in our insurance business. We would sit around someone's table at night time and have dinner with them to write their insurance. Now it is all done with the fax and computer and phones and an occasional visit to the house.
My father's office was upstairs in the old bank building and downstairs the gas company was in there, Palmucci's barbershop was in there, and Concord Children's Shop or Fritz Kussin, was in there, then John Mutty opened an insurance agency in there, and we bought it out and closed it. This is the building that was the Concord National Bank which is next to Harvard Trust or BayBank and next to Anderson's Market. The Middlesex Savings Bank building was constructed in 1929. My father wrote the construction bond on it with a $600 premium, which was a lot in 1929. The same day they started that, they started the building which we are presently in across the street which is attached to the old Peterson Block. There was a driveway going in to the Concord Light Department storage area in the back. We've now converted that all to offices. Both of the buildings were started the same day. I don't know what was across the street back then before my time, but in 1934 the Kollegian Building which goes from Perceptions all the way up to Sally Ann's Bakery, George Kollegian paid $33,000 for it and today his daughter's taxes are $34,000. That started off as an ice cream parlor then the First National went in and various stores have been in there ever since. Where we are now in our office, that was built as the Cooperative Bank. Behind our sign, if you take it down, in the cement it says Cooperative Bank on it. Upstairs was the Whitney Coal & Oil's office. The Cooperative Bank stayed in there until about the early '50s. Bill Tobin had a junk shop in there, then Nellie Craig was in there with her flower shop, and we took over when she moved back in Kollegian's building. Then we had Concord Clothing next door which had taken over a needle shop and joined it on to their store which went around onto Walden Street. That was a famous place to go into for a suit and a drink. My father would go in there at 10:00 in the morning and have a Heineken and a shot of John Jamisons, that's what they would do in the back room in there. Then there was Snow's Drug Store on the corner. That had been there since Mr. Friend built the building in 1877. It was Friend's Drug Store and we now own the building with Walter Foley, who still has the drug store known as Snow's Pharmacy.
Down on Walden Street I don't remember too much except Mutty & Terrill's Buick garage is where the building that the 5 & 10 moved into. I used to hang around there. Moreau's had a laundry business out in front. Then there was the fire station. The post office I believe was built in 1934. Across from that when I was growing up was where Macone's was and they had a wonderful store. You could go in and just charge things. They never could tell my cousin Mac and I apart so when we would go in and buy something we would charge it to each other's father until they caught on. He would go in and charge baseballs or a baseball glove and I'd go in there and charge 22 shotgun shells, and when our fathers went over the bills one day they found out what we were up to. There was a Ford garage there which originally was the White Steamcar Garage prior to the time Ford went in. Where Jane Barrett's office is now was the gas company at one point and around the side was Fred Smith's Concord Hardware ¾ another very nice small hardware store. George Lawton had his appliance store out in front. Moving back towards Main Street, there was the Red & White Market where growing up we used to go in there a lot. That is now Priscilla's and Concord Lamp & Shade. The interesting thing is up over all these stores were apartments. People lived upstairs in most of the places. Palmucci's Barbershop which is now upstairs, I'm not sure what year they moved over there but I think it was in the late '40s. Richardson's Drug Store was on the corner and that was where all the Protestants shopped and Snow's was where all the Catholics shopped. Until Richardson's closed back a few years ago, that was still very much that way. People have been known to go into Snow's and say even though I'm Protestant I still want to shop here. Going back down Main Street toward the flag pole, there was Concord Fruit Company which was a market we insured. It was owned by Adam Grigar and his brother who lived in Lexington. We still insure their widows. Adam died about 10 or 15 years ago. I shouldn't say it but we always used to steal fruit there. Continuing on down there I'm a little hazy on just was in there. Most of the time I guess I was growing up it was Concord Paint Pot which was owned by Alan Kennedy. Right on the corner of the alley was a restaurant that from my youngest years it was owned by a Lamonakis family, Manny & John. They ran that restaurant for many, many years. They tried very hard to buy Ann Lang's house up by the library and put a restaurant in there which they were never allowed to do, so they bought a restaurant in Waltham that they ran for a while. When they retired, their son Steve ran it for a while and he got sick of the long hours and it was sold, and it sold a few more times after that before it folded up. Later the Lantern Restaurant was in the same spot but was owned by another Greek family from Somerville. That was the type of restaurant that you walked in and it was long and narrow ¾ it was like a diner. It had a few booths or tables and a long counter. That's where everybody went for lunch ¾ almost everybody.
In the alley there used to be a fire station which is now where there is a jewelry shop. Ralph Thomas a police officer had a coin shop in the alley also. Heading back down towards Wright Tavern, there was a restaurant in there called the Patriot. He sold that restaurant to the Denisevich boys and he bought the Actonian Restaurant in Acton. But next to his place was Concord Lunch which was a fantastic bar room, beer and wine only because it was so close to church. They could not have hard liquor and I believe that was the reason. That had been there since I believe the 1800s, and it had tile walls with pictures of old houses in Concord made right in the tile. It had tile floors and a tin ceiling. Fred T. Boyd's Real Estate office, originally John Finigan's, moved in there and they completely redid it without touching any of the original parts of it. The tin ceiling and the tile walls really came into play when back in the mid '80s there was a fire in there and completely destroyed everything in the office and there was absolutely no damage to any adjoining offices and the office above it didn't even have any smoke damage, everything was contained by those tile walls. So they took all the paneling out and exposed most of those tile walls which is still in the back. I think the tin ceiling has been taken out. That building was originally a three story building and there was some kind of paternal organization upstairs. Jim Powers had his office in there for a while. It was sold to Dave Eaton in the late '60s and he had the top floor taken off and had it all remodeled into a very nice building. That kind of wraps up the center.
Up on Thoreau Street we used to go up there to Clark's meat market which had moved from the alley down by Tuttle's Livery or the Ford garage as it was then. We would shop there and also there was a package store. All package stores in the area were controlled by Tom Healey and his son-in-law Dick Sullivan had a package store there. Between those two was Deano's Cadillac and Oldsmobile garage which went out of business in the early '50s. Continuing down towards Lake Walden, across the street from the depot was a movie theater, a bowling alley which burned to the ground, a Chevrolet garage which closed down in 1958. The movie theater was quite a long time ago. More recently Concord couldn't have a movie theater because first run movies couldn't be shown within 20 miles of Boston. It was just a way to control where first run movies were. Concord is 19 miles and Maynard is 20 miles, therefore Maynard ended up with three movie theaters, and Concord ended up with none. After the Chevrolet garage moved out, that building was converted to retail stores and offices by Charlie Dexter. Today it is the Spice & Grain. Next to it in the alley used to be Columbo's barbershop and that is now a video store.
On the corner was Concord Dairy which was an interesting place. It was owned by the Verrill family. I think Fred Jones might have originally owned it but we knew it when Steve Verrill's family owned it with DeNormandie. It was DeNormandie & Verrill. In the front was an ice cream parlor which was a great hangout during the '50s. In the back were huge freezers where they would store meat. My father was a great hunter and he would bring the deer back and dress it in the backyard and bring it down there to be stored and go down and get the venison whenever he needed it. That was a great place for hunters to be able to store meat. They also ran the milk delivery business out of there which folded up in the '50s I believe. So it became just a storage facility in the back and the front was converted into retail stores. During the '50s, my brothers and I used to hang around that ice cream parlor. After school and night time everybody would go in there. It was a real fun place to go. Everybody liked Dagmar who was the girl that ran that place for many, many years. That was finally closed down and Friendly's moved in there. Across from that was the Jenny station. Then going back down was the depot which was a great hangout for us. All the kids in that area used to hang around the depot and go across the tracks to the freight yard and there was a place where you could smoke in the freight cars or play cards. The whole group of my age group was known as the depot gang. Joe Lawrence who became the superintendent of the highway department was one of them. The Finnochio family, the Palmuccis, and my cousin Mac lived down there. They lived on Main Street but it backed up to it. The DeMao family and the Venti family was an older group. One of the Venti girls used to baby-sit for us. They lived on Cottage Lane.
In the early '50s they were changing from steam trains to the diesel locomotives and we would hang around down there and wait for the train to stop and switch and we would all be able to get up in the engine and the engineer would let us ride while they backed down in where the coal was kept, which is now CVS and Stop & Shop. They also had the switching there and freight yard where Wilson Lumber was. They would be there an hour or two switching the trains back and forth and we would ride with them. Also on Cottage Lane they had a device to pick up the mail. A woman would hang the mailbag out in the morning, the train would come through without even slowing down and the arm on the mail car would reach out and grab it off the hook and they would swing it into the mail car and sort the mail as they went. The railroad was a very interesting part of growing up in the depot area. The reason we were at the depot so much was because living out on Barrett's Mill then was way in the sticks. In my age group, there was only two of us, Harry Dexter and I were the only two anywhere close to my age, except the Macone family which lived up further. Three of the Macones were the same age as my three older brothers, so I kind of hung around with them a lot. Basically the people in my age group did mostly live down in the depot area on one side of the tracks or the other. That was the place we always met and hung around.
The Railway Express building was down next to the depot where the Stationery Store had been and a gas station had been and now Mail Boxes is in there. They used to have all those large iron-wheeled handcarts outside to hand pull the baggage from wherever the train stopped into that building and then the trucks could park in the front to deliver to the local towns. It was interesting if you ordered something through Sears or Montgomery Ward, it would be delivered down there and you would have to go down there and pick it up off the freight platform. So the depot was a good place to hang around, it was also near the river so we always managed to go over there. We had a boat in the river and spent a lot of time both on the Concord River and we would go over to where I lived on Barrett's Mill Road and we'd hang around the Assabet River a lot there going anywhere from the prison in West Concord all the way down to the Lowell Road bridge and back up and down there and also back up and down the Concord River. In those days, we'd occasionally swim in the river but with the mill in Maynard emptying in the Assabet River, you'd go out in the morning and some days, depending on what dye they were using, it could be bright red, it could be black, it could be pink, and the dye would flow right down the river and out. But it was a great place to grow up and to have the river. There were a lot of farms on Barrett's Mill Road in those days. If you wanted to go where the action was, you went down to the depot. My brothers before me and my father before that also hung around the depot as he grew up right down in that area on Belknap Street. You met a lot of people and it was a lot of fun. At our age there was not a split between Protestants and Catholics in growing up, that was mostly in the previous generation. We would make sly remarks to each other but they were just in fun.
My father kept a diary from the time he was 14 years old until a few days before he died. There are a lot of years missing and I believe my mother destroyed them for one reason or another, but they are very fun to read. It tells about a lot of happenings in Concord, some of the happenings you wouldn't ordinarily hear about, also he was interested in politics and international events. He was interested in early aviation which I didn't even know until I read the notes after he died, and he was also interested in just what was happening in the world and also in finance. I'll read you from Saturday, March 4, 1933. His handwriting is a little bit difficult to read but I'll try. "This morning every bank in the state of Massachusetts along with those in many other states were closed. By proclamation from the Governor a bank holiday has been declared until next Tuesday. Business has been brought to a standstill and when things clear up by Tuesday a serious situation may arise. At noon Franklin D. Roosevelt was inducted into office as President of the United States and Herbert C. Hoover left as a private citizen. Without a doubt Mr. Roosevelt is at the greatest crisis this nation has ever known." Then on Sunday, March 5 he wrote, "Today appears to have been quite a hectic day in financial circles throughout the country. In Washington a newly inducted President called a meeting of his cabinet and after a lot of conferences will call a special session of Congress tomorrow. At the Treasury financial leaders have been in conference all day. Thank heaven Joseph D. Ely, not yet returned from the inaugural events in Washington, spoke from Washington via the radio. He is returning to Massachusetts tonight and will address a message to the legislature commencing at 9 a.m. tomorrow. Situation is tense and unless drastic legislation is put through every bank in the state will have a run when opened."
About this same time prohibition was repealed. That was very important in the Irish family. Before prohibition was repealed they did make what was called bathtub gin. I don't know whether my family was ever much into it. They also used to get liquor from Canada, but that was on rare occasions. On March 13 as noted in the diary, "President Roosevelt today sent a message to Congress making immediate the repeal of the Volstead Act. Some banks and federal reserve system open today." On March 14 - "Tomorrow the Concord National Bank will again open for business in the usual manner. They've been closed since March 4." To interject, little did my father know that we would end up in that building at a later date. "Congress today passed the beer bill allowing 3.2% beer. They also have a bill for permission to sell wine." March 23 - "The beer bill has now been signed by the President and after April 6 Americans may drink all the 3.2% beer and wine they like." April 7 - "Beer became legal in Mass. today shortly after 2 p.m. Governor Ely signed the beer bill and in a few hours permits had been issued and beer was flowing in Boston." Saturday, April 8 - "I went to Lowell with Innis and Al Bowdoin where we bought a case of Hafenreffer Pickwick Ale. I took 12 bottles and they the other 12. It sure is the real thing and tastes fine." April 11 - "Tonight the band played for the county council meeting at the veterans building. It was a gala affair with choice beer on tap ¾ all you could drink. A great many there tonight were well lubricated with the stuff and seemed very happy." April 15 - "Beer has finally arrived in Concord. The selectmen granted licenses to Mara's, Anderson's Market, and Tom Healey. They all report brisk business." December 5, 1933 - "At 5:31 the state of Utah voted against the 18th Amendment. This meant 36 states to do so to vote the necessary 2/3 and the 18th Amendment is wiped from the books. After being officially dry for 14 years, the U.S. is again well. As soon as the news became official, various licensing bureaus became active in cities and towns to issue licenses for the sale of hard liquors." My father among them. "In Boston Governor Ely and Senator Walsh journeyed to a hotel and had their official cocktail, a martini." December 7 - "Yesterday started out to be a busy day for me. Every applicant for a liquor license in Concord had to buy a $100 bond and I started out early in the morning and lined them up. All day my brother Maurice and I worked on liquor bonds and had nearly everyone in Concord lined up." December 8 - "Last night at a stormy session which lasted until 5 a.m. this morning, the selectmen granted hard liquor licenses to Tom Healey, Richardson's and Snow's Drug Stores. Beer and wine licenses to be drunk on the premises to Concord Lunch, Jack Loftus and Charley Hogan. The other applications were at least temporarily turned down." December 9, Saturday - "Tonight I bought my first legal liquor ¾ a quart of sherry wine, a quart of gin, and also six bottles of strong beer. I just finished sampling them all."
There was a stormy session of Town Meeting of March 6, 1933 in the midst of the depression. I'll read from the diary on that. "Annual Town Meeting tonight. A busy drawn out affair and I did not get home until 12:30. Many cuts, reduced budgets and fiery speeches." That says it all.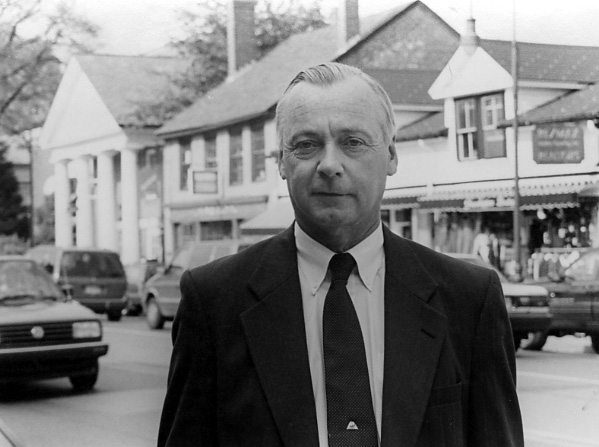 John McWalters diary.
1933 Jan. 9 meeting of the Board of Trade held at the Colonial Inn. About 40 in attendance.
Sat. March 4 Bank Holiday.
March 5- This situation is tense and unless drastic legislation is put through every bank in the state will have a rush when opened.
Mon. March 6- By proclamation all banks in the nation will remain closed at least until Friday. Town meeting tonight- a long drawn out affair and I did not get home until 12:30 p.m. Many cuts, reduced budgets and fiery speeches.
March 9- Tonight Pres. Roosevelt continued the bank moratorium indefinitely.
March 10- Banks are closed for at least three more days. Conditions are now getting worse, many people have no available cash and no means of acquiring any.
Banks closed a week today. Business is at a standstill.
March 13- Pres. Roosevelt today sent a message to Congress making immediate the repeal of the Volstead Act. Some banks in the Federal Reserve System opened today.
March 14- Tomorrow the Concord National Bank will again open for business in the usual manner. They have been closed since March 4. Congress today passed the beer bill allowing 3.2 percent beer. They also have a bill for permission to sell wine.
March 23- The beer bill has now been signed by the Pres. and after April 6 Americans may drink all of the 3.2 percent beer and wine they like
April 4- Description of the Akron dirigible, pride of the Navy crashed into the New Jersey coast in a violent electrical storm, 76 aboard, 3 survived.
April 6- Beer becomes legal in Mass. tomorrow if the Senate can reach an agreement as to the control of the beer. It looks like an all-nite session for the legislators.
April 7- Beer became legal in Mass. today shortly after 2:00 p.m. Gov. Ely signed the beer bill and within a few hours permits had been issued and beer was flowing in Boston.
Sat. April 8- Went to Lowell with Innis and Al Beaudoin where we bought a case of Hoffenrefer Pickwick Ale. I took 12 bottles and they the other 12. It sure is the real thing and tastes fine.
April 11- Tonight the band played for a county council meeting at the Veterans Bldg. It was a gala affair with choice beer on tap- all you could drink. A great many there tonight were well lubricated with the stuff and seemed very happy.
April 15 Beer has finally arrived in Concord yesterday. The Selectmen granted licenses to Mara's, Anderson's, and Tom Healy. They all report brisk business.
April 20- Today America went off the gold standard, the dollar being no longer redeemable in gold.
April 21- The pres. is to issue $3 million. of new currency with no metal backing under a controlled inflation law.
May 4- Last night's Transcript carried a very interesting article on the Old Mill Dam and grist mill with illustrations.
May 13 and 14- Riots at Concord Reformatory.
June 12- Tomorrow we vote in Mass. to see whether or not we are to repeal the 18th amendment.
June 17, 1933- Pres. Roosevelt passed through Concord on the way to Groton.
Nov. 17- U.S. recognition of Soviet Russia.
Dec. 5, 1933 at 5:31 Boston time the state of Utah voted against the 18th amendment. This made 36 states to so vote the necessary two-thirds and the 18th amendment is wiped from the books.
After being officially dry for 14 years the U.S. is again well. As soon as the news became official, various licensing bureaus became active in cities and town to issue licenses for the sale of hard liquors. In Boston Gov. Ely and Sen. Walsh journeyed to a hotel and had the first official cocktail, a martini.
Dec. 7- Yesterday started out to be a busy day for me. Every applicant for a liquor license in Concord must file a $100 bond and I started out early in the morning to line them up. All day Maurice and I have worked on liquor bonds and have nearly everyone in Concord lined up. Tonight I delivered all of the bonds to the Selectmen who are to meet for the purpose of granting licenses at 8 p.m.
Dec. 8- Last night in a stormy session, which lasted until 5 a.m. this morning, the Selectmen granted hard liquor licenses to Tom Healy, Richardson's and Snow's drug stores; beer and wine licenses to be drunk on the premises to Concord Lunch, Jack Loftus, and Charley Hogan. The other applications were at least temporarily turned down.
Dec. 9, Sat.- Tonight I bought my first legal liquor, a quart of sherry wine, a quart of gin, also 6 bottles of strong beer. I have just finished sampling all of them.
Dec. 23- It appears from the hustle and bustle that the depression must be over.
Dec. 27- A foot of snow on the ground that made travel quite difficult. The town employees did a remarkable job of clearing the snow from the center of the town and by night fall every bit of piled snow was removed from the center of the town.
Mounted 19 Jan. 2008; revised with a photo added, 27 April 2013 -- RCWH.