David Little
35 Belknap Street
Age 82
Interviewed December 8, 1994
Concord Oral History Program
Renee Garrelick, Interviewer.
The Men on the Monument - Concord's World War II Memorial
The story of the World War II Memorial and the considerations involved for the listing of those individuals that we now see on Monument Square. Also included is the significance of war memorials and the current efforts to restore the Melvin Memorial created by Daniel Chester French.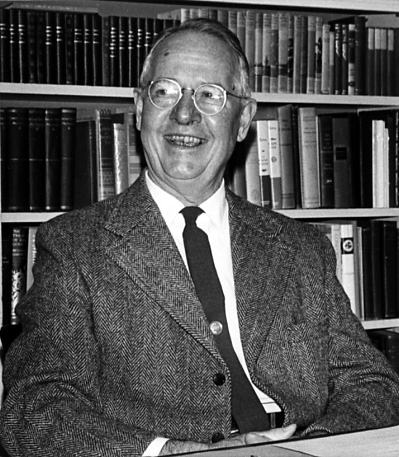 It was easy to become involved and serve on the World War II Memorial Committee as I was in the Navy for a little over five years during that war. Many of my friends, in Concord and elsewhere, were also in the service and six of my Concord friends died. I had a feeling about war memorials which I think we don't always think about, and they are important, of course. There is a personal quality about a war memorial statue, stronger perhaps than one feels facing the statue of a politician or captain of industry. In Concord and other small communities we recognize and remember some of those names as those of people we grew up with.
The Vietnam War Memorial in Washington is the ultimate example. This polished stone wall covered with names as far as the eye can reach brings home to the observer the impact of war upon our lives. I think the Vietnam Memorial has helped us all over the country to think again about the war memorials in our communities, some of which, for the more recent wars are carefully tended, others which suffer from what people hope is benign neglect but which in actuality has exposed monuments to the ravages of weather and occasionally, alas, vandals. We should take a look at all our war memorials and think again what they meant to the people who raised them. People whose friends and relatives have their names on those monuments, and so as we go on, we will not forget the people who died to keep this country free, remembering the horror of those wars and make extra efforts not to get involved in another one.
I was on the war memorial committee several years after the war ended, and we thought it would be a lead-pipe cinch. We had the documents that so-and-so was drafted from here and so-and-so died at such-and-such a place, but how they died also makes a difference, and should we be very arbitrary that only the people who died under the proper circumstances would be honored on the monument? Our committee decided unanimously no. The people who went, some of them were confident, some of them had the inner strengths to put up with the hardships of war, others did not. We had one young man who was drafted from Concord, who couldn't take it and I think before he ever got out of training camp, the tough sergeants and so forth were too much for him and he committed suicide -- should his name be on the roll? There were those in town who thought it should not as he had failed to fulfill his obligation, let's forget him. We said no, he is just as much a casualty of war as the man who died with a Congressional Medal of Honor on him and was buried. One man was able to do it, the other was not, both tried. So those names are on there.
I was particularly concerned about these shadow faces because one of my closest friends, Harry Brown, was a member of the Army Air Transport Command. He had scarlet fever as a child and it had done things to his blood pressure to change some vital system so that he couldn't pass the physical exam for the Air Force. In real life he was a commercial pilot flying passenger planes, freight and so forth, and he was an extremely good pilot until the Army took him. There was a need for ferry pilots for all sorts of movement of things around without taking them into combat. Harry flew bombers all over the world, passenger planes, fighter planes, whatever it was that had to be delivered somewhere. Harry was one of the group of dedicated and devoted air transport command pilots who did the job. Harry had come to Concord to spend Thanksgiving with my family, when I was overseas. After Thanksgiving he flew his plane which he had described to my wife as a "clunker" north heading for Burlington, Vermont, and one engine gave out on the trip and the other one gave out as he was trying to land in Burlington and he died. Should his name be on the rolls? He was not a member of the army fighting forces, air fighting forces, navy fighting forces, he was an air transport command pilot, who were officially civilians. They were in uniform and they had military discipline. When the colonel told them to go somewhere, they didn't tell the colonel to "stuff it," they went. Some of the fighter pilots I talked to said that the Air Transport Command did many jobs for them that had to be done and there was nobody else to do them, and they were just as much veterans as this well decorated veteran. So our committee put his name on the roll.
The next step with Harry took a little longer. The town puts flags on the graves of the veterans buried in Concord every Memorial Day. They did not put one on Harry's grave because as they pointed out to me, he was not, according to their definition, a veteran. I leaned on them year after year after year, and finally the year that I was grand marshal, they called me up before the parade and said "Dave, when you march by Harry's grave, take a look." I did and the next few hundred yards, tears were streaming down my face. That was important to me just as the names on the war memorial statues are important to the people who knew them, and the accumulation is a town's war memorial is very important to most people in town. It is only the few, usually young people who have no understanding of what war is and what war means, who will vandalize these monuments. To me that is as much an act of sacrilege as trashing a church.
There was an example of a young farm laborer who worked on one of the local farms and wasn't a resident of the town per se, enlisted, went to war and got killed and was one of the town's casualties. This was a comparatively easy decision for us. He was drafted from Concord, and our committee unanimously agreed that a man drafted from the town was by that very act a member of the town, and therefore his name should be on the monument and therefore it was. We took as broad a view as possible of whose name should go on. We thought it was better to get a few names on that really should not have been then to leave out a single one that ought to be.
My ship was in Boston at the time of the Coconut Grove fire in November 1942. We were building anti-submarine nets in the harbor, and I had 20 men on liberty that evening in Boston. The word of the fire spread very rapidly, and we could hear the noise of the fire engines all the way down at the docks. It was a very tough evening for those of us on board wondering if we would ever see our liberty party again. The captain of the ship at the time was not noted for being a "hail fellow well met," he was a very competent seaman but rather distant with the crew. Early in the morning, our liberty party came back after an evening of revelry and so forth, the captain was on deck checking each one aboard, and when the last one came aboard, he burst into tears. None of my crew thought he was capable of such emotion. It was a terrible evening for the ships in Boston as well as for many families, because the Coconut Grove was a very popular place. Billy Harlow of Concord was one of those on liberty, not from our ship, who died in that fire. Was he a war casualty, should his name be on that list, or was this an accident of civil life and no relation to the service at all? We thought about this at some length and we all agreed that Billy's name should be on the list. We worked hard to come up with the justification for it that we could defend if somebody said "Hey, he didn't die from his war activities." Well, if he had not been in the service and on liberty in Boston at that time, he would not have had an appropriate place on the roll. He was on active duty, he was in good standing, he was doing a legitimate activity and he died, and therefore his name is on the roll.
The World War II Memorial Committee was appointed by the Town Moderator after it was authorized by a Special Town Meeting of October 2, 1950. The Chairman was Harold Tompkins, who lived on Lowell Road and was a World War I veteran. He had very strong powers of reasoning and figuring out how to make things go. It was not easy then, as it is not now, to be a farmer, but he was a successful one. He could plan and he could manage and his judgment was excellent. He had been a state representative as well. Other members of that first committee included Frank McLaughlin, who was one of the best instructors at the Concord Reformatory, a big craggy Irishman, a patient man and one whom I would not care to cross on something important. There was also Edith O'Neil, who served as a WAC during the war. She was a beautiful woman who was very prominent in veterans affairs. And David Williams, who later became a district judge at the Ayer Court, who just recently died. The selectmen appointed young Andrew Hepburn, whose father was a very distinguished architect, to design the monument, and Fred Flannery of the Sleepy Hollow Monument Works provided the stone. The people who did this job really got together and worked in remarkable harmony because, as I've said several times, war memorials are extraordinarily important because they deal specifically with many people we knew or knew about as our fellow citizens who should not be forgotten but should be proudly remembered.
On November 11, 1951, the war memorial was dedicated and there were 40 veterans of World War II whose names are on it. It shows that, in this case in particular, it took six years from the ending of the war to erect a permanent memorial. I'm sure each war has its own story as to how their memorials came to be.
Currently, I'm serving on a preservation committee for a memorial. Our Civil War has two memorials in Concord, one done by the town, the great obelisk in Monument Square with quite a few names, particularly for a small town then and the unforgiving feelings at the times. Not for the veterans of the casualties of the Civil War but those men who died in the war of the rebellion. If anybody from Concord died on the confederate side, I'm confident his name is not on that monument. It's a fine monument. Our southern visitors come to see the Minuteman statue and then take a look at the obelisk and are quite offended by the war of the rebellion but there it is, cast in bronze and nobody's going to change it. Then we have a second Civil War Memorial, not in a public place, but in our town cemetery. There are no graves at this monument. It is a memorial, not a burial place. These bodies were not recovered. Three brothers who died in the Civil War were memorialized some years later by the fourth brother who lived. The inscription on that monument I would like to read because it says so much and gives such a clear picture of what can and does happen in war time.
Melvin Memorial
In memory of three brothers born in Concord who as private soldiers gave their lives in the war to save the country this memorial is placed here by their surviving brother, himself a private soldier in the same war.
"I with uncovered head
Salute the sacred dead
Who went and who return not"
Asa Heald Melvin, killed in battle before Petersburg, VA, June 16, 1864
John Heald Melvin, died in a military hospital at Fort Albany, VA, October 13, 1863
Samuel Melvin, taken prisoner at Harris's Farm, Virginia. Died at Andersonville, GA, September 1864
Members of Company K, First Massachusetts Heavy Artillery
Daniel Chester French, who began his career as a sculptor with our Minuteman statue, and did the statue of Ralph Waldo Emerson in the library, and the statue in the Lincoln Memorial in Washington, turned out to be a great sculptor. He was a neighbor of the Melvin brothers and they grew up together in Concord. The surviving brother asked Dan French to do a memorial for his three brothers who had died and said that he would pay for it himself. Dan French took on the job and did it. It's a beautiful thing. It was set up in Sleepy Hollow Cemetery and dedicated in 1909. It in itself really expresses the remembrance and the love of the people who survived for the people who did not. It is not really a memorial to three soldiers by a fourth, it is a memorial to all soldiers who died for their country in service. We are trying now to do some maintenance work on the Melvin Memorial. The statue itself is in good shape, a little dirty, but its architectural setting needs a good deal of work and the problems that we are facing are legal ones, naturally. Who owns the statue and the setting? Who is responsible for it? How can we put together the money achieved and find the craftsman who can restore it to its original condition? A committee has been appointed by the town to look into this, and the process is continuing.
Description of the Melvin Memorial, Mourning Victory--
The figure of a nude woman enveloped from head to foot in a huge American flag, much of it held by both hands in loose folds over her head, her left hand also raising high a laurel branch, is contained within a vertical rectangular block of marble. At high noon her head and shoulders are lost in the shadow of the surrounding stone. Only her flowing draperies and her lower body are visible. Mourning is a private affair.
As the day progresses the sun begins its descent toward the western horizon and its light reaches in under the marble canopy to illuminate Victory's head, face and shoulders. It is a sorrowful face, but a triumphant one, not a devastated one as we might expect. The loss of three brothers is indeed a high price to pay for victory, but it has been paid and victory has been achieved. As the sun goes down, the victorious face and the whole figure are fully visible.
Dedicated in 1909, the monument, like most out-of-doors sculpture, is in need of cleaning, its architectural setting, of major repairs. Dan French declared Mourning Victory to be one of his works which gave him the most satisfaction. The play of light on its surfaces brings victory out of mourning, hope out of despair. It is not merely a skillfully carved piece of marble. It is a living, breathing expression of faith.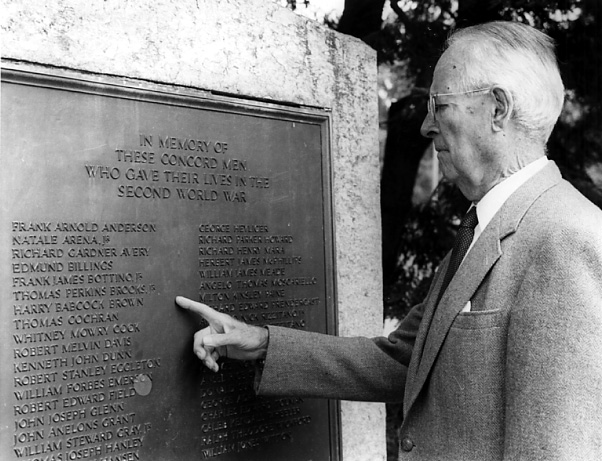 Text mounted 19 January 2008; images mounted 22 December 2012. RCWH.