Hollis Holden
Acadian Utilities Incorporated
74 Commonwealth Avenue
Age 82
Interviewed November 10, 2004
Concord Oral History Program
Renee Garrelick, Interviewer.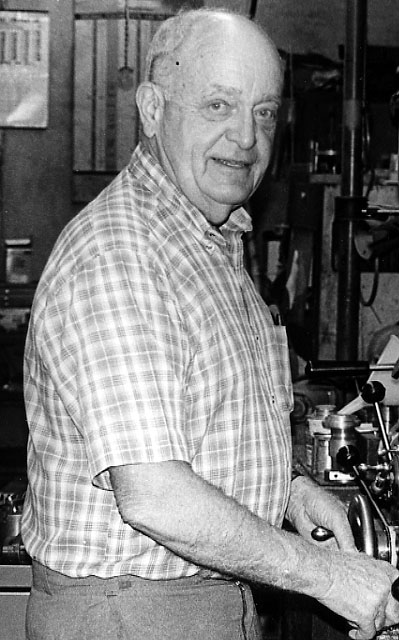 Acadian Utilities started out because my mother, Jenny Holden, started making a line of indoor folding clothes dryers from wooden dowels. She also invented other things like a sewing basket for people who did sewing and needed a little place for their thread and so forth. The made these in the basement of our house and sold them to places like Jordan Marsh and Sears & Roebuck. The space was very limited. I had just come back from the Army in 1946 and went back to my original job at Pratt & Whitney Aircraft, and my mother was alone here without much help so I thought I would come and help her make clothes dryers and make a fortune, which did not work out by the way.
As to the name, she had to have a name for the place and since she came from the Down East in Canning, Nova Scotia, she decided she would use the name Acadian for the people from Acadia, which is the section she was from. The word Utilities came about because she said she was making things that were utilized around the home for which there quite a variety of things, I would say she invented in the strongest sense of the word, but she also manufactured some of them just for demonstration and some for sale. Among the other things she made was a folding two passenger canvas and wood beach seat so called. It had a canvas roof over it so you could sit in the shade comfortably at the beach without getting sunburned. I mentioned the little sewing baskets but she made knitting bags also for people that did that type of work. She invented or made a machine she called "moppy", which was an old fashioned cleaner mounted in a box like container with a ramp going up to the top and it had a rotating bar at the top with a vacuum underneath it. So you would take your dry mop and drive it over the top and instead of shaking your mop out the window, you would run it over "moppy" and that was it.
She had a friend in Canada that made a thing that went in the bathtub that was fastened to the end of the wall securely and it had a big sponge mounted on it on a shaft that would move up and down slowly to wash your back. That actually wasn't too successful. None of these were ever patented.
Another thing she thought she was going to make that was called a corner cove. She looked at corners in houses and there was always a corner you couldn't get into with your mop. So she had a fellow make up a mold that made a little triangular curved surface you could put in the corner and then you would have a round surface to mop. There were other things like that she made all during my life.
The clothes dryers were the money makers for her. However, I found out after I left Pratt & Whitney that it was quite a seasonal business and during the winter months when you couldn't hang your clothes outside, and also in those days the college girls going to college always wanted to get a little small dryer they could put in their bathtub so they could wash out their undies or whatever and have a place to dry them. I don't think anyone bothers with that anymore.
My mother actually went out on the road herself selling. I did the same myself and then her brother came down Canada and spent a period of time doing that also calling into hardware stores and so forth. As I say, I found when I was getting ready to get married that I wouldn't have enough to support my family so I went to work in a machine shop.
She came to this location in about 1944. She moved here when my mother and father divorced. I had taken an apprenticeship course at Pratt & Whitney starting in 1942 the idea being that I would study for four years in the machine shop to learn the trade as a tool maker plus I went to night school four nights a week to the University of Connecticut to have an associate degree in engineering. Unfortunately for me and other apprentices working along with me, we had to go into the service. After I discovered I couldn't make enough in the business, I went to work in a machine shop and later on with Raytheon Company. In the meanwhile my mother's business had grown to the point that she found a building in the center of West Concord in an old garage and she managed to talk the people into selling it to her. I was working a second shift at Raytheon so there were lots of times during the day when the kids were in school to help down here. We had to clean all the walls and paint them and the floor was a 1/2 thick in grease. So we cleaned everything out and set up for the clothes dryer business.
My mother had this old friend of hers in Halifax who's name was Rupert Grand. He was a very clever fellow in his own way and he designed for my mother an inverted six-spindle drill press that was semi-automatic for drilling these clothes dryers. So you could drill about six dowels. a minute. All you had to do was load the dow into the trough, the machine would come down and drill the holes and come up, and the injector would throw the dow out and you just put the next one in. He also made a couple of machines that I would call a centalist?? sanding machine, which works on the same principle as a centalist grinder in as much you just drop the dow into a little tray and the rubber wheels spin the dow up against the sandpaper belt and feed it right through so it would sand the whole length. It made it very easy to make a very smooth product for the clothes dryer.
I also had been working second shift at Raytheon and had bought myself a lathe and a small emoling machine which I installed in the same building and I was able to pick up quite a lot of work on the side. Then came along 1963 and I was laid off at Raytheon after 10 years which seemed like a disaster at the time, however as time proved, it worked out to my advantage because over time and without having to go out on the road to look for work, right behind my shop was the Dover Ski Binding Company, and they had lots of surplus little jobs that they didn't have time to do themselves which I was well equipped to do. At that time the best part of it was the fact that as soon as I finished a job and delivered it to them, they made me out a check so I had no delay waiting for my money. That grew and grew like Topsy.
Then I became connected with General Radio Company. I worked for them until General Radio went out of business. That period was about 1940 to about 1980. Other things came along such as work for Data Terminal Cash Register Company. At that point in time, I had 10 people working in my shop plus some on second shift. I had some three or four men from GenRad come here after 4:00 and worked until 7:00 or 8:00. Over time I had many other customers come through.
But in the meanwhile my mother's business gradually faded out as she aged. She lived to be 98 years old and she was quite active up until she was about 85. Her body wouldn't do what she wanted it to do by that time. But I used to bring her down here from the nursing home every day so she could sit here and listen to the shop, and it made her very happy.
Most of the work I do is small quantities. There are very few machine shops especially now that will do that sort of work because they have these automated digital-operated machines and they want to make 10,000 pieces not one. So I call myself an experimental machine shop for the fact that's what I've developed. Many people develop products here, and it's been fascinating to see the things we've had to do here.
Over time also I went to MinuteMan VocTech School and they had a course for machinists. I had three people who came from there. Two of them were exceptional. First was Tom McGeary, a nice young lad who worked with me for about three years and embarked in a career in the Air Force. He has kept in touch with me over all these years. The other lad I hired had graduated cum laude. A very bright fellow. He came to work for me for about a year and at that time I had just purchased a computer-operated milling machine myself, and he learned to run that practically overnight so it relieved me from that duty. He stayed about a year and then went on to MIT and graduated from there. After that he went to work for Arthur D. Little Corporation and while there, knowing my machine shop could do these odd jobs, they had quite a few interesting jobs I did for them. Among which we machined some rings or insulators that went on solar ??? that's up on the moon right now as far as know. I could never prove it but I was told that's where they went.
Esco Corporation who make these big geodetic domes up here had a project to make a heat shield for the Gemini space movement. They were able to make up the form but they had no machinist so they hired me to come in and use their machinery to machine a heat shield that was on the first Gemini space shot. Things like that have kept my life very interesting.
I enjoy what I do. I'm a very happy man. But I think about the businesses that have been lost right in West Concord. Right off the bat, you think of General Radio. They're gone as far as we're concerned. Dover Ski Binding is gone. Concord Woodworking is gone. Allen Chair Company is gone. Metric Tape Company started right across the street here but they're out of business now. The apple storage warehouse is gone. Barr Associates started over here in Hap Hanson's old machine shop with two men and now they have a great big factory that had 300 people working there. I did a lot of experimental work with them making holders for glass filters that were being made some of which are up in the Hubble Space Telescope right now. Carter Furniture, Howard Johnson's, Hay Shoe Store, Swett's Drug Store, Will's Bar, Collins Market, Williams Foundry down the railroad tracks that used to make cast iron castings are all gone. Mr. Angelo Bartelomeo's father down here where the 5 & 10 store is now used to have a candy store there. Prendegast's grocery store, Whitney's gas station, the Golden Egg, Whitney Coal & Grain, Hap Hanson's machine shop are all gone. Boston Gas moved away. Will's Bar and Grill is gone. Perkins Market is gone. Andy Boy Farm is gone.
Then other big things that happened that affected us were other local companies that went out of business like Digital Equipment Corporation. They were a large employer of people in this town. Others were H.H. Scott, Data Terminal Cash Register Company and the American Woolen Mills, which was the largest woolen mill in the world at one time. Nuclear Metals is out of commission. Our Lady's Help of Christians is the latest thing gone, unfortunately. Comeau's Farm is now Concord Greene. Part of the Concord Woodworking is where the post office is now. Whitney coal is now office rentals over here. The Derby Farm is now where the White Hen Pantry is. There were orchards on the right hand side of Main Street going toward Concord where there are houses and new streets all along there. Boston Gas area is now Concord Park. The West Concord grade school is gone.
When I moved out here, there were no traffic lights in West Concord. The railroad crossing was manned by a gate keeper who was on duty 24 hours a day. The railroad storage building used to be over here which is now a parking lot. There used to be a Chinese laundry down here. There are many other cases like that. I have a picture here of the old West Concord school that was destroyed. The Association Building is where the post office used to be. The whole upper structure was taken down. Across the street there used to a hotel which is now apartments. Carter Furniture started where Hay's Shoe Store was, then they moved over to Main Street.
It's incredible the change that has happened in this part of town. When I bought this building, it was in terrible disrepair. All the sills were rotting. I spent more money fixing the place than I paid for it. The back wall was rotted; the wall was bulging out. So it's been quite an adventure.
The businesses I mentioned were all small stores and businesses that provided every day necessities. At one time there was an A&P in this town and a First National. That was before I got here. So this town sort of grew sort as an offshoot from the Reformatory. The church that I grew up in, the West Concord Union Church, was started by some members of the Reformatory way back at the turn of the century. But we just lost our neighbors, the Catholic Church, which is unfortunate. Our choirs have sung together but I think the situation may continue. I think we may only have to travel over to Concord now to sing together or vice versa. I've been in the choir for about 50 years off and on.
I live on Main Street in West Concord. My house is located in a very nice place in that it's not right on the street, but behind my house is a beautiful pond which was my son's joy in all his early days. I've seen Main Street change especially the traffic.
There was a more definite distinction between Concord and West Concord back then. This was considered the other side of the tracks in a sense after you crossed Route 2. It was sort of the poor end of town. Not really poor, rich in people but not so much in landscape. But over the years, time has changed that now so that we have our quota of $2 and 3 million houses over here which sort of ironically are being built over what used to be a piggery. That was Ruggerio's Piggery and now is Caterina Heights. The pond in back of my house was actually an artificial pond that was made for making ice. At the foot of the bridge just behind the dam was an ice house. Up until the 1920s people used ice in their refrigerators and did not have electric refrigerators. I was told that my brothers-in-law used to jump off the ice house right into the pond. But it's not quite like it used to be.
It used to be a very thriving commercial area. Mostly they were small businesses. Where today it's all these Wal-Marts and so forth with no personal contact whatever which is the saddest part of all. You could walk into a store and have a chat with the owner and he'd know what you needed and it was wonderful. Now you feel like you're a piece of machinery, you're just one little cog.
I could enumerate a lot of other things I've done in the shop as far as experimental work. I did work for a company in Cambridge called Allaint Research which initially made what they called PH meters which you can measure the aclinity or acidity the earth has and they graduated into making something about testing blood. But two engineers and a salesman broke off from that company and formed a company called Nova Biomedical. The first time I went over there, they knew my work from working for them before. They consisted of two men, a drill press, a secretary and a typewriter. They've grown to be I think the second largest builder of blood sampling machines in the whole world now. They've taken over the old plant down in Waltham that used to belong to the sewing machine company. At that time I did all the prototype and a lot of the early production work in parts. My place is like a museum of old parts if you look around. A lot of people come in here and are absolutely amazed. First of all, it is a colossal mess, but having lived in it all my life I know practically where everything is. If somebody moves something, I'm sunk.
I have a whole flock of machinery now that are like I am, they are all working antiques. I mean they are old but they all work. Just like me, I'm old but I still work. I have to say I play at it. Over the years I've built up this terrific inventory of metals. If I only needed 6 inches I would buy 2 12-foot lengths so I would have it on hand. One of my customers said they always came to my place when they needed a job in a hurry because they knew I would have the stock someplace here and they wouldn't have to wait for me to order it and wait for it to come in.
Over the years I've been trying to clean up this place. For companies like General Radio and Data Terminal that have gone out of business, I had produced parts in advance because I knew they were constantly coming back so I have all these finished parts even plated ready to go. Now that those companies are gone, I had to ship it all out as scrap metal. I had 15 barrels of parts that went out of here.
Originally General Radio came from Cambridge. Then they moved out here and had that big plant built on Baker Avenue. They had their own experimental machine shop in there and that's where I had men come here. Then over the years as some of their machinery became surplus I would buy some of the used machinery. I have a big surface grinder and a cylindrical grinder and a few other things I bought from there. As other companies around the area have gone out of business, I also bought machinery. Now I have the problem of getting rid of those same machines again. Right now the market is very much depressed for old used machinery because everything is new again, all automated equipment.
General Radio sold out in about 1996. They also had a place in Bolton and I think that might have been part of their downfall because they tried to change from their own line of equipment to get into the modern age making computer testing equipment and so forth. But they ran into competition from some of the biggest companies in the world like General Electric and so forth making the same equipment and they couldn't compete. They made a superior product, but they couldn't sell it.
I plan to keep on going. I have mixed emotions. I have had a lot of people come in over the years saying, "You can't go out of business. What are we going to do when something breaks?" I have a list of things I've fixed. Carl Hay's in Hay's Shoe Store artificial leg would bind up on him because they had ball bearings and dirt would get in there and he would lose his balance because the leg wouldn't move. So he asked me to look at it. I took out the ball bearings and I put in what they call oil link bearings which are self-lubricating solid bearings. He never had to come back. He never had any more problems.
I've made other interesting things. Dr. Altshuler made a hemo??? which was a machine that would monitor blood for clotting during an operation. His brother was also a surgeon in Boston and he supervised a couple of jobs using that equipment. I could go on and on.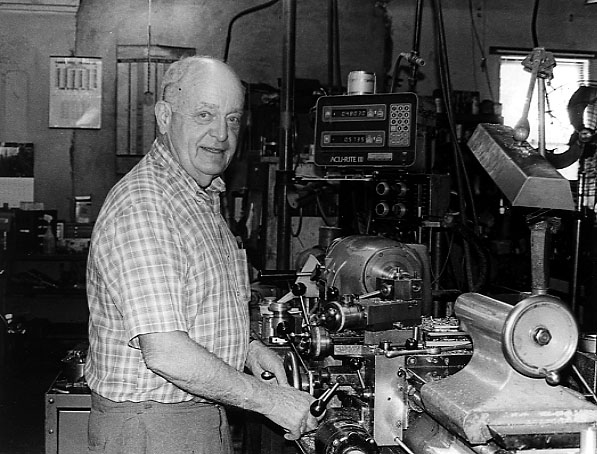 Text mounted 16th February 2008; Images mounted 13th October 2012. RCWH.