Guy DiGiovanni
Period Realty Trust
144 Sudbury Road
Age 81
Interviewed December 9, 2003
Concord Oral History Program
Renee Garrelick, Interviewer.
Click here for audio in .mp3 format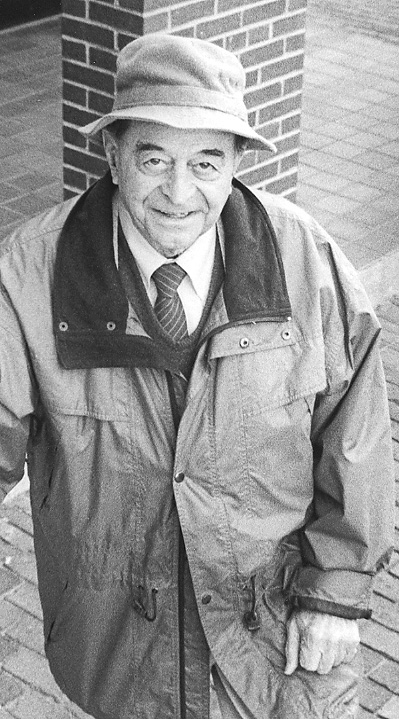 Guy DiGiovanni has influenced a great deal the look of Concord with his interest in housing and the commercial streetscape, and has contributed a great deal to Concord property, some of which he owns and developed himself and others he maintains.
In 1964 I used to pass through Concord on the way to Carlisle as I was doing some residential building there. The town of Concord impressed me very much as I rode through it, and I became very fond of the town itself and met some very nice people here.
My first project in Concord was Wedgewood Common which is in West Concord off Lawsbrook Road. I took it right from the ground up. We had opposition, but we finally got it approved and we did it in steps. Many of the people that were opposed to it when it was done were very pleased how it turned out, and we became very friendly with the opposition. I'm very pleased with it. We must have planted over 2000 trees and different evergreens. I think landscaping is very important to a building, and the building structure itself is very important so it can be maintained and always look well and become part of Concord.
These were individual townhouses for people that came from homes. There were firewalls in between that went right up to the roof, and each townhouse had its own heating system, own hot water system, and the soundproofing was very good. We employed top grade craftsmen in the heating business and plumbing business. We dealt quite a bit with the Tombeno Brothers who were part of the town for a long time.
What was unique about this complex was the undergrounding of the utilities. I was familiar a little bit with the underground electric and telephone in Belmont that was done as much as possible there, and I was acquainted with the light department there and we got some guidance from them. To my knowledge this was the first complex that went underground. I understand now the town is very much in favor of that everywhere.
I mentioned we had opposition. There were some neighbors that were very adamant about it and in fact as time went on, some of the neighbors that abutted us came to us to buy their property. But the opposition to the project ended up in the Supreme Judicial Court. I purchased the land at Wedgewood Commons through Jim Powers, who had been in town for many years. I enjoyed his friendship because he was very straightforward and told you the way it was. He had some relationship with Pat Moulton and Jim thought he would be a good attorney to represent me so I followed his advice. Then Pat ran for selectman and he came to me and said that it might be a conflict of interest to continue. He said our plans looked good and he thought we should go with someone else who would be straightforward with us. I asked if he had anybody in mind and he said he really didn't, but he had a brother who lived close by in the next town and if I wanted, I might check him out. So I did and I met with his brother, Steve Moulton, and he represented me and did a great job and we were very successful in putting this through.
It must have been in our family because my dad would see something run down, and I would assist him in bringing it back into being a pleasant surrounding. Later on we did buy some properties and cleaned and fixed them up. At times people would say I know your property, I just have to look at it from the landscaping and the appearance and it's wonderful, and I appreciated that because you do things and sometimes people don't realize what's being done. We have two houses on Conant Street because they abutted the property at Wedgewood Common. And we fixed those up and turned them into rentals.
Even before those stucco apartments on Thoreau Street were built, there were some units behind those stucco buildings that was owned by the Berndt Company. They approached me on it, and I took a look and they were sort of run down. I had a feeling I could do something with them, which I did. So I purchased those in June 1986. I was very fortunate that through the years I established a decent credit rating with the Middlesex Savings Bank, and they were very helpful in cooperating with me and they followed my activity. The two stucco buildings on Thoreau Street abutted the property in the back which I owned. They were owned by Gene Kraetzer. He was getting elderly and said when he retired I would have first option to buy the buildings because he appreciated the job we'd done behind him and he didn't have the facilities that we had, so he thought it would be a good thing for him and the town if I purchased the buildings. I appreciated that and so it finally developed in May 1972.
When Ann Anderson was at the Concord Housing Authority, they had some needy people and approached us and we cooperated with them. Even today we have a few people that we work with on the Concord Housing Authority, and we are pleased to do it to accommodate some people that need that type of housing. Now as the population matures and people find they can't handle some of the maintenance, we're pleased that we're able to assist this type of population because many of them have been here for years. Some of them have moved out because there was nothing available and then they heard about us and came back into town and were very pleased that they could be Concordians again.
Ralph Nelson was a civil engineer and a great guy. He had done quite a bit of work in Concord. I was in his office when he was doing some work for me up on Bartlett Hill, and he mentioned there was a possibility that he might sell the Thoreau Street shopping center. So I told him I might be interested to balance out my operation and have some commercial property. So we did negotiate and I bought the shopping center in December 1983. After Ernie Verrill saw what we did to clean up the shopping center, not long after that he approached us to buy the Concord Depot. I was pleased we bought it because we did improve the interior and exterior as it needed some repair. The conversion of a railroad depot to retail space intrigued me. There was decent parking and there was a restaurant and of course the Concord Depot store itself. I was pleased that it turned out the way it has. It's a focal point for the people using the trains.
In the later part of 1991 I became interested in the building at 100 Main Street which was part of the former Rose Hawthorne School. Welch's had their headquarters there and they outgrew it. We couldn't expand on the building. They found another place with more space. They occupied the whole building which is about 15,000 square feet, and we couldn't get one company in there because it wasn't the best of times to do that, so we split it up. We have about a dozen tenants in there. We were very selective as to who would go in there to not cause too much traffic, and it's work out very well. 1991 was a time of recession. We went through some rough times like everybody else, but we hung in there and we were fortunate enough to have other property that helped us out. We took our time and did it and did it right. We were pleased we decided to purchase that even though we had to struggle with the remodeling, but it turned out very nice.
Hawthorne Village in West Concord was owned by Henry Damon and his wife. They built that place on property that was in the family for years. It was in June 1983 that Henry approached me. He took a personal interest in his tenants and he ran a good shop with his wife. They were very fine people. I enjoyed talking with Mrs. Damon, and it was unfortunate that shortly thereafter that she died. She was a credit to Henry and to the town because they did a wonderful job up there. There were tenants there that Henry had a good relationship with and they were concerned about the apartments not going condominums because the tenants enjoyed the place and rents were fair. Henry told me he realized what we did at Wedgewood and he gave me first option to buy the place. We worked out a very good program and he was happy that we took it over and kept it as rentals even today. We had the facilities to improve the property with landscaping, and it's worked out very well.
Wilson Lumber yard interested me. I did business with Wilson Lumber and became acquainted with Lawrence Kendall who owned the property. We bought that just at the time the economy wasn't so great, I think in the late '80s. The Kendall family gave us first preference and it was delight to see because the industry at that time was on the decline in the lumber business and the building business. There were buildings there that were very old and the lumber yard wasn't in good shape. I was pleased that the Kendall family approached me. There again it was something that we felt we could improve and make it a part of the town that would be an asset. There had been some serious accidents there prior to our time and we took that into consideration and blocked off those areas that were open to be prone to accidents. We were pleased that we were able to have a decent entrance. I think it was one of the first commercial/residential developments, and we were pleased how it turned out and I think many of the neighbors were too.
With this property being at the railroad crossing, we had to deal with the MBTA as well. They had parking there and we had to negotiate with them and give them some more parking. They were cooperative. We showed them plans as to what we intended to do and they were pleased with it. Under the conditions at the time, they thought we would be the proper people to develop it. There were a few holes in the commercial end of it. We wanted a decent restaurant with good parking which was a big thing and we kept that in mind because parking was very important. Then we had a few tenants that outgrew their space and came to us from the Depot or the shopping center and were interested in renting space there. So we had that mix. We also built a building along Grant Street that blended in with the neighborhood. We have townhouses that face on Grant Street, and the others are apartments in an apartment building with an elevator. We have a handicapped unit there with the Concord Housing Authority. We studied different names and Concord Crossing kind of rang a bell and it fit in well, so that's what we called it. Putting more residential type units within commercial zoning blends well for the tenants because they don't have to travel far and they can walk to the stores.
Friendly's restaurant was at the corner of Thoreau Street and Sudbury Road for about 30 years and were part of the Thoreau Street shopping center. When Friendly's first came in, it was very successful, but over the years they had organizational management problems and we got many complaints that the service and the operation weren't to satisfaction. But our hands were tied because they were on a lease. We finally did negotiate and made a settlement with them because I guess they were having their troubles too. We were finally able to have that space open.
Deciding what to put in that space was a matter of studying what the market was. We got many calls once they knew Friendly's was not going to be there. We studied each and every one of them. We try to have owner-operated businesses in our commercial property. We don't like these large firms coming in and delegating like Friendly's did. It doesn't make for a pleasant operation for the town. We were approached by the Costa brothers. They have had an operation of Dunkin Donuts in the next town. We had many meetings with them. They expressed a desire to be part of the community. After many meetings, we discussed what we required and what they could do, and at the present time we are very pleased. We remodeled the old Friendly's store and it's very pleasant there. Naturally like everything else you get opposition and many people were opposed to having Dunkin Donuts there. But we sort of analyzed it and tried to make it as pleasant as possible because we thought there was a need for people to sit down and enjoy each other over some coffee and donuts. We were pleased to have the cooperation of the Costa brothers, Danny and Mike, to make it as pleasant as possible even with the signage. I think that was an important thing. I think the town is pleased as to how it turned out.
The Costa brothers are their own proprietors. On some of these franchise deals usually the parent company wants to become part of the lease, but our lease is strictly with Danny and Mike Costa personally. We have no relationship with Dunkin Donuts directly.
In the 1970s I was building up at Bartlett Hill on some land that became available, and I was approached by people who knew that we had the Berndt property on Thoreau Street and saw the way it turned out and were interested in having us purchase the property on Elsinore Street. The property was pretty well run down over the years. I guess it didn't have the best reputation in town. We looked at it and the owner was cooperative with financing and so we purchased the property. We had a ton of work to do there. Some people would inquire about a one-bedroom apartment and we would say we have something on Elsinore Street, and they said they wouldn't go there, there were too many stories about that place. We weren't going to allow pets because there had been many pets and they were running loose and not cared for so it had a bad reputation in that score. So it took some period of time and we did each building as we went along. After a while some people would call and say they had seen what we did on Elsinore Street, and they were interested in living there now. So people started moving in and they were pleased with the way things were maintained and the services we gave them, and it's worked out very well. It's right along the Sudbury River and has a beautiful view.
Maintenance is a good portion of our company's work. We always try to take care of the tenants in the best possible way so that they are happy and then they become long term tenants. My son Jim is the contact man and he runs that together with myself. We have Mike Forte who is our head maintenance man, and we have other maintenance people who are top drawer.
About three or four years ago we found out through Danner DeStephano that there is a need for children in the town to have some assistance to go to camp. So we studied the situation. It didn't happen overnight because our funds were diverted into remodeling so at a time when we could allocate some funds to the children to go to camp, we set that up and over a period of years we have contributed to it. Danner is pleased and we're more than pleased that we were able to accomplish this and help children who wouldn't ordinarily be able to go. We like to give back to the town because we've been fortunate and the town has been good to us, and we want to be good to the community and the people in the town.
We believe the hospital and the medical services are important to the community and got acquainted with Emerson Hospital. Through Rotary I was in charge of the heliopad there. I was pleased that I was able to contribute to establish the heliopad there at the hospital because it was very inconvenient before the heliopad was there for trauma cases or for the people that had to be flown to Worcester or Boston. They used to have the helicopters land across Route 2 where the nursing home is now.
I was pleased and I think it's quite an honor to receive the Paul Harris Award. I received it at the 75th anniversary of it, which was in 1992. In October 1994 I was Concord Businessman of the Year. It was quite an honor and a surprise. I was honored to be recognized.
I was available and saw action at Normandy which I don't care to remember too much about because it was a brutal affair there as history knows. I was very, very fortunate on more than one occasion to be able to survive it, and I'm glad to be here today.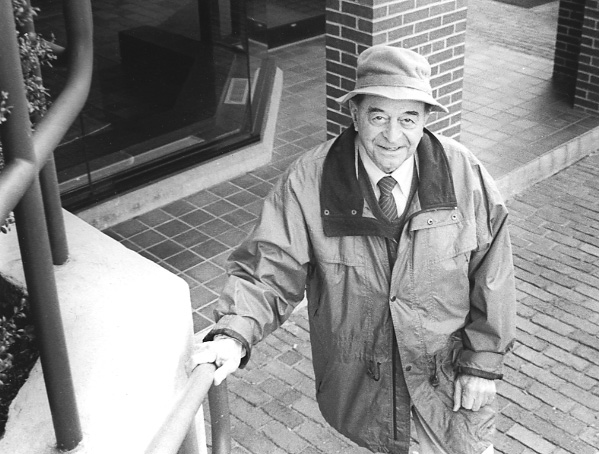 Text mounted 14 Feb. 2008; revised with photos and audio added 6 July 2013 -- rcwh.