Deacon Charles "Chuck" Clough
Closing of Our Lady Help of Christian Church
Parish Hall, 53 Church Street
Age 62
Interviewed September 9, 2004
Including an interview with Kathleen Dee Horgan.
Concord Oral History Program
Renee Garrelick, Interviewer.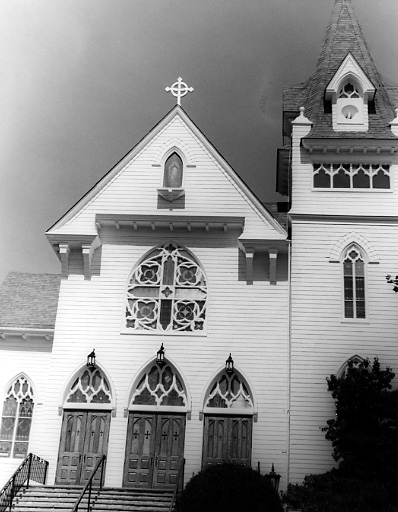 Our Lady Help of Christian Church was dedicated in 1907, and it is scheduled to close October 25, 2004. As a deacon of Our Lady's, Chuck Clough will explain the reasons for the Boston Archdiocese closing Our Lady's Church as well as St. Bernard's Church to form a new parish at the St. Bernard's Church location, and the closing of many other churches in the greater Boston area. Chuck Clough will describe the vibrant life in Our Lady's Church and its place in the West Concord community.
The reasons why the Archdiocese has chosen to close upwards of 80 parishes has been building for some time. One reason is, as is widely understood, the number of priests have been in decline for some time. But in the last few years, there's been a build up of financial problems in the Archdiocese. First, I think the chancellery realized that in a number of parishes, finances weren't sufficient to maintain staff, maintain buildings, maintain healthcare benefits, and that was really the first domino that began to fall. I think this is a problem that has sort of been working for a long time, and the chancellor has suddenly decided to deal with it. So it's a combination of lack of finances and lack of clerical personnel.
Why Our Lady's in particular? Most of the churches, as you might understand, that have lost community have been because neighborhoods have changed. People have migrated and the neighborhoods have changed so there are a number of churches in the Archdiocese that have lost their communities. In the case of Concord, that's not the case. Our Lady's has a very vibrant active community, however, there had to be some sort of geographical balance. So given that there were two parishes in Concord, and it's a town that ordinarily would have supported one parish, it was decided to suppress both parishes and open a new parish which will be in the current St. Bernard's worship space. The new parish of course will have a new name. That's happening in a number of towns like Concord, so there's no singling out here. It's just where there were two parishes and probably enough clerical support to support one.
The first thing you would have to say why Our Lady's is such an active community church is leadership. Under Father Austin Fleming, who has been our pastor for a little over 10 years now, we've had strong liturgy, we've developed a great powerful music ministry, and liturgy and music are attractive. People will come when there is good liturgy, good homilies, and good music. But, on top of that there has been a strong community here. I think Our Lady's is unusually strong in outreach, not only in the neighborhood, but there is a strong St. Vincent DePaul. We've had a strong outreach to one of the maximum security prisons of the Commonwealth that is in our parish, and we've had a strong outreach to the prisoners incarcerated there. We've had a strong reach into Haiti. We've got a strong relationship with a town and a church in a community in Haiti, where we provided not only people but medical care, medical facilities, and medical supplies. There are any number of reasons why the community has been so strong. It is an interesting community because I don't have all the reasons. Before Father Fleming came here, we had a succession of pastors, and there were times when liturgy wasn't strong, but we were still a strong community. I think a lot of it has to do with the neighborhood, and then when you add good leadership to that, you're going to have a strong community, and we did and still do.
The first, and for a lot of people, the only exposure they have to their faith is liturgy. Liturgy is not easy. Homiletic is the power of giving good sermons relating to the scripture that is relevant to the mass time. It's hard. There are not a lot of people who really do well at it. Fortunately, we did. So we've had great demands on ourselves, both Father Fleming and myself, to put a lot of effort into our sermons to try to make them very relevant to people. As I pointed out, the music is terribly important as well. One of the things I notice when I do a baptism, and we know we've got a lot of visitors in the congregation, they're not used to singing. It's something you notice because we are a very strong singing parish. I think liturgy is important because it's what people come for, and I think their faith commitment, their faith experience goes on from that.
The size of the church is intimate and lends itself to a community feeling. I think we seat about 280 people which is a good size for liturgy, but I've done liturgies at other parishes and what is unique about Our Lady's is you can see the people in the back row from the altar, and that's important. It's just not a sea of faces as you look out, but you know who you're talking to. I think the size of the space is perfect. What is now known as St. Bernard's is larger space. But they did break it into two; it's sort of a church in the round. We should have the same experience there in the sense that we should be able to see everybody in the parish. But I've been in churches where they've been so long that you can't see the people in the back half.
I was ordained as a deacon in May, 1986. For the first half year, I was part of the chaplaincy at Massachusetts Correctional Institution in training here with a sister who was the chaplain. Six months after that I came here, so I've been here 18 years. I did my first mass here. Father Ed King was here at the time.
Deacons are ordained. It's the only tradition where deacons are ordained. Bishops, priests and deacons receive major orders where they are an ordained ministry. You do have sacramental responsibilities — you marry, you do baptisms, you preach at mass. Those are your liturgical responsibilities, but the real idea of deaconate was that you would be an ordained minister in the world. Most deacons have jobs; most deacons have families. I have a job and family. So you're sort of a church presence in the world, and deaconate is supposed to be lived in all aspects of your life. I have been working with youngsters and teenagers and still help Helen Kuschner, who is our youth minister, handle confirmation and some of the youth ministry aspects here. You show up where you are needed. I visit people in the parish every week for one reason or another. So, it's sort of an eclectic ministry, but it keeps you off the streets.
I don't know what brought me to be a deacon. What I do know is that I guess my real commitment to church started when my oldest youngster, Kristen, was in the ninth grade and entering high school. Our confirmation program here has always been a combination of ninth and tenth. So when she went into the ninth grade, we had a meeting in the lower church here at Our Lady's for parents, and what I learned later was that there were no teachers. So they asked for volunteers and I thought to myself, well, I suppose I can handle six or seven youngsters every other week at my house, so I put my hand up. The problem was my hand was the only one that went up. So I got all the kids. We had a group of 60 kids. My wife helped and we had a couple of neighbors, and we got a program going. One thing led to another and we realized that you sort of needed more than just the weekly or biweekly confirmation teaching sessions. So we started sending youngsters to retreats and that turned out to be hugely successful. When they came back, they wanted some sort of a prayer group meeting where they could deal with their own spiritual needs, and so we did that in our home. We did that for about six or seven years. We had upwards of 60 to 80 youngsters. I got involved with other priests in the Archdiocese who also did youth ministry. I did a number of Tecs which are retreats for college youngsters. And they urged me to apply for the deaconate which I did, and I was accepted. So I was ordained in May 1986, but I can't really point to any particular reason because I never thought of it. I just sort of fell into it.
Gloria and I moved to Concord in November 1968, and we've been a family member of Our Lady's parish since then. So we go back 36 years.
The cornerstone of the church says 1903 which is when the church was built. But the dedication was in 1907. The centennial that would have been celebrated would have been three years from now. This parish hall that we're in was built a little over a year ago. So the parish was healthy financially. That was not a factor in the decision of the Archdiocese to sell Our Lady's. There were a lot of churches that were older than Our Lady's in many intercity neighborhoods where the population had changed, and they were in need of severe repair. It became a decision as deferred maintenance has gone on for quite a while, and they were kind of running the string out. So I think that was certainly a factor in closing and merging. They had to combine parishes. You have to realize that for many years the Catholic Church was an immigrant church. It received people coming to these shores in the late 19th century and the early 20th century and many churches had a nationality base to it. They were French or they were Lithuanian or they were Polish or something. Then of course as we all amalgamated, those distinctions are gone. There were a lot of reasons why parishes had to be closed.
There were certain principles in the decision. If one church in Concord could handle the needs of the Catholic community here, well then one church would be fine. Our Lady's was originally established to be a mission church for St. Bernard's, which is the older parish of course. It was originally built so that people could walk to church. And obviously over the last 100 years with the evolution of the automobile, that purpose has gone. But Concord grew big enough to support two parishes and both parishes are healthy. But I guess the reality is that St. Bernard's worship space is adequate for the Concord Catholic community. The vocational issue is front and center. I think for a lot of years that was really ignored along with the deferred maintenance. You do have a situation where the priesthood is older. There are few men who really can take on the responsibility of running a parish. It's a hard job. I think the diocese is looking ahead here in trying to match the clerical capabilities with the needs of the community. Even though we're a vibrant community, I promise you we will remain a vibrant community. Our worship space will be on Monument Square rather than in West Concord. I see no reason why the community won't be even more vibrant because it does bring the town together. There is an upside to this.
The challenge is we don't want to lose any of that vibrancy. I think Father Fleming said it best, he wouldn't want to leave his priesthood here and see the community dissipate because what would that say about his stewardship. I think the reality is if we are a strong community, we will remain a strong community. We may migrate to Monument Square but we don't lose this worship space, but that's the reality.
Our Lady's welcomed the Voice of the Faithful and that is a recent development. Others are far more equipped to speak about the organization than I am. The Voice of the Faithful is a lay movement that was established about the time the pedophile scandal was beginning throughout the church. It really wasn't there to deal with the pedophile scandal. It was there to deal with what I think we all saw as a deeper issue and that was the relationship of the hierarchy to first of all its own priests, and secondly as we know today as the people of God. I think there was a general feeling that there's been sort of a lack of leadership. The closing of churches is something we should have started dealing with a long time ago, but I think the pedophile scandal was seen as an issue that was really part of a broader issue. As serious and as heart-rendering as that is, there were other issues as well. Voice of the Faithful was established to try to establish a different relationship between what we know of as the hierarchy and the people of God.
We like to use the Boston College example of what can be done. Since 1952 Boston College's entire board of trustees was clerical, Jesuits, and the place was in financial difficulty. Well, today, it's one of the most vibrant universities on the planet. We like to think that is an excellent example of how lay and clerical talents can work together and come up with a much better church. I think the Voice of the Faithful was established with that in mind. When you join the hierarchy with its tradition and clerical standing with a strong lay leadership, you're going to have a lot better church. To the VOTF's credit, now that the headlines are dissipating, it's still there, and that was the real risk. Once the intensity of the pedophile scandal had left the headlines that it would dissipate, but it hasn't. It's maintained its strength and from what I can tell, it's still growing. I think the idea is if there can be a partnership between lay people and the hierarchy, we will have the better church.
The church doesn't change that fast, but I think there might be a little fast-forwarding going on here. The anguish that was attached to the closing of parishes I think only will intensify the need for lay people to get involved in running the church. Again we are the people of God. I think the Voice of the Faithful play a very important role in that. It's sort of a rallying cry for those people who want to get involved with that, it's gives them a mechanism to do that. Lay involvement is critical in the future with the diminishing number of priests. Without lay involvement there won't be a church.
At certain times of the year there are activities that have really brought people together at Our Lady's. We have evolved into a quite active parish. Some of the activities are very simple, coffee and donuts after mass, many Sundays we have it after every mass. We have evening prayer both in the Lenten and Advent seasons. These are times when people come together outside of mass. We have a blessing of the animals in October. But I think on a more social scale, I would say we find excuses three or four times a year to gather in the lower church. Often the high school youngsters or the confirmation youngsters will prepare and serve meals. We've done it for Mardi Gras, and we've done it for St. Patrick's Day. Well, now we're sort of accelerating that with a Generations of Faith series of events and that combines both the CCDs, both the teaching policies we have for our youngsters, with parental involvement as well. Oftentimes there is a social event that's attached either to a liturgical event or a discussion event or something that brings the teaching aspect as well. I would say especially now that we have Monument Hall, we will be seeing even more social activities because we'll be combining both parishes. In fact it is interesting over the last six or seven years to see a lot of the people who were older and involved to evolve to young families. They are really the heart and soul of the social life of the parish.
As to the Generations of Faith, what we will have is a series of events that are attached to the liturgical year. There will be an Advent event that will celebrate Advent both a social as well as a teaching event. There will be a Lenten event. There will be an Easter event. The attempt is to live as a parish the spiritual year of the church. It is an attempt to get away from just dropping your kid off at CCD and picking him up. It's trying to become more involved to the extent people can. So it's a family experience rather than just a youngster experience.
We should be able to teach our youngsters and provide them spiritual upbringing, spiritual life, spiritual enthusiasm, spiritual excitement without priests because there are not going to be many priests. If we don't evolve to that state….
Deacons are clerical and I think the answer is not deacons. I think the answer is people. Lay people coming up to bat. You've got plenty of institutions in the city able to teach and educate people in parish ministry. There is the Boston College Pastoral Institute. The Archdiocese has Weston Jesuit School of Theology, where almost all the students are lay being trained for parish ministry, so I think that's where we're going. We're going towards a trained lay ministry. I always think us deacons are kind of stop gaps. They will put up with us until they tire of us, but I think the real answer is a very active lay ministry that attracts a lot of young people or people of all ages who want to become involved in teaching, running programs, helping out.
In its most simplistic terms, the Generations of Faith program is an attempt to reach out for the educational and spiritual experience aspects of the church to the whole family instead of just the youngsters going through the program. So it's an attempt to marry especially the sacramental programs with events that will involve the entire family. We're really just getting started with this program. We've only had one or two events so far. From my understanding, it originated in Connecticut but it's now pretty active in a number of dioceses.
The only real connection between the two parishes has been several years back we combined the confirmation program for both parishes. This is an easy merger because our sacramental programs are already interconnected. And I've been involved in both youth ministry and confirmation training for both parishes, so we take them off to a weekend retreat every year, and we have a crew from the Ignation Spirituality Center at Boston College that come and help us run the retreat. The youngsters definitely relate to the college kids that come in and they are extremely well trained. So we've had that connection with Boston College, where I'm a trustee.
I will say the transition to having more young families has been most visible over the last ten years, but certainly in the last five. I think that is somewhat mirroring the change of demographics in the town. We are bringing in a lot more young families. They've joined our community, and we're a lot richer for it.
For most of my deaconate, I was chief investment strategist at Merrill Lynch in New York. I flew to New York every Monday morning and flew back mid-week. It was a travel job. I was in the parish Thursdays through Sundays and then in New York the rest of the week. About four years ago I retired from Merrill Lynch and started a small investment firm we call Clough Capital Partners.
This is not the first time the church has been in crisis. In fact the Jesuit order, the order that is at Boston College, was formed by St. Ignatius of Loyola at a time the church was rocked the last time. It was just after the Reformation. There were certainly tremendous earthquakes with respect to hierarchies and hurricanes. Ignatius of Loyola came forward and created one of the most powerful orders of teachers ever, and he did it at a time when the church was in crisis and literally coming apart at the seams. You think what he did and here we are. Clearly the church is in crisis. St. Ignatius's role was to create the Jesuits who are considered sort of very much committed to Papacy, committed to the Holy City and the Pope. They're not riding off the reservation. They're actually very, very consistent with Catholic teaching and Catholic doctrine. I'm head of the Mission and Character Committee at Boston College. Boston College faces the same issues as the Archdiocese does, the Jesuits are fewer in number. There will be a time when the Jesuit presence on campus won't be very large. So the issue is how do we maintain Boston College's Catholic Jesuit tradition when the clerical presence isn't so large? To an extent that mirrors the challenge for the Archdiocese. How do we maintain vibrant, active, growing Catholic parishes when there are going to be a lot fewer priests? And that is the challenge of the century.
Kathleen Dee Horgan
Age 77
Kathleen, a lifelong resident of Concord, has joined our conversation and over her 77 years has experienced the welcoming community church that Our Lady's is. She has an early connection to the Church through her family living at the Reformatory.
My father was deputy superintendent of the Concord Reformatory, and we moved here in 1926. We then moved over to the other side of the house where the superintendent lived because there were nine children in our family and that house was a little bigger. It was interesting growing up there because it was totally different. It was not a prison. It was a reform school which made a big difference in the type of work they did. They did a lot of instructing. The Green Row houses were the instructors, and the White Row were the officers. At the White Row, there were probably 100 children in all those houses. There wasn't a full time chaplain then as there is now. The chaplain was associated with Our Lady's and served at Our Lady's. It was a full time job. It was not like they had days off. They lived at the rectory. So my mother would have the priest in for supper if he was visiting the prison talking, or if he was late seeing somebody, he would drop in. So we got to know the priest very well. He was the one that heard confessions. All us children went to confession on Saturday afternoons. Father would see us out in the driveway and give us nickels for ice cream. This particular priest was Father Ernest Ford. I think he was here for almost 15 years so we grew up with him. He actually married my husband and I and became kind of a close friend of the family. I was married at Our Lady's in 1951.
At that time the church was a beautiful setting totally different than today's. Today it is much more simplistic. There was a huge painting over the main altar of God being a man like sitting on a throne, totally different as we picture now that it is not really a person sitting on a throne. Then there were two side pictures of stained glass (can't make out). Below the pictures were these three altars, and they were divided from the main altar, and it had the Last Supper underneath that. On the two side altars, one for the right was always for the Blessed Mother, and the one on the left I was trying to remember. It's so different now because they have the tabernacle there. I'm trying to remember, but I know they had a crucifix and they had a statute of St. Theresa.
Back when I was growing up, Catholics and Protestants didn't associate that much. But now, it's wonderful. I think since Father Fleming has been here we've even shared the same organist and some of the choir with the West Concord Union Church. On Ash Wednesday they share the same service out in the parking lot and then each congregation goes back with their ashes and has their own service in their own church. We've all become very friendly. Recently I was asked if I wanted to join the Bible class over there. I said yes because they had good teachers for the Bible class. And that's a new thing. Actually when I heard the church was closing, some of my first calls were people from the Union Church to say how sorry they were because they knew how much it meant to me.
A friend of mine, Marjorie Hannon, asked me to sing at her wedding. At the time I remember my mother saying, no you can't. She said that is a different church, you're not allowed to go there. I can remember being in the kitchen of our house at the Reformatory and looking at my mother and father and saying, how many Gods are there? There is only one, and their God is our God, and my father said, you're right. And that was the end of it. I did sing at that wedding. I was always proud of that. Years later, how times changed, we were sitting together singing in the choir. It was nothing then to go to the service over there. Marjorie said to me, "I never thought I would see you sitting beside me." And I said, "I never thought I'd see the day you'd let me."
Over time I've seen women begin to participate more in the service. That's another story. Growing up I just dreamed about being an altar boy, and I used to pray that the altar boy would faint and the priest would ask me to come up to serve. Of course, that never happened. I would be sitting there just waiting because they always fainted because of the long fast. So then finally when Father King was here, he asked me to be a lector. I can remember saying, "Oh, you're finally going to let me put my feet up over there on that other side." And he said, "But, never as a priest." I said, "One step at a time, Father." Not that I think there should be women priests but time will tell.
Father really surprised me on Good Friday when he said I'd like you to help carry the cross tonight. I looked at him and I didn't know what he was talking about. This is something new for our parish. We sing a hymn going down and there would be five women carrying the cross. I just thought what a tremendous honor. I never got over it. Last year somebody got sick and they asked me to do it again. So twice I've been honored to do that. It's a wonderful feeling and an overwhelming feeling. I saw the movie "The Passion" and that made me think of carrying the cross.
Father DeVeer gave a talk about Haiti one night to the Social Action and Justice Committee and I heard him speak. Father Fleming was very moved by him. I was amazed at how he was so emotionally involved. Right then that night, he said, "Well, Father, I can promise you this parish will send some people if they are willing to go." It was right after Christmas. And as I was going downstairs that night, I said, "Don't tell me I'm too old because I really want to go to Haiti." And I went. I didn't know what Haiti was going to look like. I thought it was going to be a flat barren place, and it's beautiful filled with hills and mountains. In front of someone's shack, you'd see a pile of dirt because they make their homes out of concrete blocks, so their house gets built maybe one block or two blocks a year, so it takes a long time to finish it. The poverty is so bad. There are no trees there so to heat they use those charcoal pieces that they can burn. They just have very little. In front of garages for gasoline there would be two guards with rifles sitting there all the time to prevent crime. There is a lot of crime in Haiti. The people with the money live up on top of the hills which is beautiful but the others live below. Unemployment was I think about 80-90%. It's amazing though, they are neat. Their shirts are tucked in, their pants are pressed.
One little boy's toy was, he said, his truck. I'll never get over it. It was an empty Coke can tied with a string, and that was his truck. Our children are so spoiled compared to how little they have.
When they go to church, they get all dressed up. They might walk five miles in their bare feet to get to mass, and before they go into the church, the women put on the high spiked heels. The children are spotless. There was a little boy and girl in total white and they looked beautiful. And the children never move. There are no backs on their benches, and they just plain sit and listen and they're quiet.
Father has been very generous in sending things there. Each year they have a dinner honoring someone who has done a lot for the people in Haiti. Last year it was Father Fleming and the year before it was Father DeVeer. This parish has helped a lot but it's not just this parish. Together we've built a convent and a school, and when I was there, the hospital was there but not well equipped. I think I have more equipment in my closet than they had in their emergency ward. But now it's equipped and running. They're delivering babies there, they're doing surgery, and they have fully trained staff. One of the boys that went to med school stayed here in West Concord and lived while he was in training. So we've done a lot of good which isn't going to be done right now with the church closing. Haiti is going to lose so much money each month that we promised them. I don't know how that's going to be.
There is a transition team trying to blend everything, and they have far more problems than you can believe, just like the one about Haiti that we've been so good to. Father Murray has retired so it won't be him there. He didn't expect to be the pastor anyway, and Father Fleming doesn't expect to be even though we would like it to be. It will probably be a new person coming in.
We had a pastor here who became a bishop in Burlington, Vermont, Bishop Ryan. When he was here, he was really a man of fire and that was the only time I remember seeing Our Lady's have a big fair at the playground. There were tents and booths. As a kid, I never lost that impression and everybody was saying he had the ability to get that off the ground. And another famous priest from this parish was Father Jim Hennessy. His father was a guard at the Reformatory, and we grew up in the White Row. He was in China and was killed over there as a missionary. If you go into Boston at some gift shop, I remember looking up at the top shelf looking at his picture among all the memorabilia and I thought isn't that sad. He was quite well known for his holiness and blessings to people.
We had scholastics come over from Weston Campion Center to teach us and they were brilliant, but they were students. I can remember the poor Jesuits being so wiped out from us in our ignorance. They said if there is nothing else I teach you, it is going to be the morning offering. I still have a certificate from Father Fitzgibbons saying I had passed. They were so unique. We were lucky to have them. They don't have anybody like that now. So we had a lot of good things even though they say it's better now. There was a closeness then. But it has become more so now in the last few years. People are moving to West Concord purposely for the community and they're quite upset that the church is leaving because that was their point in coming here. I've already heard that people will leave that came a distance just to hear Father Fleming because he gives beautiful homilies. He is something else.
Even the West Concord Union Church has offered us space over there if a group of women wanted to get together for a prayer meeting. But I'm hoping we keep this hall because that would be a tie here that will keep our community close. But that business about driving that Chuck mentioned, that's a big thing. A lot of people might make it to here, but to cross Route 2, they're not fooled about that.
A committee is putting together a memory book for Father Fleming. But I myself personally get sick at heart at the closing of Our Lady's. I can see how heartbroken Father Fleming is, he's worked so hard in so many different ways and then to hear that it is to be thrown away. My faith is so strong that I really get furious to see all this taken away. I can see how much this hurts Father. I know that God will give us all the strength to survive. The same as Job did in the Bible.
Text Mounted 9 Feb. 2008, revised with added photo 8 May 2013 -- rcwh.