Mary Abbott,
342 Sudbury Road
Age 84
"Concord Art Association"
Interviewer: Renee Garrelick
Date: January 23, 1978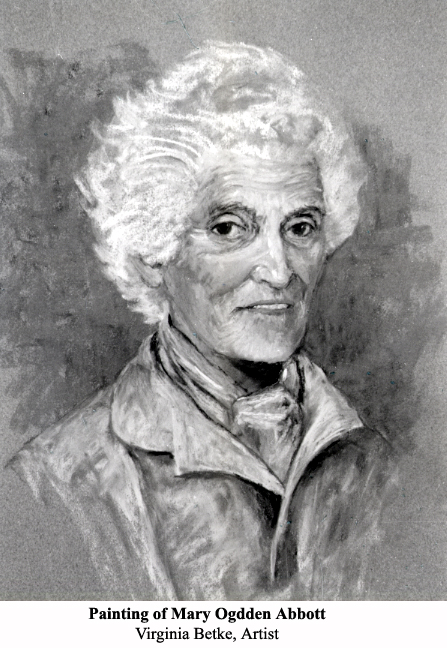 The Concord Art Association was founded by Miss Elizabeth Roberts in 1915 and in its first years shows were held annually at the Town Hall.
People that were active in the initiation of the Art Association were Alice Reynolds Sohier (portrait painter), an artist of Concord; Mr. Bosley, a painter of Concord; Gertrude Fiske, a well-known watercolorist of Weston, and George Keyes, who was always very much interested in art and went to all the exhibitions at the galleries in Boston.
George Keyes became president of the Art Association sometime in the 1920s. Daniel Chester French was the original president but I understand never presided in that position, and George Keyes succeeded him. I succeeded Mr. Keyes as president in 1942 and served until 1971. The Association was very poor and during my years as president I just kept it alive as we had no particular financial backing.
Miss Roberts left the building and the contents which included some valuable portraits by the Revoluntionary painters but she left no money to support the Association. I understand her idea was that she left the building and the contents and if the Art Association couldn't support itself, the building would be sold and the contents would be given to charity.
One of the problems of the Association was and still is that Concord was never really interested in the visual arts and so we never could and have never been able to promote an interest in the Art Association or local interest in attending exhibitions. It has remained one of our problems. Everybody that is associated with the Association realizes that the visual arts have no stead in Concord. People who are interested will go to Boston or to the DeCordova Museum in Lincoln.
Miss Grace Keyes, who for the greater part of her life when she lived with Miss Roberts, was always interested in the Art Association. She was not interested to the extent she was interested in golf but she was a very lively personality and very entertaining. I never knew her very well, but she was always part of my knowledge of Concord. She was one of the very racy inhabitants of Concord. She was definitely her own woman.
I am presently living in the house that Daniel Chester French lived in as a boy after his father moved from New Hampshire to Concord. The world that Daniel Chester French started his artistic career is very much as he left it. He did a certain amount of carpentry and he was very skillful, very well done, and I understand he was very particular that none of the family should interfer with his activities. As a boy he started doing small pieces which he did in great profusion. He was still living in the house as a young man of about 20 when he did the Minuteman, and for some reason or another he has never been really fully taken to the heart of Concord. Daniel Chester French's achievements are not fully appreciated; people somehow think the Minuteman just grew.
In the pre-auto era of Concord, I was always interested in horses. I owned a black pony but I can't imagine why my interest succeeded because he would unload me every time he came to an open space. I could stay with him in the woods but he would balk the minute he would get to an open space, I think because when he got rid of me he could eat grass.
Riding in the winter with snow on the ground used to be wonderful because the roads would be opened by a team of horses so that you could go for miles on the hard packed snow, and if you were riding in company you could go side by side. I used to ride a great deal in Fairhaven Woods. Before Route 2 was built I would just traverse a short piece of Sudbury Road to get to the woods and then there were innumerable wood roads. Many of these roads were cleared by my grandfather's woodsmen on the mountain side of the bay and the other side. It was beautiful riding.
My grandfather's house overlooked Fairhaven Bay and he had a large parcel of woodland both up the river and down the river, and he also rented on a 99-year lease from the Boston & Maine Railroad what used to be the old fairgrounds opposite Walden Pond. I remember his great distress in trying to control the gypsy moths in 1948. He tried extensive spraying and thought that would control them but he had to give it up. The gypsy moths got the better of him.
My grandfather, Charles Francis Adams II, came to Lincoln in 1893. His nephew, Charles Francis Adams, built a house on Fairhaven Hill that has a white portico and is very visible from across the river on Sudbury Road. His land marched on my grandfather's land. My father also owned some land there so that the woods between Old Concord Road in Lincoln and Sudbury Road were owned largely by my family. My grandfather was the son of Charles Francis Adams, who was the Ambassador to the Court of St. James during the Civil War. There was very much a historical awareness in my family with having had two presidents and an ambassador.
Before automobiles, we had a coachman and I think most people had a coachman or a hired driver or hired transportation. There were two livery stables in town, McManus's by the station and Tuttle's in the center.
It used to be quite ordinary in winter to cut ice on Fairhaven Bay. It was always cut in front of my grandfather's boat house by his man and our man, and the ice was transported usually by sledge to our icehouse on Sudbury Road. If we ran out of ice, we would employ the iceman to deliver ice. I remember him bringing in cakes of ice with his tongs over his back on a rubber sheet. The iceman delivered from his place on Walden Street between where the police station and the court house is now. The catch basin for melted ice under the refrigerator was always over-running in warm weather and dripping on the floor.
As a very small child, my family lived on Main Street and I can remember the lamplighters or I believe I can remember them. They had short ladders to climb up and light the lamps.
I have many recollections of Dr. Titcomb particularly as a child. I can remember he attended me in all my ailments. When I first remember him, he drove a horse and wagon. The horse was a trotting horse and he always proceeded at a full trot, very fast. When he reached his destination, he would rein in the horse, throw the reins across his back, throw his rug over the horse's loins, get out and enter the house all in one motion. Then he would come upstairs where I would be in bed and he would feel my pulse, look at my tongue, take my temperature, and say you stay in bed until the end of the week, no matter what day of the week it happened to be. Then he would proceed to write a prescription taking out his pad and pencil, scribble on the pad, tear off the sheets and throw them on the floor. After he was gone, the prescriptions were collected and the last one which was signed was sent down to be filled at the drugstore.
Dr. Titcomb was a great admirer of my mother. He gave her some beautiful golden pheasants, who were the prodigy of the golden pheasants he kept behind his house.
I always marveled even as a child at those horses because they would stand where they were left until he came out and picked up the reins and started off at a fast trot. There must have been a succession of horses and they were always the same caliber.
Dr. Titcomb would answer calls at any time day or night. Many people didn't have telephones and would have to walk to his house to get his services. He never hesitated to go out no matter what the weather was; he would always respond.
He took out my appendix which was quite an undertaking in a way because it was an emergency. The nurse from Waltham Hospital sprained her ankle getting off the train in Concord, so my mother had to assist. My appendix was removed on the potting shed table which was moved up into the entryway of the house under the overhead light. The gauze he used was sterilized in the oven of the house in which he was working and it always had slightly charred edges. Dr. Titcomb preferred using the kitchen table for operations because it was warmer and nearer to the stove where he sterilized his instruments and bandages. The daughter of the police chief, Billy Craig, assisted Dr. Titcomb in many operations. She described an operation Dr. Titcomb was doing on her brother and she was holding the lamp for the doctor. When she would lean over to watch, he would say "Hold the damn thing up straight, can't you?"
Billy Craig hailed Dr. Titcomb into court for speeding in his automobile and he was fined $10. But he turned to Billy and said "Here you pay that, you owe me a lot more for tending to your family over the years."
George Warren was also quite a character in town. He built canoes. He was very tall and thin and always wore a ten-gallon hat. He went west for a brief period and that was the high point of his life. Danny Keyes's family owned a Warren canoe and when he stripped the canvas off the canoe, written on the wooden frame was "When this canoe has to be recovered, I shall be dead and the Concord River will be a sewer." George Warren had written that when he made the canoe.
I donated the so called Victory Lee barn and land on which it was built to the town and it was accepted on December 30, 1977, and it is now town property. It seems to be sort of a white elephant as they don't know what to do with it. They have appointed a committee to see if they can come up with some solution.
(ed. note - The wood from the Victory Lee barn was used for the construction of the Daniel Chester French Gallery of the Concord Antiquarian Museum in 1979.)